By Mariann Roberts
On September 21, 2022
Access & Inclusion
Did you know there are over 300 sign languages in the world? It's true! American Sign Language (ASL) is the primary language for around 500,000 folks who are Deaf and hard of hearing in the United States and English-speaking regions in Canada. Learning a new language can be daunting, but it's a wonderful way to connect with folks in your local and global community. By learning ASL, you also create opportunities for greater accessibility and inclusivity!  
To celebrate International Day of Sign Languages and International Week of the Deaf, we worked with our friend Sheila Ferguson to provide 6 helpful ASL signs for beginners, which can be used in tandem with 7 Helpful ASL Signs You Should Know and 5 Helpful ASL Signs for Fall 2021 for additional learning. Ready to start, or grow, your ASL journey? Let's get started!
1. Have a Nice Day

Hold "bent" fingers of an open handshape a few inches out from your upper chest. Move your hands back and place your fingertips on your chest.   
Laying your non-dominant hand flat with your palm up, wiping across the hand with your flat, open dominant hand.  
Your dominant arm starts vertically, with the elbow resting on the non-dominant hand, and your index finger pointing upwards while the rest of the fingers are down in. 
With your pointer finger remaining up move your full forearm down to rest on your non-dominant forearm that is laying horizontally until both arms are horizontal.
2. Please and Thank You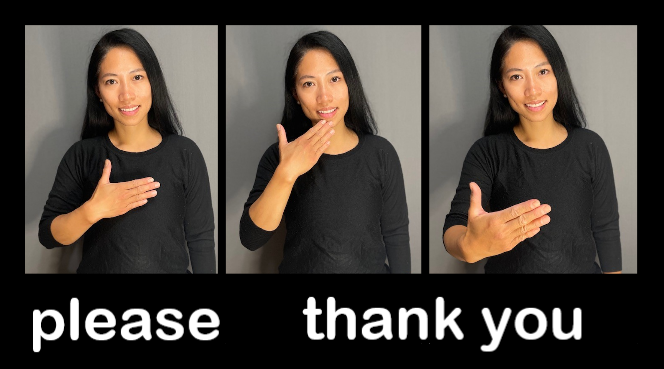 Please: Place hand on upper chest with palm facing in and rub it in a circle on your chest. 
Thank you: Place the fingertips of a flat hand palm facing inwards on your chin and push it forward to the person you are thanking. 
3. Can I Help You?

Place each hand in a palm down fist handshape.  
Then bend each wrist downwards towards the ground.  
Flat handshape of your non-dominant hand palm upwards and place your dominant hand in an "A" hand shape with thumb facing up on the outstretched non-dominant hand.  
Then raise both hands up and out towards the person you are offering help to.   
 Point towards the person, ASL sign for "You". 
 4. You're Welcome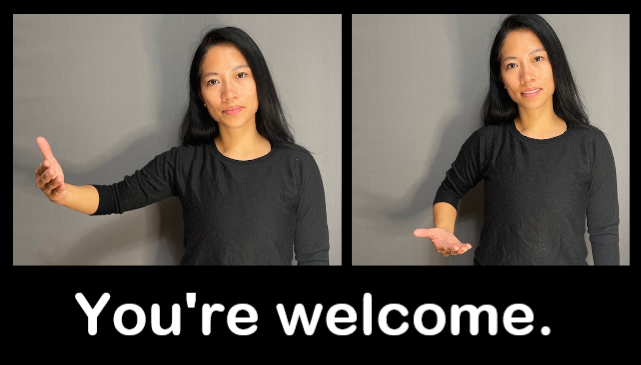 Holding your dominant hand face up and slightly curved and away from body at lower chest level, then bringing hand in to body at lower chest level while keeping the handshape. 
5. Nice to Meet You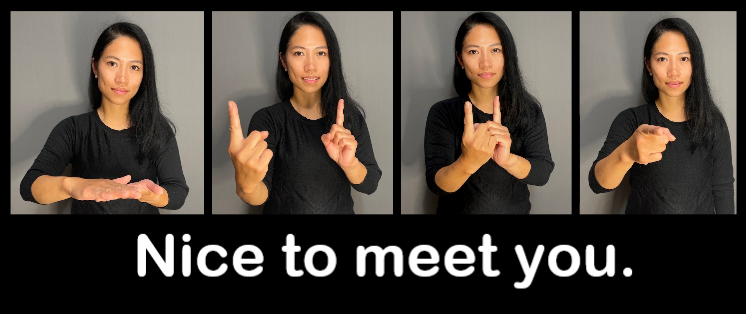 Place your left hand in front of you, palm up and move the flat palm of your right hand across your left hand. (If you are right-handed – opposite if you are left-handed). 
Index finger of each hand pointing up and facing the other hand. The two hands "meet" in the middle. 
Point towards the person, ASL gesture for "You" 
6. How are You?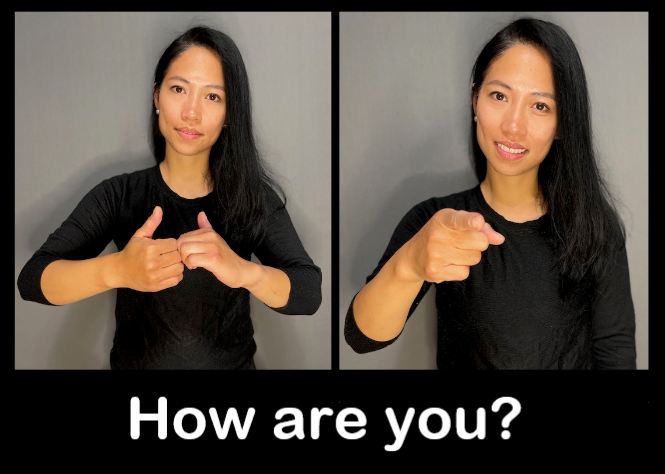 Form curved hands shapes on both hands, palms down and/or slightly back.  
Point towards the person, ASL gesture for "You"
Bonus Sign! Questions?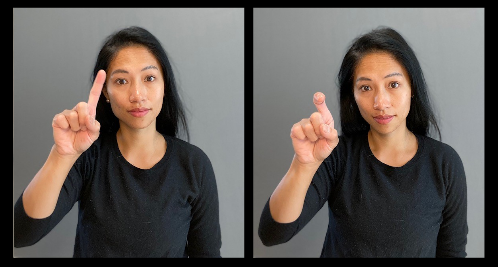 Start the sign with hand in a fist, palm out, with pointer finger extended. 
Bend the pointer finger towards the person you want to ask the question to.  
Eyebrows are up when asking a Yes/No question.
Eyebrows are down in furrowed expression when asking a (who, what, where, when, why) question. 
--
Sheila Ferguson is a Deaf woman and ASL instructor at Island Deaf and Hard of Hearing Centre.