For Rick, collaboration is key to success. As he was building his team for the Man In Motion World Tour, Rick chose people he knew he could count on, and who shared his commitment to the dream of creating an inclusive world for people with disabilities.
In time, the overall team would expand to include volunteers and supporters all across Canada and around the world. The closest and longest-serving teams were known as the 'Home Team' and the 'Road Crew': those who held down the fort at headquarters in Vancouver, and those who travelled with Rick around the world.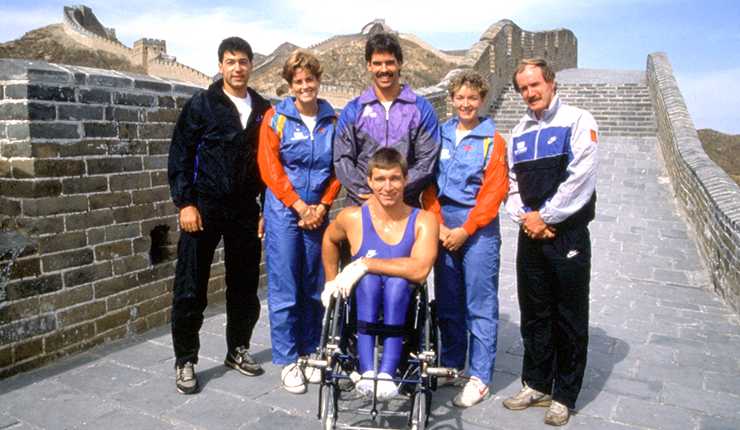 "I had an amazing team. They challenged, encouraged and supported me and asked nothing in return. I feel incredibly privileged to have had them with me. Without them, the dream would have been absolutely impossible."  – Rick Hansen
The Home Team
The Home Team of administrative staff and volunteers started with Rick inviting a small group to a meeting. That group became the initial Home Team staff that included Nancy Thompson (who would leave to join the Road Crew), Marion Lay, Patti Lueke, Muriel Honey, Christine Hansen, and Edie Ehlers.
As momentum grew for the Tour, so did the structure, and a Board of Directors was established. The World Tour Board of Directors included Cliff Andstein, Fin Anthony, Russ Anthony, Ian Bell, Jim Cox, Bob Hindmarch, Shayna Hornstein, Don Junker, Edgar Kaiser, Bill McIntosh, Doug Mowat, Philip Owen, Sandy Pinkerton, Patrick Reid, Dal Richards, Darcy Rota, Marshal Smith, Stan Stronge, Cecil Walker, and Jim Watson (Chair).
Additional support staff was added through temporary grant-supported and loaned-staff programs, and the B.C. Paraplegic Foundation and B.C. Sports Hall of Fame Boards helped with office space, furniture and equipment. In this way, the Tour Headquarters was born.
After Rick and the Road Crew left Vancouver, the biggest challenge was balancing the work between these two teams. There were lots of challenges along the way: the communication difficulties alone proved to be an enormous challenge. In 1985 communicating globally was extremely difficult. When Rick called headquarters from the road, someone would shout, "The Tour's on the line!" and everyone would gather around the speaker phone.
As Edie Ehlers explained, "Success was a day-to-day attitude. It was not achieved in a few big steps, but many small ones. Sometimes, for either team, success was simply making it through the day."
From the Board of Directors who devoted years to this cause, to the volunteers who arrived daily at headquarters, to those who helped out when the Tour rolled through their community, the role of Home Team and volunteers in the success of the Tour cannot be underestimated.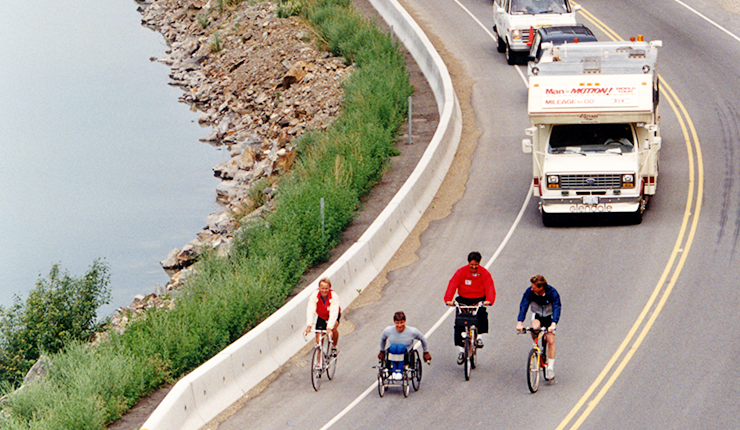 The Road Crew
When Rick and the team (Don Alder, Tim Frick, Robin-Lee Gibson, Amanda Reid, Mike Reid, and Nancy Thompson) said goodbye to the crowd gathered at Oakridge Shopping Centre on March 21, 1985, they had no idea of the adventures and challenges that lay ahead. For the next 26 months, they would share a 20-foot motor home and embark on a journey for which they were largely unprepared.
They travelled over mountains, through valleys, across oceans and deserts, and through snow and ice. They battled windstorms, torrential downpours, difficult terrain, packs of wild dogs, scarcity of food and supplies, poisonous gases, fires, robberies, and 20-hour days. Despite this, they continued their gruelling journey through one country after another trying to get the message out.
Learn more about the members of the Road Crew below.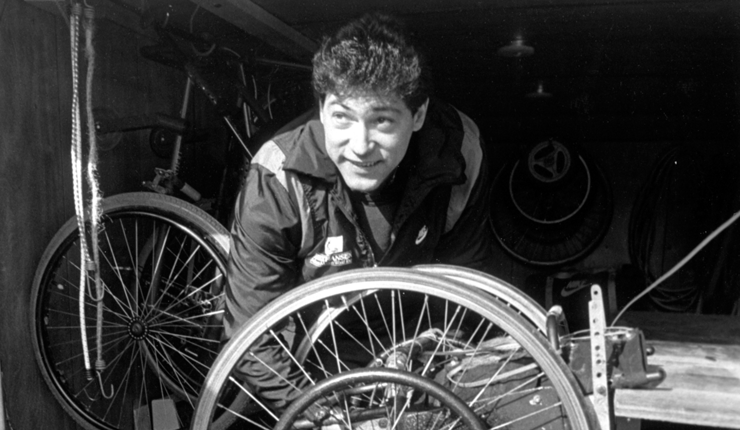 Don Alder, Equipment Manager
Growing up together, Rick and Don shared a passion for fishing and the outdoors. In fact, it was on the way back from a summer fishing trip that Rick and Don were thrown from the back of a pickup truck; an accident that caused Rick to be paralyzed from the waist down. Years later, Don received a call from Rick to invite him on the Man In Motion World Tour. The invite was extended with the proviso that Don was able to quit smoking and run up to 10 miles a day. Doubting his own physical ability, Don began to train and successfully achieved both goals.
As Equipment Manager, Don earned the nickname "Mad Max" for his inventive, problem-solving quest to make Rick's chair efficiently adjustable and functional, and to make constant adjustments and modifications so Rick could avoid injuries.
The specialized knowledge acquired during this time served him well when he later became Equipment Manager for the 1996 Atlanta Paralympic Team and the 2000 Sydney Paralympic Wheelchair Rugby Teams. He also volunteered with BC Wheelchair Sports youth to develop a better understanding of their equipment. Don is a globally-renowned, award-winning finger-style guitarist.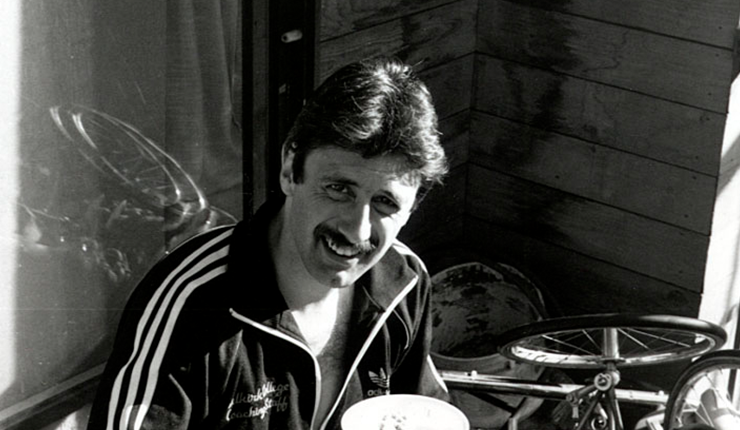 Tim Frick, Coach, Tour Coordinator
To prepare for the Tour, Tim worked with Rick for eight months in physical training, as well as logistics. He helped with sponsorship and marketing to garner the necessary support to fund the Tour, and brought in a sport psychologist to help with the mental preparation. He says: "You take great joy in seeing athletes succeed. Rick, being an athlete and me, being primarily a coach by nature, meant that I took great joy in the things he was accomplishing."
Tim's low point was in Scandinavia. The advance route planning had to be re-done due to changes in the schedule. To get this planning done, Tim drove the route for the next three days, reconfiguring the Tour's journey for Rick's departure the next day. Extreme sleep deprivation, took its toll and Tim decided to return to Canada.
While Tim left the Tour part-way through Europe, he was ecstatic to re-join the Team as they rolled into British Columbia. Tim has continued to coach and be involved in wheelchair sports.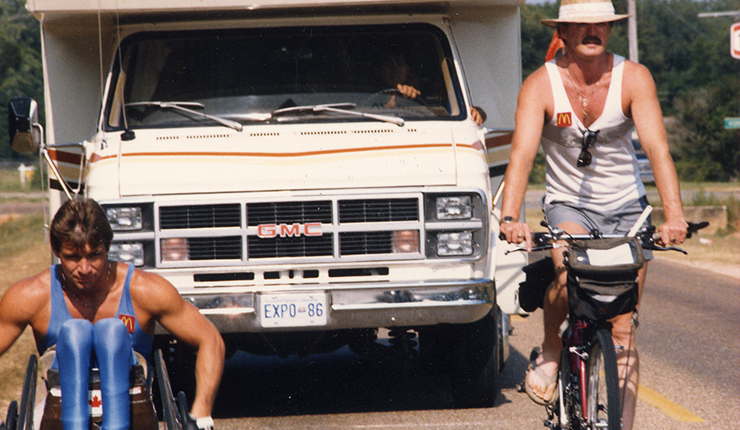 Robin-Lee Gibson, Cook In Motion
Robin-Lee loved to cook, so when Rick invited him to take a year off his job to go around the world and cook for the Man In Motion World Tour, it wasn't a difficult decision. The challenge was learning to support Rick's regime. He says, "I went into it blind, and came out knowing exactly what Rick needed to eat and when." On a typical day, Robin-Lee prepared fruit-blended drinks for breakfast, usually with eggs and wheat germ. Main meals consisted of fish or skinless chicken, potatoes, beans or corn, and water.
His resourcefulness in obtaining food supplies became a Tour highlight. He'd call his parents in Port Alberni to send freshly caught and canned sockeye salmon. Sometimes, his uncle Marvin (Rick's dad) added a moose roast or home-made pies and off they went to an international Canadian Embassy waiting for the Cook In Motion to pick them up.
Robin-Lee Gibson went on to own his own successful catering company, Cook In Motion. Sadly, Robin-Lee passed away suddenly in August of 2010, leaving behind his beloved daughter, Tiara Liann.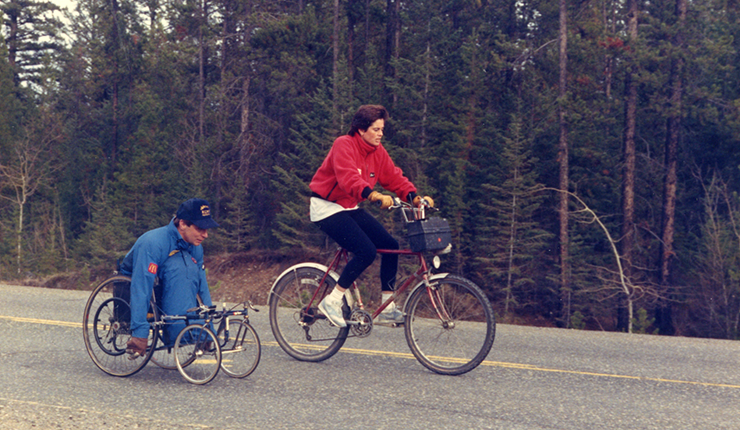 Amanda Reid, Physiotherapist, Terrain Analyst
Before the Man In Motion World Tour, Amanda had worked with Rick on an injury, getting him back into shape for training. Two weeks into the Tour, Rick called Amanda. He had injured his wrist and received treatments in Washington, but realized that the Tour needed a full-time physiotherapist, and Rick wanted it to be her. She agreed to join for only two weeks, but soon became a fully-fledged crew member who played a crucial role in the Tour's success.
Amanda's role evolved from tending to Rick's injuries to advising on the reconfiguration of the wheelchair each night. She and the crew developed a system of understanding terrain, weather conditions, wheelchair mechanics, and Rick's body.
As the Tour progressed, Rick and Amanda grew closer. "We had survived something quite extraordinary together, had seen the best and worst of each other under conditions that not every couple would have the opportunity to experience," she recalls. "And yet, we weren't able to be a couple … it wasn't appropriate and it wasn't what we were there for. But we couldn't deny what had happened." Discussing their future, they knew they wanted to step into the next phase of their life together, even though they hadn't quite finished this one, so when the Tour was wheeling through New Brunswick, Rick proposed. Rick and Amanda recently celebrated their 30th wedding anniversary.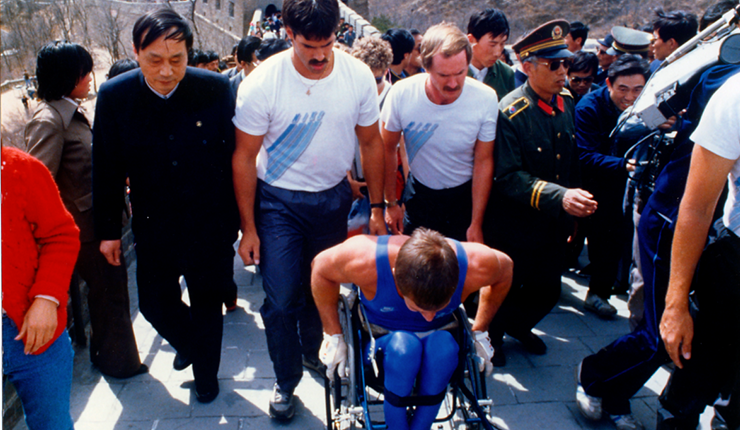 Mike Reid, Security, Equipment Assistant
Mike admits he was only vaguely aware of the Man In Motion World Tour when his sister, Amanda, got involved. Mike was finishing his last semester at UBC and working on the BC Place Stadium security team, intending to open his own special events security company. When he called his mom to share his plans, she told him that Rick and Amanda wanted him to join the Road Crew. At 24, Mike couldn't pass up this opportunity to go around the world, so a couple of days after talking with his mother, he hopped on a plane to join the Team in New Zealand.
Mike's position was extremely demanding. He had to run along Rick and ensure his safety, as well as that of the people who crowded around him. Every day, Mike's role as head of security was tested, but he quickly built strong relationships with the local police forces. A real point of pride for Mike is that despite the immense crowds, not one person was injured.
"There were times when I'd run beside Rick," recalls Mike, "scooping up toddlers who would want to donate, or sit on his lap. There were no injuries, no accidents, no one got hurt. I'm so proud of the small role that I was able to play." Today, Mike is Vice-President, Resource Development at the Rick Hansen Foundation.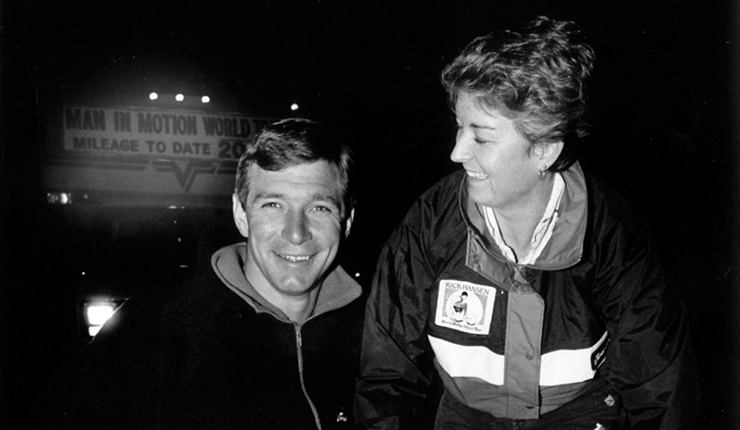 Nancy Thompson, Pre-Tour Planner, Tour Manager
Initially, Nancy worked in Vancouver for the Home Team doing pre-tour planning like getting police permits, developing networks with service clubs, disability groups and embassies worldwide, as well as identifying volunteers and planning routes. But since the departure from Oakridge didn't go as smoothly as planned, Nancy was asked to go along for the first day – which turned into two days, then three, until she officially became part of the Road Crew.
For the first six months, Nancy travelled ahead of Rick and the rest of the team to set up. One of the biggest challenges was travelling alone to some countries that, in the '80s, didn't accept women in positions of authority.
She also developed a topographical map for each day, showing the terrain with grades. Amanda then used the map to change chair positions for Rick, to advise Don regarding wheelchair configurations, and for Robin- Lee to plan Rick's meals for the day. Nancy then used the timeline to inform the local community groups about arrival and departure times. In addition, Nancy managed the schedule of the crew, volunteers, the budget, and was the go-to person for all Tour-related operations. Nancy is currently working on the Man In Motion World Tour archive.
Additional thanks to Simon Cumming, Rico Bondi, Derek Hill, Brian Rose, Mike Pomponi, Trisha Smith, Dave Archibald, David Holtzman, Sheila O'Gorman, Dan Northam and Dave Doroghy who were all a critical part of the Road Crew at various stages throughout the Man In Motion World Tour.
Browse the archival photos and videos of Rick and the team at various parts in the Tour.