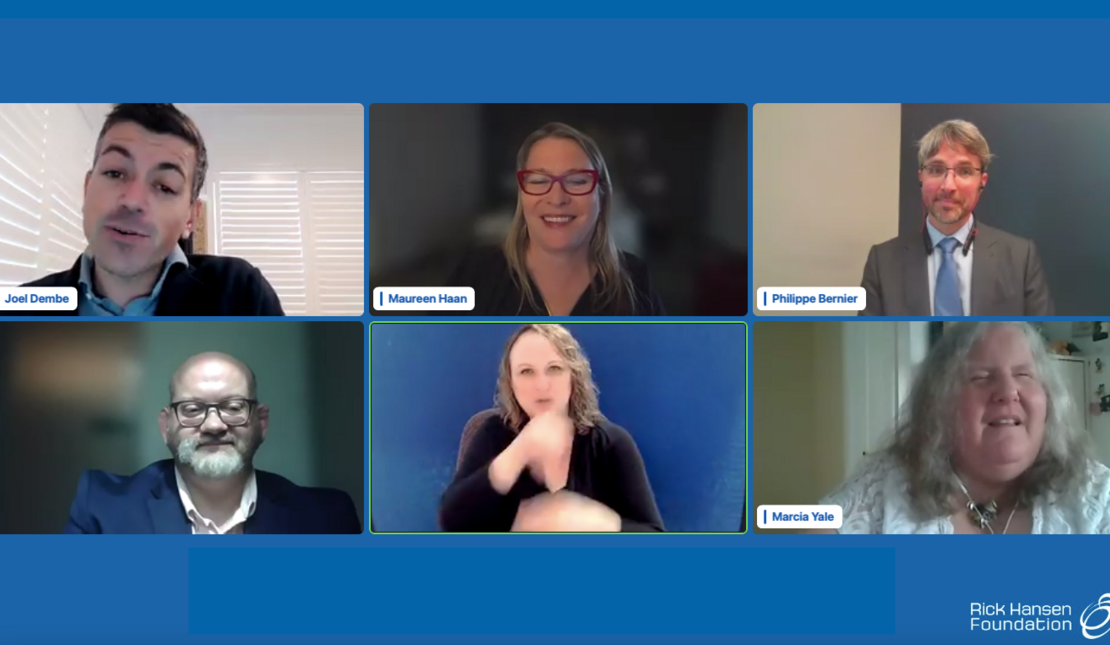 By Katie Kirker
On June 15, 2022
RHF News
In honour of National AccessAbility Week 2022, the Rick Hansen Foundation brought together four leaders in the disability inclusion and workplace space to discuss accessibility and inclusion in the workplace, a particularly important topic as Diversity, Equity and Inclusion becomes more top-of-mind amongst employers across Canada. The hour-long conversation was moderated by Joel Dembe, Retired Paralympian and Senior Manager, Corporate Communications at Royal Bank of Canada.  
Four panellists brought unique perspectives and expertise: 
Marcia Yale, President, Alliance for Equality of Blind Canadians
Marco Chiaramonte, Senior Accessibility and Inclusion Specialist, Vancouver International Airport 
Maureen Haan, President & CEO, Canadian Council on Rehabilitation and Work
Philippe Bernier, Vice President of Strategy, Operations & Sustainability at JLL Canada 
Over 350 attendees joined the conversation about the importance of including people with lived experience with disability in the development of plans, how a disability-inclusive culture needs to start with Executive leadership, and how it's not too late to start small and grow your disability confidence over time.
A Culture of Inclusion is Key   
The panellists discussed the importance of including persons with disabilities in the conversations about how to make a workplace more inclusive and accessible.  
"Put simply, accessibility is about great decisions and great design. Diversity is a fact; inclusion is a decision; belonging is a feeling. The decisions and actions we take can enhance or detract from our personal sense of belonging in a community," Bernier said.  
The panellists touched on the fact that we need to give all workers what they need to be successful. If everyone at the organization thrives, so does the business. The panellists all agree that this goes beyond just an accessible building. We also need a culture of accessibility and inclusion.  
"For the workplace to be accessible, you have to feel like you belong there. There has to be that attitude that everybody is welcome and that everyone can be productive in however he/she/they are able to. All of that productivity is welcome," Yale commented 
The panellists also highlighted that one method does not fit every individual or business' journey to accessibility and inclusion. Employers need to ask the individuals directly and engage with those it affects most. Further, businesses may need to look outside the box and come up with creative solutions to ensure everyone is welcomed in the workplace to succeed to the highest extent.  
"What works for me may not work for someone else. The key is to implement accessible and inclusive practices that create an environment where people can thrive and be successful amongst their peers," Chiaramonte said. "Sometimes employers need to adapt so people can fully participate depending on different circumstances. You have to be adaptable, ask the individual what they need. That's a more inclusive environment."
Inclusion Starts from the Top 
The leadership of the future needs to adopt a more collaborative approach, develop policies, and lead by example. 
"Culture eats strategy for breakfast," Haan stated. 
Standards also need to be in place to support employees, not penalize them. A part of standards is measurement of the level of meaningful accessibility. Tools such as The Rick Hansen Foundation Accessibility CertificationTM (RHFAC) program can help create a roadmap to improving accessibility in the physical workplace.  
Bernier discussed how building managers can advocate with and educate their lease brokers when looking for office space and signal to the market that accessibility is important to the future of businesses.  
"Talk to your brokers. Ask about the accessibility merits of the space. Signal to the market that this is important. Market pull will prompt supply and there will be more good spaces if we ask," Bernier explained.  
For Yale, it has to be a top-down approach for both organizations trying to create a culture of inclusion and for workers who want to help spur change.  
"If the executives are not behind being inclusive and accessible, and they'd rather see things go on as they have been and not take risks, not hire a disability you've seen before. If the people above are not buying in, it's not going to happen, because the people below, the hiring managers, the people who are wanting to take these risks, are going to be afraid that these risks are going to affect their bottom line," Yale explained.  
"If you're in a company and you see a need for something to change, go to the top. You never know who your allies are going to be," added Yale.
Start Now! 
You don't have to wait to start improving accessibility and inclusion at your workplace.  
"It's not too late.  Start somewhere and start small. Get your disability confidence growing and don't stop," Haan said.
80% of the buildings that exist today will still be standing in 2050. Investing in all employees by creating accessible workplaces and creating a culture of inclusion is key to evergreening these buildings.  
Each panellist emphasized that it's just about taking that first step towards a more inclusive workplace. Chiaramonte highlighted how important it is to engage people with lived experience to move forward with accessibility and inclusion.   
"I would consider developing a road map to include accessibility and inclusive by consulting with key community members, organizations, service providers, subject matter experts, people with lived experiences, people with disabilities," Chiaramonte noted. "Moving that process to an engagement process to help employers identify barriers and promote best practices from an accessibility perspective." 
Knowing where you stand now, can help all of us make better accessibility decisions going forward. Creating workplaces that work for everyone creates an environment where every worker can be successful. Unleashing the collective power of people with disabilities can help individuals and businesses thrive. 
As Haan said: "At the end of the day, start somewhere. No company can change corporate culture in a day. Take small steps toward accessibility, grow confidence, and feed the movement to promote long-term change over time." 
Watch the Complete Recording Below
***  
To learn how to make your workplace more physically inclusive, consider engaging an RHFAC Professional to rate your building or office for its level of meaningful accessibility. Learn more at RickHansen.com/RHFAC.