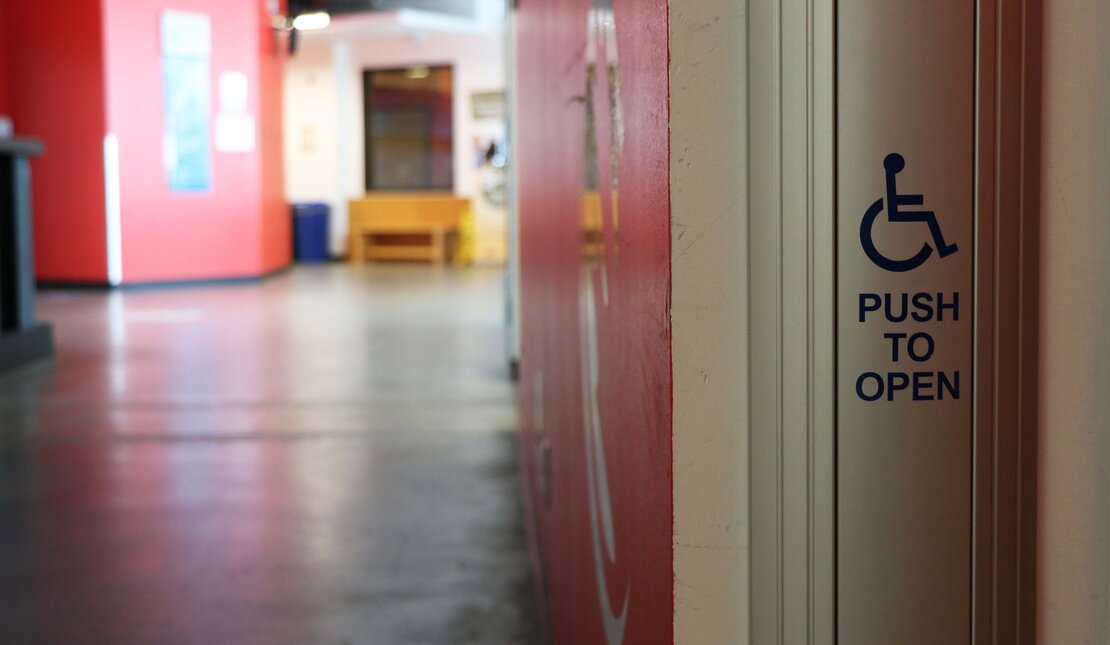 By Katie Kirker
On July 13, 2023
Access & Inclusion
Accessibility and inclusion are core values of PISE, the Pacific Institute for Sport Excellence. When the opportunity arose to receive funding from the Rick Hansen Foundation (RHF) BC Accessibility Grants program, they were excited to make their facility more accessible.
Located in Victoria, BC, PISE is a not-for-profit organization that wants to build a healthy, active community with a focus on inclusion, physical literacy, active living, education and developing performance athletes. The PISE facility includes classrooms, fitness training facilities, gymnasium, a playing field, a 400-meter track, athletic therapy clinic, performance sport services, research lab, an ergonomic centre and outdoor training services.
Ensuring accessibility is important for PISE. Each year the organization welcomes approximately 250 children and 50 adults with a disability for various sports and physical activity programs. This includes approximately 30 Paralympic athletes training in sports, such as Para-Rowing, Para-Athletics and Para-Triathlon. In addition, 450 college students from Camosun College attend classes at PISE and thousands of people from the general community participate in programs and services aimed at developing healthy and active lifestyles. PISE's adapted programs include wheelchair basketball, Boccia, a strength & conditioning program designed specifically for people with physical or cognitive limitations, and power physical literacy, a program for children ages 3-7 where they learn to improve their driving skills of their power mobility chairs each week through games and play, among many others.
"We believe that everyone, of every age and ability, deserves health and well-being. Quality sport and physical activity play a key role in this and it is very important to our team that we continue to work towards a more accessible environment for everyone," Stacey Lund, Business Development Manager at PISE, said.
Leading up to the Rick Hansen Foundation Accessibility Certification™ (RHFAC) rating they received in 2018, PISE had been focused on providing a welcoming and barrier free experience for persons of all abilities, Lund remarked. After completing their RHFAC rating, PISE applied for and received funding through the RHF BC Accessibility Grants program.
The RHFAC rating process outlined some key areas where PISE could improve accessibility, which they used to guide the upgrades. Upgrades included the installation of automatic doors on four classrooms, four washrooms and one exterior door. In doing so, they sourced 'long bar' style push buttons that extend from the floor to roughly hip-height on a person, to better allow for individuals with a wide range of disabilities to be able to open doors independently.
When PISE hosted the National Boccia Championships in 2019, they were able to see the incredible impact their recent accessibility upgrades had made to users of the facility.
"We were gratified to see evidence that PISE has actively sought ways to improve accessibility where possible. For example, the installation of new 'long bar' style power door buttons meant that our athletes could navigate the facility more independently than they could previously," Jennifer Larson, program manager for Boccia Canada said of the improvements in a letter to PISE after the championships.
The tournament involved 40 athletes with a range of moderate to severe disabilities, and over 50 volunteers to execute the event.
"During the event, the accessible bathrooms on the first floor provided athletes with enhanced space and privacy," Larson said of the improvements.
In determining how to use the funding to make upgrades, PISE worked with an accessibility consultant, and spoke with students, clients and members of the facility for feedback on the improvements.
PISE has been trying to make incremental improvements to accessibility since 2009, with the goal of becoming a model in Canada for accessibility and inclusion in sport and physical activity. Since the installation of the automatic door-openers, supported by the RHF BC Accessibility Grant, PISE has made further major accessibility enhancements.
And the efforts have not gone unnoticed.
"Achieving true accessibility is a process requiring ongoing internal reflection and consultation with multiple stakeholder groups. It also requires a willingness to ask challenging questions and readiness to hear the answers. In our time at PISE, it was clear that your team is constantly looking to improve and is willing to do the work needed to continue moving the bar on accessibility," Larson remarked. "From our perspective, PISE has already taken the most important step towards resolving these hurdles by having a leadership team in place that is committed to acknowledging and addressing them."
We gratefully acknowledge the financial support for this Program from the Province of British Columbia through the Ministry of Social Development & Poverty Reduction.