By Katie Kirker
On July 5, 2023
Access & Inclusion
Like any mother, Katie Van Gurp enjoys making memories with her daughter, Holland. She loves the idea of Holland being able to participate like any four-year-old child in the ordinary aspects of day-to-day life in Summerland, B.C. Because Holland has quadriplegic cerebral palsy, it's not so easy.
"So much of this is me learning and finding out things on my own," Katie said.
Katie has had to fight to get what she needs for her daughter at every stage. Watching her daughter navigate the world motivates Katie to ensure that Holland has what she needs to be able to live, learn, play, and grow like other children in her community.
"My daughter is four and she can't do all the things that other children can do. I don't want her to not feel included," Katie said.
As a result, Katie is working to make the world more accessible for children of all abilities.
Going with Mom to the Grocery Store
Holland brings her vibrant personality to all situations and enjoys spending time with her mom.
"It started with trying to get accessible shopping carts. It's something Holland loves but my husband or mother have to come with me because I can't push her in her wheelchair and push a grocery cart at the same time," Katie explained.
Katie did some research and learned there were accessible shopping carts available in Vernon, a community about 90-minutes away. She wanted to know how to get access to them in her local shopping stores. Her advocacy journey began with writing letters to stores including Walmart and Superstore, highlighting the importance of providing accessible devices such as these carts. Katie went a step further and participated in a fundraiser to help with the associated costs.
After months of effort, the Walmart in Penticton is purchasing a shopping cart that will allow Holland to go shopping with her mom. Since then, more and more businesses have been reaching out to Katie to learn how they can get a hold of accessible carts as well.
Katie is now advocating for more.
An Access Champion
"Accessibility means that any child or adult, anyone who has any limitation, can be a part of daily life. They should be able to go to the beach, to the store, or to the park," Katie said.
Katie is pushing for accessibility in the Penticton and Summerland area to ensure Holland, and other children with disabilities, can enjoy everything the city and surrounding areas have to offer.
The interior of B.C. boasts beautiful lakes, playgrounds, and beaches that many can enjoy all year long, but without proper access, children like Holland cannot experience it in full. Like all four-year-olds, Holland loves to play and have fun, but it isn't always possible outside of her home due to barriers. Allowing her to experience the world around her and play with her peers in her community is something Katie wants not only for her daughter, but for all with disabilities.
"I want to look at how we can get Holland to the water on the beach, I would love for parks to be accessible," Katie explained.
Just as with the shopping carts, Katie is once again researching and looking for ways to bring in needed equipment, funding, and other changes to create these accessible spaces for all to enjoy.
The next challenge Katie will be tackling is accessibility in her local school.
"Holland will be turning five and starting school soon, so I want to go there soon and see how accessible the space is and make sure she's included," Katie adds.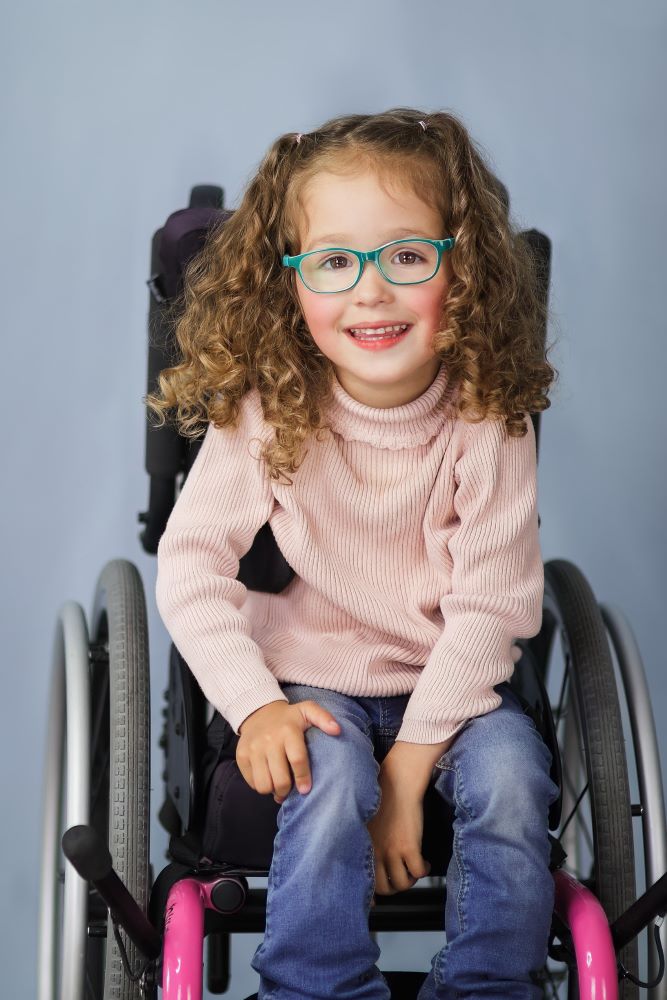 Helping Other Parents
"It's a constant fight," Katie said of the struggle to ensure Holland has the ability to participate in society.
Katie explained that navigating this journey of having a child with a disability has been characterized by her doing research on her own. After Holland's birth, Katie was referred to some wonderful resources, including physical therapy and occupational therapy. But that's where the help stopped. There seemed to be no central way to learn anything else.
Katie did her own research to find out about different resources and mobility aids that Holland might need, such as a walker. Katie has explained that she has been "jumping through hoops" to try and get access to services, such as in-home care for her daughter.
"Had I known about things sooner, that would have been excellent," she said. "The earlier you intervene and get the equipment, or whatever it is you need, the better the outcome."
Katie wants other parents to have more resources so they can help their children get access to what they need and have the ability to experience the world fully. While she is advocating for more, she also wants to be a resource for other parents.
"It's frustrating how hard you have to fight for things for a child who needs the support."