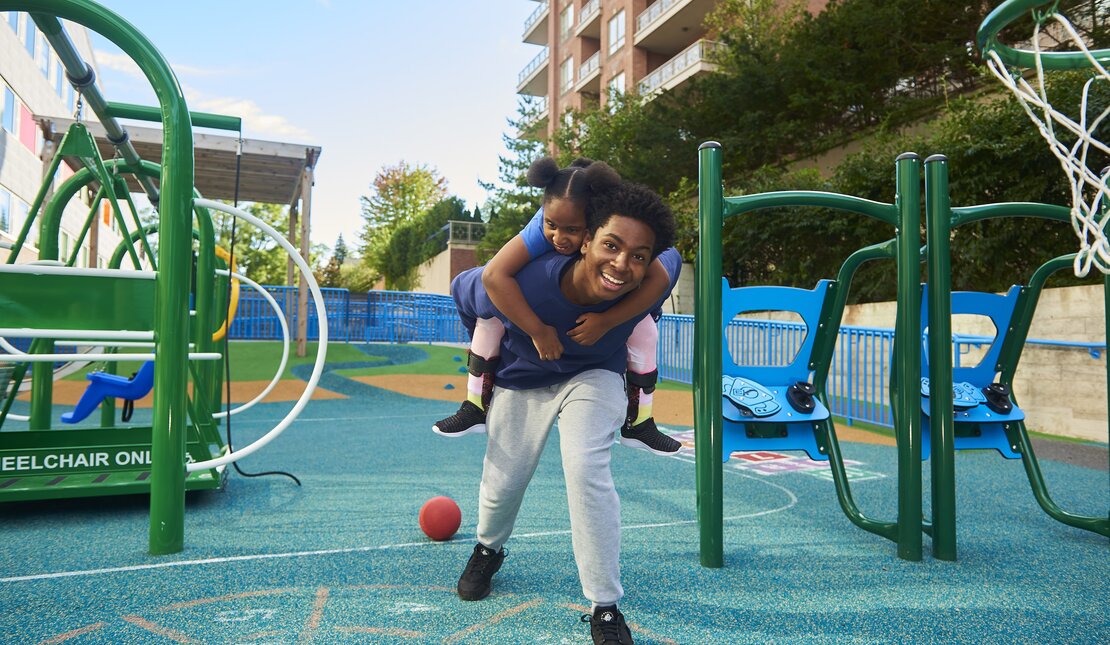 By Katie Kirker
On June 3, 2022
Access & Inclusion
Holland Bloorview Kids Rehabilitation Hospital in Toronto has made accessibility an important part of its culture, committing to constant improvement on its accessibility journey. Holland Bloorview became the first hospital in Canada to achieve a gold rating through the Rick Hansen Foundation Accessibility Certification™ (RHFAC) program.  
"It's an honour to receive any kind of certification from the Rick Hansen Foundation (RHF) as they are known for their accessibility," says Meenu Sikand, Executive Lead, Equity, Diversity and Inclusion, at Holland Bloorview. "Accessibility is a part of the fabric of Holland Bloorview—and it's a core part of our work.  We know that accessibility is an important first step in order to provide excellent patient care for our children with disabilities and medical complexity. We also strive to create a culture where staff can bring their authentic selves to work and accessibility plays a really important role." 
The accessibility audit, adds Sikand, "gave us a baseline to confirm what we believed about our accessibility and also provided a roadmap for how we can continue to make our interior and exterior spaces even more accessible."  
When the Ontario government made the announcement in 2020 that provided funding for 250 sites in Ontario to get rated with RHFAC, Sikand saw it as a great opportunity for Holland Bloorview to understand where they were in terms of access. They scored 82 per cent in their rating, achieving RHFAC Gold and are the only hospital in Canada to receive gold certification. 
A culture of accessibility 
Accessibility is an integral part of Holland Bloorview's strategic plan. A majority of the hospital's clients have multiple disabilities and accessibility is a vital piece of "providing excellent, patient-centred care and service delivery to [their] clients." 
"We want to create an inclusive environment for our clients, families, staff, volunteers and students where they can be their authentic selves. That is our commitment to accessibility and inclusion and to everyone who comes through our doors," Sikand notes. "We want to be a model employer in accessibility and strive for a great level of care. We want to be able to provide accommodations when needed and also prevent the need for accommodations by focusing on accessibility in everything we do." 
Accessible features at the hospital
  
Sikand explains that many believe accessibility is expensive, but the little changes also make a significant difference when it comes to individuals with disabilities to be independent and improve accessibility.  
For example, following the RHFAC rating, Holland Bloorview identified some small changes it could make immediately to improve accessibility such as installing tactile attention indicators at the top of stairs to help individuals who are blind or partially sighted navigate safely and independently.  
Holland Bloorview also has some significant accessible features that it is proud of, including Canada's first research MRI suite that is fully accessible, child-friendly, immersive and customizable, which helped them achieve their Gold rating. 
Sikand explained that accessibility discussions were brought into the project from the design phase, ensuring universal design principles were applied from the start. The entire research MRI suite, for example, was designed in partnership with patients, families and researchers. From the furniture in the waiting room to the accessible tables and lifts in the assessment rooms, the entire suite is purpose-built for accessibility. The MRI scanner room itself also addresses sensory needs, and is customizable for each child to help ease their experience.  
"As part of our commitment to inclusion, diversity, equity and accessibility, Holland Bloorview is committed to dismantling ableism in all its forms," says Sikand.
"To remove barriers for persons with disabilities and dismantle ableism, we must focus on improving accessibility within our infrastructure, services and care."  
Holland Bloorview also wants to engage other health care institutions in the conversation around accessibility and help them recognize that it is possible to provide inclusive and accessible healthcare.  
"We promote and encourage greater accessibility in healthcare organizations and beyond. We recognize that this work doesn't happen in a day but there is always more to be done to ensure that our patients receive the same standards of accessible care outside our walls," adds Sikand. "My advice for other organizations is to listen to the clients and families coming through your doors." 
As for Holland Bloorview's ongoing commitment to break down disability barriers? "It's not a destination, it's a continuous journey and we want to continue to strive for new milestones," Sikand says. 
Meenu Sikand worked closely with the RHFAC team to support the hospital achieve Gold Certification. Meenu has since moved on from Holland Bloorview and the team is grateful for her leadership in creating an accessible environment for all those who visit the hospital.