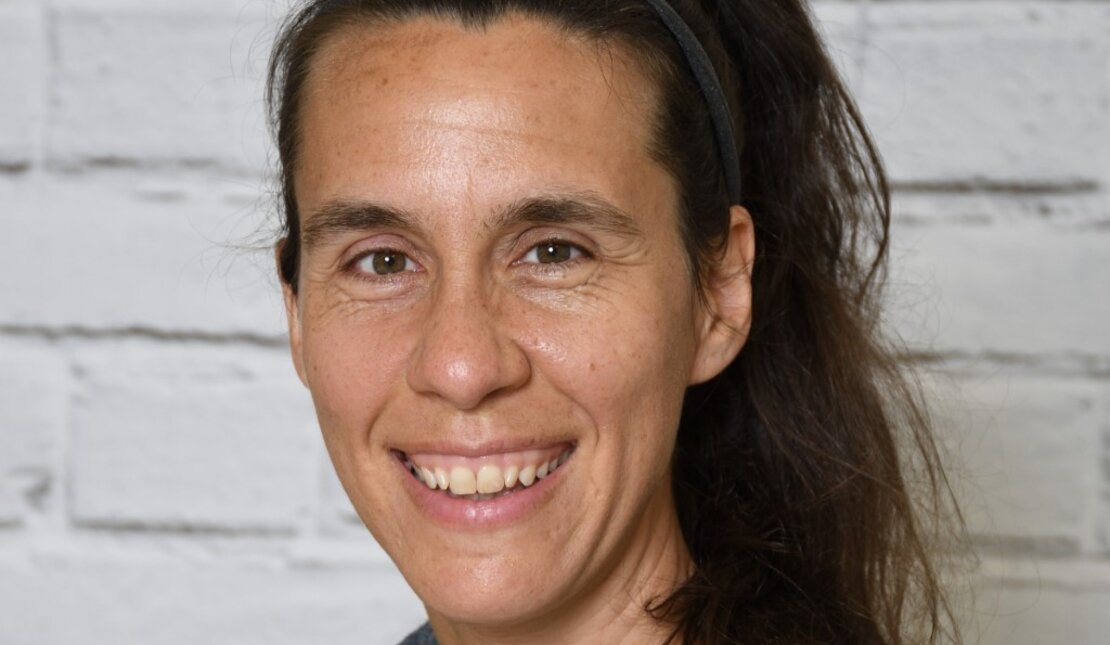 By Mariann Roberts
On October 5, 2022
Community Spotlight

Oct. 5 is World Teachers' Day! We appreciate the efforts of teachers all year round. However, today is an important day to acknowledge the many ways teachers make a difference in the lives of their students, colleagues, and in their communities. Thank you for all you do, teachers!  
To celebrate, we thought of the most quintessential way to commemorate the wonderful work of teachers – by learning from them! We spoke with educator and 2022 RHF School Program Difference Maker of the Year Award recipient, Véronique Messier. Véronique is the first physical educator teacher ever at École Madeleine-Bergeron school in Québec. She motivates students by creating inclusive and accessible lessons for all, and shares her perspective on why being a Difference Maker and an educator are one and the same.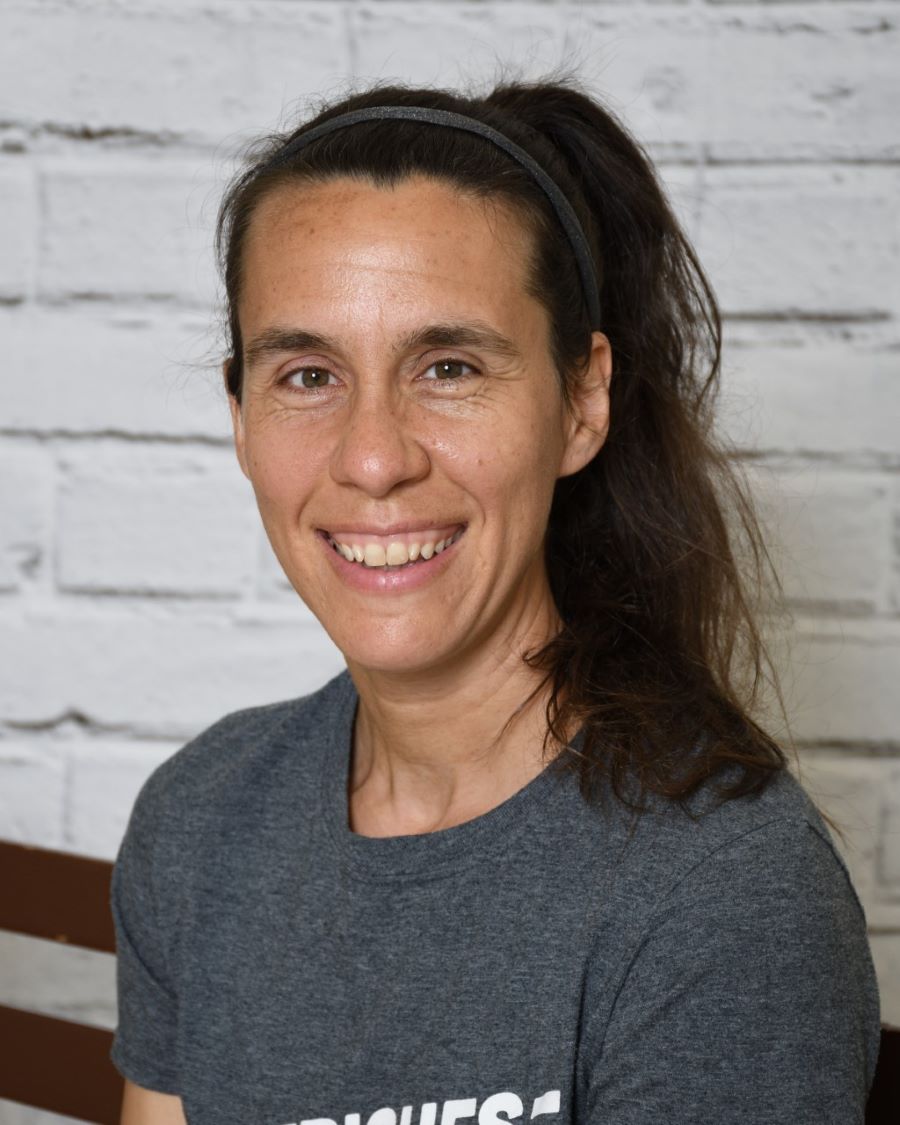 Q: Where do you currently live? 
A: On the South shore of Québec City. 
Q. Where did you grow up?  
A: In Saint-Hyacinthe, 2 hours from Québec City. 
Q. I understand the school you teach at, École Madeleine-Bergeron, supports students who require specialized care and is often a large family for the students who attend. You are the first physical education teacher ever at École Madeleine-Bergeron, why was it so important to you to bring accessibility and inclusion to your Phys-Ed classes?   
A: All students need to be active, especially those who don't have the opportunity to move often. I know the importance and benefit of physical activity in my personal life and I want that for my students. 
Q. What do you think accessible physical education classes mean to students in terms of growth, confidence, and their perception of themselves and the world around them?  
A: Since we have had physical activity classes at our school, I have seen an improvement in the self-confidence of many students. I also strive to make sure that my students' athletic achievements are recognized to show the world that you can do great things, even with a disability! The students then see themselves as athletes, too!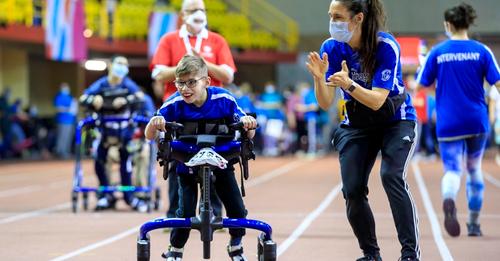 Q. What does being a Difference Maker mean to you? 
A: I am proud to make a difference in the lives of my students. They bring as much to me as I bring to them. I want society to see, as I do, all the efforts and successes of people living with disabilities. 
Q. When did you start thinking that it was important for places to be accessible and inclusive for everyone? What inspired you? 
A. My brother was in a car accident when he was young. He now lives with a fairly major physical disability. I have, therefore, experienced on a daily basis the problems that my parents often encountered in accessing different places or participating in activities that were not adapted for a person in a wheelchair. My personal experience has definitely inspired me to try to make the world around me more inclusive. 
Q. As an educator, why is it so important to advocate for inclusion and create spaces of acceptance for all people, regardless of ability? 
A. Even within our school, I have to explain to my students that everyone has their limitations and strengths. It is sometimes difficult to understand what someone else is going through. My goal is to show that everyone can perform according to their abilities. This is important so that each person feels valued through their accomplishments, no matter the size of the accomplishment. 
Q. What impact do you think young people can have on the way the world is shaped if we think about inclusion and accessibility of the future? 
A. Youth are the future of our world. If our youth are more aware of inclusion and accessibility, it will ensure that everyone can contribute to society.  
Q. What are some of the ways other people can make a difference, too? 
A. It is important that we make people aware of our differences. If each person who believes in this vision of a better world can convince another person, then the world will surely be better off! 
Q. What are some of your goals and dreams for the future? 
A. I see the future in a positive light. The youth are more and more aware of the issues in society. They are more and more open to difference. A human being is a human being, no matter what they look like or what their abilities are. Everyone has their place and can contribute in their own way. I am hopeful that in the not-too-distant future, people living with a disability will be able to move around and have the same experiences as everyone else. More and more technology and ingenuity are making the outdoors, sports, recreation and travel accessible.  
Q. Is there anything else you would like to add in conclusion? 
A. Thank you so much for giving me this Difference Maker Award for making a difference in my community. That is my goal! To make sure that people who have a limitation can enjoy life like everyone else! 
--
For free lesson plans, short activities, videos, e-books and other teaching resources, visit our Resource Library, or book an Ambassador presentation for your school today!
---
La traduction française commence:
Le 5 octobre, c'est la journée mondiale des enseignantes et des enseignants! Nous sommes reconnaissants des efforts que déploient les enseignantes et les enseignants tout au long de l'année. Cependant, aujourd'hui, c'est un jour important pour reconnaître les nombreuses façons dont les enseignantes et les enseignants font une différence dans la vie de leurs élèves, de leurs collègues et de leurs communautés. Merci pour tout ce que vous faites, chères enseignantes et chers enseignants!  
Pour célébrer, nous avons pensé à la façon la plus caractéristique de commémorer leur merveilleux travail : en apprenant d'eux! Nous avons parlé avec Véronique Messier, éducatrice et lauréate du prix Personne qui fait une différence de l'année 2022 du Programme scolaire. Mme Messier est la toute première enseignante d'éducation physique à l'école Madeleine-Bergeron, à Québec! Elle motive les élèves en créant des leçons inclusives et accessibles à tou.te.s, et fait part de son point de vue sur les raisons pour lesquelles être une personne qui fait la différence et être éducatrice ne font qu'un.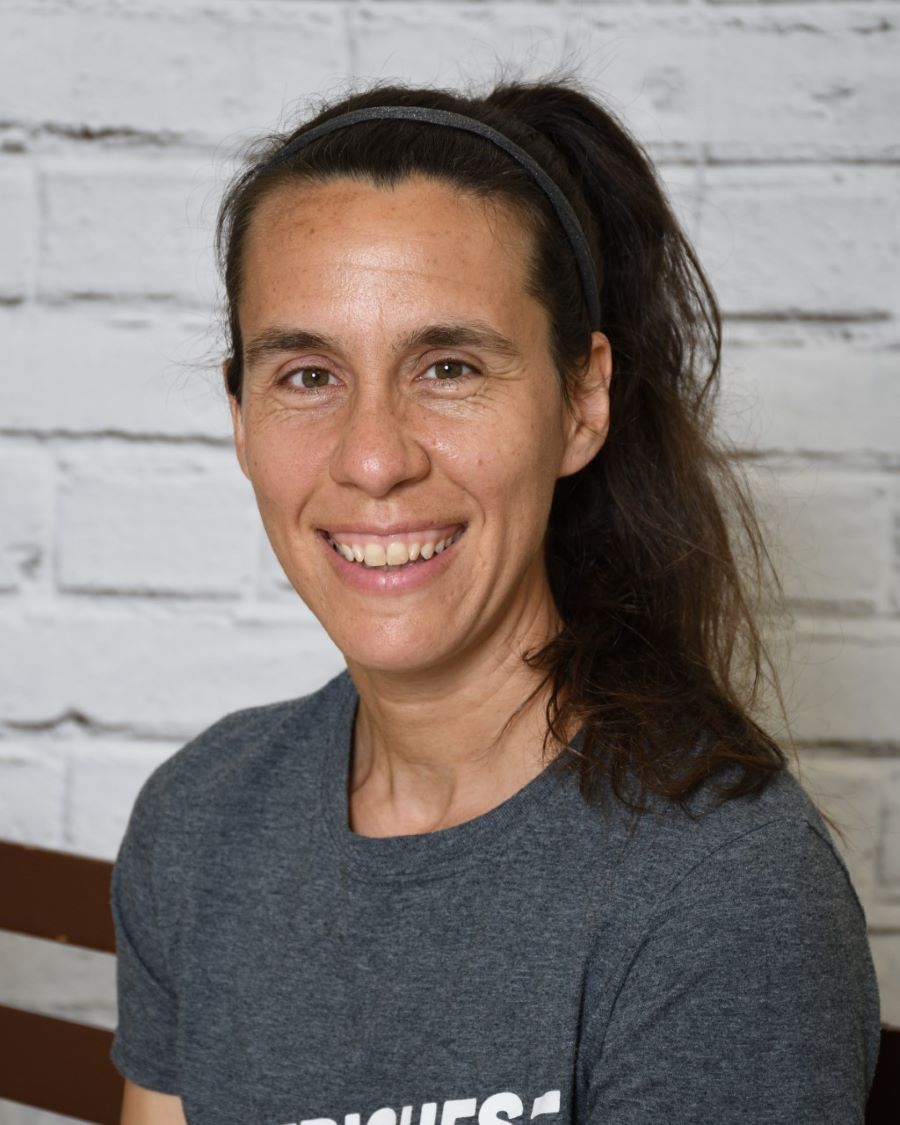 Q. Où vivez-vous? 
R. Sur la rive-sud de Québec. 
Q. Où avez-vous grandi?  
R. À Saint-Hyacinthe à 2 heures de Québec. 
Q. Je comprends que l'école où vous enseignez, l'école Madeleine-Bergeron, appuie les élèves qui ont besoin de soins spécialisés et constitue souvent une grande famille pour les élèves qui la fréquentent. Vous êtes la première enseignante d'éducation physique à l'école Madeleine-Bergeron; pourquoi était-il si important pour vous d'introduire l'accessibilité et l'inclusion dans vos cours d'éducation physique? 
R. Tous les élèves ont besoin de bouger et de faire de l'activité physique, surtout ceux qui n'ont pas souvent la possibilité de bouger. Je connais l'importance et le bienfait qu'apporte l'activité physique dans ma vie personnelle et c'est ce que je veux pour mes élèves. 
Q. À votre avis, que représentent les cours d'éducation physique accessibles pour les élèves en terme de croissance, de confiance et de perception d'elles-mêmes, d'eux-mêmes et du monde?  
R. Depuis que nous avons des cours d'activité physique à notre école, je vois une amélioration de la confiance en soi de plusieurs élèves. Je m'efforce aussi de faire en sorte que les exploits sportifs de mes élèves soient connus pour montrer au monde à quel point même avec un handicap il est possible de faire de grandes choses! Les élèves peuvent maintenant se voir comme des sportifs eux aussi!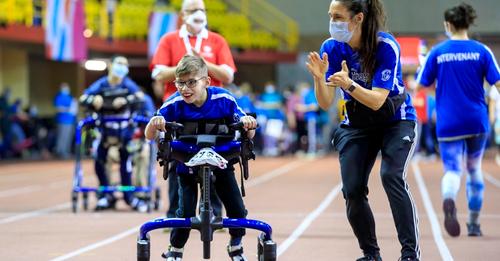 Q. Qu'est-ce que cela signifie pour vous que d'être une personne qui fait une différence? 
R. Je suis fière de faire la différence dans la vie de mes élèves. Ils m'apportent autant que ce que je leur apporte. Je veux que la société voie, comme moi, tous les efforts et les réussites des personnes qui vivent avec un handicap. 
Q. Quand avez-vous commencé à penser qu'il était important que les lieux soient accessibles et inclusifs pour tout le monde? Qu'est-ce qui vous a inspirée? 
R. Mon frère a eu un accident de la route quand il était jeune. Il vit maintenant avec un handicap physique assez majeur. J'ai donc vécu au quotidien les problèmes que mes parents rencontraient souvent pour accéder à différents lieux ou pour participer à des activités( qui n'étaient pas adaptées pour une personne en fauteuil roulant). Mon expérience personnelle m'a assurément inspirée à essayer de rendre plus inclusif le monde qui m'entoure. 
Q. Comme éducatrice, pourquoi est-il si important de défendre l'inclusion et de créer des espaces d'acceptation pour toutes les personnes, quelles que soient leurs capacités? 
R. Même à l'intérieur de notre école, je dois expliquer à mes élèves que chacun à ses limitations et ses forces. Il est parfois difficile de comprendre ce que l'autre vit. Mon objectif est de montrer que chacun peut performer selon ses compétences. C'est important pour que chaque personne se sente valorisée dans ses accomplissements, peu importe la grandeur de l'accomplissement. 
Q. Quel impact pensez-vous que les jeunes peuvent avoir sur la façon dont le monde est façonné si on pense à l'inclusion et l'accessibilité de l'avenir? 
R. La jeunesse est l'avenir de notre monde. Si nos jeunes sont plus sensibles à l'inclusion et à l'accessibilité, cela fera en sorte que tous pourront contribuer à la société.  
Q. Comment les gens peuvent-ils eux aussi faire la différence? 
R. Il est important que nous sensibilisions les gens à la différence. Si chaque personne qui croit en cette vision d'un monde meilleur réussit à convaincre une autre personne, alors le monde s'en portera assurément mieux! 
Q. Pouvez-vous nous parler d'objectifs et de rêves que vous avez pour l'avenir? 
R. Je vois l'avenir de façon positive. La jeunesse est de plus en plus au courant des enjeux de la société. Ils sont de plus en plus ouverts à la différence. Un humain est un humain, peu importe son apparence et ses capacités. Chacun à sa place et peut contribuer à sa façon. J'ai bon espoir que dans un avenir pas si lointain les personnes qui vivent avec une différence pourront se déplacer partout et vivre les mêmes expériences que tout le monde.  De plus en plus la technologie et l'ingéniosité des gens font en sorte de rendre accessible le plein air, les sports, les loisirs, les déplacements.  
Q. Souhaitez-vous ajouter quelque chose pour conclure? 
R. Merci beaucoup de m'avoir donné cette reconnaissance d'être une personne qui fait la différence dans mon milieu. C'est justement mon objectif! De faire en sorte que les personnes qui ont une limitation puissent profiter de la vie comme tout le monde! 
--
Pour obtenir des plans de leçon gratuits, de courtes activités, des vidéos, des livres électroniques et d'autres ressources pédagogiques, nous vous invitons à consulter dès aujourd'hui notre bibliothèque de ressources ou à réserver une présentation d'ambassadeur.rice pour votre école.