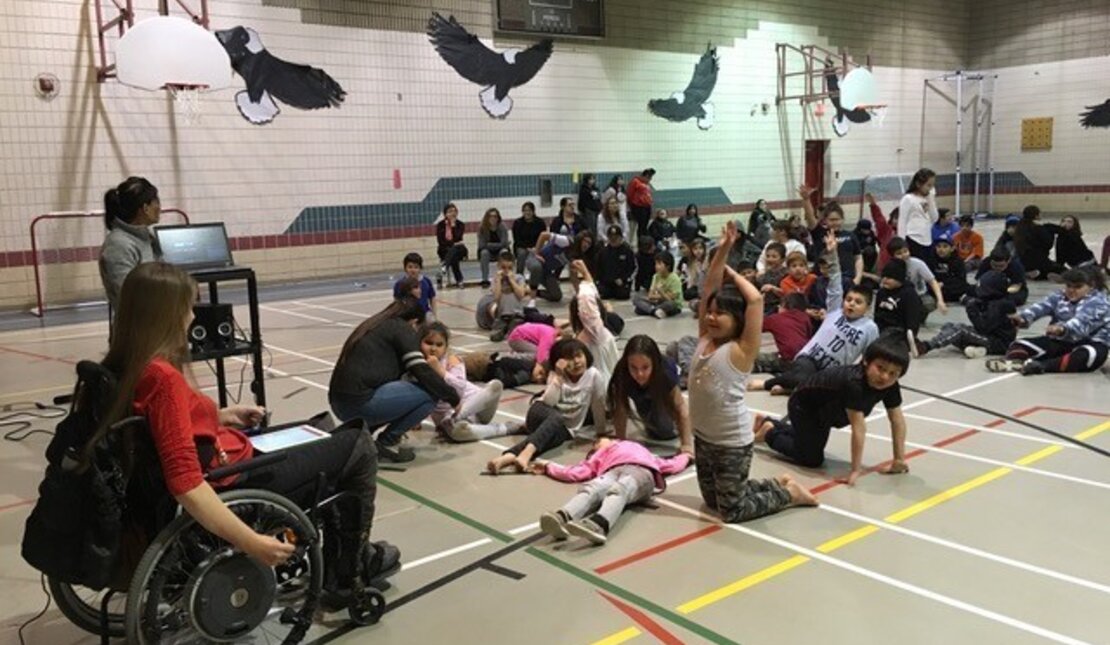 By RHF
On September 25, 2019
Community Spotlight
Connecting with Students in Saskatchewan
Like many 18-year-olds, Natasha Urkow's life changed drastically after graduating high school. What sets her story apart, however, is how it changed. While out with friends one night, she was in a devastating car accident and injured her spine, leaving her with quadriplegia. Natasha decided early on not to be a victim—instead, she continued on with her life, just a little differently than she'd imagined. 
While studying theatre at the University of Regina, Natasha also shares her story with schools and communities as an Ambassador for the Rick Hansen Foundation. 
Bringing her message of Inclusion North
For one of these presentations, she journeyed over two hours north of her home in Saskatchewan to the Cote Reservation. The Chief Gabriel Cote Education Complex is located near the small town of Kamsack, and the learning centre's bright red roof is an umbrella for students from pre-kindergarten all the way to grade 12. 
When she took the stage, the first thing Natasha did was acknowledge that she was a guest at their reservation on Treaty 4 land. "It was important to show respect as someone coming into their community," she says. 
As any teacher will tell you, keeping students engaged can be a challenge. A challenge, it seems, Natasha was born to take on. "During my presentation, the students were inching closer and closer to me, it was so funny," Natasha recalls. 
Her outgoing personality and acting experience give her a natural stage presence. She also has a trick up her sleeve—beatboxing. A natural performer, Natasha proves that you don't need to have full mobility to be able to engage youth. Through spoken word and her ability to mimic musical beats, she shares her message in a way that make you forget you're at school. 
Janet Love, an educator at the Cote Education Complex and the one who organized her visit, was thrilled. "It was Natasha's humanity, and her theatre background which really engaged the kids. She was totally vulnerable in sharing her story about being in a car and not wearing seatbelts. The kids completely related to her truth." 
Principal Jonas Cote agrees, "The story that she told was impactful... It was the first time the kids had seen somebody like her come to the school and hear their story about how they ended up in a wheelchair." The older students, says Jonas, were struck by how close in age they were to Natasha—"they grasped onto her story…it opened their eyes to what could happen." 
At the end of the presentation, the students were invited to ask questions. There was so much curiosity, especially from the younger students, that they eventually had to cut the question period short. When it came time to line up to shake Natasha's hand, the students swarmed her. Natasha's mobility limits her in being able to shake hands in a traditional sense, but the students buzzed around her chair, waiting for their turn to bump fists—a greeting style that felt way more fun.
Principal Cote, Janet Love, and the other teachers appreciated Natasha's message of resilience and empowerment. She demonstrated that even though something terrible had happened to her, she was still able to achieve great things. Natasha also had a clear and simple request: please wear your seatbelt. If her speeches can save even one life, Natasha feels that every presentation is worth it.
Principal Cote and the Rick Hansen Foundation School team are already planning Natasha's return to give another presentation next year.