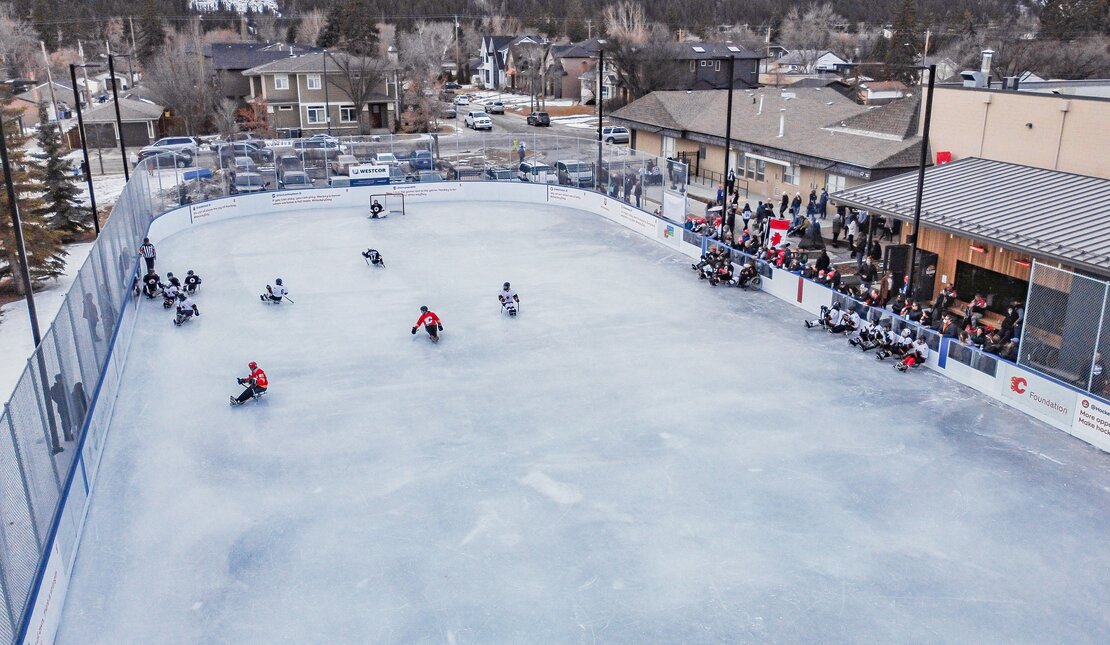 By Katie Kirker
On November 28, 2022
Access & Inclusion
In a community nestled along the north bank of the Bow River in Calgary is the Parkdale Community Association (PCA). Last year, PCA replaced their well-loved community rink with an accessible rink that achieved Rick Hansen Foundation Accessibility CertificationTM (RHFAC) Gold, making it the first accessible outdoor rink in Calgary and the first outdoor rink to achieve this certification level in Canada. 
When looking to replace the rink that hadn't been updated in 30 years, PCA President, Amanda Affonso and Director – Accessible Rink, John Butterwick, who are both volunteers in these positions, worked to learn more about what they thought was important in the new space.  
"We went out to our community and had a number of community meetings and asked what they would like to see," Affonso said. "One of our community members asked us if it was going to be accessible, and that started the whole process of us thinking about what accessibility means."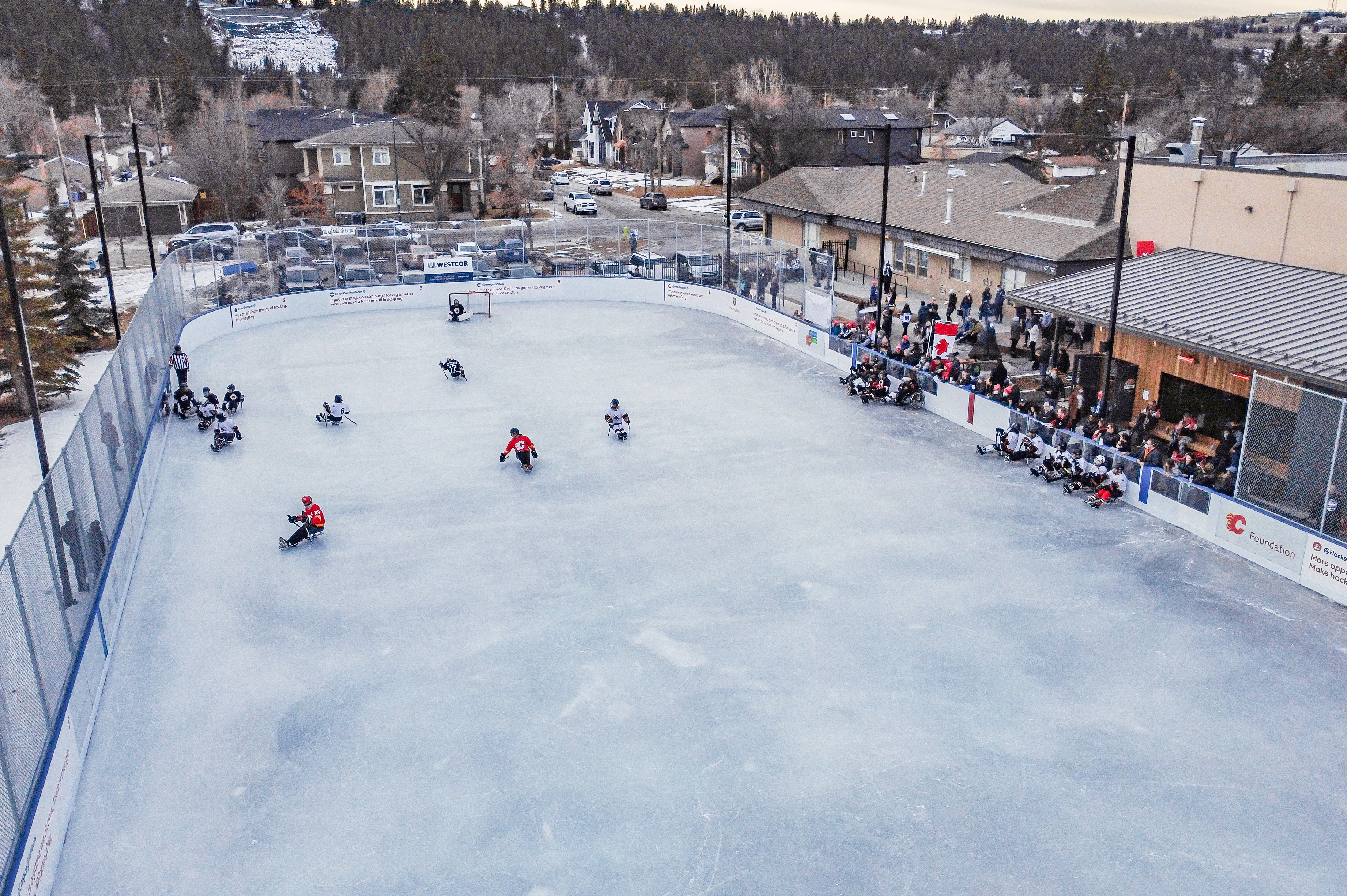 Creating an Accessible Community Space 
When coming up with the design, keeping accessibility top of mind was a priority. PCA worked with the accessibility consulting firm Level Playing Field and LOLA Architecture to bring the outdoor rink to life.  
The rink itself has a number of features that help improve access for all community members. Some of the boards surrounding the rink are clear, so "if you are sitting in a sled or a wheelchair, or use a mobility device, you have a sightline across the space and can see and enter it safely," Affonso explained. 
Not only is the rink itself accessible, but the entire space is, as the benefits of access go beyond those who identify as having a disability, it benefits the whole community.  
"Young kids can watch through the boards when they otherwise wouldn't be able to," Butterwick noted.  
Further, there is no lip entering the rink. The ground from the changeroom to the ice is level, making it simple for individuals to slide into the rink. The gates entering the rink space are also wider than a traditional rink to allow for easier passage.  
PCA included a warming area that is heated and can be used as a changeroom and has universal washrooms. The site also includes a community space, surrounding a firepit, where the community can gather barrier free.  
The site itself is on a graded lot, so part of the design challenge was ensuring that all areas were accessible. 
"We wanted to create a two-level deck for viewing, to take advantage of the grade on the site," Erica Lowe, the Principal Architect from LOLA Architecture explained. "We needed to make sure there were no steps, so we worked on creating a ramp and sloped walkway to ensure everyone could use the space."   
Lowe explained that it was a smaller deign exercise, but one that makes such a huge impact. In fact, Lowe said that this project has changed the way she approaches her projects, and two members of the LOLA Architecture team are now in the process of becoming RHFAC Professionals, something she was very excited about.  
Lowe also noted the importance of collaboration with PCA on this project.  
"The Parkdale Community Association was great to work with," Lowe said. "Their passion and joy for the project would come through when you hit a roadblock. They were a great group to work through those with."
Working With the Broader Community 
Affonso explained that they considered their proximity to the Foothills Hospital, and many other stakeholders in the community such as local businesses, seniors homes, churches, and Wood's Homes, a nonprofit organization that provides mental health services to children and their families. They spoke with each group to try and make the rink as accessible and usable for all community members and incorporate their feedback.  
Beyond the local Parkdale community, they also spoke with the Calgary Sledge Hockey Association and spent time learning about what makes a rink accessible, design ideas that could be incorporated and what does and doesn't work. 
"We wanted to know, what are some of the things they would like to see in the place," Affonso noted. "It wasn't just about building a community rink, but making it a community gathering place, so part of the engagement process was to speak to the broader community to get their input."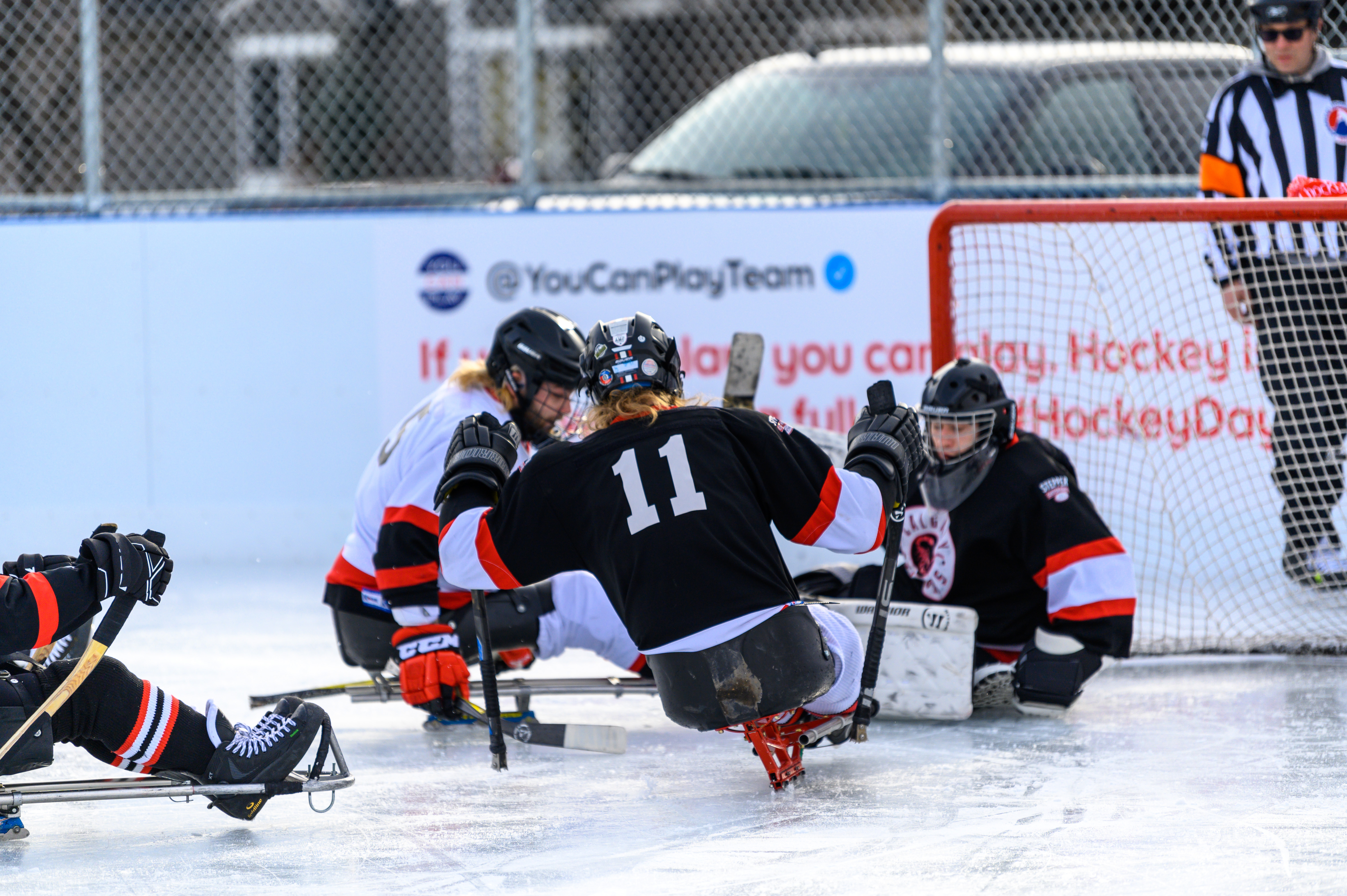 Year-Round Use  
"The feedback has been amazing," Affonso said. 
It was important to the PCA to have a space that could be dedicated to user groups who needed it. So, every Thursday night the Calgary Sledge Hockey Team comes to play and have practice in the space.  
"I am really excited about what this facility means for the sport of sledge hockey, both at a competitive and grassroots level. I hope this focus on accessibility becomes the norm and standard for all ice rinks across Canada," Alan Halbert, President of the Calgary Sledge Hockey Association said of the rink.  
Affonso added that they're "really excited about having the space for them that is outside and where they can train for free."  
Affonso and Butterwick both mentioned that use was high not only in the winter but in the summer as well. When designing the rink, they ensured a concrete base was used so that in the warmer months, there could be space for play and other community activities.  
This summer they put up hockey nets and hosted the Parkdale Pet Fest, but PCA is eager to start summer programming next year.  
"It's so much more than a rink. We have parents with strollers, young families and grandparents, and everybody is using this facility in the winter and summer," Butterwick noted.
"There is so many more benefits to building an accessible rink for the community than you would ever think of."
Advocating for Other Accessible Rinks  
To fund the rink, the Parkdale Community Association received funding from a variety of organizations including, Parks Foundation Calgary, the Calgary Flames Foundation, the Government of Alberta, Calgary Foundation, ENMAX, Calgary Parking Authority, and the City of Calgary. 
In addition, with the City of Calgary, they applied for a Capital Conservation Grant (CCG). 
"CCG is such an amazing granting program for communities in Calgary, and it helped us immensely as well," Butterwick explained. "It's a grant that applies to everything in our facility lifecycle, from the ceiling to the floors to the HVAC system - anything that the community wants to raise money for. Our rink fell within that which is why we went down that path for funding."  
The Capital Conservation Grants see the City of Calgary match (up to a maximum of 75% and $300,000) the amount of money provided by the facility to cover the cost of renovations.  
One of the stipulations of the grant however, is that the funding only applies to like-for-like replacements, meaning everything that is being replaced must be replaced with something identical.  
"We really pushed hard and fought hard to test like-for-like replacement in that we shouldn't be building a rink that was built from 30 years ago, but rather building a rink for current day and future users and thinking about what it means to be a public space for everyone that is inclusive," Affonso said. "That was really important to us and we weren't going to accept like-for-like replacement. We wanted to build something that was accessible and inclusive for the broader community." 
 "You can build a rink the exact same way with slight modifications to make it more accessible. It can be done with the same materials, the same budget, just with slight modifications for accessibility in mind," Butterwick added. 
PCA is now advocating for a change to the CCG grant guidelines.  
"What I would like to see is for the grants to have some flexibility to advocate for accessibility rather than us coming to them with requests," Butterwick said. "There's an opportunity for them to consider the policy and really deliberately call out for accessibility and highlight that the funding can work for accessibility as well. Building for accessibility shouldn't be an afterthought."  
 "It's unfortunate that the City hasn't changed their philosophy on like-for-like replacement but it's still something we're advocating for and pushing for," Affonso added. "Our job is not done until that policy changes."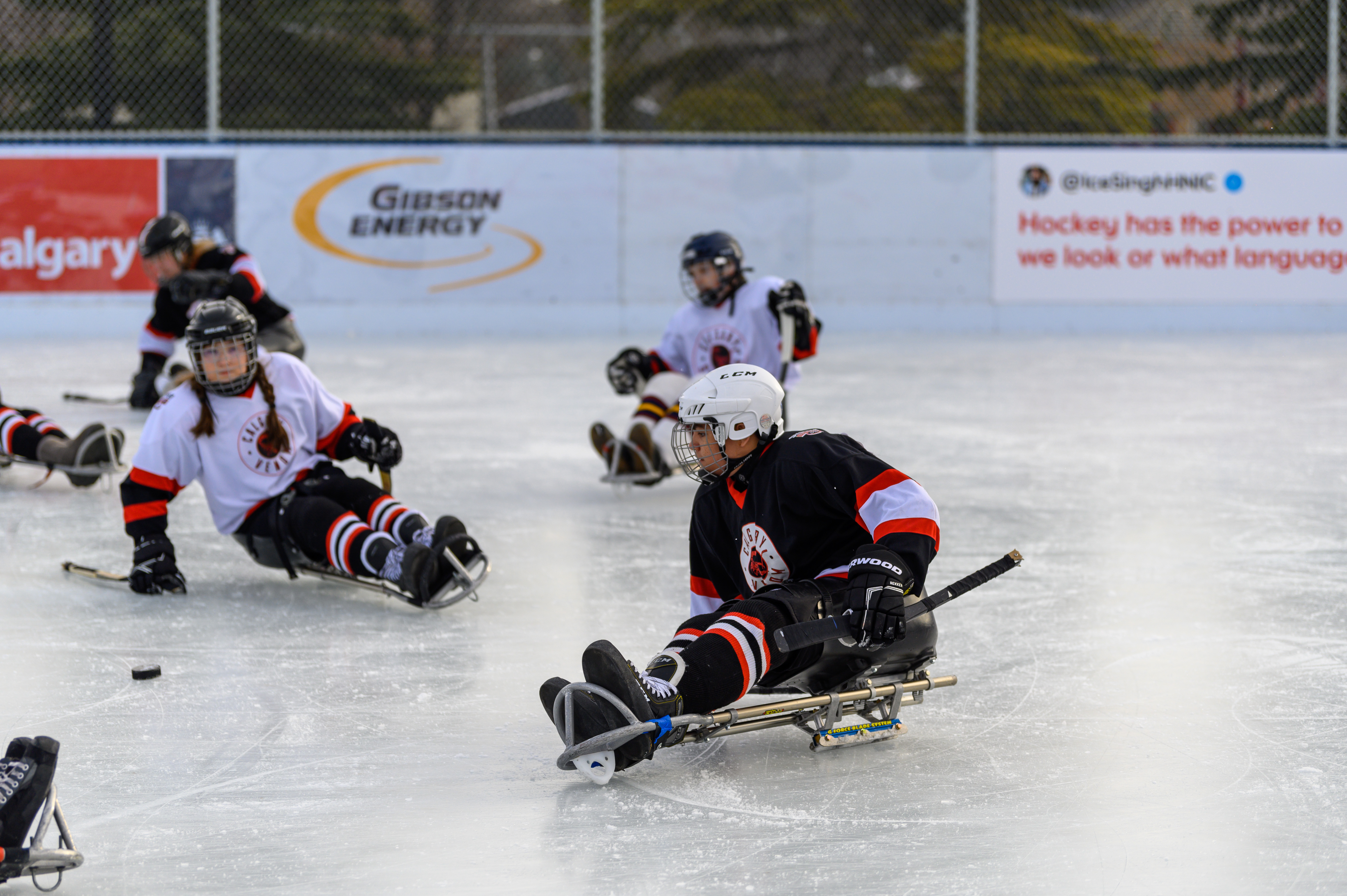 The Future of Accessible Rinks  
As the first accessible outdoor ice rink in Calgary, PCA hopes others will see what they have done and do the same.  
"Our goal here is to inspire others to build accessible rinks," Butterwick said.  
PCA is hoping that this is just the start of accessible rinks. As Affonso said: "One of the things were most proud of is that we've hopefully set the news standard of how community rinks should be built not only in Calgary, but across the country."