By RHF
On October 29, 2020
Access & Inclusion
With Halloween just around the corner, here are some tips to make it fa-boo-lously inclusive for your trick-or-treaters! 
1. Raise spirits with a curb-side treat station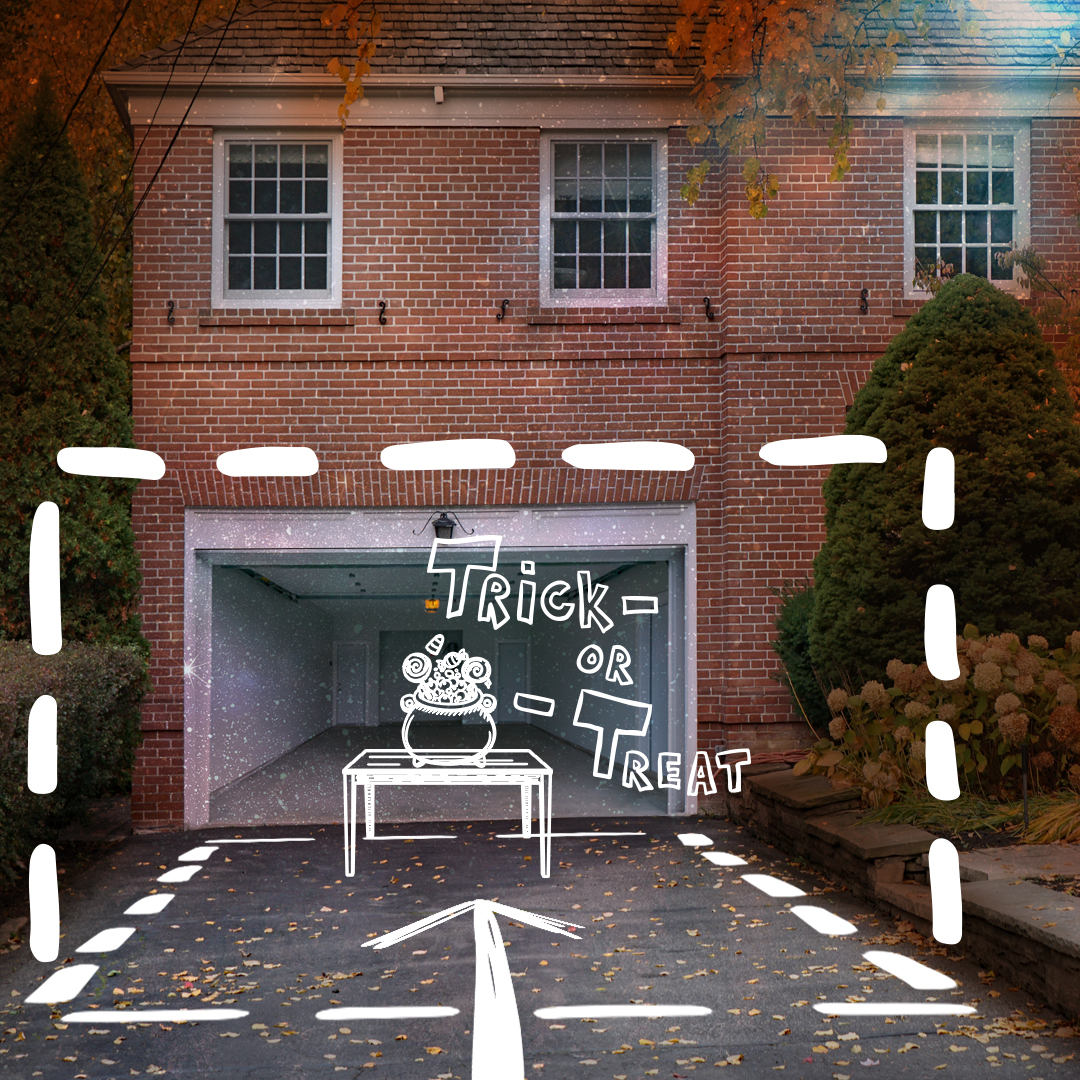 Many homes have steps leading to the front door which makes it impossible to navigate for those in wheelchairs or using other mobility equipment. A great solution is to set up a trick-or-treating station at the end of your driveway! 
This is also a great way to hand out treats from a distance as the COVID-19 pandemic has got people re-thinking Halloween. Some people are rigging "candy slides" in their front yards where they drop treats down PVC piping or something similar keep those little ghosts and goblins at a friendly distance. (Check with your local health authority to find out if trick-or-treating is happening in your neighbourhood.) 
2. Let them see (right through you)
Light the way to your treat station! Having a well-lit walkway helps people who are blind or have low vision navigate their way without the worry of tripping or falling. Lighting also helps those with hearing loss who rely on lip-reading to communicate. Lighting is a super way to get creative on Halloween. Use orange and red lights (or film-industry approved gels) as accent colours against blue and green for a spooky – and brightly-lit – look. Coloured flood lights also provide broad light and pointing spotlights at props will give them that eerie glow-in-the-dark effect. On that note, pass on the strobe lights and noise machines as they can be over-stimulating for some. 
Remember that narrow paths can be difficult for our friends with mobility aids. Lots of space is key so park your vehicles elsewhere during trick-or-treating hours and keep those scary decorations far off to the side so they are not tripping hazards. 
3. Use an accessible trick-of-treating sign to let people know there are no grave problems at your home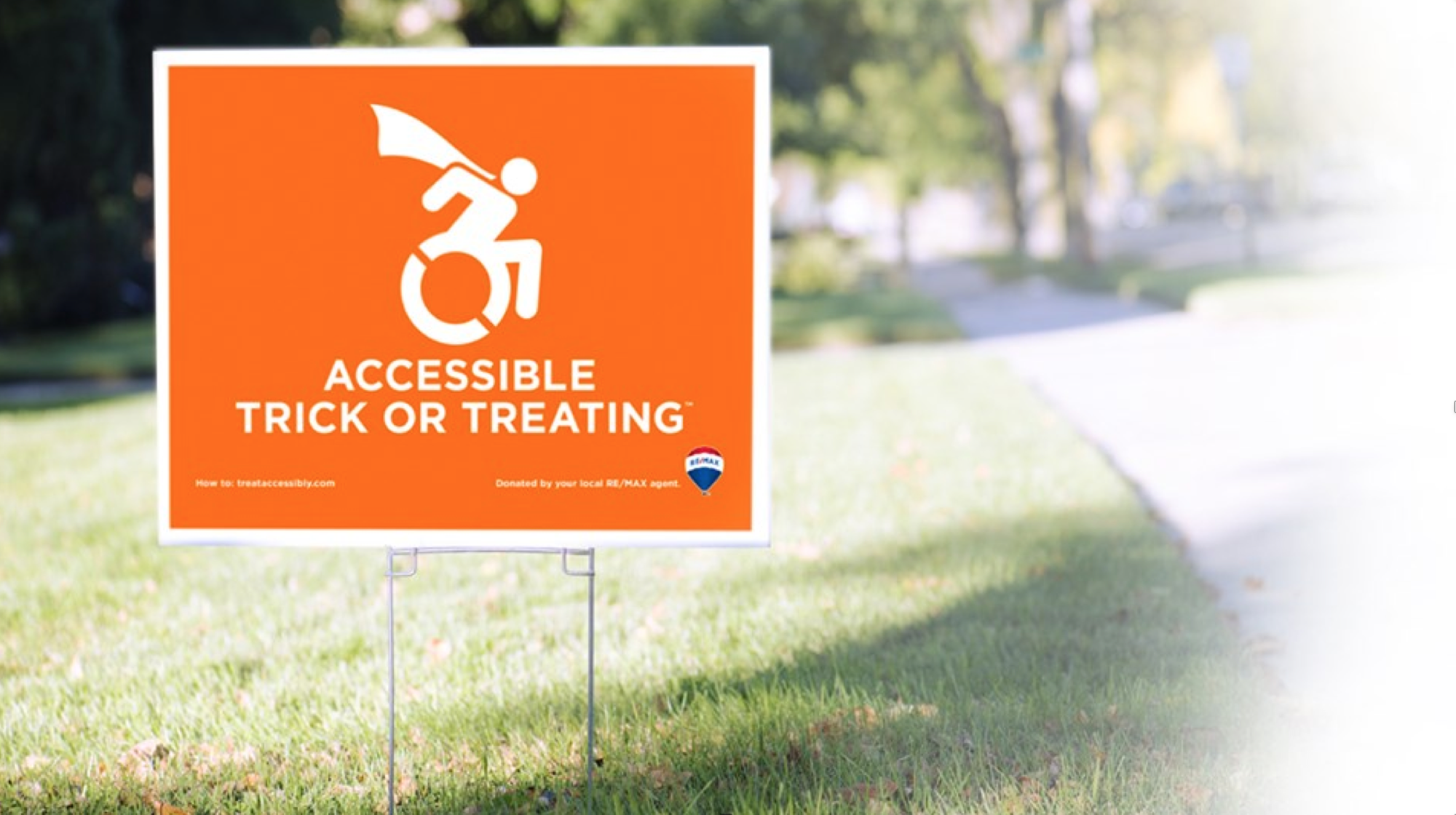 RHF is so pleased to be working with Treat Accessibility to make sure Halloween is for everyone, everywhere. By putting up a Treat Accessibly sign, you will give families the knowledge that your home is accessible for all. Believe us, it will make a world of difference (check out what motivational speaker & friend of RHF Marco Pasqua has to say about the Treat Accessibly movement in this short video). You can make your own sign or download one from the Treat Accessibility site. The signs are also available at participating Home Depot stores and RE/MAX agents across Canada. 
4. Have a gourd time with RHFSP's online Halloween activities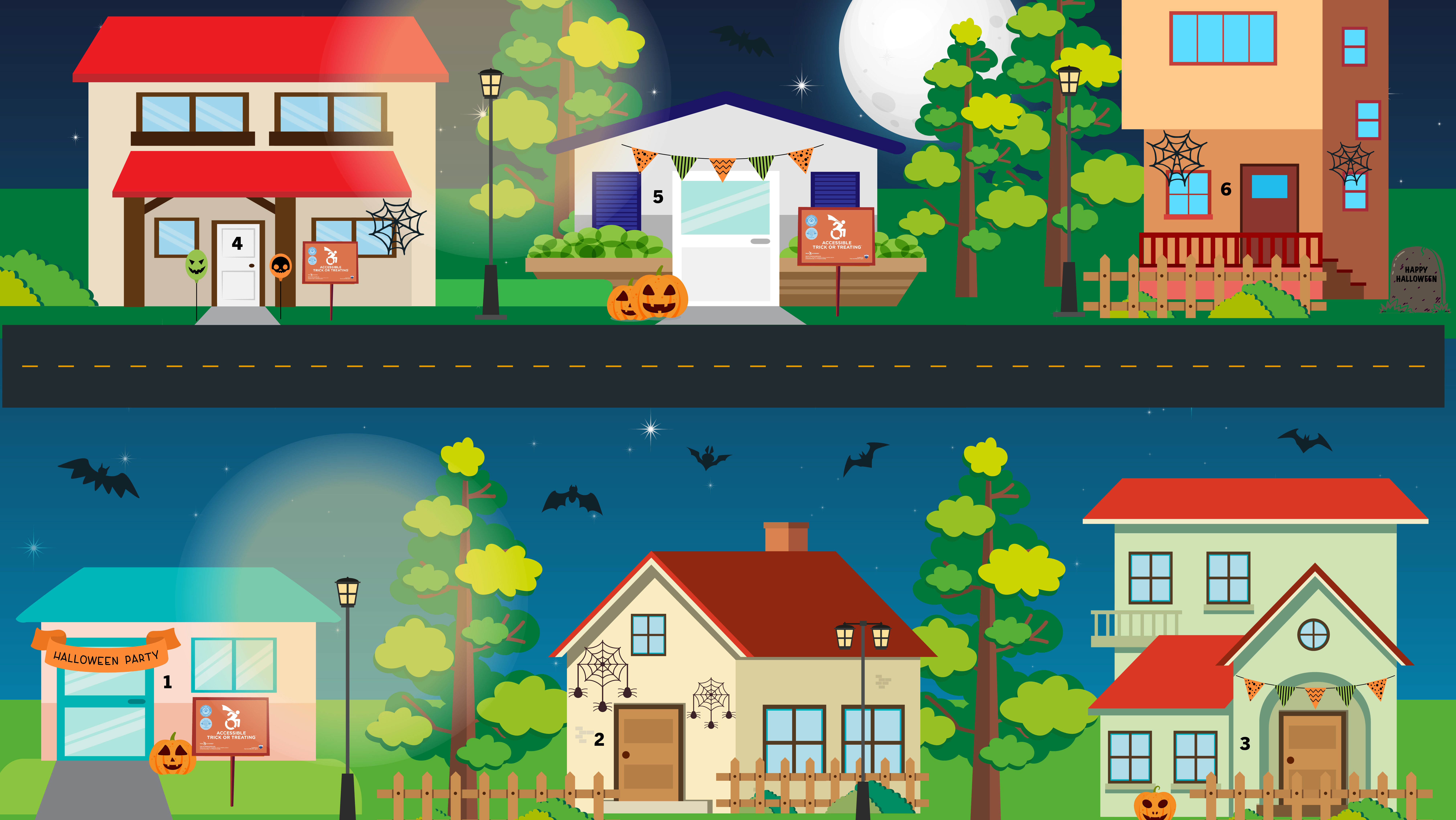 RHF gives kids pumpkin to talk about with our five new online Halloween activities! These ghostly good games are part of the RHF School Program's popular Little Big Lessons which teach about accessibility and inclusion. Check out our Halloween-themed crossword, spooky scenario cards, ghoulish math challenges, and more on our website.
We here at the RHF wish you all a spooktacular Halloween!