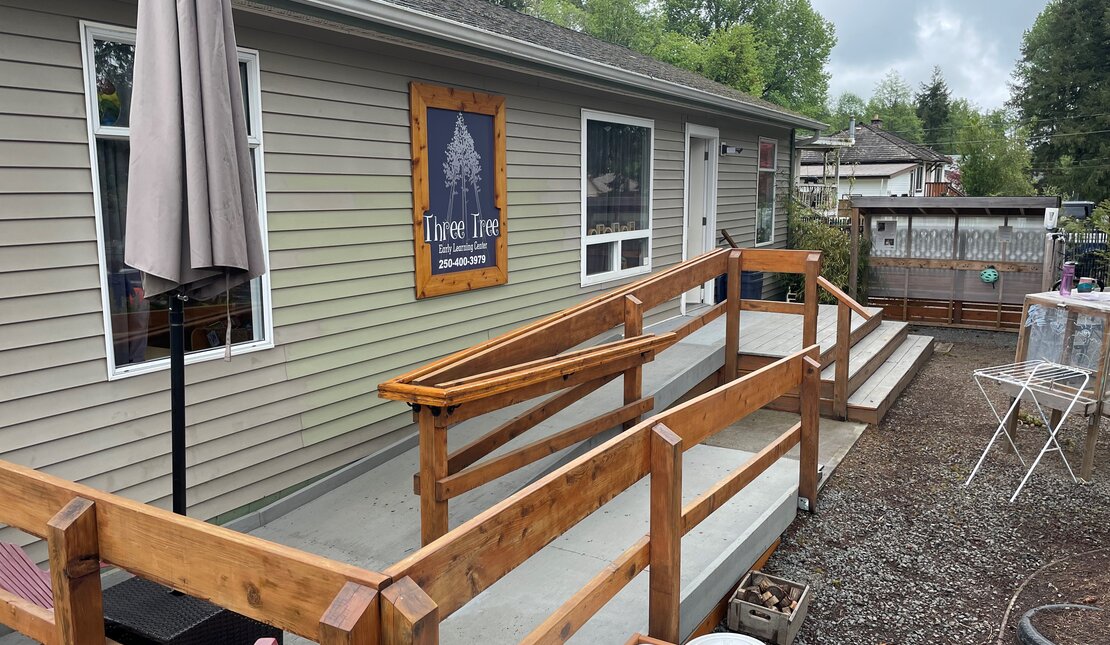 By Katie Kirker
On April 14, 2023
Access & Inclusion
Debra Roxburgh opened Three Tree Early Learning Center in Cumberland, British Columbia six years ago to provide affordable childcare in the community. Once her business was open, Roxburgh noticed that there wasn't a way to get into the building easily for a child, parent, or caregiver who uses a wheelchair, stroller, or other mobility support device – something she wanted to remedy.
"There is a family in our community who needed childcare and they had a child in a wheelchair and it really motivated us to get advocating to make it easier for this family to get in and out of the building," Roxburgh said. "Our goal is to have an inclusive environment."
Beginning the RHFAC Journey
Running on a fixed budget and aiming to keep enrollment fees low left a challenge in terms of funding a project to make the building more accessible. That was until Roxburgh learned about the RHF BC Accessibility Grants program. After receiving a Rick Hansen Foundation Accessibility Certification™ (RHFAC) rating in May 2018, they were able to identify key areas of improvement to make their building more accessible. They applied and were awarded a grant.
RHFAC is a national rating system that measures and certifies the level of meaningful access of buildings and sites. It helps individuals better understand their physical accessibility, how to improve, and identify barriers for their community, customers, or employees.
With the funding, the Three Tree Early Learning Center was able to install a wheelchair ramp, extra railings, non-stick surfacing, and an illuminated walkway border with a light fixture to illuminate the ramp. Further, they fixed the doorway by levelling the entry threshold, and replacing the door knob with accessible hardware.
"We changed the door out so it didn't have a threshold, and so it's a smooth transition," Roxburgh said of the improvements.
The Importance of Community Consultation
In deciding how to complete the upgrades, they worked closely with the family of the child and another advocate from the community who uses a wheelchair. Roxburgh describes the consultation process as a very "grassroots, community consultation" process.
 "Creating access in the built environment is a foundational consideration and one that too many families experience as a barrier to child care. We were so happy to be offered a child care space in our neighborhood and to witness the effort that Debra and her team continually made to move towards creating the most inclusive experience possible for all of the kiddos including my son who is a wheelchair user," Brenda Lenahan, parent of one of the children at the Three Tree Early Learning Center said of the upgrades.
The Future of Accessibility
Looking to the future, Three Tree Early Learning Center is aiming to continue their accessibility journey, including changing lighting to improve accessibility for neurodiverse individuals, and lowering gate latches on the property.
"I recently heard the phrase "access is love" and it resonated deeply with me.  With access comes inclusion, equity, community, and safety," Lenahan said. "We certainly felt the love and we are so grateful to Three Tree Early Learning Centre, the Rick Hansen Foundation and everyone else that contributed to making my son's preschool years such a beautiful experience."
We gratefully acknowledge the financial support for this Program from the Province of British Columbia through the Ministry of Social Development & Poverty Reduction.