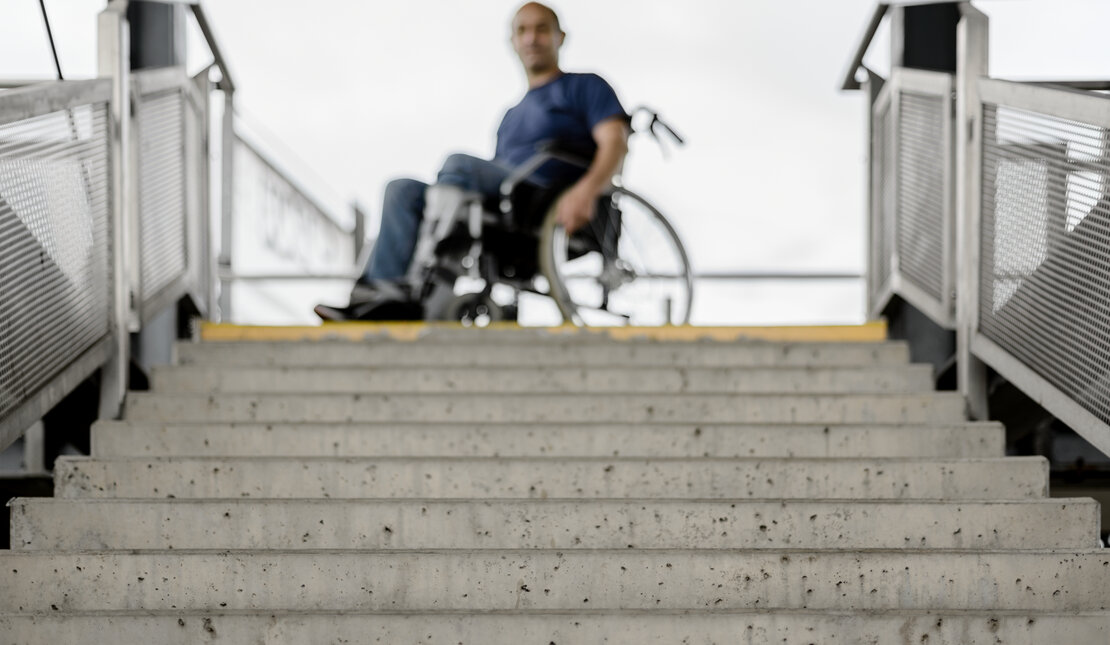 By Katie Kirker
On October 19, 2023
Access & Inclusion
Emergencies can happen at any time in any place. A part of being prepared for the worst is ensuring every individual can evacuate quickly and safely.  
Creating a space that is safe begins with ensuring that the building is universally accessible. Creating spaces that everyone can navigate independently allows independence when evacuating in an emergency situation. In this blog we detail a few elements in a building that can help create safer, more accessible buildings for all. It is critical that these items must be supported by ongoing testing and training, alongside up to date evacuation instruction. This is important so that in the case of a real emergency, everyone is trained on what to do and everyone is able to get the help they need.  
Luminous egress path markings  
Luminous Egress Path Markings are a requirement of the international fire code. These markings are photo luminescent strips that mark the edge of a stair, on handrails and paths of egress. This helps everyone see steps, exits and obstacles, particularly in the dark.  
Because the markings are attached to the steps or floor, when smoke obscures vision from overhead lighting, the light from the strips will still indicate where the step is located.  
The use of photoluminescence developed out of past disasters. Rick Pudwell, Canadian Sales Manager Ecoglo at Kinesik Engineered Products, recently presented at an Accessibility Professional Network webinar regarding the safety warning features on paths of travel. In his talk, he illustrated the importance of luminous markings in emergencies.  
He noted that in 1993, following the parking garage bombing of the World Trade Centre, New York City worked hard to improve their paths of egress, including luminous egress path markings. 
According to Pudwell, New York City became the first municipality to mandate luminous egress path markings.  
"We are really happy to see that luminous egress path markings are a requirement in the RHFAC Rating system," Pudwell said. 
Visual fire alarms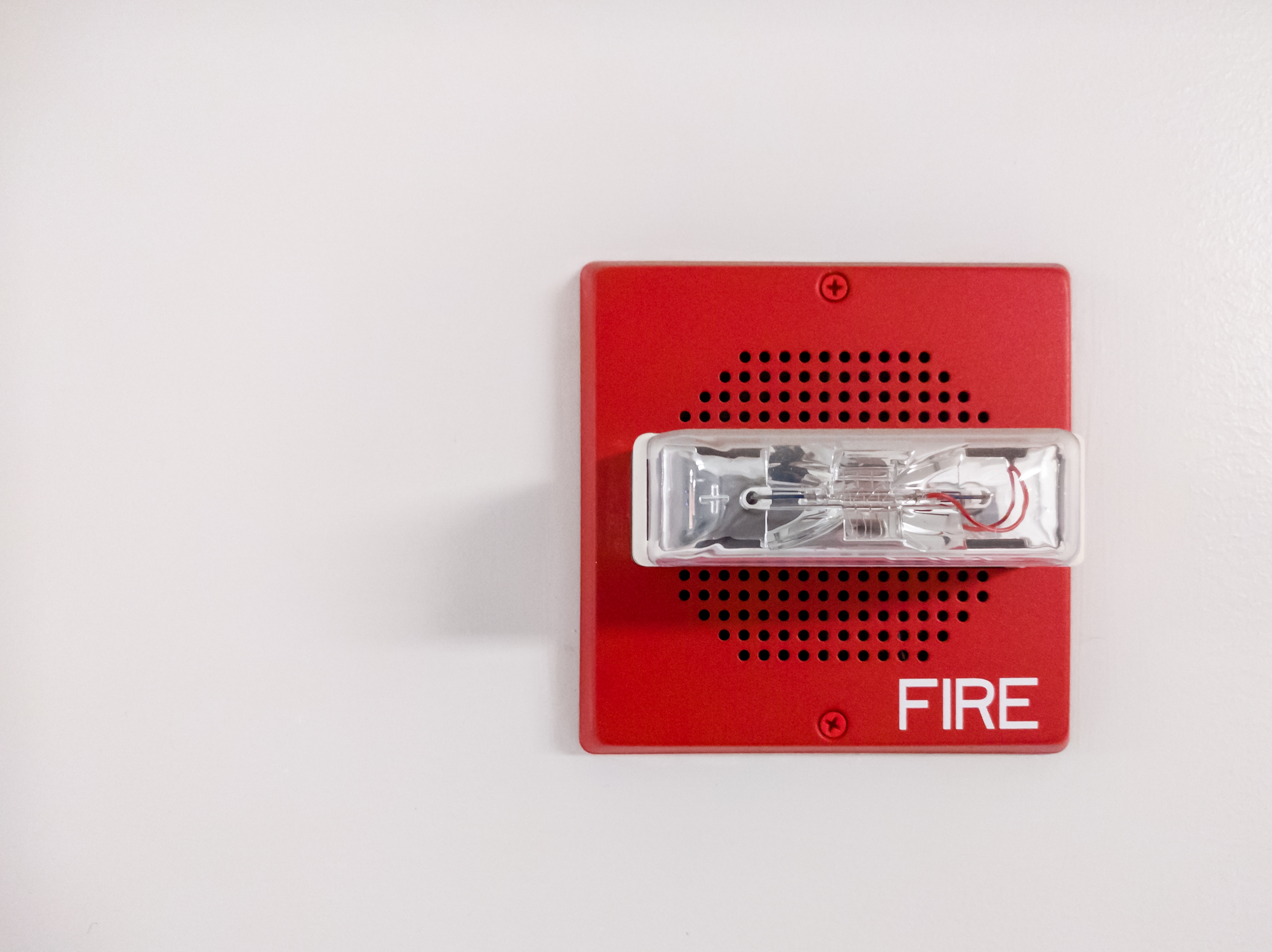 For those without hearing loss, the trill of a smoke alarm can alert us to a problem and allow us to get out of the potential fire zone. For those with hearing loss, this isn't enough.   
According to the Canadian Hearing Society, "visual smoke alarms incorporate a visual component, such as a strobe light, in addition to an audible alarm when smoke is detected in the home." 
The light allows those that cannot hear the alarm to see it and thus be alerted to danger and evacuate safely.  
It is important to note that visual fire alarms can be costly, and building managers may not want to invest if the building is older. While safety should always be prioritized, another, more cost effective option, is a fire marshalling system or a pager system.  
A fire marshall is a designated individual at your workplace that not only helps aid in evacuations but works to prevent fires. Duties include ensuring everyone evacuates properly, supporting individuals who need aid to use a fire exit, and checking fire extinguishers, and fire alarms for efficacy.  
A pager system is an additional cost-effective way to ensure everyone knows when they need to evacuate a building. By giving individuals with a disability, such as hearing loss, a pager and explaining that it will only go off if you need to get out, allows the individual the independence to react quickly to a fire and ensure a safe exit.  
Tactile warning surface indicators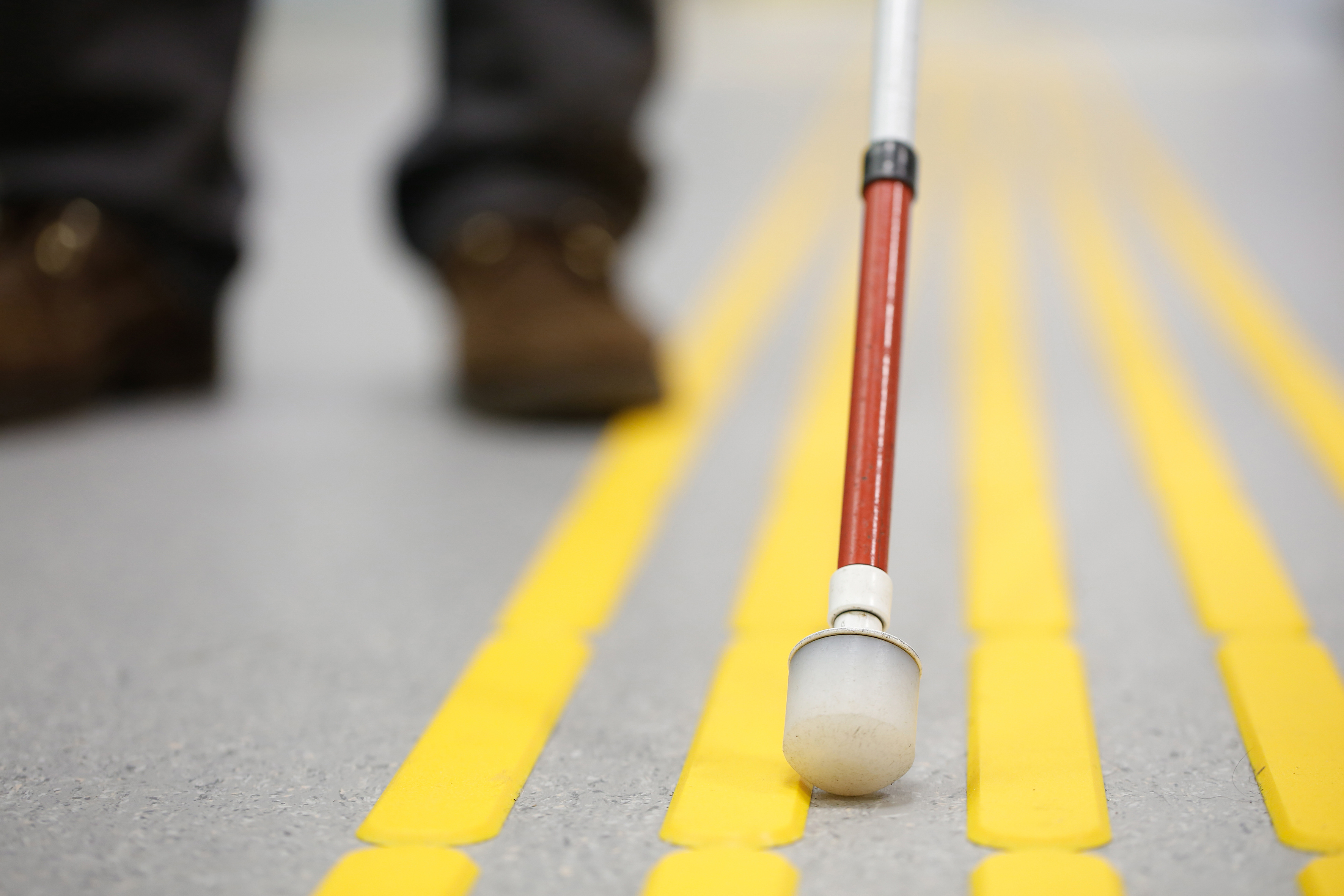 Tactile warning surface indicators (TWSIs) allow those with vision loss, or anyone in a situation where light may be limited, to be alerted to a change in level. They are standardized surfaces that convey information to people with vision loss that tell the individual that they are approaching a direction change or elevation change. They often feel different or sound different when crossing it with a cane or under your feet.  
While these indicators are always important, in an emergency, these indicators will allow for quick and efficient evacuation. By placing indicators at the tops of stairs or ramps where there is a change in level, those with vision loss will know immediately and be able to proceed independently and safely.  
In high rises it's important that these indicators are flame retardant and limit the amount of smoke that develops. This also helps with egress and allowing individuals to navigate out of a building safely.  
Kinesik Engineered Products worked with Canadian National Institute for the Blind to create the Clearing our Path, that "address the need for information on creating accessible environments for people who are blind."  
"Clearing Our Path's guidelines is something that RHFAC considers an invaluable resource," Matthew Shaw, RHF Accessibility Content Lead, said in the May APN Webinar 
A part of these guidelines covered emergency and safety. For more details on tactile surface indicators and other critical features for those with vision loss you can visit the guide.  
Areas of refuge  
An area of refuge is a room on the same floor that allows individuals with disabilities, who may be unable to use the stairs,  a safe place to communicate.  
According to the National Fire Protection Association (NFPA), these spaces must be equipped with a two-way communication system and "directions outlining how to use it, how to request help using the system, and written identification of the location all need to be posted next to the two-way communication system." 
The room should also have a door in a contrasting colour, and a power outlet so individuals in a power chair, for example, can charge their chair.  
How do you know where to start?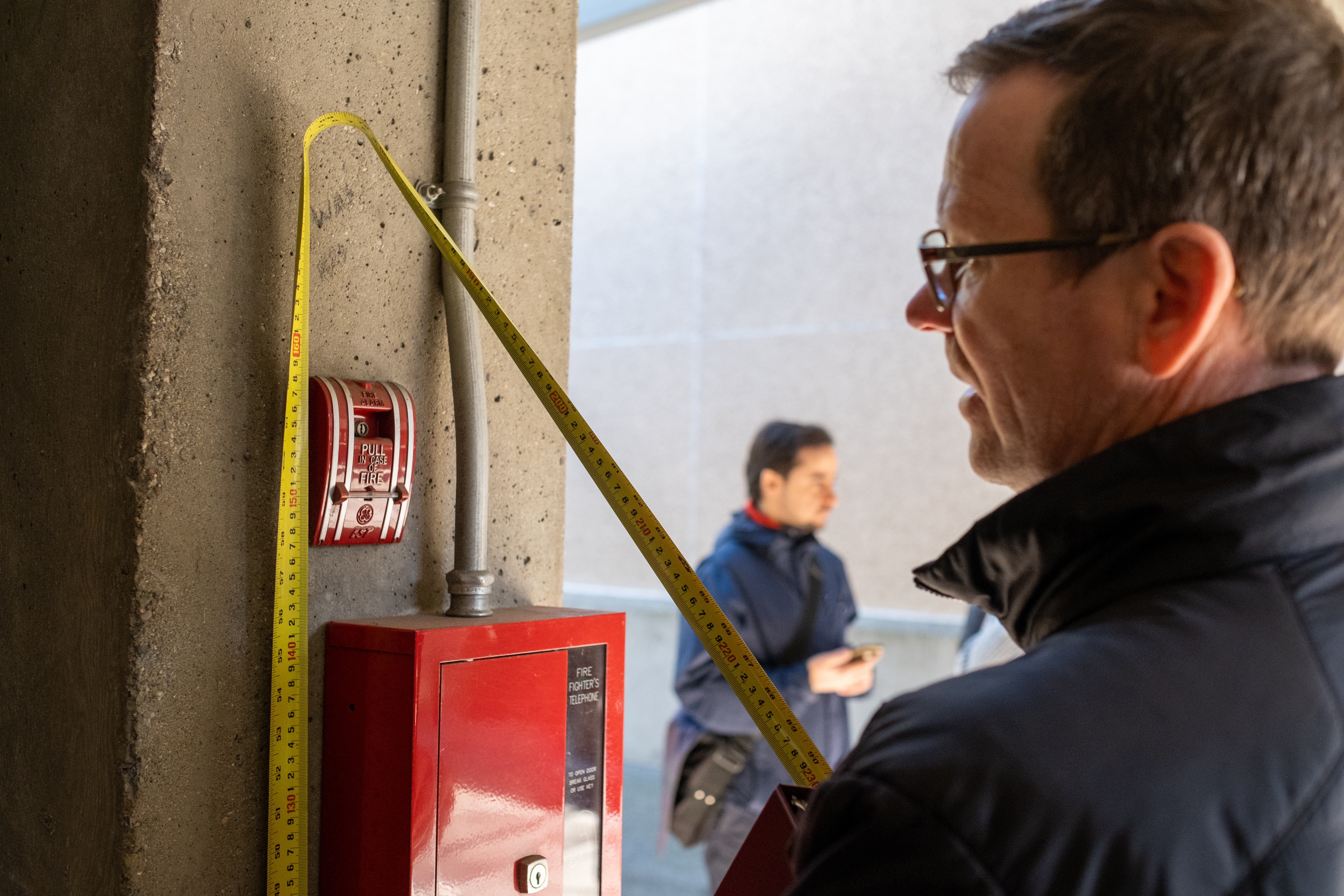 Ensuring accessibility to provide safety for all can be daunting. But there is no need to worry. The best way to get started is to hire a designated RHFAC Professional to rate your site and provide a roadmap on how to improve.  
RHFAC Professionals have the knowledge and practical skills needed to rate a building for its meaningful accessibility for those with varying disabilities under the Rick Hansen Foundation Accessibility Certification™ program. Having someone rate your building can provide a starting place from which to improve.  
RHFAC rates the presence or absence of features related to clearly marked emergency exits and areas of refuge, accessible evacuation instructions, and fire alarm systems and equipment (including visual fire alarms). The effective operation and maintenance of emergency systems and equipment is governed by jurisdictional fire codes and is outside the scope of an RHFAC rating. An RHFAC Professional evaluating a site's emergency egress features for a RHFAC rating is not permitted to operate or test emergency systems. 
Keep in mind that these tips are not exhaustive. An RHFAC rating alone cannot guarantee that people with disabilities are safe in an emergency. It is critical that emergency features and systems are supported by an organization's ongoing testing of these systems and mandatory training for staff to assist people with disabilities in the case of an emergency. Organizations must ensure that their evacuation plans and instructions include people with disabilities and that this information is clearly communicated. 
Building spaces that are universally accessible is critical to ensuring everyone can move independently in an emergency. When it's a matter of life and death these elements of an accessibility plan are not just nice to have's but critical