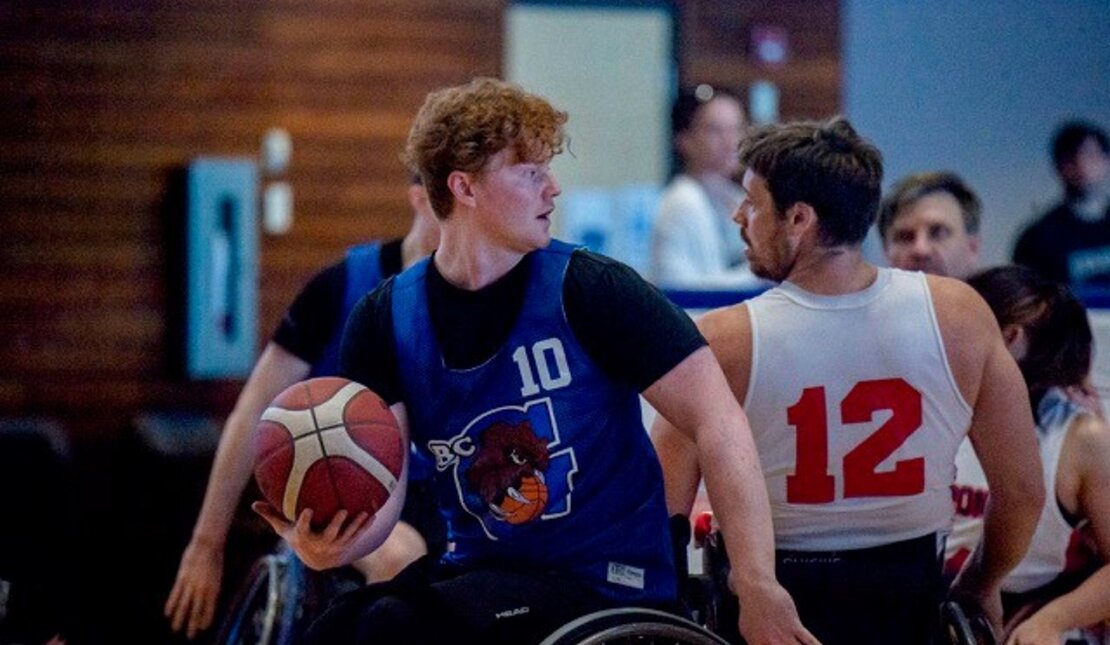 By Cameron Gelowitz
On September 7, 2023
Access & Inclusion
My love of basketball began when I was in grade 7 and I started playing stand-up basketball. I immediately loved the sport: I loved playing it, I loved watching it, and I loved knowing everything about it. I played from grade 7 to grade 11 for my school team, as well as a club team, and enjoyed every minute on the court. Then COVID hit and everything was shut down, including basketball. To pass the time I would go out onto the trampoline I had in my backyard with my younger brother. One day when I was on it, it was wet, and I slipped while trying to do a backflip. I landed on my neck, enduring a spinal cord injury at the L2 vertebrae.
While I was in the hospital, I was feeling pretty down on myself and it was very lonely since I wasn't sharing a room and my parents could only see me for 2 hours a day due to COVID restrictions, which for me at 17 was pretty hard. I started to feel better about myself though as the time went on because I was making good progress and went from feeling nothing below my hips to now just not being able to feel my feet. I still felt like my life might be over, having to be in a wheelchair most the time. That was until I got to G.F. Strong and was able to interact with other patients and I realized I was lucky, and with some help from the education sessions they had at lunch I learned I could still live a normal life.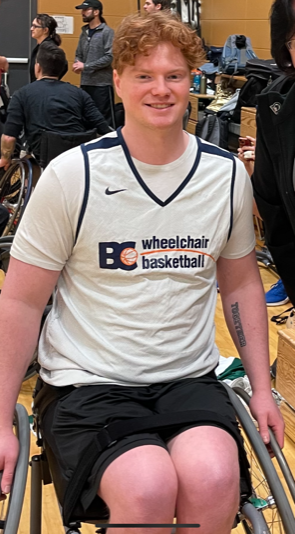 Meeting Rick Hansen
It was also during this time a lot of people from the spinal cord injury community in Kamloops (where I'm from) texted me, telling me about different activities they do. To be honest, it was a lot of info at the time, and I didn't investigate anything since I was feeling overwhelmed. It wasn't until Rick Hansen came in for a visit that I actually looked at what activities might be possible. He asked me what I liked doing before my injury, and I told him about my passion for basketball. He told me about his experiences with wheelchair basketball and how much fun it was. It was at that point I knew I really wanted to try the sport.
It wasn't until I got back to Kamloops that I was able to get in a basketball chair though. I was lucky enough to have Kamloops Adaptive Sports Association (KASA) lend me a chair to use during P.E. class. There was no set practice in Kamloops yet due to COVID, so I was just shooting on my own time during lunch or in the evenings.
Growing as a Basketball Player
It wasn't until April 2022 that I actually got some form of coaching when Joe Higgins, a coach who was recently inducted into the Wheelchair Basketball Canada Hall of Fame, got word of me from one of the guys I practice with in Kamloops. Joe called me and we had a little chat about what I would like to get out of basketball, and then he invited me to come to a camp he was hosting in Vancouver for Team BC. I made my way down for the weekend and it was great. I had never been coached so I wasn't amazing, but I definitely learned a lot. That was only the start because a few months later I was invited for a "Next Gen" camp in Langley, which is designed for the next generation of Team Canada athletes.
While at the "Next Gen" camp I got to meet Marni Abbott-Peter, the coach for the women's national team as well as Matteo Feriani, the coach for the men's national team. This camp was a huge turning point for me. We did 3 days of just drills and learning new concepts on the court and then a half-day of just scrimmaging. And these scrimmages were good. By the end of that camp, I pretty much went from as bad as you could be to a somewhat decent player, and I learnt tons of drills that I would be able to do on my own time.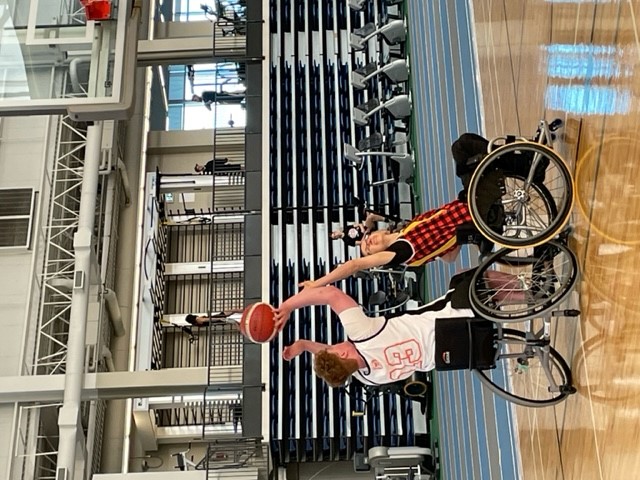 Growing with Community
Fast forward to early November 2022 and the BC league finally has games going again. I had been doing some of the drills I learnt at the camps and was so excited to play in my first tournament. The Kamloops team isn't great, but we're not terrible, it pretty much consists of me and some middle aged men that just come out and play for fun, so we're not as fundamentally sound or as good as a few of the other teams who actually practice and do drills together on a regular basis, but we're very good at having a good time on the court. It was during this tournament when I realized how awesome the wheelchair basketball community really is. Everybody's friends with everybody. On the court we'll give it our all, but when the games over every team will get together and we'll all go out for dinner as one big group. It was so cool, and I've never experienced anything like it.
As the season went on, I ended up being named 1 of 5 all-stars in the BC league and was also invited to play for team BC in the Canadian Wheelchair Basketball League (CWBL). This allowed me to travel for the first time since my injury and I was able to visit places like Edmonton and Saskatoon and play at a higher level than what I've been playing at in BC. Not only was it good experience, but it also got my name out there. For example, as I was in Edmonton I met Darrell Nordell, the coach of the men's U23 Team Canada which is the team I'm now working towards playing on.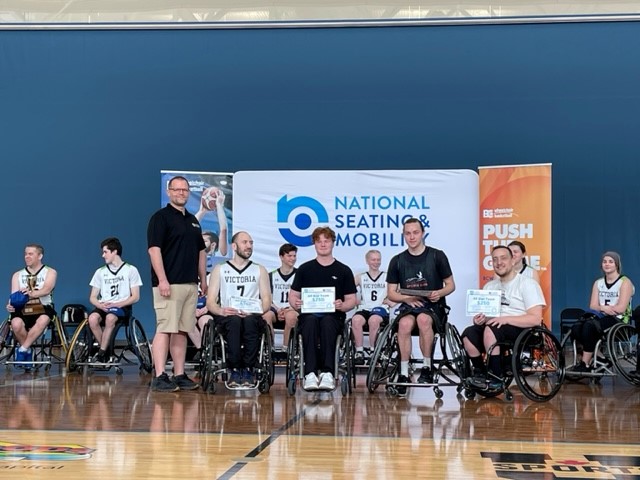 Stay tuned for the second part of my blog to learn more about my experience with Team Canada.