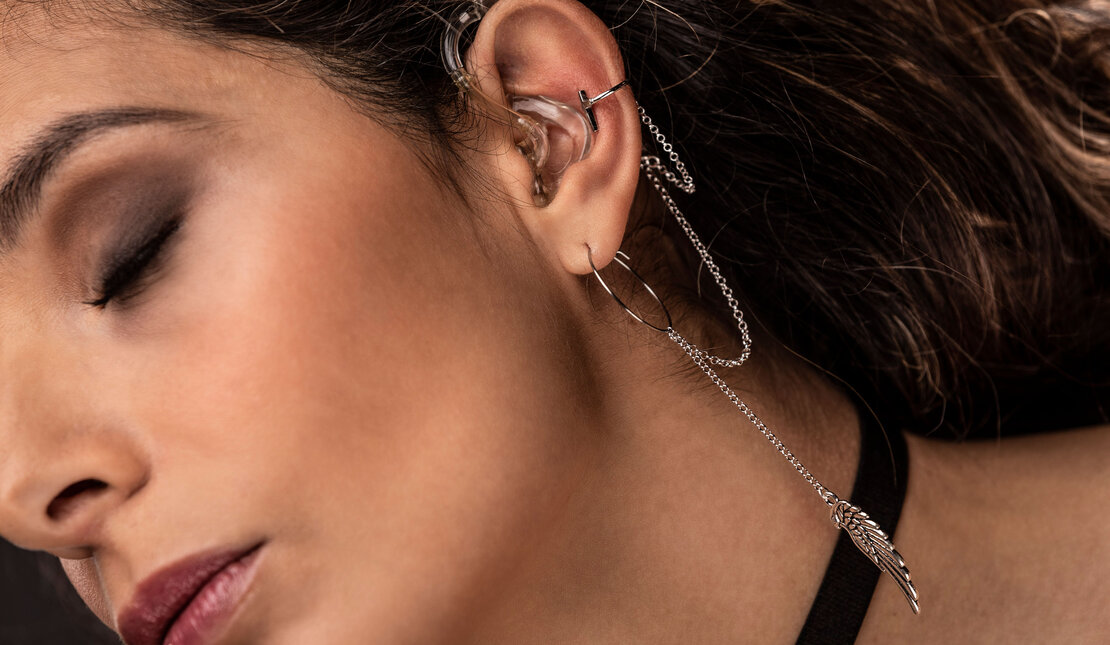 By Rebecca Blissett
On February 2, 2022
Community Spotlight
Ask anybody with hearing loss what their favourite colour is, and their answer will probably not be medical beige. Ask anybody who uses a wheelchair, and they'll likely tell you their favourite style is not unimaginative and baggy clothing. 
Fashion and disability were two roads that rarely intersected. Hearing aids, wheelchairs, and adaptive clothing – to name a few – are often all functional without any of the fun. 
Until recently.  
Independent designers worldwide have noticed there is a gaping hole in the disability fashion market. RHF recently featured one such designer in Izzy Camilleri, a Canadian who was so appalled by the lack of variety of accessible and stylish clothing for wheelchair users that she decided to merge style with function for a clothing line IZ Adaptive. Today, we also have two more designers in the disability fashion space we'd like to introduce. 
Colour Wheels Stand Out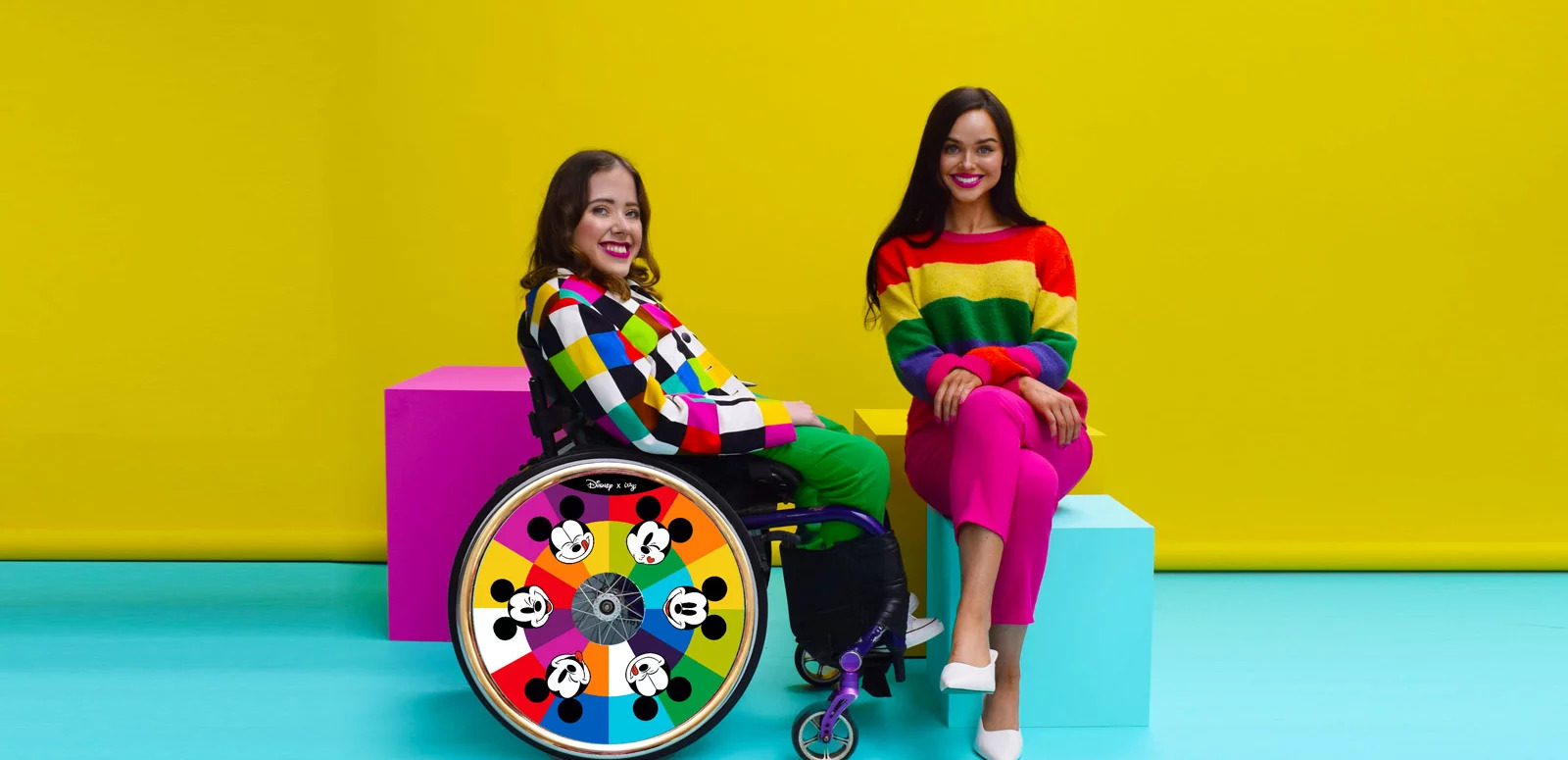 Irish sisters Aibhe and Izzy Keane founded Izzy Wheels (not to be confused with IZ Adaptive), a company that sells colourful wheelchair covers that easily fasten to the spokes of a manual wheelchair. Izzy, born with spina bifida, was the inspiration for Izzy Wheels. Decorating her wheelchair for every celebration – whether it be Christmas, birthday party, or wedding – was a tradition for the sisters. 
Izzy Wheels are wheelchair wheel covers that are wildly artistic, featuring themes from Frozen, Spiderman, and Toy Story to bright leopard prints and graffiti art by renowned Spanish street artists PichiAvo. There's also a cover created by Canadian designer, illustrator, and painter Carolyn Gavin. 
"Izzy Wheels empower wheelchair users to make a statement about themselves. It makes a wheelchair into a friendly object rather than something purely functional," said Aibhe. "Having stylish wheels on your chair that match your outfit or show off your interests immediately addresses the chair and opens a conversation." 
Izzy said she is proud of her chair, especially when it's decorated. The first time she went out with wheel covers, strangers crossed the street to tell her how much they loved them. This prompted a tagline that perfectly encapsulates Izzy Wheels: "If you can't stand up, stand out."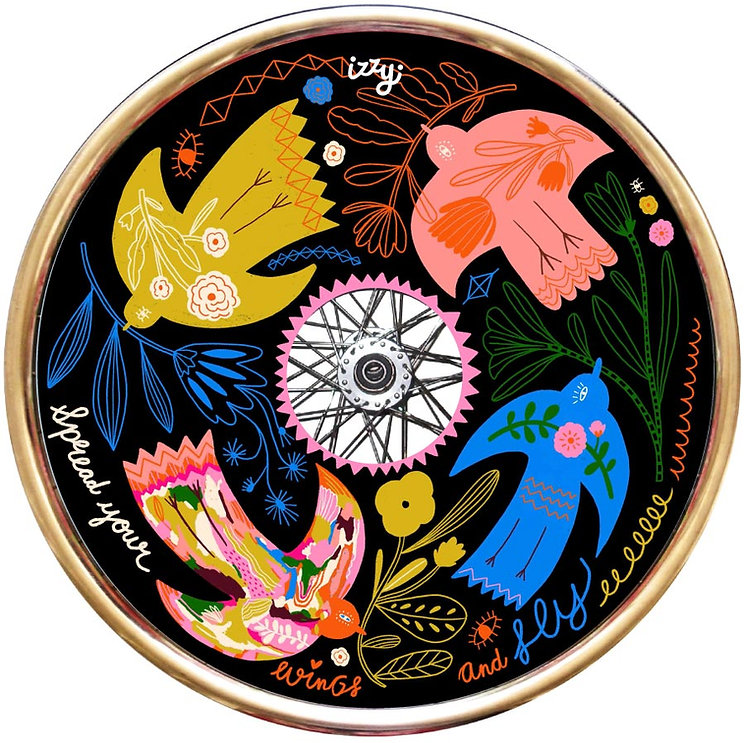 In addition to working with artists and designers worldwide, Izzy Wheels is the first disability fashion brand to collaborate with some of the world's most recognizable brands. In 2020 they created two limited edition wheel cover collections with Japanese pop icon Hello Kitty. In 2019 they teamed up with Barbie to create a range of designs for a wheelchair Fashionista Doll to rave reviews. Their latest collab is with Disney.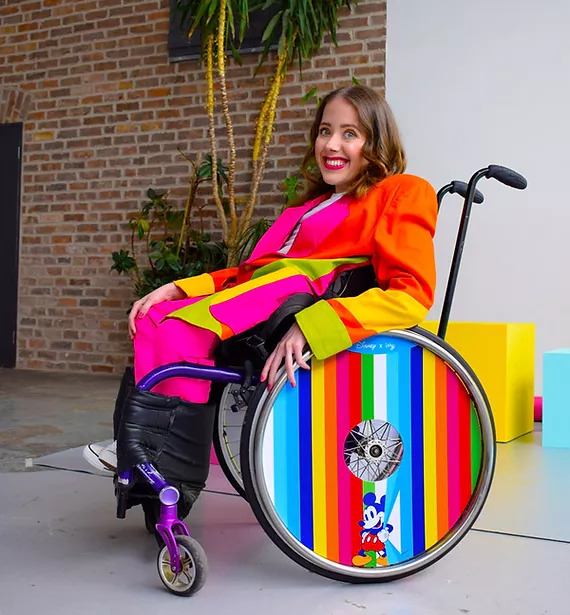 Aibhe and Izzy are excited to bring such joy to wheelchair users. The delight is evident on their website that features happy customers, aka "spokes people," showing off their Izzy Wheels.  
"I think it's a really exciting time for people in the disability space to be in the fashion space, and it's only just the beginning," said Aibhe. "A lot of fashion designers probably don't realize how big of a market it is. If you look at the disability community on a global scale, it's huge. And it's just totally overlooked." 
The global market for fashion in disability does have enormous potential, according to a study by research and advisory firm Coresight, showing that it could reach $349.9 billion by 2023. 
Deafmetal is Good for the Ears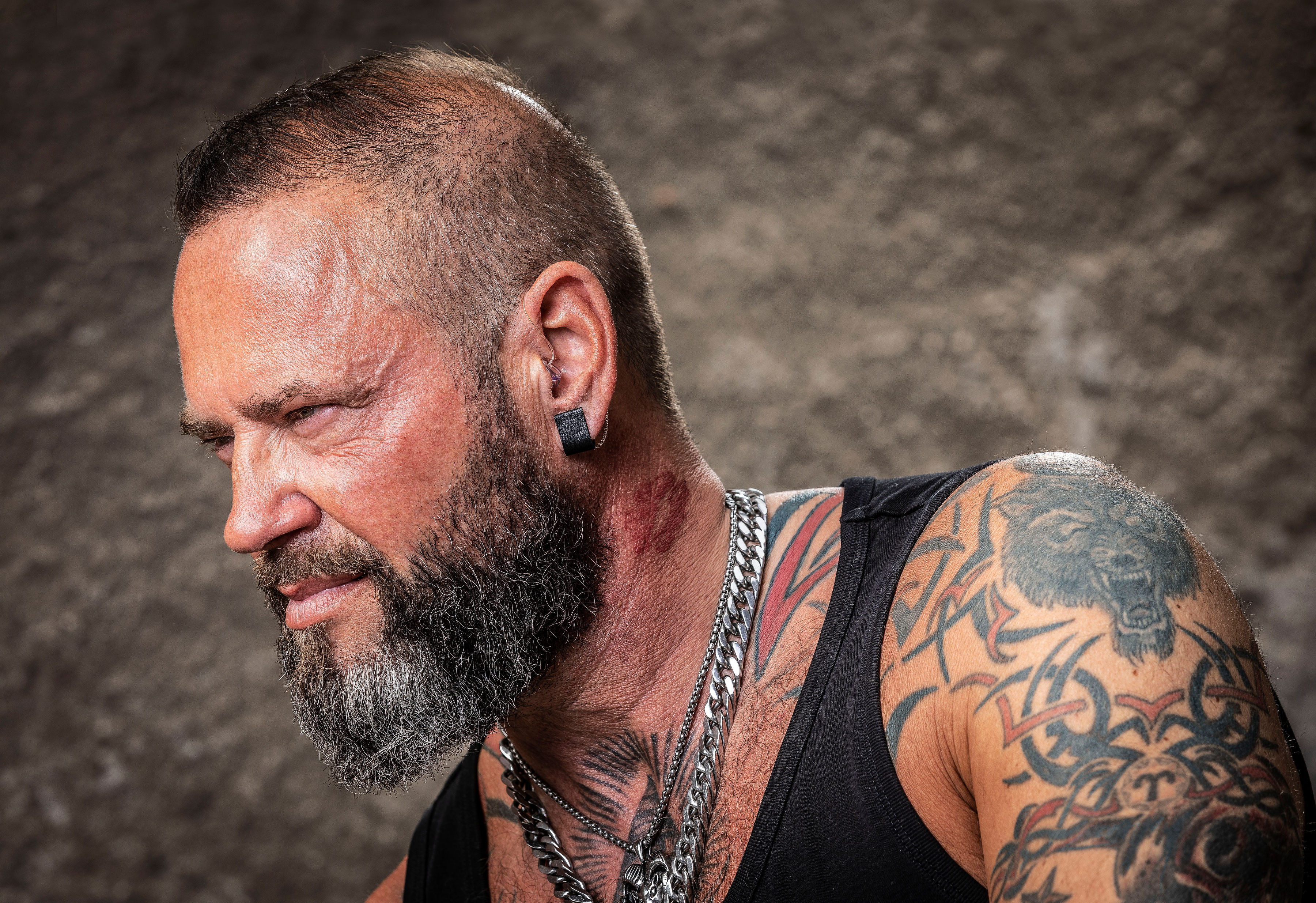 Jenni Ahtiainen is the creator of Deafmetal, a jewelry brand for hearing aids and cochlear implants. The Finnish designer's long resume is impressive; she once designed costumes for Snoop Dogg and Jeremy Irons. She started designing jewelry for hearing aids when she lost her hearing in 2018. 
Jenni said she initially felt like her hearing aids were foreign objects. For somebody who describes her style as "very black and eccentric," she wanted to put her creative stamp on the devices. This led to the creation of her first accessory, a silicone holster into which her behind-the-ear devices fit. The holster had a tiny loop to attach strands of leather strips that dangled to resemble earrings. 
"Suddenly, the hearing aids looked like me," remembered Jenni. "They felt more like me. And I looked like me." 
Jenni created more designs, working with both leather and metals. Deafmetal was born.  
"For some hard-of-hearing people, wearing hearing devices can be a huge thing. Some studies show that people might wait as long as five years to get hearing aids after getting their hearing checked," said Jenni. "While eyeglasses are viewed as an attractive fashion accessory, hearing aids and cochlear implants look like medical devices. It's time to change this perception." 
As with Izzy Wheels, Deafmetal opens the door for a conversation for both hearing aid and cochlear implant wearers. 
"Deafmetal shifts the focus from medical device and disability to the person," said Jenni. "Hearing people often avoid conversation with a hearing aid user. But they cannot stop themselves from noticing and commenting, 'cool earrings!' It breaks through the social barriers that often keep hearing aid users feeling isolated." 
It should come as no surprise to learn about the care Jenni puts into both her designs and the photography representing Deafmetal. The photos are fine art; the models are diverse. It's also an honest representation. All those who posed are hard of hearing or D/deaf individuals. 
"A few years ago, I never would have guessed that me – the badass designer – would be designing hearing jewelry," said Jenni. "As a designer who has had some really outstanding celebs as customers and, in some way, was 'living the dream' well, that all pales to what I am doing now. I feel this is the most important work I have ever done, changing attitudes and breaking down barriers when it comes to the stigma around hearing loss." 
Deafmetal photo credits: Tapio Aulu
Izzy Wheels Wheelchair cover designs: Carolyn Gavin