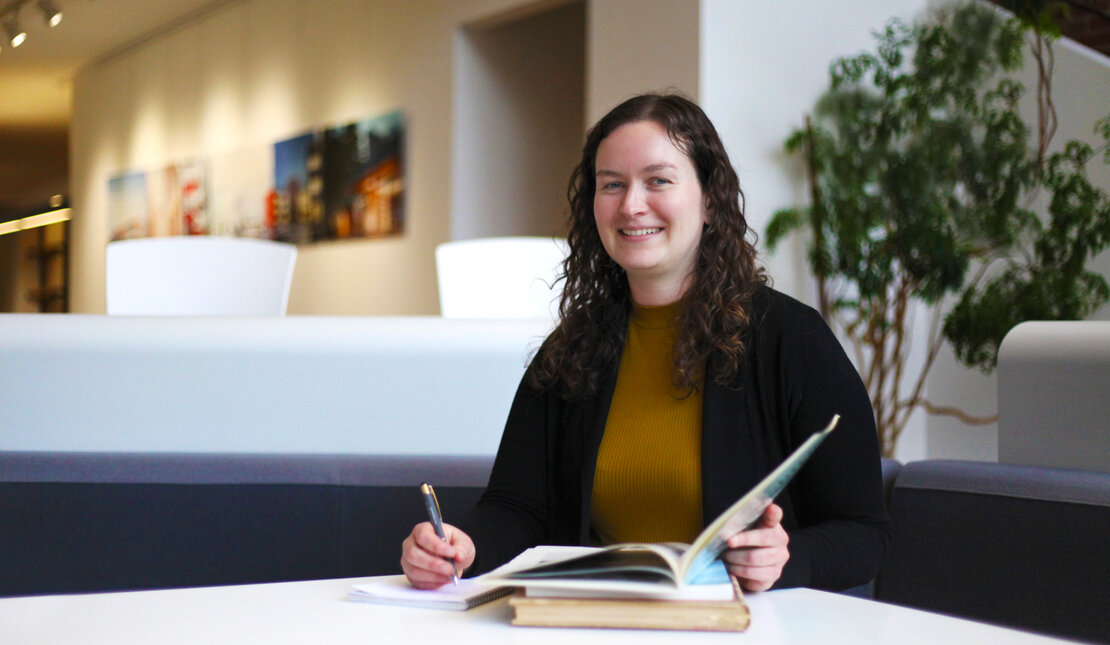 By Katie Kirker
On June 12, 2023
Community Spotlight
"I am deaf, and my disability was generally invisible when out and about. But getting my service dog, Tilley, changed that. Over the seven years that we were a team, she changed the way I experienced the built environment."
Amanda Motyer, an Architect and the Director of Inclusivity and Specifications at Lett Architects, was diagnosed with hearing loss at age five. With a lifetime of lived experience, accessibility was something that Amanda thought about through her own lens of hearing loss. Accessibility was not extensively covered in her architecture schooling, so it was not something Amanda spent a lot of time thinking about until suddenly others could tell that she had a disability because of Tilley.
"Suddenly I was concerned about where I was going to toilet my dog, having enough space in the washroom or at the restaurant table for myself and my dog, getting stuck with washrooms that only dispense warm water, or with hand dryers and no way to dry Tilley's water bowl," Amanda said.
"I had to be more prepared for excursions, and that got me thinking a lot more about it and how much different it could be to interact with the built environment."
After spending twelve days at the Lions Foundation of Canada Dog Guides training with her new Hearing Ear Dog, Amanda interacted with the environment in new ways and wanted to learn more about how to bring accessibility into her life and practice as an architect.
Designing for Service Dogs
This new experience for Amanda also inspired her Master of Architecture thesis at the University of Waterloo. Her thesis, entitled "My Other Eyes that See, My Other Ears that Hear", focused on how barriers in the built environment prevent people with disabilities from participating fully, and how architects can design for service dogs and people with disabilities to create more inclusive environments.
Following her master's thesis, Amanda wanted to learn more about how to design for all. Amanda came across Rick Hansen Foundation Accessibility Certification™ (RHFAC) Training when she was researching education opportunities.
"Since completing my thesis I've continued to expand my knowledge of accessibility and particularly understanding the way different disabilities affect the way people experience and use space" Amanda said. "I saw the course as a good opportunity to continue my education in this regard."
Taking RHFAC Training
"I thought it was pretty exciting because it had a lot of potential to improve accessibility and accessibility awareness, the way that the LEED program did for sustainable design," Amanda explained. "I was already the accessibility specialist in the office by that time and was trying to keep on top of it and being aware of the latest developments. When I brought it up, my office was on board with me taking the course."
The RHFAC Training course teaches individuals how to use the RHFAC methodology to rate buildings on their level of meaningful access. Upon successful completion and passing the subsequent RHFAC Professional exam, individuals will obtain their RHFAC Professional designation, qualifying them to conduct RHFAC ratings for existing buildings and pre-construction plans. The training course provides a baseline understanding of how to interpret accessibility in the built environment.
Amanda noted that RHFAC Training was a great way to learn more about other disabilities and how they change the way people interact with the environment. She added that she liked that it was being run by a foundation that was focused on access.
"The most important thing is the lived experience perspective. Understanding how people with different disabilities experience space differently is so important. Any information I can get about that is something that will ultimately make our designs better."
Putting Learnings into Action
Amanda already looked at building projects through an accessibility lens, but her experience with RHFAC Training allowed her to hone these skills and improve accessibility in Lett Architects' work.
"The course resulted in a significant shift, as I saw a chance for us to expand and deepen our focus. I did accessibility reviews of our projects prior to becoming an RHFAC Professional, but I now have a much better framework for these reviews and a more formal process for making sure all of our in-house projects are being reviewed for accessibility at multiple points in the design process," Amanda explained.
The skills she learned in the course have allowed Lett Architecture to expand their offerings and be a source of knowledge for clients.
"We are also starting to offer additional accessibility consulting services, such as RHFAC ratings, feasibility studies, and reviews of external projects," Amanda explained.
"It is clear to me that part of my responsibility as an architect includes educating clients on the importance of accessibility and the inadequacy of merely designing to building codes."
Accessibility is for All
"Accessibility means being included and being able to participate in a way that is equitable."
Amanda has a lifetime of lived experience and has continued her journey of learning as much as possible about how to design for inclusion and access. This effort is conveyed in her work and passion for making spaces as accessible as possible for everyone of any ability.
Amanda explained that, to her, equitable access means that while it may not be exactly the same, it allows for a user to have a full experience. The most important part: "access must include dignity and the expectation that you're safe in a space."