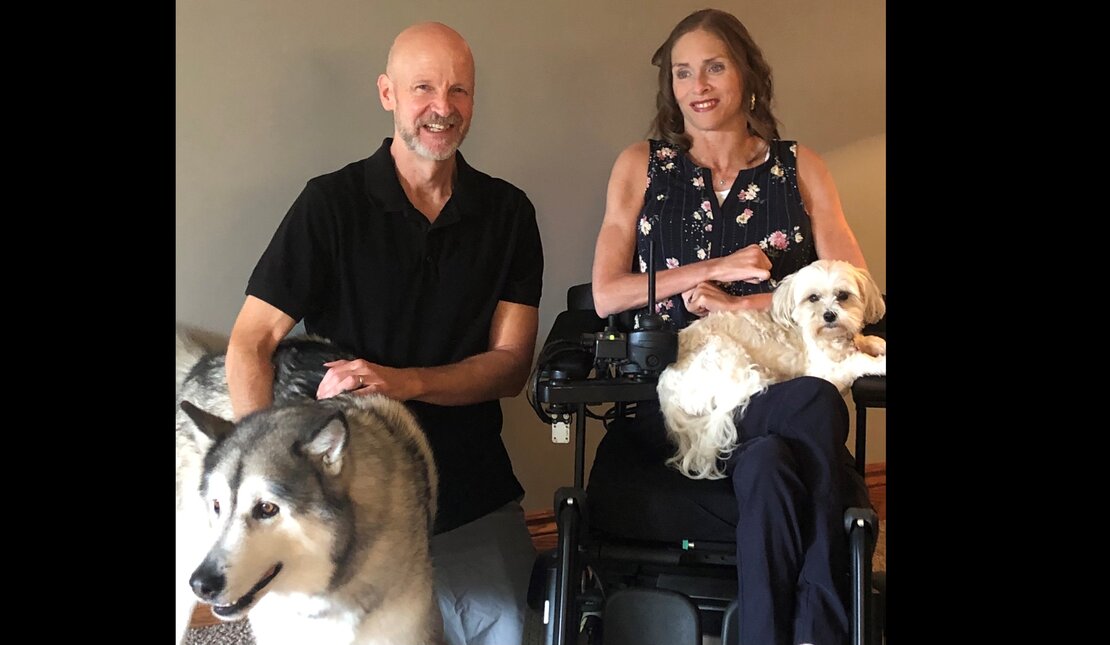 By Lori McDermid
On April 19, 2022
Community Spotlight
I have a story to tell. It isn't an easy story, but it's true. It is also a story of gratitude to my husband, best friend, and the small and caring community of Port Elgin/Saugeen Shores.  
My name is Lori McDermid nee Kelly. In 1986, I was with my family at our cottage to celebrate Thanksgiving and close the cottage for the year. On Saturday night, October 11, I was in a car accident. I was heading to a house party with my friends, travelling from Port Elgin, Ontario to Burgoyne. I was 14 years old.  
The car I was in hit gravel and lost control. It hit another vehicle which unfortunately caused three of us to be thrown from the backseat. It was an old Cutlass that did not have seatbelts in the back seat; that was just how it was back then. 
I broke my neck, leaving me a quadriplegic. I spent exactly one year in the hospital, where I had many procedures and physiotherapy to relearn every little task. Minor stuff like learning how to eat, wash, and print words again were major wins in my mind. I remember the day when I was lying in my hospital bed when this darn fly decided to take up residency. As a quad, I was unable to shoo it away. That day the fly won. 
I worked hard during a year of brutal eight-hour days of physio and no visitors or phone calls during the day. I worked so hard that I got to the point the fly never won again. 
There's no pretty way of saying how difficult this was. I spent three months in a halo neck brace. A halo is a vest that is not removed for three months, so your neck stabilizes. The halo part I wore was screwed into my skull in four places. These screws were tightened regularly. I had to have my hair shaved off for the back two screws. The other two were in my eyebrows. Thank god for having bushy eyebrows! 
I can't ever remember being told that I would never walk again. I guess this was just a given, seeing as I spent 11 months in a rehabilitation hospital watching other people being discharged because they had reached their goal. 
As a young girl of 14, only being showered once a week was horrific. But the staff at Lyndhurst hospital/rehab were great. They did everything they could for me. The little extras like painting my fingernails or braiding my greasy hair. They set goals for you based on your injury. Because I broke C4, C5, and C6, my goals were set at a minimal amount. 
Thank god for people like Rick Hansen, who did his wheel across the world to raise money for spinal cord injury. Rick raised huge money and awareness about this kind of injury. My mom stood outside, praying that she could get a poster signed by him for me when he came through Cambridge. Which he gracefully did. It read, "Never give up on your dreams." That poster hung on my wall for years.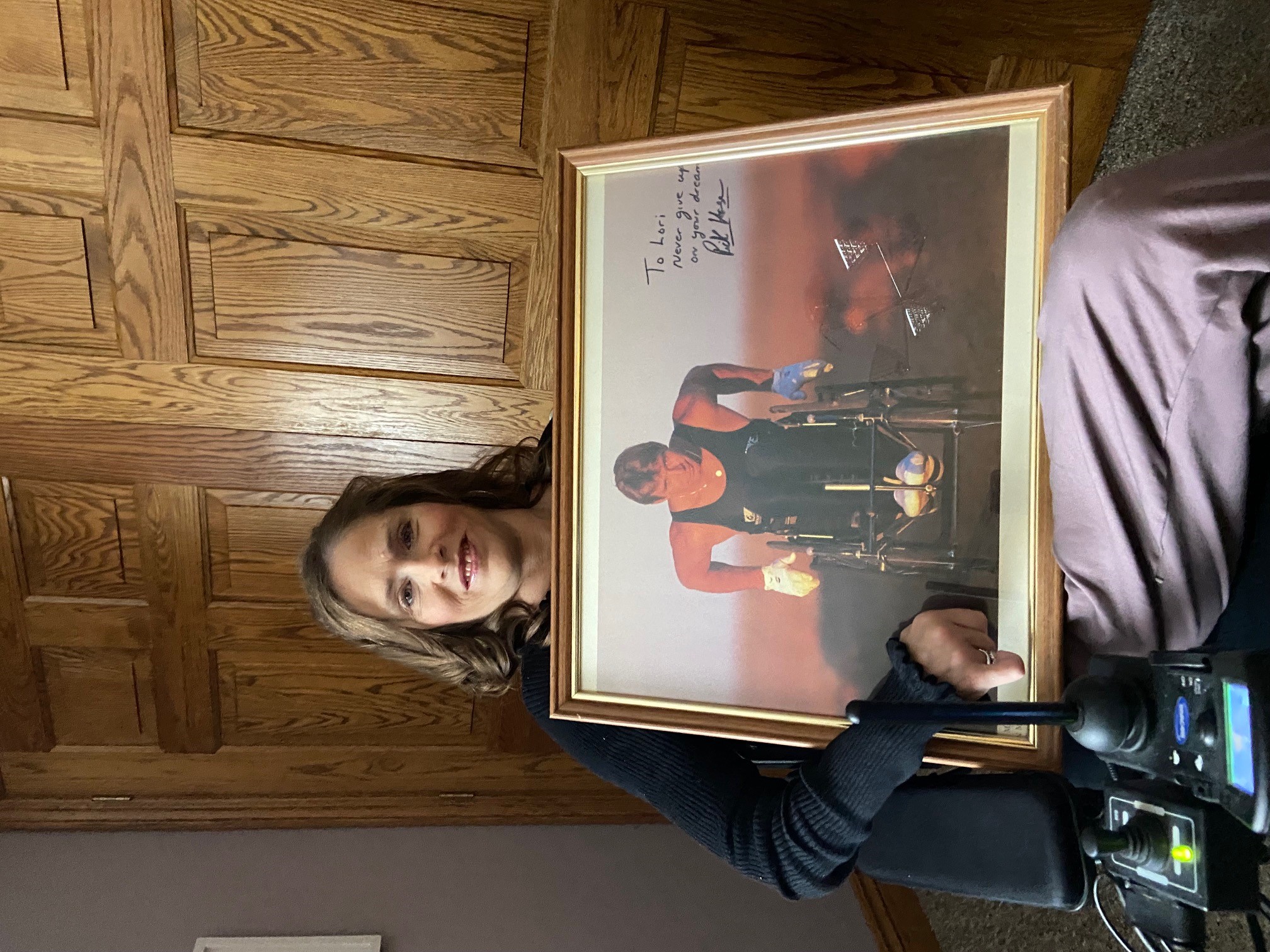 I am extremely blessed to have met my best friend Christine Jokinen and the man of my dreams, Darcy McDermid. Darcy and I have been married for 21 years, and trust me, without his constant help, I would not be here. Darcy spent days and weeks lying beside me in the hospitals to assist and basically take over for the nurse who appreciated it so much. Every hospital we were ever in wanted to hire him. I was like, 'Back off; he's all mine!' I love this man forever and always.  
Darcy and I were friends for ten years before we got into a serious relationship, the most important relationship of my life. He has been there for me for 30 years. 
I met Christine when I started high school in Grade 9. She worked with people with disabilities for a few years, and that's how our friendship started. It grew into the best relationship anyone could ask for in a best friend.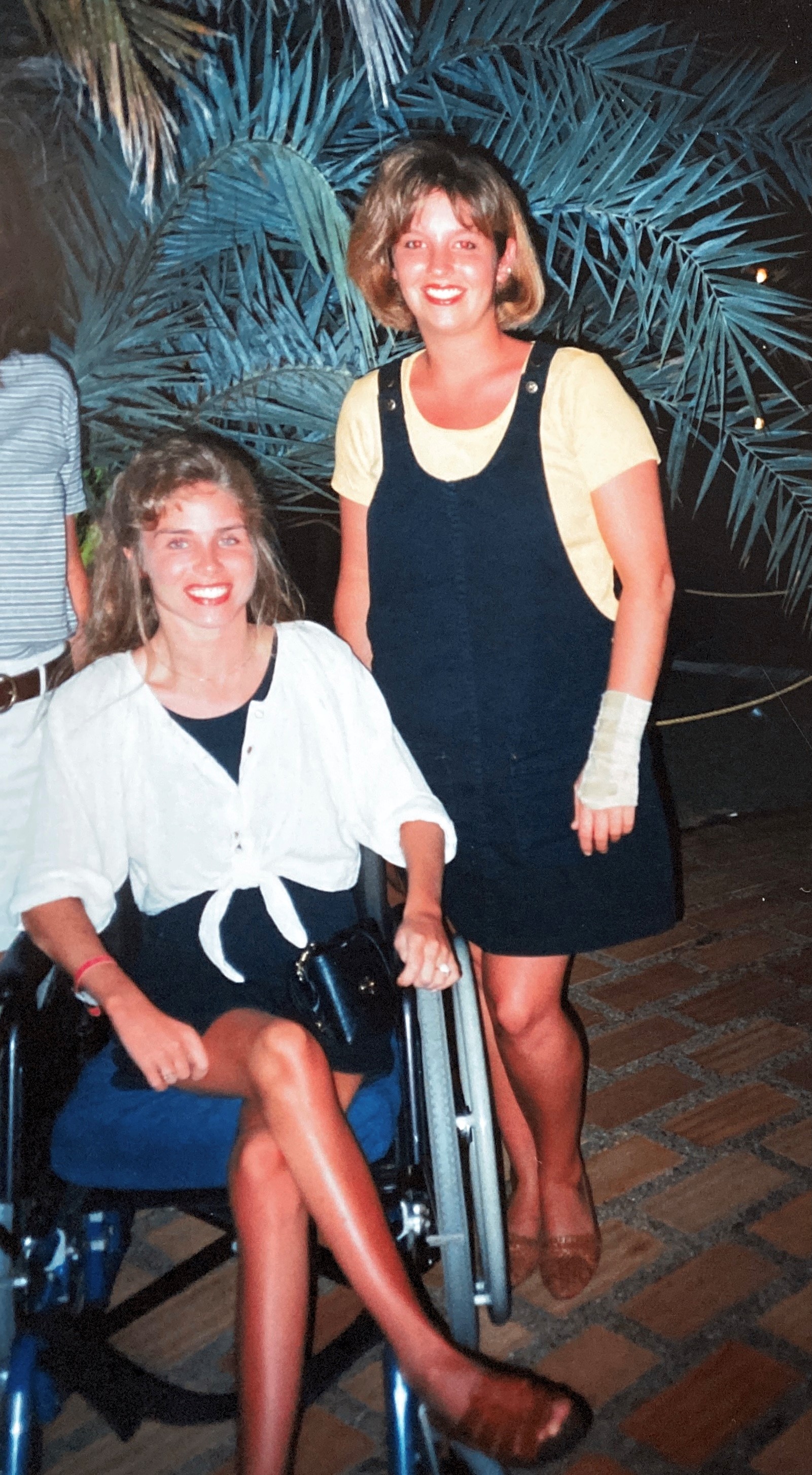 Darcy and Christine have always been there for me. Not only through the difficult times, but through the happy ones too, where we snowmobiled, went horseback riding, hot-air ballooning, and travelled. Christine even carried me down the aisle of the plane so we could all travel to Mexico. 
Others have been there for me as well. People like my incredible family doctor, Dr. Tara Somerville, who has gone above and beyond for many years to ensure I have the treatment and care I need. Callee McLaren, my personal support worker, and Jenn Garside, a personal support worker who has been there for me during all the sleepless nights. All have become great friends that bloomed over terrible hardship.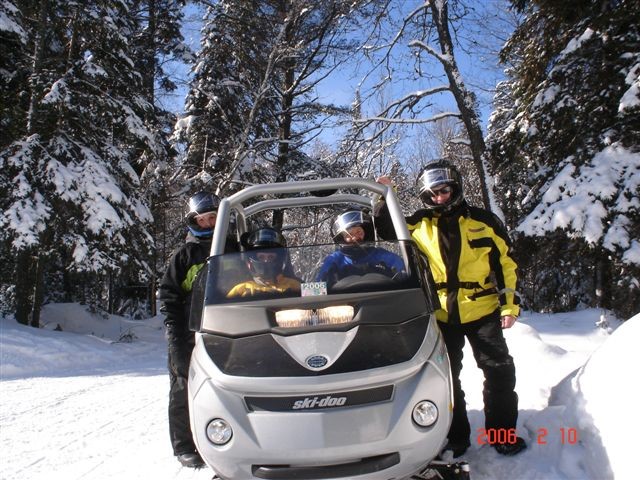 I couldn't do this without Darcy, Christine, Tara, Callee, Jenn or any of the people who have supported me since my accident. I have to thank them from the bottom of my heart for everything they have done and continue to do to keep my spirits up. These relationships have taught me to take things one day at a time. So, I am doing my best to do that.  
My very small community of approximately 7,800 residents in Port Elgin/Saugeen Shores has also been there for me in a big way. Christine and Callee recently hosted a GoFundMe fundraiser in my honour, where everybody rallied together to raise a total of $17,825 to give to the Rick Hansen Foundation for spinal cord injury research and improving the lives of people with disabilities.  
Some of the items people with a spinal cord injury need are air conditioning (because many of us cannot regulate body temperature or sweat like others), ramps, elevators, lifts, electric chairs, manual chairs, and shower chairs. Being disabled is very expensive, to say the least, so if I can help one person with awareness and funds, I feel that I have made a difference. 
I was approached by Shelley Acton from the Pampered Chef to see how she could help. She generously donated a percentage of her total sales as well as her commission towards our fundraising efforts. We had a comedy night hosted by Jenny O'Reilly where we also held a raffle of donated prizes from our community to raise even more funds. We put our heart and soul into the events to raise money for the Rick Hansen Foundation, and our small community responded. I even raised money at an outdoor concert during the thick of COVID-19, and at a time when few people carry cash anymore.  I parked my wheelchair where people would buy drinks and shook my donation can. The music was too loud to talk, but I was still able to raise $400 because I do not take no for an answer. Stores in the small community of Saugeen Shores put out donation cans, including our Winterhawks hockey team which raised $200. This was during COVID-19 ongoing lockdowns. The community rallied, and we managed to triple our fundraising goal in six weeks. 
Thank you for reading my story. Thank you to my best friend Christine and to the love of my life Darcy from the bottom of my heart for everything they have done and are doing to keep my spirits up. I am so grateful for the opportunity to thank these amazing people and my community to help me raise awareness and understanding about people with disabilities. 
If you are inspired by Lori and her community and would also like to improve the lives of people with disabilities please donate today to the Rick Hansen Foundation.