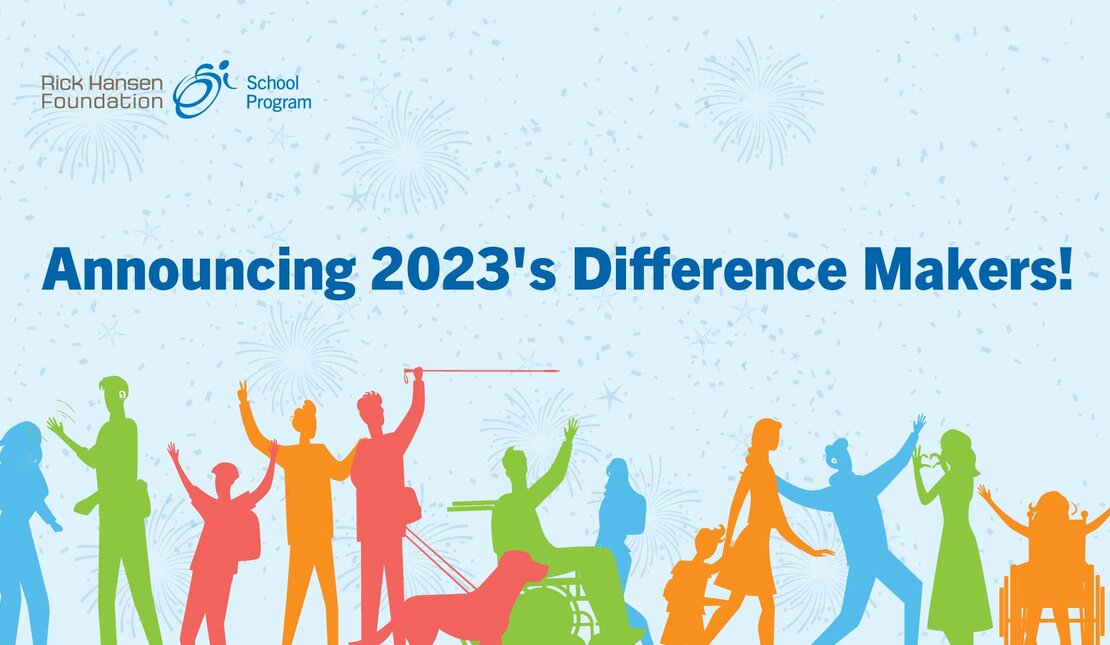 By Mariann Roberts
On May 31, 2023
Community Spotlight
We are thrilled to announce the recipients of the 2023 Rick Hansen Foundation School Program (RHFSP) Difference Maker of the Year awards! Each year, RHFSP accepts nominations from November through April to learn more about the wonderful work youth are doing across the country. This year's recipients are youth ages 5 to 18, youth groups, and classrooms comprised of young people who have made a positive impact in the lives of people with disabilities either in their school or community.
Join us in celebrating this year's exceptional recipients:
Individual Recipients 
Mackenzie Agretto, Grade 12
| | |
| --- | --- |
| | Mackenzie planned and organized an inclusive prom for students with disabilities within the Niagara Catholic District School Board. Working with her school principal, superintendent, and other outside agencies, Mackenzie removed barriers to ensure all students could attend and enjoy the event. The theme was "Time to Shine" and took place on April 18, 2023. Going forward, this event will happen annually, so all students have the opportunity to participate.  |
Caden Teneycke, 18 years old  
| | |
| --- | --- |
| | Caden has been a longtime accessibility advocate, using his platform on YouTube, Instagram and TikTok to spread awareness about living with his rare form of dwarfism, and provide a sense of community for others who face similar accessibility challenges. Since beginning his social media journey, he has grown his following to over 700,000 followers on TikTok and over 100,000 on Instagram. He has been involved in numerous campaigns for the British Columbia Children's Hospital Foundation and the I'm a HIPpy Foundation – an organization whose mission is to improve hip health, mobility, and quality of life in children with Hip Dysplasia and other hip conditions, globally. |
Youth Groups + Classrooms Recipients: 
Dear Everybody Design Team
| | |
| --- | --- |
| | This group of 13 Grade 6 students from Havergal College worked alongside students with lived experience at Bloorview School Authority to create accessible computer-controlled carnival games. Taking into consideration each child's range of motion, grip strength, gross and fine motor skills, and other abilities, the group designed computer-controlled carnival games that are fun and accessible for primary-aged children.   |
Mrs. Boucher's Grade 3 Class 
| | |
| --- | --- |
| | After reading Rick Hansen's story, Boy in Motion, Mrs. Boucher's class of 20 Grade 3 students audited their school for improved accessibility and potential solutions. To date, the class's advocacy has resulted in inclusive learning materials, accessible gym equipment, and a deeper connection with the local community living organization. This class is part of Huron Heights Public School in Kincardine, ON, and are now fundraising to make their playground more accessible.    |
Dante Accessibility Team 
| | |
| --- | --- |
|   | As part of a school project, the Dante Accessibility Team, which is comprised of seven students aged 13-18, created an educational video to raise awareness around accessibility and inclusion. The video titled "Exploring Speech To Text, Inclusion and Belonging" addresses information and communication barriers, technological barriers, and attitudinal barriers. Students and staff have been able to learn and understand why barriers experienced by people with disabilities need to be addressed within the school community to improve access, experience, and inclusion.  |
Difference makers like these show us that together, we will create a world for everyone, everywhere. Learn more about the RHFSP Difference Maker of the Year Awards and past recipients.
---
La traduction française commence: Nous sommes ravi·e·s d'annoncer les lauréat·e·s du prix Personne qui fait une différence de l'année du Programme scolaire de la Fondation Rick Hansen (PSFRH). Le PSFRH accepte annuellement des nominations, entre les mois de novembre et d'avril, afin de découvrir les formidables réalisations de jeunes partout au pays. Les lauréat·e·s de cette année sont de jeunes personnes âgées de 5 à 18 ans, des groupes de jeunes et des classes composées de jeunes qui ont contribué à améliorer la vie de personnes ayant un handicap, que ce soit au sein de leur école ou de leur collectivité.
Joignez-vous à nous pour rendre hommage aux lauréat·e·s exceptionnel·le·s de cette année :  
Personnes lauréates :
Mackenzie Agretto, 12e année
| | |
| --- | --- |
| | Mackenzie a planifié et organisé le bal de fin d'année de façon inclusive à l'égard des élèves ayant un handicap au sein du conseil scolaire Niagara Catholic District School Board. En collaboration avec la direction et l'administration de son école ainsi que d'autres organismes externes, Mackenzie a éliminé les obstacles afin que tou·te·s les élèves puissent participer à l'événement et en profiter. Le bal avait comme thème « C'est le moment de briller » et a eu lieu le 18 avril 2023. À l'avenir, cet événement aura lieu chaque année, afin que tou·te·s les élèves puissent y participer. |
Caden Teneycke, 18 ans
| | |
| --- | --- |
| | Caden est depuis longtemps un champion de l'accessibilité. Il utilise notamment ses comptes YouTube, Instagram et TikTok pour sensibiliser les gens à la réalité qu'il vit avec sa forme rare de nanisme ainsi que pour favoriser un sentiment d'appartenance pour les personnes qui vivent des situations semblables en matière d'accessibilité. Depuis le début de ses activités sur les réseaux sociaux, le nombre des personnes qui le suivent est passé à plus de 700 000 sur Tik Tok et à plus de 100 000 sur Instagram. Il a participé à de nombreuses campagnes pour la fondation de l'hôpital Children's Hospital en Colombie-Britannique et pour la Fondation I'm a HIPpy, un organisme qui a pour mission d'améliorer la santé des hanches, la mobilité et la qualité de vie des enfants ayant une dysplasie de l'articulation de la hanche ou d'autres troubles de la hanche, et ce, à l'échelle internationale.  |
Groupes de jeunes lauréats et classes lauréates :
L'équipe Dear Everybody Design
| | |
| --- | --- |
| | Ce groupe de 13 élèves de sixième année du Havergal College a collaboré avec des élèves du conseil scolaire Bloorview School Authority pour concevoir des jeux d'adresse contrôlés par ordinateur pour la fête foraine. Le groupe a conçu des jeux d'adresse électroniques amusants et accessibles aux enfants d'âge primaire, et il a tenu compte des capacités de tou·te·s les enfants, notamment l'amplitude de mouvements, la force de la poigne, la motricité globale ou fine, etc.     |
La classe de 3e année de madame Boucher 
| | |
| --- | --- |
|   | Après avoir lu le récit de Rick Hansen, Garçon en mouvement, la classe de Mme Boucher, qui compte 20 élèves de troisième année, a évalué l'accessibilité de l'école, les possibilités d'amélioration et a proposé des solutions. À ce jour, le projet de la classe a permis d'obtenir du matériel d'apprentissage inclusif et de l'équipement de gymnastique accessible et a permis de favoriser un rapprochement avec l'organisme de vie communautaire local. Cette classe, située à l'école publique Huron Heights à Kincardine, en Ontario, organise actuellement une collecte de fonds pour améliorer l'accessibilité de sa cour de récréation.   |
L'équipe Dante Accessibility
| | |
| --- | --- |
|   | À l'occasion d'un projet scolaire, l'équipe Dante Accessibility, composée de sept élèves entre 13 et 18 ans, a réalisé une vidéo éducative pour sensibiliser les jeunes à l'accessibilité et à l'inclusion. La vidéo s'intitule « Exploring Speech To Text, Inclusion and Belonging ». Elle examine les obstacles à l'information et à la communication, les obstacles technologiques et les obstacles comportementaux. Les élèves et le personnel ont pu apprendre et comprendre l'importance d'éliminer, au sein de la communauté scolaire, les obstacles pour les personnes ayant un handicap pour ainsi améliorer l'accessibilité dans l'environnement scolaire, la vie et l'intégration dans la communauté. |
Avec des personnes comme elles qui font une différence, nous édifions ensemble un monde pour tout le monde, partout. Pour en savoir plus sur les prix Personne qui fait une différence du PSFRH et les personnes lauréates antérieures, cliquer ici.