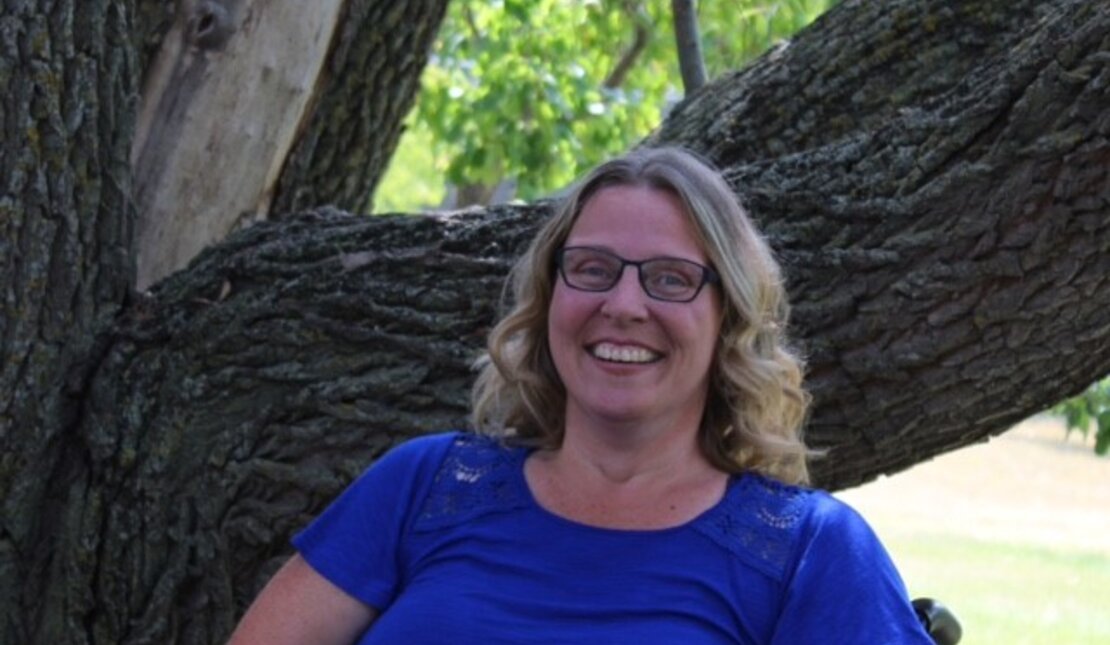 Marilyn Erho hated public speaking when she was in high school—now she wants to talk to every school in Alberta.  
It all began when she was working for Spinal Cord Injury Alberta. A representative from the Rick Hansen Foundation (RHF) reached out to see if anyone in the organization with a disability was interested in sharing their story to raise awareness of the importance of accessibility and inclusion. Marilyn suggested a few individuals and offered to volunteer if no one else was able to.  
The next thing she knew, she was being scheduled for presentations across Calgary. Even more surprising to her was the fact that she loved doing it. 
"It's such a great opportunity to be an Ambassador and to go into a school and present to hundreds of kids on why accessibility and inclusion are so important," says Marilyn. "Honestly, I would love to visit every school." 
Sharing a Personal Journey 
RHF Ambassadors are a diverse group of individuals with disabilities affecting their hearing, sight, or mobility. The story that Marilyn shares is one about an accident, spinal cord injury (SCI), and personal loss. When she was in her twenties, Marilyn and her husband were in a car accident in which she sustained an SCI and her husband did not survive. 
It's partially a cautionary tale for students to understand the importance of road safety; but it's more so a testament to her resiliency as she describes her experiences with rehab and adjusting to a different life in her community. It serves as a powerful reminder for young people when they face their own challenges in life—that we will inevitably come up against barriers and hardship, but you can emerge from it even stronger.  
"Our students were so engaged in the presentation," says an educator from St. Rita Elementary School in Calgary, "I believe they truly gained knowledge, understanding and empathy for persons with disabilities. They really connected with Marilyn." 
Customizing for Curriculum  
Marilyn is committed to ensuring her presentations are as relevant as possible and does her homework with every school. Before the presentation, she discusses with the principal what the students have been learning and if there are any students with disabilities. She even takes note of the posters on the walls and will work them into her talk.  
One year, she visited a school that had a student in a wheelchair who had been having a hard time fitting in. "After my presentation she was just so happy that I talked one on one with her and encouraged her not to give up. It's stuff like that that makes it so enjoyable and rewarding for me." 
Showing Kids that Kindness is Cool 
RHF Ambassadors show students that people with disabilities shouldn't be treated any differently. One of the main messages Marilyn communicates is the simplest way to ensure equal treatment: be kind to everyone.  
"I always tell them; it costs nothing to be kind and everybody can do this—if you treat others with kindness, they'll treat you with kindness too." 
It's a great jumping off point to discuss ways to become more accessible and inclusive, and Marilyn suggests lots of different ideas on what the school can do to include everyone. Students often get excited about changes they can make to create a more accessible classroom or playground, and many educators will comment that they learned something new too. 
Impact on Students 
The best reward for Marilyn is seeing the effect her presentation has on the students. It's validating for students like the girl in the wheelchair who saw her disability represented on stage, and it's eye-opening for those who don't have disabilities.  
Marilyn's presentation made an impression on a student from K–9 school Blessed Marie Rose in Calgary, who said "I never thought of all the different things [people with disabilities] have to think about."  
Another student from the school was inspired by her confidence, commenting: "I hope I can present to others like that someday." 
The Ambassador program is made possible by our Co-Presenting Partners Boston Pizza Foundation Future Prospects and Scotiabank and the generous support of CGI, Brian Hesje, The Gordon and Ruth Gooder Charitable Foundation and The Slaight Family Foundation.