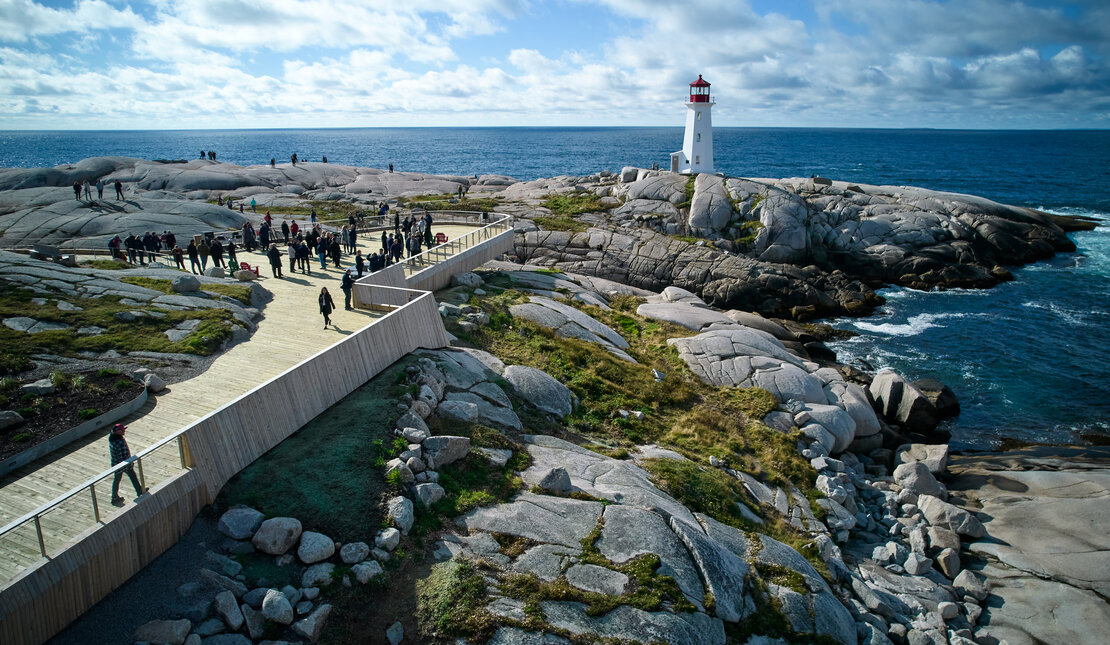 By Katie Kirker
On August 17, 2022
Access & Inclusion
Perched on a rocky bluff overlooking the Atlantic Ocean, sits Peggy's Cove Lighthouse. Built in 1915, it stands tall against Peggy's Cove, a village of 40 that welcomes nearly 700,000 visitors annually. The lighthouse itself is a popular tourist destination in Nova Scotia.  
In 2022, Peggy's Cove Lighthouse achieved a Gold rating through the Rick Hansen Foundation Accessibility Certification™ (RHFAC) program. As one of approximately a dozen Gold-rated tourist sites across the country, this marks a new opportunity for all Canadians to experience the gorgeous site, including the 6.2 million who live with a disability.  
"The recognition that the program has in terms of not only meeting but exceeding accessibility standards was why we decided to pursue it," explained Deborah Page, director of marketing and communications at Develop Nova Scotia. "It's a form of recognition for the destination in a way that informs people of what they can expect when they get here. 
1 in 5 Canadians identify as having a disability and over 1 billion people worldwide are directly affected by disability. Accessible tourist destinations are essential to ensuring everyone can participate fully in these experiences.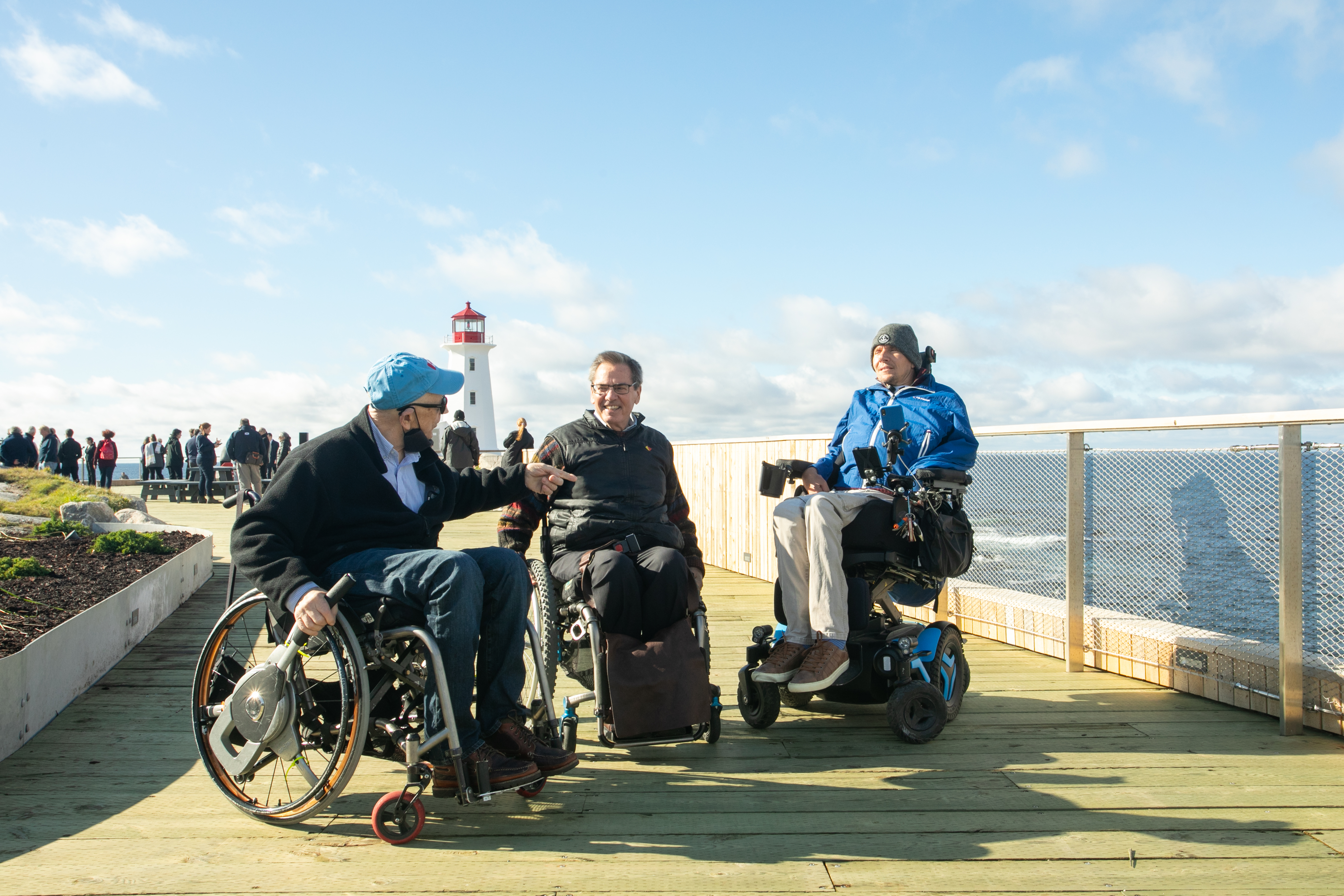 Increasing Access for All
"In the work that we do at Develop Nova Scotia, we are always trying to ensure the places we create are welcoming to everyone. Accessibility at Peggy's Cove has always been a bit of a challenge based on the terrain," Page said. "Given that many of our visitors and locals have some type of mobility challenge it became clear to us that this is one of many communities we needed to not only accommodate but lean into and make it as great of an experience for as many as we could." 
Led by Develop Nova Scotia, an accessible viewing platform was built at Peggy's Cove Lighthouse that allows more people to be able to view the lighthouse. In addition, they created accessible parking spaces in both of the public parking lots, wayfinding throughout the village, the trail (pathway) that leads from both parking areas to the Cove and the Lighthouse, and built accessible washrooms that include adult change tables. Develop Nova Scotia worked closely with those with lived experience, starting with the local community, to ensure the project was done in a way that serves the largest number of people.  
"Peggy's Cove and Develop Nova Scotia is a tremendous example of accessibility," Gerry Post, an accessibility advocate, and former Executive Director of Nova Scotia's Accessibility Directorate, who was involved in the project, said of the upgrades. "They are setting a new standard in accessible tourism."   
For Post, Peggy's Cove was always a place he loved to bring guests when they visited him in Nova Scotia. After starting to use a wheelchair, his experience at the lighthouse was lacking, as he had no way to leave the parking lot.  
"Since the upgrades, I've now been 4 or 5 times. It is an excellent experience," Gerry explained.  
Kevin Penny and Dee Osmond, content creators who vlog their adventures on their Accessible Adventurers YouTube channel where they create videos about their everyday life as an inter-abled couple, were involved in the upgrades process closer to the end. 
 "It is important to be inclusive so everyone can enjoy the experience safely," Penny, who uses a wheelchair, explained. "The upgrades they've done are really top notch."   
Osmond added that "[Peggy's Cove] is an iconic attraction of Nova Scotia and it's important that as many people as possible can see its full potential and have full access to it."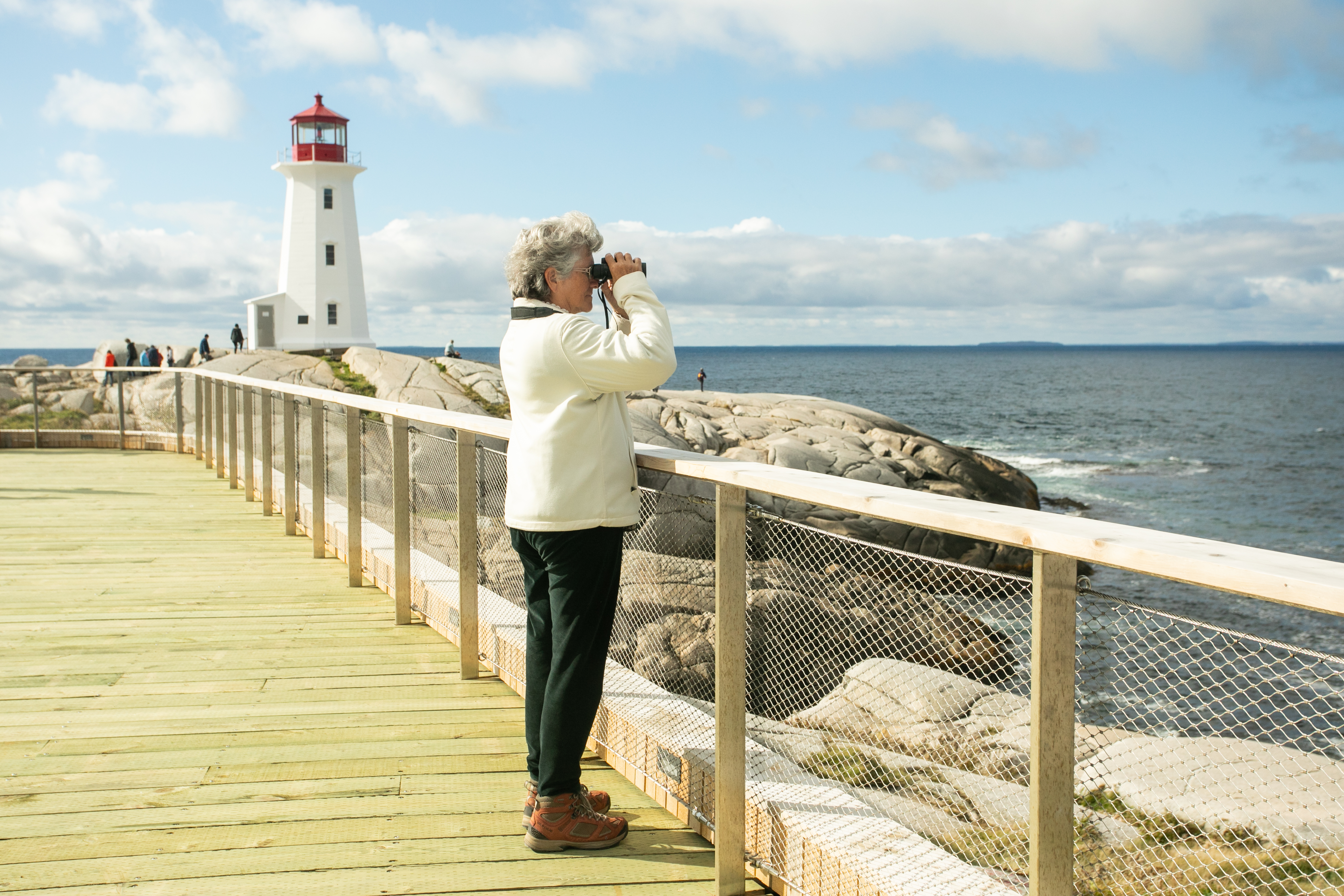 The Viewing Deck
When envisioning the accessible viewing deck, Develop Nova Scotia wanted to ensure that it was more than just access to Peggy's Cove – it had to be an experience.  
"We wanted to create something that allows so many more people to experience what others are able to experience climbing up on the rocks. We wanted everyone to be able to see the waves crashing, hear the waves crashing," Page explained. "We wanted it to fit into the landscape and be a unique and interesting experience." 
The attention to detail is another piece that Page believes helps the viewing deck seamlessly be a part of the Peggy's Cove experience and landscape.  For example, below the railing lining along the platform, there is metal netting. The goal with the netting was to make it resemble fishing netting, an homage to the fishing village of Peggy's Cove.  
A portion of the deck is also cantilevered out over the rocks and waves below. This portion provides a new look at the lighthouse. 
"The viewing deck gives you that kind of close-up experience and its nice and open and a great way to see the waves crash against the rocks and to see the lighthouse," Penny said of the deck.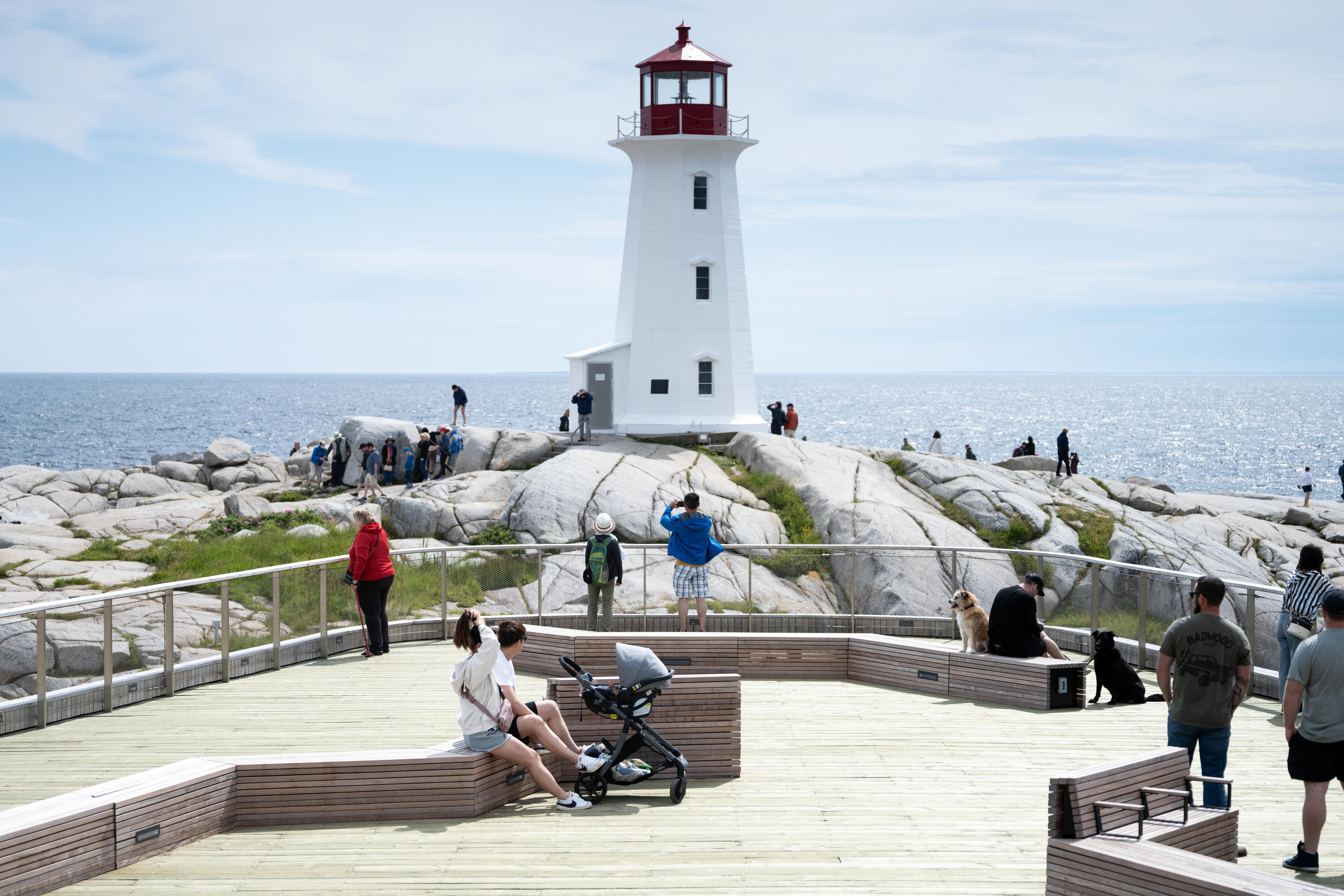 Accessible Washrooms  
Another upgrade that Develop Nova Scotia included was accessible washrooms.  
"I am impressed with the accessible washrooms. They went the extra mile beyond what we have typically seen," Osmond shared. "Automatic door openers to get everywhere. The adult change table is really incredible and shows the potential for what standards could be in the future. It's exciting."  
Page explained that they consulted with many people with lived experience as part of this project. It was through this work to include the voices of those with lived experience that they realized how powerful an adult change table could be.  
"It takes putting yourself in the position to take in things you may not have thought of to improve," Page said. "If you don't ask you won't get to the next level of accessibility." 
Post was also a strong advocate for adult change tables and said that the Peggy's Cove washrooms are "setting a new standard".  
 "It's a tremendous example of how to create accessible washrooms," Post added.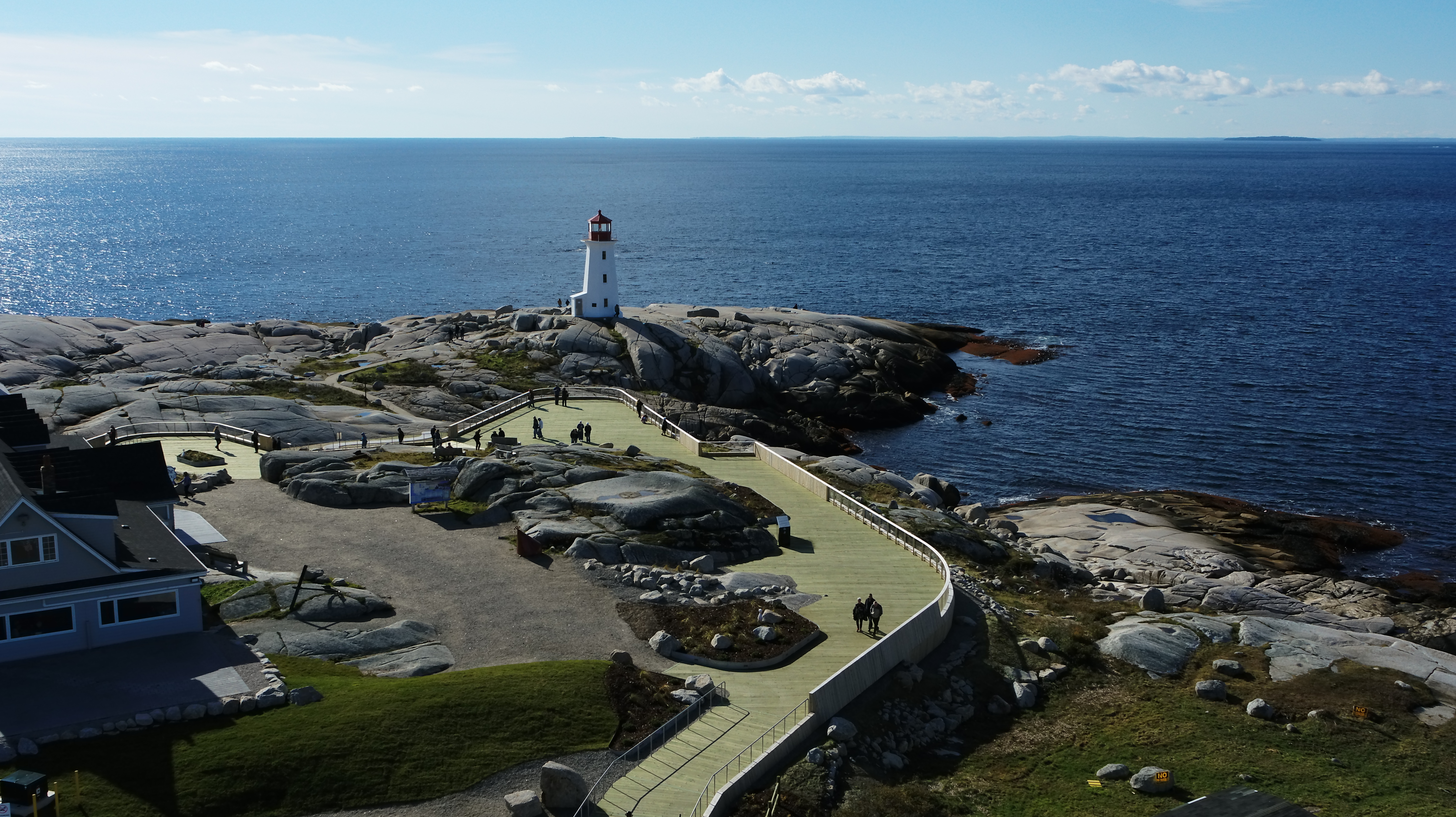 Looking Forward  
"Accessibility is never done," Page explained. "So far, the feedback has been overwhelmingly positive, but there are always things that can be done better. When someone brings something up, we listen and act on them as quickly as we can."  
For Develop Nova Scotia, projects are never completely finished. Going forward they intend to continue to consider and incorporate new ways to improve accessibility.  
"I am really impressed with how Develop Nova Scotia considered accessibility, prioritized accessibility, consulted with people. They did it slowly and took their time to think it through, Osmond noted. "It's a really amazing model and I hope other places take what they see at Peggy's Cove and implement in similar way."  
The upgrades present a new opportunity for those with mobility disabilities, seniors, caregivers, family, friends, those with strollers, among others, to better experience Peggy's Cove and the lighthouse.  
As Page said:
"The most rewarding thing is seeing people enjoy it."