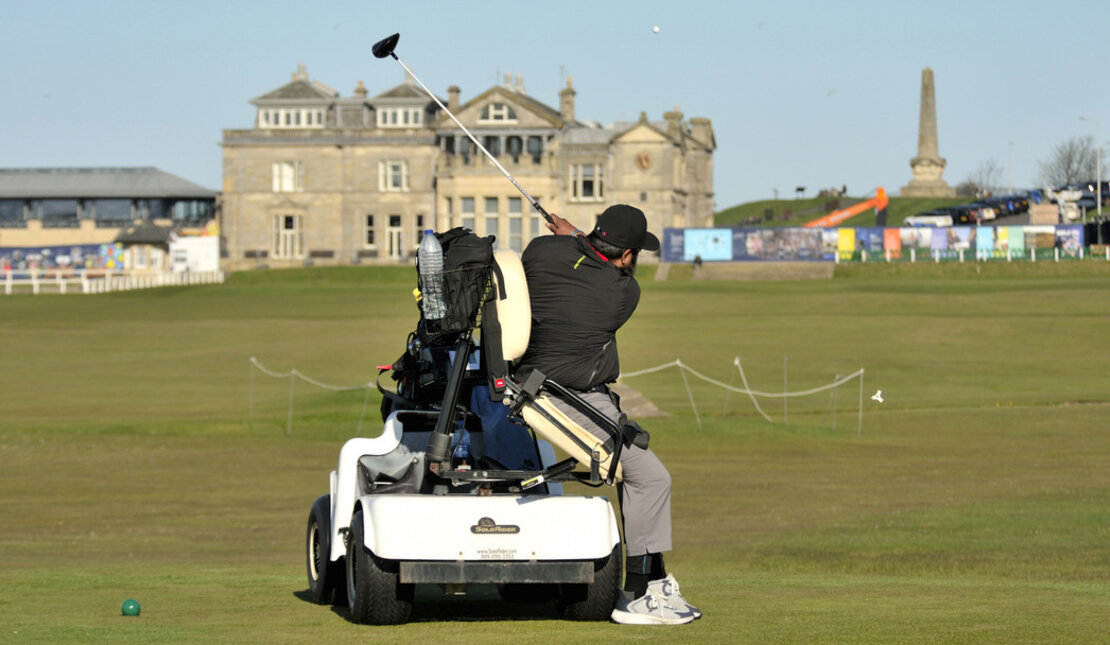 By Rebecca Blissett
On May 23, 2023
Access & Inclusion
For Anthony Brummet, like many of the 1 in 5 Canadians with a disability, his medical condition wasn't something he had planned for. Anthony, or Tony as he is called, developed a health issue in his senior years that affects his legs to the point he can no longer stand. 
Tony, well known to his friends for his passion for golf, faced a daunting challenge. Golfing, as we know, typically requires one to stand upright. But, as is so often the case in our world, this was only because no one had thought to consider other ways of participating in the sport. That is, until adaptive golf carts that allow people with mobility disabilities to remain on the links rose to the occasion.  
An Introduction to Adaptive Golf Carts
It wasn't Tony's disability that introduced him to adaptive golf carts; it was a friend's. Tony and his golfing pals pitched in to buy a model to get their friend with paraplegia on a course with them. Adaptive golf carts are single-rider golf carts featuring stand-up seats with swivel capabilities. They also have ergonomically designed controls, automotive suspension, strong hill-climbing capabilities, and do not damage tees or greens. 
"The pleasure it gave him and how it enriched his life, was something that impressed me greatly," said Tony.  
Exclusion is a notion that Tony simply cannot stomach. While Tony had his own adaptive cart, he is advocating for others who may not have the means. This community-mindedness is a defining feature of Tony's character, evident in his longstanding involvement in public service and numerous volunteer positions for recreational, cultural, and heritage organizations.  
Tony designed a proposal urging golf clubs in his home province of British Columbia to invest in an adaptive cart as part of their rental fleet. The cart, which costs roughly $13,000 CAD, is a small amount, he said, when considering the typical operational budget. 
"There is no legitimate reason why people with limited abilities are denied access to courses," Tony stated. "All it takes is one adaptive cart and an attitude change." 
The Amazing Health Benefits of Golf
Eric has been involved in accessible golf for 14 years and has witnessed what he calls the "amazing" health benefits related to the sport. 
Eric is the program director for Regal Research and Manufacturing Co., an electromechanical manufacturing company in the United States. Eric takes great pride in one of the company's products, the SoloRider. As Eric attests, this adaptive golf cart has garnered a reputation as one of the top adaptive models on the market, another being the ParaGolfer/ParaMotion.  
"Over the years, I've received an untold number of phone calls, letters, and emails from spouses, children, and grandchildren saying that someone they know would not be alive today if they didn't have the ability to play golf," he said. "I can attest. My best friend was paralyzed in an explosion in Afghanistan. He lived at the bottom of a bottle for many years thinking that he and his family would be better off if he'd just committed suicide. He found that he could play golf from a SoloRider, and today, he is living his best life. A great husband, terrific father, and now a PGA HOPE ambassador for golf." 
Eric has played "nearly every sport on earth" and said he cannot think of anything else that offers such a wide range of benefits to such a large population, including people with disabilities.
The list of benefits is too long to include here, but some of the main ones include:
Low-impact exercise
Getting people outside
Social benefits of being with friends and making new ones
Competition being great for the spirit and mind. 
He added that golf courses have nothing to lose by investing in adaptive carts. According to SoloRider, golfers with disabilities could present an opportunity upwards of $80 million for the golf industry. That's in American dollars, but the Canadian demographic is similar – seniors are golf's best customers, and many are forced to leave the game for physical or medical reasons. An adaptive cart available for use would be akin to hanging out a giant welcome sign. 
Rick Hansen agrees, knowing all too well the transformative power of sports and recreation in the lives of individuals of all abilities. "Removing barriers to activities in the outdoors is essential for fostering a truly inclusive society where everyone has the opportunity to engage in the activities that bring them joy and fulfillment," he said. 
How to get there will require awareness, Eric added. "In Canada, like here in the States, adaptive golf is still in its infancy. Not enough people are aware of the resources out there," he said. "Golf Canada really seemed to be building momentum, then COVID essentially stopped all movement but with adaptive golf possibly making it into the Paralympics and USGA, PGA of America, EDGA, and WP World Tour… I think we're going to see some real movement again." 
Breaking Barriers Through Increased Awareness
Creating inclusive and accessible environments requires intentional efforts to understand the needs of diverse users. While the Rick Hansen Foundation Accessibility Certification™ (RHFAC) program focusses on measuring the meaningful accessibility of buildings, there is no reason why golf courses cannot take a cue from its people-centric approach. 
One of the people interested in building momentum for inclusion and accessibility in golf is Leslie Dunning. When Leslie became president of Golf Canada in 2018, it was her goal to connect with other national golf groups. Guided by the belief that inclusion is key to growing the game, she reached out to many organizations, including those for golfers with sensory or mobility impairments, to learn about them and make them aware of the existence of Golf Canada. 
Golf Canada and Accessibility
Leslie introduced the first diversity policy for Golf Canada, with provincial golf organizations adopting or adapting the policy shortly after. In 2021, Golf Canada hosted its first Canadian All Abilities Championship. As a legacy of the championship, Golf Canada donated a SoloRider cart to the City of Toronto to enable more golfers with disabilities to enjoy the sport. Several other adaptive tournaments have been established in recent years, providing more golfers the opportunity to participate in provincial and national events.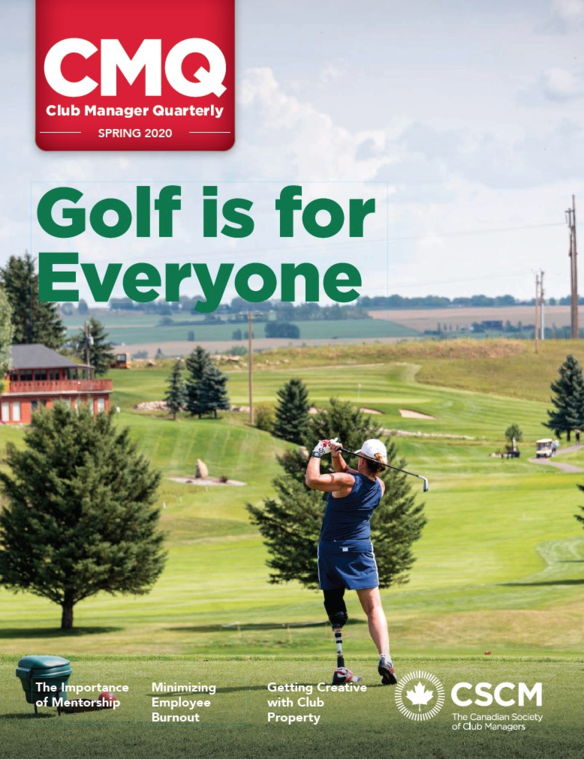 Leslie explored the topic of creating accessible golf courses in her insightful article in Club Manager Quarterly about accessibility for people with mobility, hearing, and visual disabilities. According to Leslie, by utilizing mobility equipment, adapting rules, and eliminating barriers, golf can be a sport that is truly open to all. She acknowledges that accessibility presents a considerable challenge on courses with steep hills, long distances, and bunkers that are difficult to access. But the older, traditional courses can be more accessible, as they were constructed before the advent of the motorized golf cart. 
"These older courses were designed for people to walk. Balls weren't hit as far because the technology of the clubs and balls were not what they are today. The original golf clubs were wooden sticks," Leslie said. "Golfers did not hit the long drives they expect today. Most older courses are flatter and more easily adaptable to become more accessible." 
"Golf can be a game for everyone," Leslie said. "I believe that there is a desire to increase accessibility at golf courses. It's just about knowing what to do, how to do it and how to make it work. The feedback on my CMQ article was good because people said, 'Oh, we didn't know that and what you wrote makes sense.' That was the purpose of the article, to provide some ideas to help golf courses increase accessibility." 
Let's continue to create a more inclusive Canada to ensure that Tony and others with disabilities are actively welcomed in all areas of life, including the golf course.