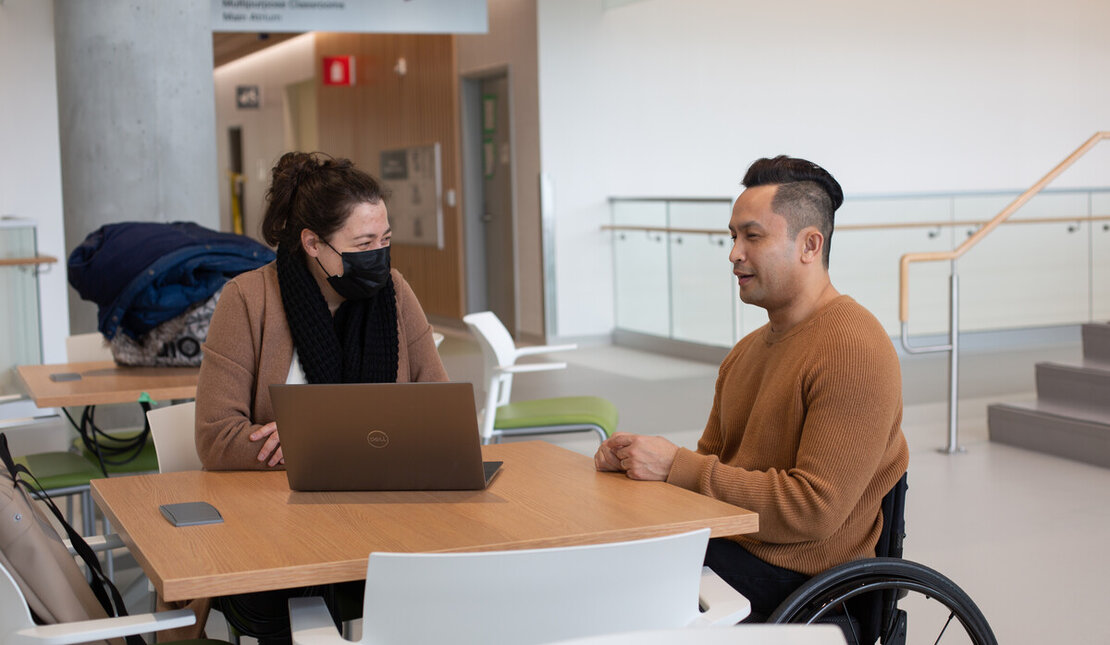 By Laetitia Mfamobani
On May 18, 2023
Access & Inclusion
Global Accessibility Awareness Day (GAAD) is an annual event celebrated on the third Thursday of every May. GAAD helps drive awareness about the importance of digital accessibility and promotes inclusion for people with disabilities in the digital world. It aims to cultivate a more inclusive digital environment for everyone and helps highlight the challenges faced by individuals with disabilities when interacting with digital products. The first GAAD was celebrated in 2012 and has since gained significant recognition worldwide.
Why do we celebrate Global Accessibility Awareness Day?
GAAD emphasizes the importance of creating digital experiences that are accessible to all. It promotes the concept of Universal Design, where digital products are always built accessible, not adapted for users' specific needs. When we acknowledge that people with disabilities have the right to access information just like everyone else, they can fully participate in the digital world. GAAD also serves as a catalyst for positive change as every one of us is encouraged to act to become digital accessibility champions.
How can I celebrate Global Accessibility Awareness Day?
One way to celebrate GAAD is to learn a few easy ways to design accessible communications. Communications can be both accessible and inaccessible. It all depends on how you format your content. These few tips will help you create accessible and readable communications for everyone.
Add headings to your content
A heading structure is one of the most important parts of accessible content. It is used to break up content and make finding information easier. People who use screen readers often navigate content by listening to the headings to understand how the content is organized. Avoid using colour alone to define your headings when designing your headline structure. Write descriptive headings for the reader to understand the content underneath. Do not skip heading levels, such as jumping from Level 1 to Level 4.
 

Hyperlinks
Hyperlinks should be informative, meaning the link must have a text-based name that conveys clear and accurate information about the destination. For example, instead of writing generic link text like "Click Here," as the user won't know what "Here" means, you could hyperlink the entire sentence: "Click here to learn more about our company." Avoid using URLs that are often a string of random letters and numbers, such as https://rickhansen.com/community/ass-asp/blob/develop/change.md/0019
This is frustrating for those who use screen readers as unintelligible URLs do not provide any meaningful information or context about the content or purpose of the webpage.
 
Add alt-text to Images
It is important to add alt-text to visuals as image descriptions provide people with visual disabilities access to your content. There are several types of images, including simple and complex images – both of which convey information and should be described. When writing alt-text, do not include the phrase "This is an image/graphic of…" because screen readers will announce that it is an image/graphic. Write descriptions based on the context surrounding the image, such as the intended audience, the content, etc. Keep your description clear and concise, and use present tense and action verbs to write engaging descriptions.
 
Colour Contrast
Colour contrast is crucial when creating accessible content. Use a high colour contrast between your text and background. People with low vision may be unable to access your content if you use low-contrast colours, such as light grey text on a white background.
The Web Content Accessibility Guidelines recommend a minimum contrast of 4.5:1.
In addition, avoid certain colour combinations to accommodate people who have colour vision deficiency, as most of these colours tend to blend into one another, resulting in wrong perceptions:
Red & green, green & brown, green & blue, blue & gray, blue & purple, green & gray and green & black.
Becoming an accessibility champion is a life-long commitment. These few tips will help you start your journey.
To learn more about accessible communications, please check out these other blogs on our website:
5 Tips to Create Accessible Word Documents
5 Ways You Can Make Your PowerPoint More Accessible
10 Tips for Communicating (Virtually) With Someone Who Is Hard of Hearing