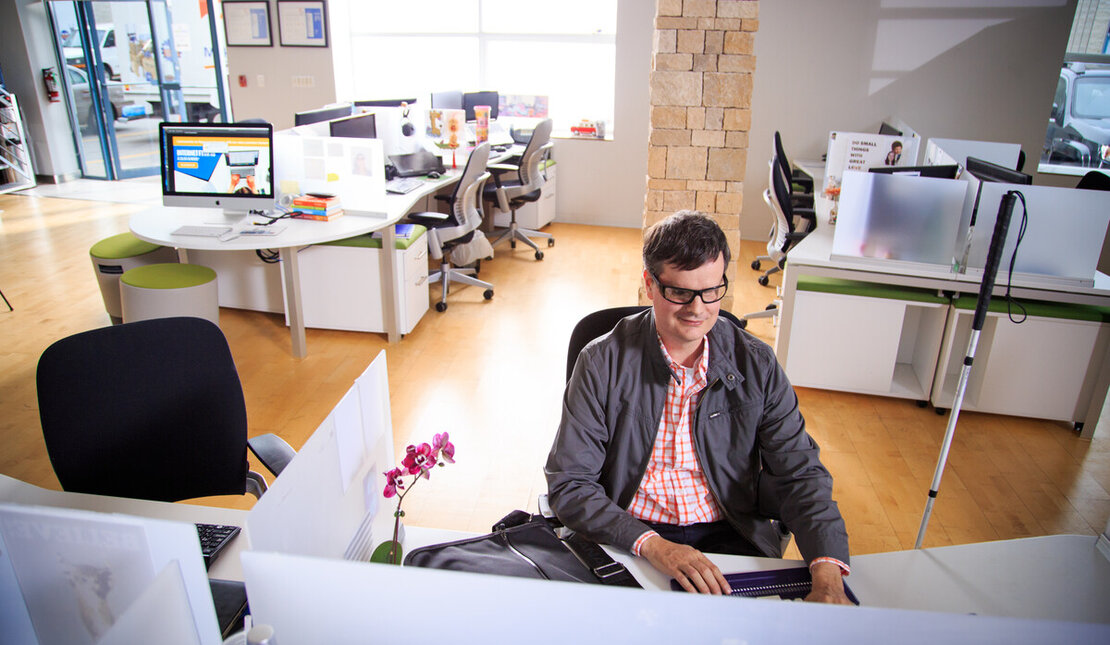 With the recent expansion of the digital world, there has been a change in the way we communicate. The distribution of information has gradually moved from its traditional channels to electronic documents. The rapid expansion comes with the need to create accessible content to ensure everyone can access it. In the following article we will outline five tips to help you create basic and accessible Word documents for individuals with vision disabilities. 
Heading Structure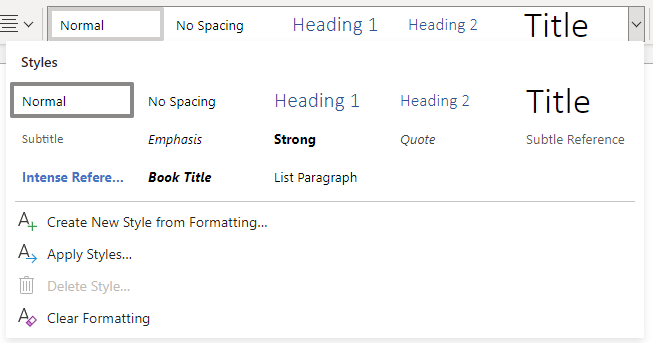 Headings are used to break up content and make finding information easier. People who use screen readers often start reading a document by first reading the headings, as this helps them understand how the document is organized.  
A good heading structure helps a screen reader user create a mental map of the content. You can use built-in header styles, available in Microsoft Word, instead of using colours to define your headings.  
To create accessible headings, follow the steps outlined below:  
Home > Styles  
Click on the style you want and then type your heading, or type your heading and then click on the style you want to use. 
To verify that your headings create a good outline of the content, open the Navigation Pane and select "Headings" to browse the headings that are in your document. Select View > Outline to see how the headings will be organized.
To learn more, check improving accessibility with heading styles in Microsoft Word.
Alternative Text for Images

If an image is designed to convey important information or has a specific function, you must provide alternative text (alt-text) for people who cannot see the image. Note that alternative text is not seen by a sighted reader. 
Good alt-text briefly describes the image and its purpose within the document.  
In general, do not use descriptive phrases such "image of..." or "graphic of..." as screen readers often announce that it is an image. Similarly, avoid using auto-generated alt-text as it is rarely accurate and sometimes incomplete. 
It is important not to use images as the sole method of communication. 
To add alt-text, right click the image; select "Edit Alt Text"; type the alt-text in the description box. 
To learn more, see Add alternative text to images and diagrams.
 
Colour Contrast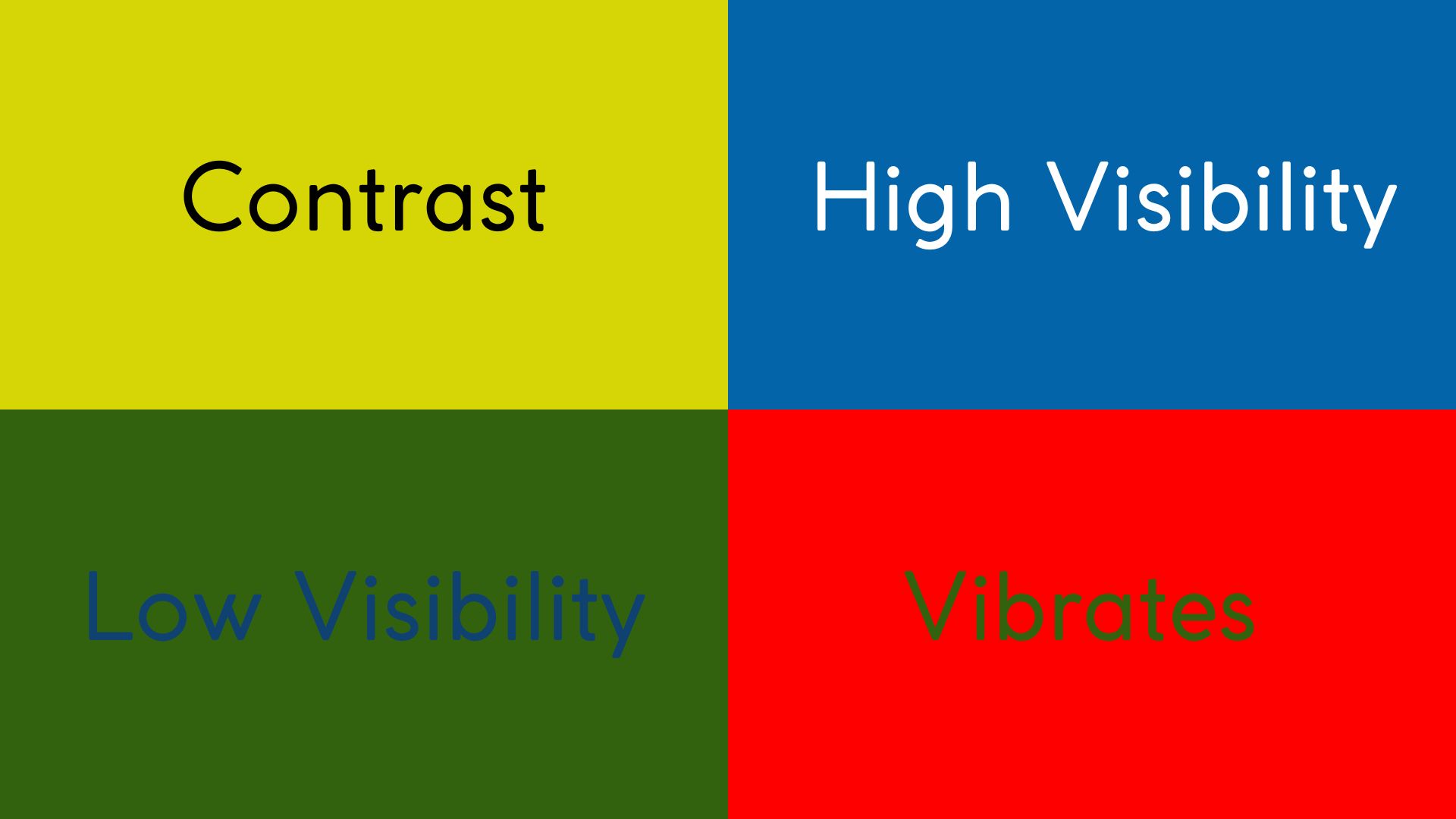 Contrast enhances readability of a document for all individuals, so when creating a document, consider using high contrasting colours.  
You should also be mindful of accessibility when selecting a color scheme as about 9% of men and 0.5% of women have a certain level of colour blindness. Content can be difficult for people to understand if you create your document using the wrong colour combinations. 
Avoid using color combinations that are inaccessible to color blind readers, such as: red & green, green & brown, green & blue, blue & gray, blue & purple, green & gray, green & black. 
You can use the  WebAIM Color Contrast Checker to test the accessibility of the background colours in your documents. Another tool is the colour contrast analyzer, a free app that analyzes colors and contrast, and displays results almost immediately. 
Descriptive Hyperlinks
When creating hyperlinks, ensure that they have a text-based name associated with them, and that the links convey clear and accurate information about its destination. 
When hyperlinks have no meaningful text name associated, screen readers will read the URL. Can you imagine listening to a long string of letters and numbers? It would be frustrating. 
Avoid "Click here", "See this page" or "Learn more" as screen reader users often listen to links out of context, either by navigating through the links, or by using a keyboard command to list all of the links in the document. When writing link text, avoid repeating the word "link" as screen readers will announce the word "link" when they are reading a designated link. It is important to ensure hyperlinks make sense out of context. 
To learn more, check Create meaningful hyperlinks in a document.
Use the Accessibility Checker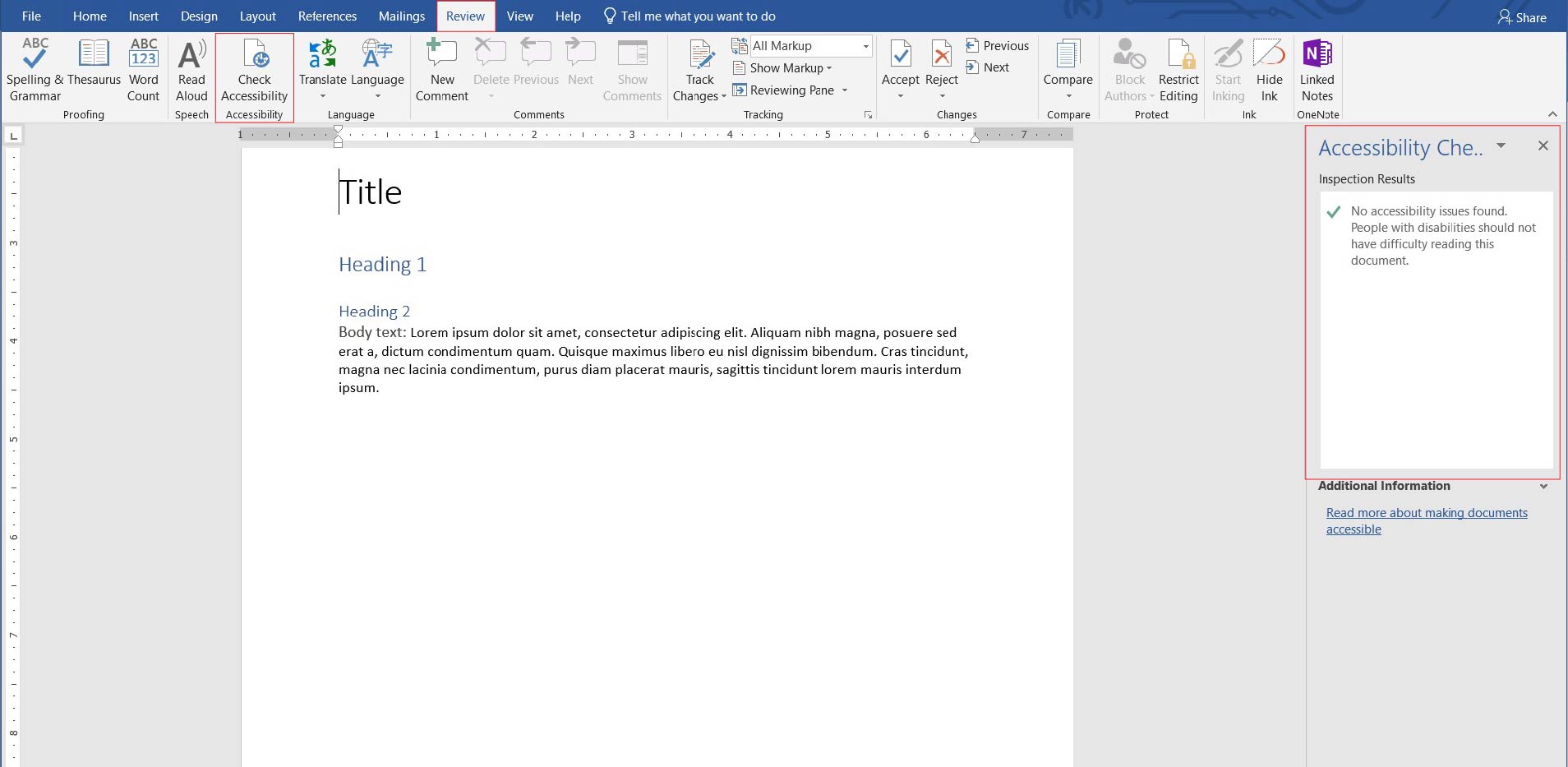 The Accessibility Checker is a built-in tool in Microsoft Word that can automatically identify possible accessibility issues that people who have disabilities might experience in your file. Fixing these issues will allow more people to access your content. 
Caution, the Accessibility Checker may not find all accessibility issues in your document. The checker inspection results classify issues into the following categories: 
Error: An error is for content that makes a file very difficult or impossible for people with disabilities to understand; 
Warning: A warning is for content that in most, but not all, cases makes a file difficult for people with disabilities to understand; 
Tip: A tip is for content that people with disabilities can understand, but that could be be better organized or presented in a way that would improve the accessibility of the document. 
To run the Accessibility Checker, open the Ribbon, click Review > Check Accessibility. Click a specific issue to see Additional Information and steps you can take to fix the issue.  
To learn more, check Find and fix accessibility issues in a word document.