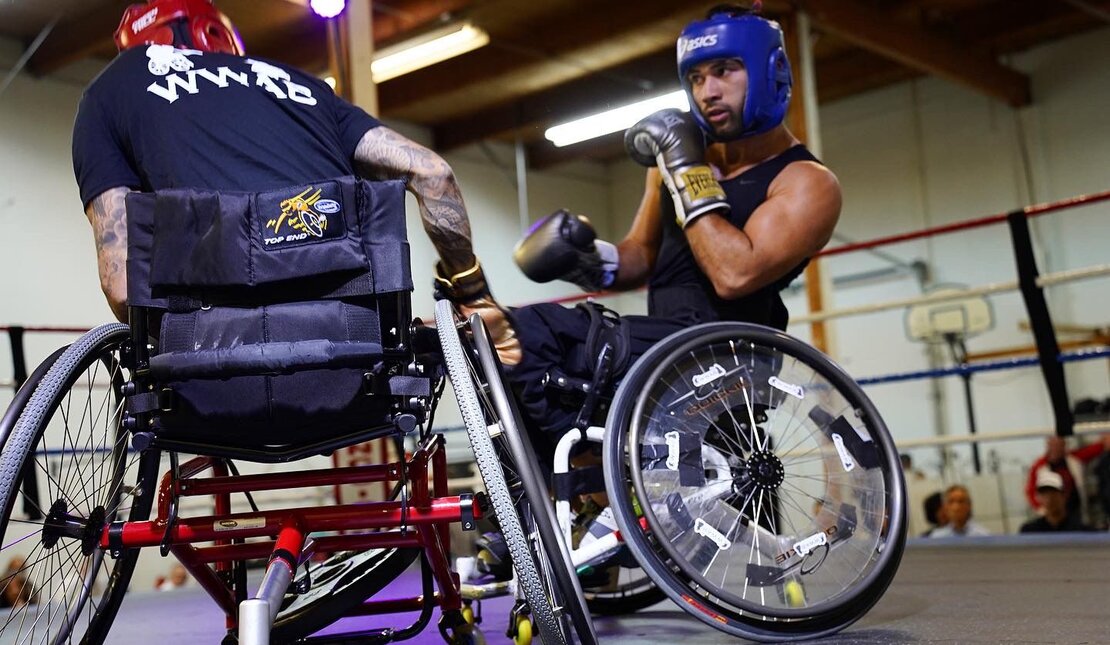 By Rebecca Blissett
On March 24, 2023
Access & Inclusion
Being a good fighter is more than landing a hard punch. It takes a combination of lightning speed, well-honed technique, and precise accuracy; some argue it is more a physical art form than brute sport. It also takes an incredible amount of dedication.
Leo Sammarelli may have been just a 15-year-old kid, but he already had a good handle on those skills. When he started boxing in a tiny gym in Italy's Puglia region, he had found a missing piece of himself. His parents worked in the medical field and were concerned about their son taking punishing hits – it's common knowledge that repeated blows to the head can have devastating consequences. They relented when Leo beat five consecutive opponents to take top spot in an inter-regional tournament in Italy. It wasn't just the wins; they saw how boxing ignited something in their son, so much that the painful shyness he'd wrestled with for much of his youth had burned away. Boxing was a gift.
"I didn't have the greatest self-esteem before boxing," Leo said. "I was always scared of talking in front of a class or even a group of people. Boxing really worked its magic on me in that way that it showed me how to express myself. It also showed me how to mentally deal with some frustrations in life as far as character development. You know, you're stepping into the ring to fight someone, so that discipline and meaning go into every fight you have."
Leo finished high school in Canada, training at the North Burnaby Boxing Club in British Columbia. He set his sights on a hierarchy of prizes: first up was two provincial Golden Gloves titles, and then came Canada's WBC national amateur lightweight championship title in 2014. Leo figured the 2016 Summer Olympics would be the next step to edge him closer to his dream of going pro. He was talented enough, and determined.
New Possibilities
But all the talent and desire in the world are meaningless when you're in the wrong place at the wrong time. In 2017, Leo was the victim of a shooting in North Vancouver. A case of mistaken identity, he said. Four bullets hit him -- two in the abdomen, one on the side of the rib, and one in the back. His abdomen eventually healed, but his back never did. It was a reality Leo struggled to accept during his stay at G.F. Strong Rehabilitation Centre in Vancouver. The body that once powered him up the Grouse Grind in a flat-out run was no longer; he was a 90-pounder who could barely push himself forward when he first climbed into a wheelchair.
"Where I found the answer was in other people," Leo recalled. "Terry Fox is an inspiration and so is Rick Hansen. Going through what Rick had to go through in also losing the use of his legs and look at what he's done. I learned that goals change and develop. I'm sure they did for Rick. He decided to do his Man In Motion World Tour, raise some awareness and money, and he also went further than that. It taught me that spinal cord injury is not the end of life."
Soon after Leo was discharged from G.F. Strong, he attended Paralympian Search, a one-day athlete identification event designed to test aptitudes to excel in various Paralympic sports to set them on the path of representing Canada at the Paralympic Games. Leo was selected for para nordic skiing, a sport that got him back on his beloved mountains. The fire of competition soon burned, and Leo won a silver at the Canada Winter Games and bronze medals at the U.S. para nordic national championships. He hopes to compete at the Paralympic Games in Milan, Italy, in 2026.
But boxing still had a place in his heart.
The first time Leo rolled into the gym was discouraging. It was frustrating not being able to join in. Plus, it was still the same group of guys, boxers Leo used to handle in the ring with no problem before his spinal cord injury. 
"I was thinking to myself what I would have done better in their situation, but I couldn't join them in training. I'm thinking, 'God! I used to beat this guy easily.'"
Leo had to swallow his competitive pride.
"One of the biggest challenges for me was finding that sense of purpose and meaning again," Leo said. "I was afraid to go back to the gym, I didn't know how to work out anymore. But with the help of family and friends, and obviously I had the community behind me, I got there."
Leo figured out how to use boxing for both mental and physical rehab. A boxing workout had the same benefits as before, Leo quickly realized; building core stability and back muscles, body awareness of shifting weight from side to side.
Again, boxing presented a gift. This time Leo wanted to share it.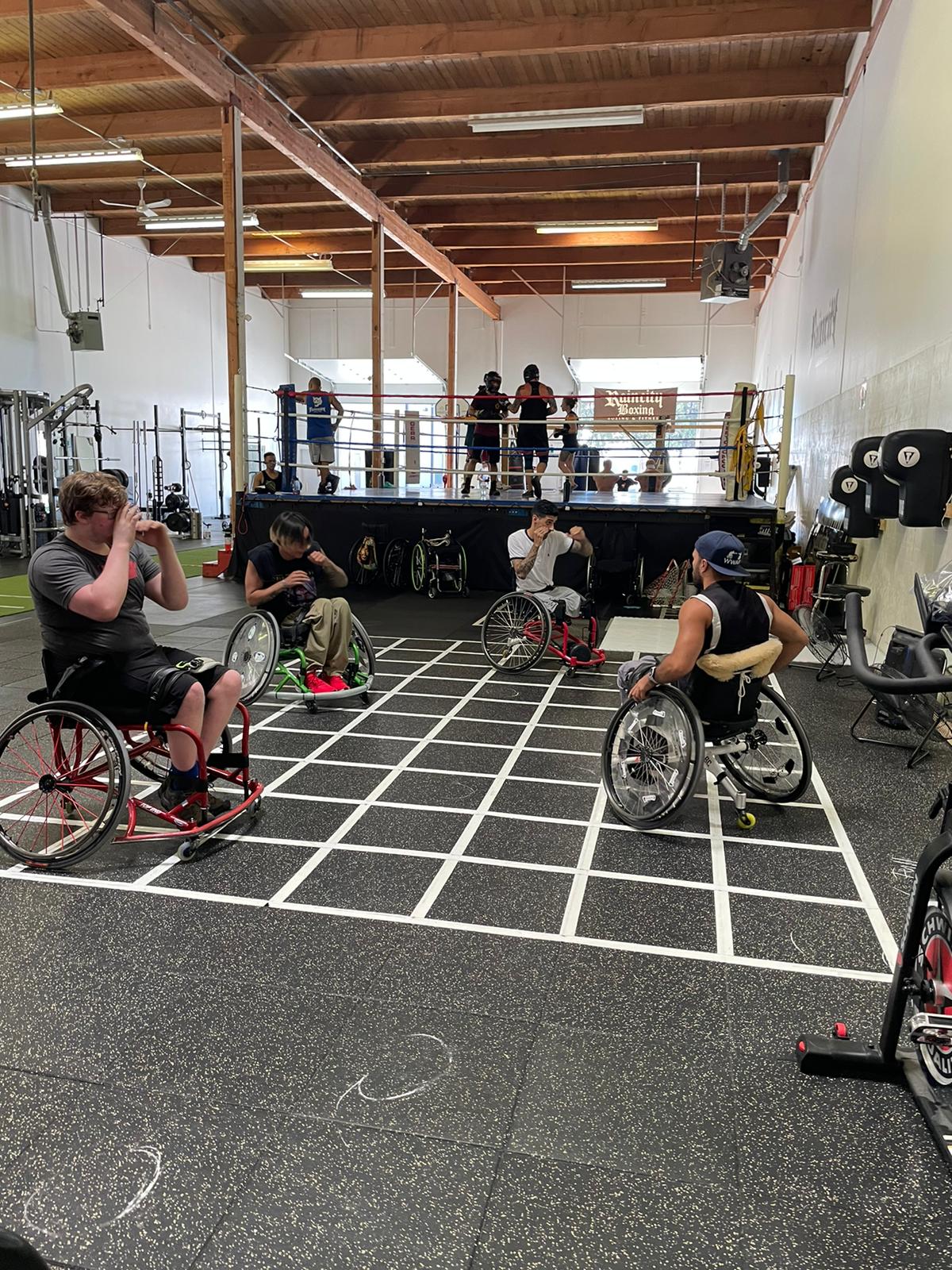 Leo extended an invitation to other wheelchair users to "punch things and come spar." It didn't take long for classes to fill up. No matter the ability, Leo taught his students technique so everyone could participate. One woman, Leo recalled, had cerebral palsy and used a power chair. Her goal: to do 10 kilometers around Vancouver's Stanley Park in a manual wheelchair.
"I trained her for a year and she was able to do it – we did it together," Leo said. "It was just proof that the doors are open for really anyone. It was then I found my sense of purpose again, helping these individuals not only live a healthier lifestyle, conquer their inner demons, or just reach their goals."
When the COVID-19 pandemic closed gyms in 2020, Leo started his online Westcoast Wheelchair Adaptive Boxing classes. He likes to warn participants ahead of time that the workout is intense and that if they don't like it, they don't have to come back. So far, nobody has dropped out. He now has students from all over B.C., Ontario, and the United States.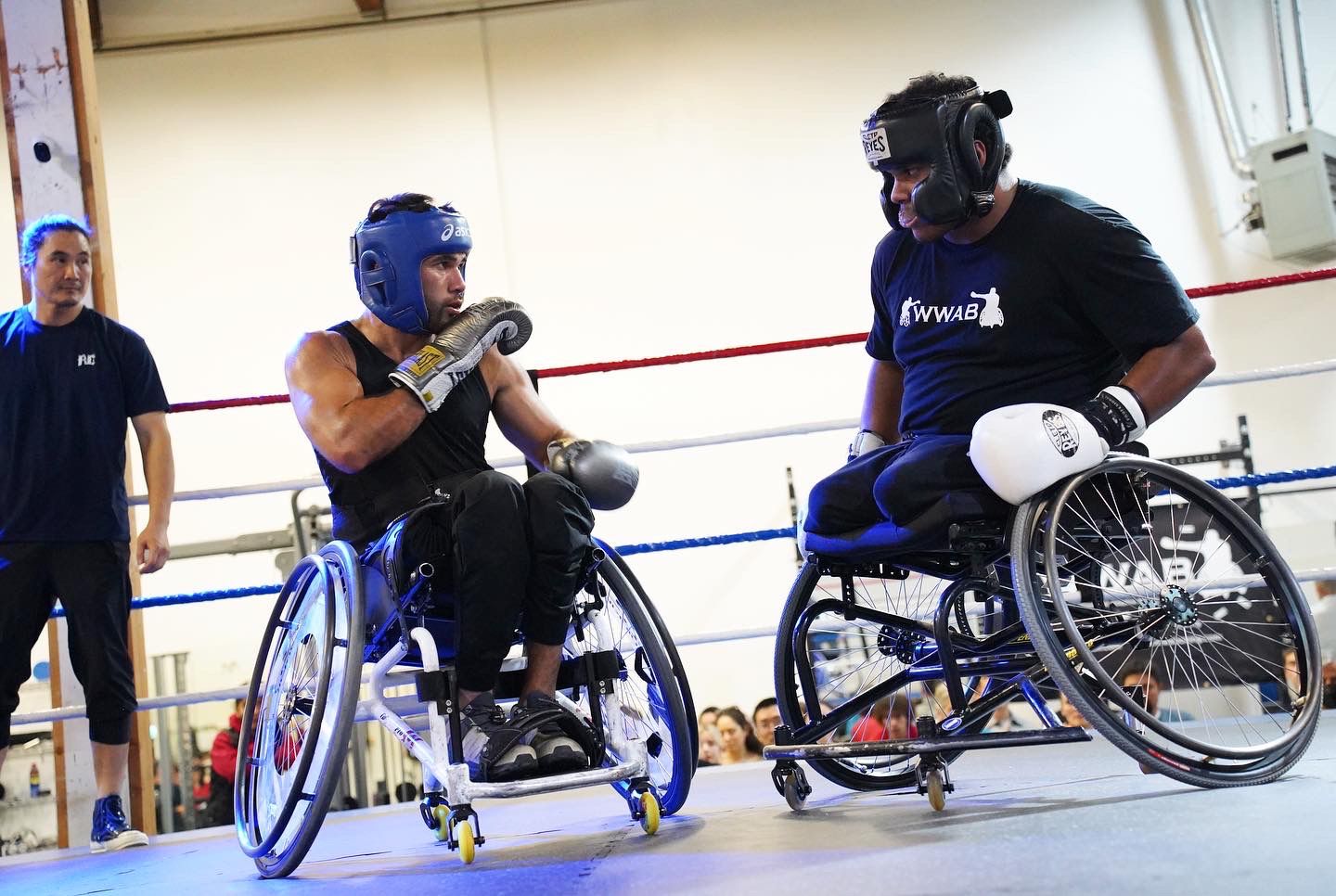 Taking the Fight to the Ground
Leo's body may have changed, but his love of combat sports did not. A boxing friend encouraged him to check out Hero Academy in North Vancouver, run by Meego Yassin and Jaime Ward-Yassin. The trainers invited Leo to check out jiu-jitsu, a martial art based on grappling, ground fighting, and submission holds.
"They'd never had somebody come in there with a wheelchair," Leo said. "I remember the first time I hit that mat. I got out of my wheelchair and not only was able to train, but I was able to compete with able-bodied people. It was so amazing. I discovered a new sense of freedom and almost forgot I even had a wheelchair."
The repeating theme of this story; Leo's competitive spirit emerged. After three months of jiu-jitsu training, he signed up to compete in the AVA submission-only grappling tournament in Vancouver. While Leo lost his match, it had gone into overtime, meaning his opponent could not submit him during regulation. (AVA founder Scott Boudreau said the competition series, full name All Versus All, is called as such for that exact reason, everyone of all abilities is welcome to compete.)
"A lot of people watched because I think, at first, they thought I was a spectator and not an athlete," Leo said. "And I roll up to the mat, and the opponent looks at me – he's got, you know, a bit of a wooden expression on his face because it's random, right? That your opponent shows up in a wheelchair. But during the fight, I stopped a bunch of his attempts to grab my collar and I think he was surprised at my strength and endurance."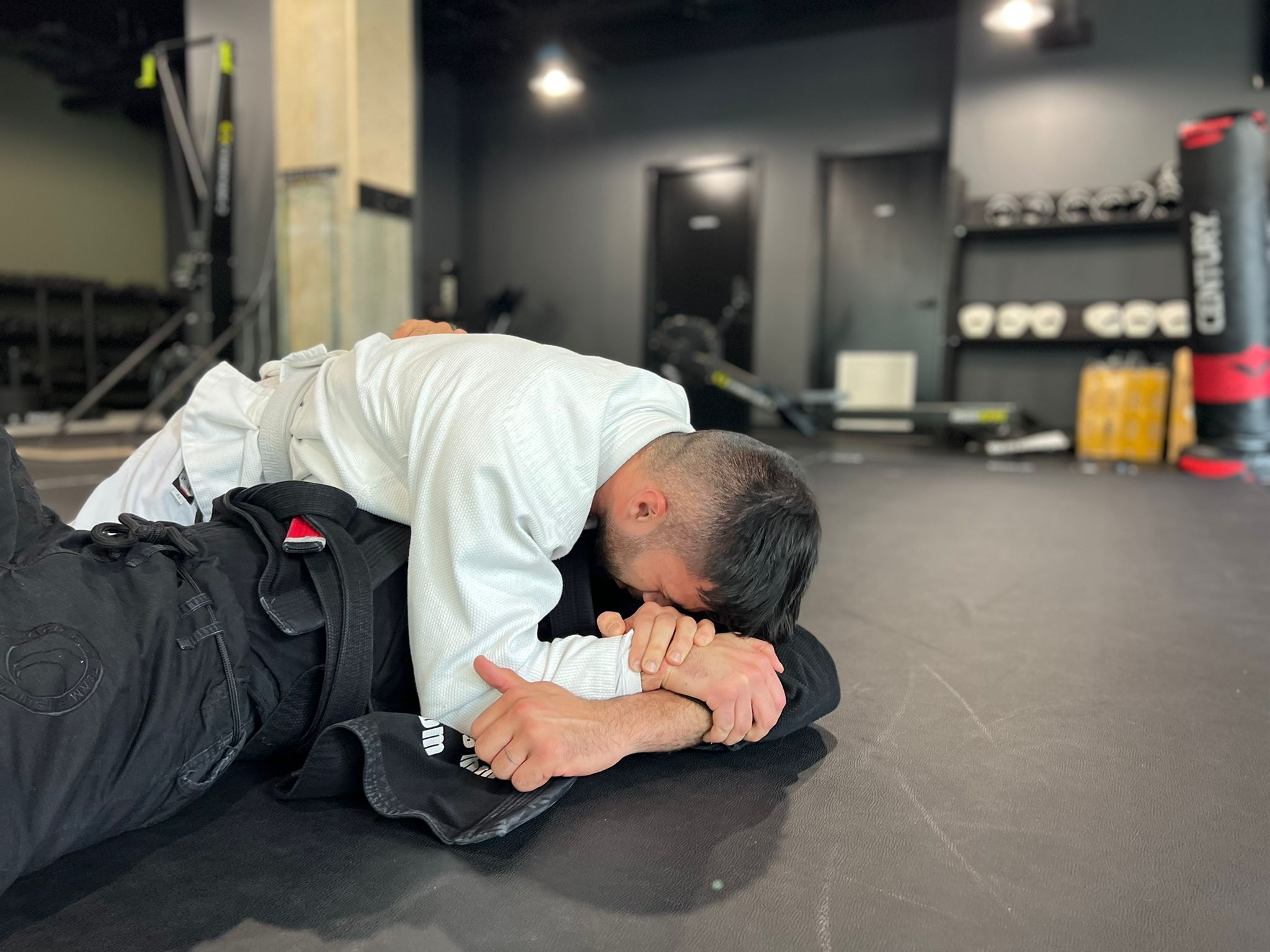 Despite the support of an audience that went wild, Leo was disappointed in the loss.
"I'm a sore loser. But you know, after that wore off, you start looking at the bigger picture. People are going to leave that place knowing that no matter what bs is going on in their lives, there's no excuse to just quit."
Leo is on a mission to prove that people with disabilities have a place in this world despite attitudinal and physical barriers that stand in the way. During a recent trip to Costa Rica, he climbed a volcano using his hands with someone hoisting his legs. It made the news.
"I wanted them to think about accessibility, and my doing this opened up the conversation. I think this correlates with what Rick Hansen does in that it's spreading the word and making things more accessible," Leo said.
"We need to show people what's possible."