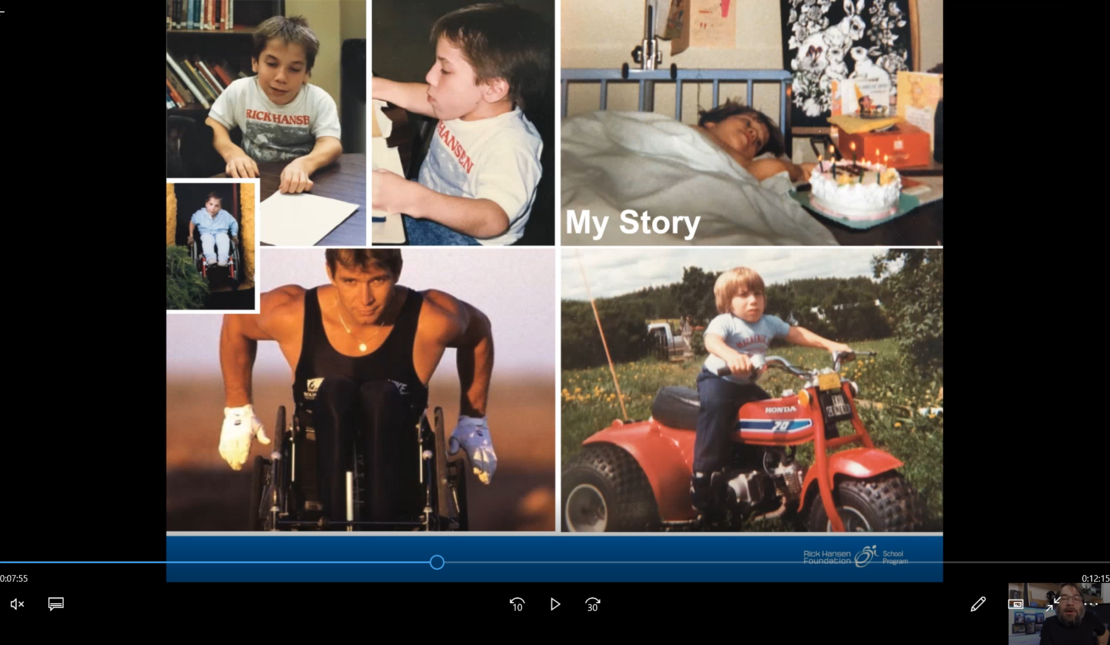 By Rebecca Blissett
On April 23, 2021
Community Spotlight
Unlike in today's media landscape, there was nobody for children with disabilities to look up to during the 1970s and 1980s. Jim Teneycke, a child of that era, remembers this well. So well, he recalls the first time he learned of somebody with a disability doing something remarkable. 
Jim's aunt worked for a news station in British Columbia that covered the Western Canadian leg of the Man In Motion World Tour. It was through media reports that Jim, who has a type of dwarfism called spondyloepiphyseal dysplasia congenita, quickly came to admire Rick Hansen – the first person with a disability he'd ever seen on television. 
"Back in the day, there weren't many role models of people with a disability and here was this ultra-cool guy," said Jim. "To me, the message was 'I'm doing something pretty amazing, and it doesn't matter whether you're able-bodied or disabled.' I was a big fan." 
Like Rick, Jim was a boy who loved to move. His mom's side of the family is from Alberta, so he spent his summers as a youth on the family farm. Nine-year-old Jim explored those wide-open spaces on a three-wheeler All Terrain Cycle (ATC) motorbike. It sparked a life-long passion for off-roading. 
Machines that go places are a love for both Jim and his 16-year-old son Caden, who also has spondyloepiphyseal dysplasia congenita. When not on the backroads near their home on Vancouver Island, father and son get around using Segways – two wheeled, self-balancing personal transporters. 
Driving Awareness Through Education 
It was when Jim became a father of a child with a disability he realized the importance of promoting awareness and education for people with disabilities. He wanted Caden to have an easier time of it than he had. 
Encouraging youth to act on important issues, such as accessibility and inclusion, is the gateway to the development of leadership. This goal is at the heart of the Rick Hansen School Program (RHFSP)'s Ambassadors Presentations.  
Jim became an RHFSP Ambassador a few years ago, sometimes joined by Caden for the in-person presentations. Father and son always capture the undivided attention of the class as soon as they both roll through the school doors on their Segways. 
"My son and I are used to attracting attention no matter where we go. Especially when we use our Segways: a little person on a Segway attracts a lot of attention, so [pre-Covid], they are watching as soon as I come through the door," said Jim.  "And then, they're curious." 
Jim admits he over-prepared for his first Ambassador's presentation, arming himself with loads of facts to field various complicated questions that he'd expected he'd be asked. But, as it turned out, many of the students just wanted to know the ins and outs of daily life, such as how he drives (height modifications) and what he does for work (creative designer). 
"It's natural for people to be curious, especially kids. The more they're exposed to somebody with a difference or who has a disability, it breaks the ice, and it becomes a non-issue after a while." 
One of the other topics Jim touches on during his Ambassadors presentations, now hosted through a virtual platform, is accessibility. He highlights where the world is now, how far we've come as a society, and how far we still have to go to ensure everyone can go everywhere. 
"I think accessibility is taken a bit for granted because many young kids don't realize what it was like for us in the 70s and 80s," said Jim. "When I introduce them to the progress that we've made, I don't lecture them, but I give them some credit. I tell them their generation has done a lot to make our lives easier and better. And we still have a long way to go."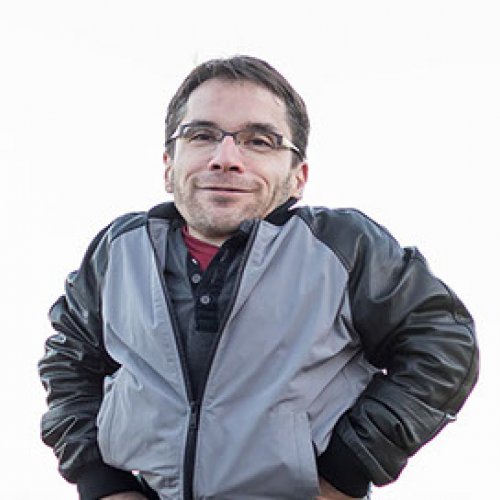 A Better World for the Next Generation 
Because disability was out of the public eye while Jim was growing up, he pushed it out of the way of his own life as much as he could. 
"You just want to deal with it but not dwell on it. By the time you're an adult, you almost don't want to talk about it because you've lived it. You have no need to talk about it," he recalled. 
That perspective naturally shifted with the arrival of Caden and now the entire family, including Jim's wife, Tracey, an educator, is part of the mission to build a better world for everyone, everywhere. 
"Once we had Caden, I felt much more of a responsibility and need to spread awareness and help educate. Maybe that's something that comes with age," said Jim. "When I was a kid, I got a handle on being disabled. I was much more worried about Caden when he was younger, but he's older now, and you can really see that his feet are under him. He's done very well, and I'm not sure whether that was luck or skill as a parent or a bit of both." 
Included in Jim's virtual Ambassador presentation is a photograph of him in the school library, wearing a Man in Motion World Tour T-shirt. The photo was taken in 1987 when Jim was in Grade 9. Little did Jim know then that he would, along with his son, also be doing his part to show others the potential of people with disabilities.