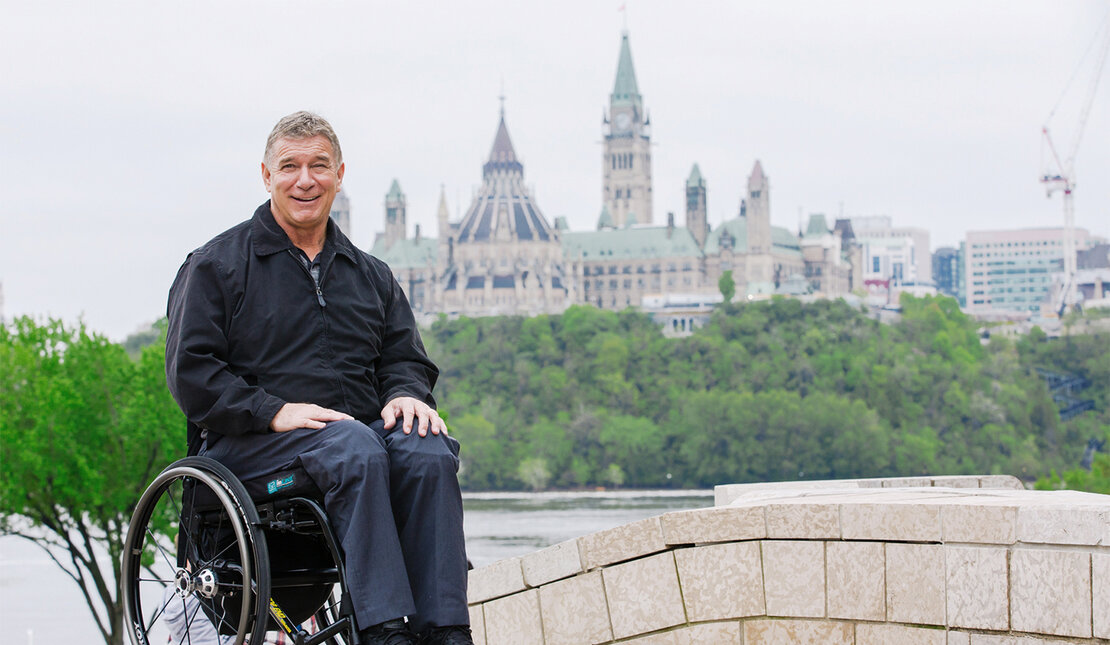 By Alannah Johnston
On August 3, 2018
Access & Inclusion
For people with physical disabilities, travelling can be more daunting than rewarding, due to a lack of accessible tourist destinations and transportation methods. However, many destinations are starting to make accessibility a priority. Today it is more feasible than ever before to plan a trip that is truly accessible for all. 
Canada is an internationally renowned destination, famous for stunning natural beauty from coast to coast. It can be challenging to know which parks, landmarks and activities are accessible, so we have collected a few favorites, for every type of traveler. 
For Lovers of the Great Outdoors
Canada-wide, National and Provincial parks have been working to achieve greater accessibility. We especially admire this commitment from the BC Parks Accessibility Guarantee: "People living with disabilities should be able to enjoy outdoor activities with no barriers. The BC Parks Future Strategy is dedicated to delivering improved accessibility to our recreational facilities." Here are a few notably accessible Canadian parks across the country.
Glacier National Park (British Columbia) 
With exceptional alpine scenery and deep valleys filled with ancient forests, Glacier National Park attracts people of all abilities. Multiple campgrounds, picnic areas, and boardwalks with interpretive panels throughout the park are wheelchair accessible. For trails without boardwalks, an all-terrain wheelchair (manually operated by a companion) is available for loan at the Illecillewaet Campground welcome station. 
More Information
Fundy National Park (New Brunswick)
On the far tip of the East Coast of Canada, Fundy National Park has captivated the hearts of visitors and locals alike for generations. Swimming at the heated saltwater swimming pool is possible for visitors in wheelchairs. Fundy National Park also offers universal access to some trails, lookouts, day use areas, in addition to accessible camping experiences at Chignecto and Headquarter Campgrounds. 
More Information
Inverness Beach, Cape Breton, Nova Scotia
Inverness Beach recently undertook major improvements to their accessibility, with the goal of becoming the most accessible beach in Canada. As well as an attractive boardwalk, wheelchair users can enjoy the beach and ocean with the help of publically available equipment. The beach features two all-terrain beach-friendly wheelchairs, mats that make it easier to walk on the sand and two floating chairs which allow people to go in the water. 
More Information
Further Information and Resources on accessible Parks and Trails:
Accessible Hiking Trails in BC
Accessibility of Hiking Trails in Ontario
Accessibility of National Parks in Canada: Look under 'Plan your visit' on the page for each park you are interested in visiting. 
For the Athlete and Adventurer
While access to adaptive sport can be expensive or limited, there are a few great programs and non-profits in Canada which work to make sport more inclusive and accessible. Many of these programs and camps have funding options available or grants for low income users. Athletics can be an empowering and enriching outlet for people with various types of physical disabilities. "Sport is a mirror to how we view ourselves, it's a microcosm of our values in how we play." –RH. 
Try Adaptive Sport Programs in Summer or Winter
Whistler Adaptive 'seeks to remove barriers to adventure and learning by training athletes with a real sense of passion'. Kayaking, hand-cycle touring, adaptive Nordic skiing, hiking with a trail rider (and much more!) are possible in group sessions, lessons, or single equipment rentals. In Ontario and Alberta, similar organizations like Cads Ontario and Rocky Mountain Adaptive make adaptive sports accessible in their regions. 
BC: http://whistleradaptive.com/
Ontario: http://cadsontario.ca/ 
Alberta: http://rockymountainadaptive.com/ 
Surf at Chesterman beach in Tofino with Power to Be
Power To Be, a non-profit organization with programs in Vancouver and Victoria, provides inclusive programming which works to share popular outdoor experiences with people of all abilities. Their surfing adventures use TrailRiders to get surfers down the beach, and Pacific Surf Co. provides adapted instruction and in-ocean support. The buoyant properties of salt water make adaptive surfing supportive for people with mobility issues related to spinal cord injuries.
More Information
For Young People: Attend Summer Camp with Camp Awakening
Camp Awakening offers summer camp programs in Ontario that give youth with physical disabilities the opportunity to increase independence through sport and exploring the outdoors. This year, they are adding a program which invites Paralympians to share their passion with campers, giving them the opportunity to try Paralympic sports with the support of accomplished Canadian athletes.
More Information
For the Culture Enthusiast
Visit the Canada Science and Technology Museum, Ottawa
The museum lets visitors experience science and technology first-hand, as they discover artifact-rich exhibitions featuring marine and land transportation, communications, Space, computer technology as well as many unique objects from its national collection. The Canada Science and Technology Museum is the first national public institution in Canada to receive the Accessibility Certified Gold rating under the Rick Hansen Foundation Accessibility CertificationTMprogram, which rates buildings for accessibility.
More Information 
Attend the ReelAbilities Film Festival, Toronto 
This annual film festival takes place in late May and early June, and proudly "showcases Canadian and International shorts, features, and documentaries about Deaf and disability cultures and by filmmakers and actors with disabilities and/or who are Deaf." The venues are accessible, and the entire event is a week-long celebration of Deaf & disability art & culture. Check in next year for their 2019 programming! 
More Information
Visit the CN Tower
The CN tower, an iconic Canadian landmark in Toronto, recently undertook renovations with a focus on their commitment to accessibility. The upgrades include floor-to-ceiling windows with no railings, a feature that helps provide universal access for everyone to the stunning views. The Rick Hansen Foundation has been invited to conduct a rating under our Accessibility Certification program. The tower stands half a kilometer high, and if you count the antenna (which they do!) it is the tallest tower in the western hemisphere. Attractions include the famous 360 Restaurant and various viewpoints. 
More Information
Find Accessible Restaurants in a New City
When visiting a new city, a big part of experiencing the culture is getting into the local food scene. While online review sites can help you decide who has the best poutine, the accessibility information can be unreliable on incomplete. Here are a few helpful resources: 
AccessNow, pinpointing accessibility around the world 
Wheel Map – global system in multiple languages 
AccessTO – Highlighting a Barrier Free Toronto 
Vancouver Accessible Restaurant List  
Montreal Accessible Restaurants & Destinations
While travelling with a physical disability can be very challenging, tourism in Canada is becoming more universally accessible every year. For Canadians with disabilities who want to experience what this country has to offer, pre-planning and research can open up a world of possibilities. Have we missed your favourite accessible destination in Canada? Please let us know! 
Other Resources:
Top tips for Wheelchair Accessible Travel 
Accessible Travel Online Resources– handbook from Lonely Planet 
NYT tips for Accessible Travel