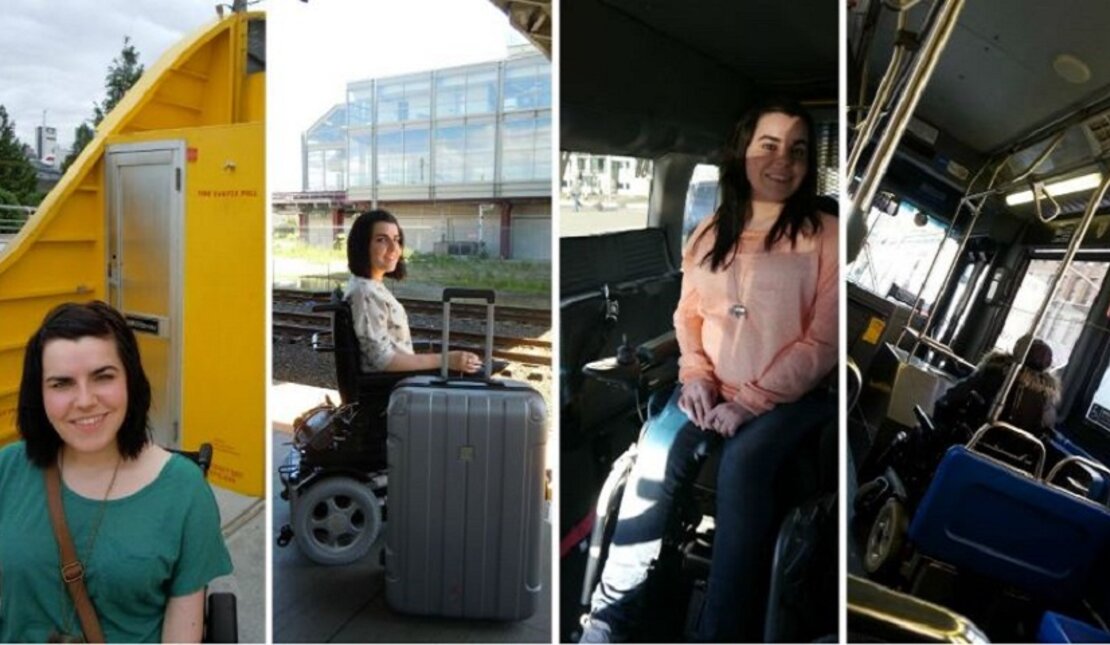 By Emma Muldoon
On May 2, 2016
RHF News
Let's be honest. Travelling is stressful. Even the most experienced traveller will have stressful moments at some point throughout their trip. Travelling with a disability brings added stress, but by no means does it make it impossible. They key is plan, plan and plan some more!

Here is a list of my travel tips for wheelchair users that I've learned throughout my experience. I hope they help when you're planning your next wheelchair accessible holiday.
 
Plan until you can't plan no more
The first step is obviously deciding where you want to visit. I'll start by short-listing two or three places I'd like to visit and then do as much research online as I can. Google searches, travel websites, disabled travel blogs, disabled forums etc. Whittle it down to the chosen destination based on what's best for accessibility. Don't always base it completely on this factor though. If there is somewhere you desperately want to visit, do more research and you'll most likely find that it's more accessible than you think.
Book an accessible hotel
It's a good idea to look for an accessible hotel as soon as possible. Most hotels, even the big hotel chains, only have a few accessible rooms and chances are these might be booked up fast. Booking in advance can also work out cheaper. Check if the hotel has an accessibility statement on their website and check if any fellow disabled travellers have left a review on the hotels Tripadvisor.

Before booking a hotel, give them a call to confirm accessibility and ask any questions you may have. My main concern is always the bathroom and if there is a roll-in shower. Confirming they have a lift inside and an accessible hotel entrance are also important details. I once read online that our hotel in New York had an accessible entrance, but when we arrived we quickly discovered it was a portable ramp that the doormen had to manually put down for me each time we wanted to enter and exit the hotel. We often had to wait if they were busy, which wasn't ideal. The ramp was also very steep. Ask the hotel to send an confirmation email of these details, then you can take this with you as written confirmation if there are any problems when you arrive.
Plan an accessible route
I always find it helpful to have a rough, if not full itinerary of the trip, especially if it's a sight-seeing trip (try something like Tripomatic). This way you have a clear understanding of where you're going, when you're going, how you're getting there, what to expect in terms of accessibility and so on. Planning this before your trip will make everything a lot easier for you.

Research the accessibility of the tourist attractions you want to visit and find out where the accessible entrances are. This will save you from being left outside while your companion is inside trying to find someone to help (been there many times). Check public transport accessibility, subway stations and even restaurants. We've made the mistake of going out our way to go to a nice restaurant to discover we couldn't get in because it had steps at the entrance. If you can't find any information you're looking for online just send them a quick email. It also doesn't hurt to double check.

Plan transportation to and from the airport before you travel. Unless you know for sure that there is definitely wheelchair accessible vehicles at the airport at all times, then don't assume you'll easily get one as soon as you exit arrivals. For example, when I visited Prague I was surprised to discover there was no wheelchair accessible taxis. I had to be lifted into a taxi and my wheelchair which weighs 135kg also had to be lifted separately into the back of the taxi. Booking transportation in advance is the best option.
Dealing with airlines and airports
The first thing I ask when booking flights is if I'll be seated behind the bulkhead. These seats have extra leg room, which makes transferring/lifting from aisle chair into your seat on the plane and vice-versa a lot easier. Again this is something I always like to double check and have written confirmation of, if possible. I also like to check the airlines pre-boarding policy for passengers with disabilities as it's good to board the plane before the rest of the passengers. Transferring in and out of the aisle chair can take some time and I don't like everyone watching me while doing this.

Try to avoid connecting flights if possible, it will be a lot easier for you. (Unless it's an incredibly long flight and getting to the toilet on the plane is an issue, then it's probably best to opt for connecting flights to allow yourself some breaks.) I had a bad experience with a connecting flight to Las Vegas when my wheelchair was left in an New York airport. One word…nightmare! I now make sure it's definitely on the plane before take off.

Plane seats are extremely uncomfortable even for able-bodied people who have the luxury of being able to change their position. I find it's a good idea to take your own wheelchair cushion on the plane as this can prevent any pressure sores and give you a little comfort.

I prefer to remain in my own wheelchair until the very last minute; when we are just about to board the plane. You might be asked at check-in if you can come out your wheelchair right now and go into an airport wheelchair, but I always say no. Sitting in an airport wheelchair for several hours can be hell, especially if your flight is delayed or cancelled.

Tell the Special Assistance how you need/like to be lifted in and out of your wheelchair. I have very little upper body strength so I need to be lifted a certain way to prevent my shoulders shooting up past my head (believe me I've learned from experience on this one…ouch!). You're the expert on your body and condition so tell them what's best for you. This will prevent starting your holiday off with a painful injury caused by not being lifted correctly or worse…being dropped.

When booking your flights it's a good idea to have a note of the dimensions for your wheelchair and the type of battery if its a powered wheelchair. They ask this information to ensure your wheelchair will fit in the hold and for safety reasons regarding the battery. Giving the information at the time of booking saves you from having to call them back once you have the details. It's handy to have a note of this information with you when checking in as you may be asked this again.

You'll most likely be asked to disconnect the battery in your wheelchair before airport staff take it away to be put in the hold. Knowing how to do this beforehand will save time and unnecessary stress if asked on the spot.

Don't always go for the first travel insurance you are quoted. Have a look around and you may find one that is cheaper and better. Double check with the insurance company that your condition is covered. I have added my wheelchair onto my home contents insurance in case it's damaged at the airport or on holiday.
Make a Plan B, C and D
It's not only important to plan what's involved in getting you to your destination and your itinerary once there, but also potential problem that be occur out of the blew. You might find it worthwhile taking a small repair kit with you in case of flat tires etc and noting down a few contact details for repair shops or mobility companies that could help with spare parts for your wheelchair.

What if the hotel bed is extremely uncomfortable and too hard to sleep on? Lack of sleep and pressure sores are not something you want especially on holiday. I now take a self-inflating camping mattress that I lie on top of the hotel mattress and it works great. It rolls up neatly so doesn't take up a lot of space in our suitcase either. I also take little cushions with me too that I use for supporting my arms in bed. Little extras that make a big difference for my comfort and sleep.

Packing extra medication will ensure you're not left completely without if your flight is delayed or cancelled.
I believe the more organised you are for your trip, the less stressful it will be as you'll be more prepared. You'll know what to expect and you'll be ready to put your Plan B into action if need be.
I hope you have found some of my travel tips helpful for your next adventure!


Photo credit: Emma Muldoon