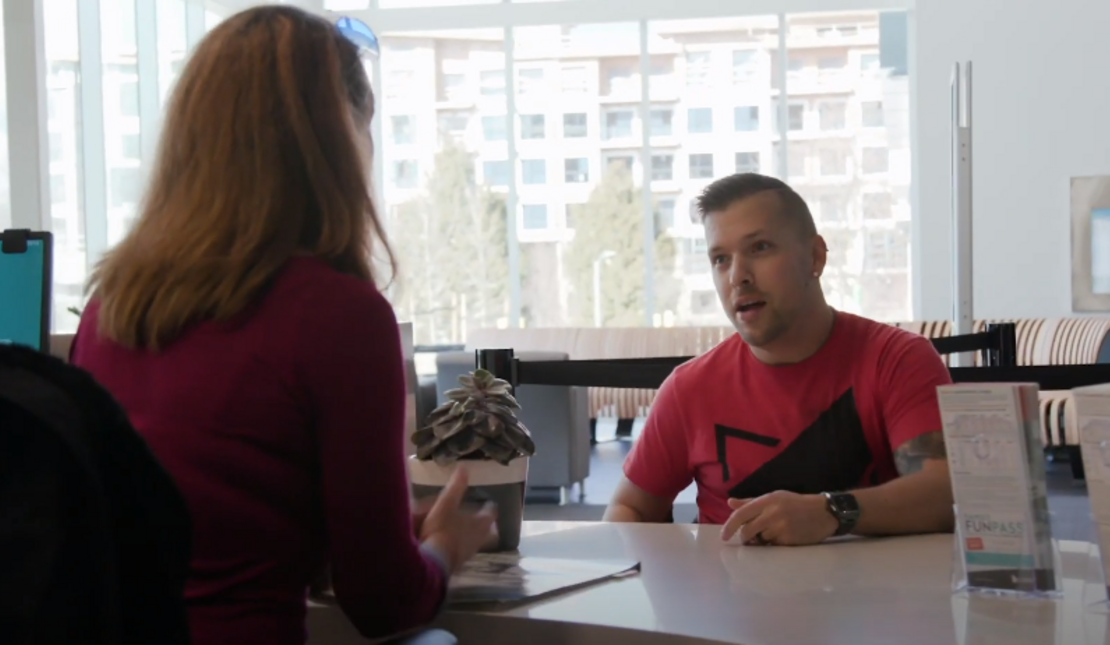 By Marco Pasqua
On September 18, 2020
Access & Inclusion
It's hard to believe we're already into September of 2020. As summer draws to a close, many businesses are starting to re-open. The past 6 months have been challenging for everyone, particularly that of the business and disability communities. Many of us have had to adapt to an ever-changing socioeconomic environment. The good news is, if you're a business leader and/or person with a disability, you've been training for exactly this type of situation your entire life, and you might not even have known it. Did you know that September is AccessAbility Month? By making your business more accessible and inclusive to people with disabilities (or encouraging the decision makers within your workplace to pay attention to accessibility), not only can you increase your bottom-line, but you also provide opportunities for a new, often underutilized talent pool to join your team.
As both a business leader and person with a disability myself, I can tell you that now more than ever is the perfect time to build in some inclusion strategies into your restart planning. Don't worry, it's not as complicated as you might think. Here's my 5 surprisingly easy changes to make your business more accessible:
1.    Make Your Recruitment Process Accessible
In order to build a great team, we of course have to start at the very beginning, recruitment. Since this is the first point of contact that a potential candidate has with your organization, it's important to make a good first impression. This is where communicating your accessibility commitment is key. This can be done as an actual statement in the job applications, ensuring that applications are accessible for things like screen readers, videos on your website and social media have captions or ASL translation available and by providing key details in advance such as where an interview is expected to be held, travel instructions via transit and car or even including some of the interview questions in advance. These small accommodations can go a long way for people who are blind, Deaf or hard-of-hearing or have invisible disabilities such as anxiety, ADHD or autism.
2.    Be Mindful of Unintended Barriers
With physical distancing measures in place at most businesses today, you may have unintentionally introduced some new barriers into your workplace that weren't previously there. Things like plexiglass barriers might be good in the prevention of spreading germs, but they can be trickier when it comes to clear communication with customers. Encourage staff to speak slowly, confidently face the customer and not look away or at a screen. Speaking while facing the person allows them to see your mouth movements and helps with lip-reading and non-verbal communication. Have pads of paper available for employees to write on for clarification is also a big help. For us wheelchair-users, ensure that the lowered counter area of a reception station or queue remains usable. The last thing I want is to bash my knees or a poorly placed garbage can or not be able to fully roll under the station because the lowered counter is being used to hold brochures or decorative pieces. A clear space makes for a happy customer.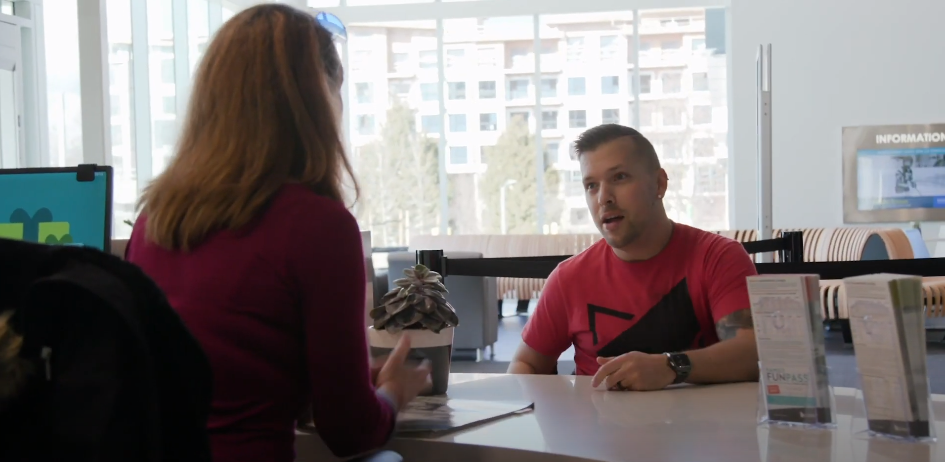 3.    Signage and Important Information Needs to be "Seen"
We use signs to tell people where to stand, remind them to stay physically distanced and to let people know of the individual protocols of our business upon entry.  However, the effectiveness of a sign is only as good as where it's placed AND whether or not all individuals who enter your business actually know what it says. As much as possible, signage should include icons that are easy to understand, using simple/plain language to reduce confusion and information should be available in raised lettering and Braille. In cases where Braille can't be used, include tactile (touch) components, you can even make signage on the floor have a different feel than the surrounding floor area. This is ideal in environments where you might want to indicate the direction a person should navigate. An easy and cost-effective way to add tactile elements to a sign is by using string and tape. This means that if someone has low-vision or is using a white cane while walking, they'll actually be able to feel the instructions without having to be told. If tactile signage is provided, just be sure to sanitize the touch points regularly. The placement of signage is also important, especially during the pandemic.  Ensure that any crucial information can be seen from someone in a seated position, otherwise, they might just roll right past it.
4.    Keep Proper Hygiene Within Reach
The best way to prevent the spread of germs is by washing your hands. As a wheelchair-user, this was already something I was doing 20+ times a day before the pandemic, but you might be surprised to learn that not all sinks or hand sanitation units are created equal, or are within reach. Hand-washing or sanitization stations that are foot-pump enabled may not be accessible to users with balance difficulties or who use mobility devices. This is where you or your staff can ensure that alternatives (touchless hand sanitizer units, access to a washroom etc.) are available. In addition, when you're mounting soap dispensers, hand sanitizer and paper-towel dispensers, make sure they are at no more than 1100mm from the floor and are placed near or beside the sink. If I have to touch my tires to turn my chair around in order to access the paper towels, I've just defeated the entire purpose of washing my hands.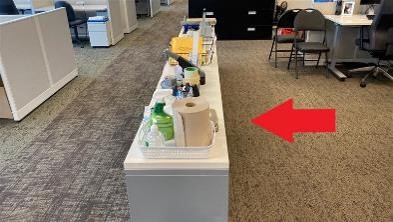 5.    Become or Hire an RHFAC Professional
One of the easiest decisions I ever made for myself and my business was to become a designated Rick Hansen Foundation Accessibility Certification™ (RHFAC) Professional. This has literally opened so many doors and has enabled me to have the tools and knowledge necessary to build a business that is accessible and inclusive. Hiring an RHFAC Professional or taking the training to become designated (if you meet the pre-requisites) means you'll have someone in-house that you can run ideas, materials and even renovations by, which could save your organization thousands of dollars in future costs and bring in more customers as a result. Classes are being held both online and in-person this Fall, so be sure to use the link above to learn more.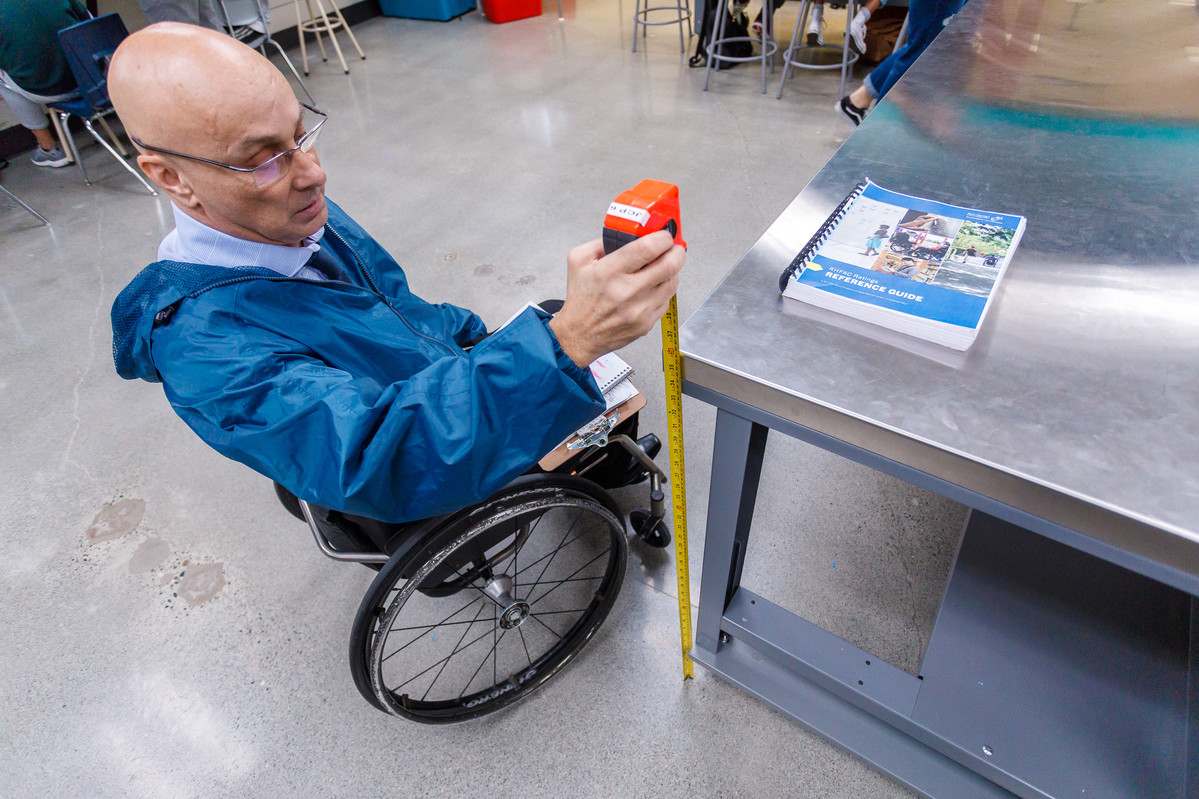 This is by no means an exhaustive list on how you can make your workplace more accessible, but I hope it provides you with some ideas and confidence on where to start.