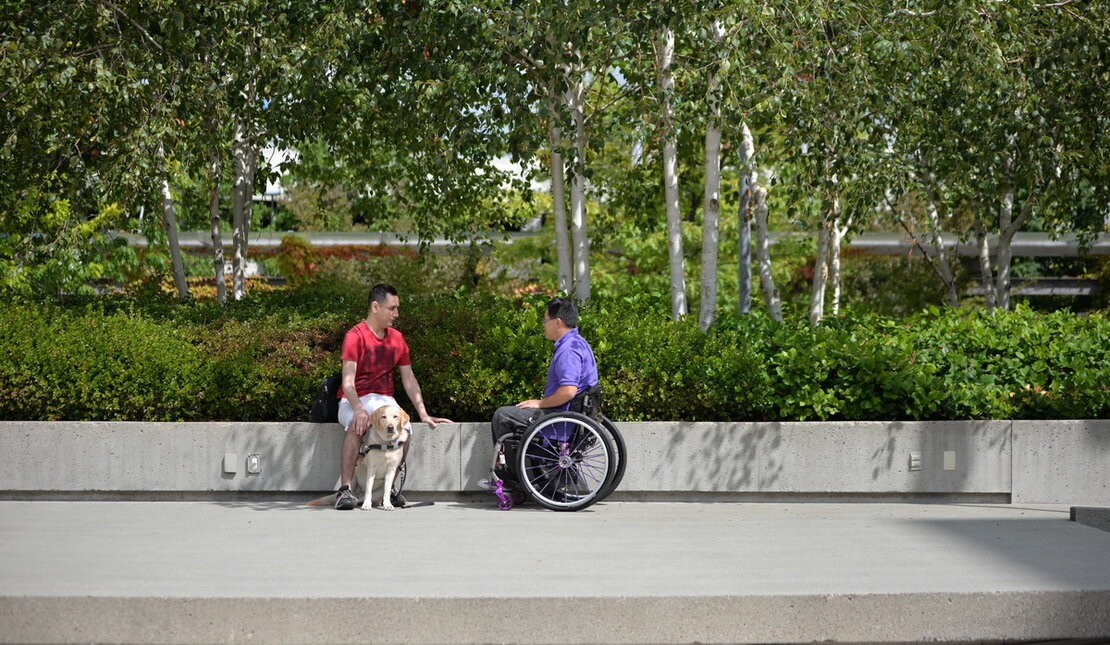 By Rebecca Blissett
On September 2, 2021
Access & Inclusion
With the federal election fast-approaching, the Rick Hansen Foundation took a look at party platforms through the lens of the one in five Canadians who live with a disability. We've gathered the available information to date to help you make an informed choice for voting day September 20th, 2021. 
Of the major parties, the NDP, Liberals and Conservative Party of Canada have released full platforms. The Green Party of Canada announced that it will release its platform piece by piece.  
We will update this blog as more information is released.  
Current Government: LIBERAL PARTY OF CANADA 
The Liberals made good on a 2015 campaign promise when the Accessible Canada Act (Bill C-81) received royal assent. The move marks a shift in attitudes when it comes to the treatment of people in Canada living with disabilities as it is the first time any government has enacted accessibility legislation at the federal level.  
Building on that, the Liberal Party Platform and 2021 budget include the following:  
Conducting a comprehensive review to ensure a consistent approach to disability inclusion across government programs and services. 
Providing $11.9 million over three years to Employment and Social Development Canada to undertake consultations to reform the eligibility process for federal disability programs and benefits, starting in 2021-2022. 
Develop and implement an employment strategy for Canadians with disabilities. This strategy will be focused on supports for workers and employers and creating inclusive and welcoming workplaces. It will also include an investment in the Ready, Willing and Able inclusive hiring program to support individuals with intellectual disabilities and autism spectrum disorder (ASD). 
Create a new stream of the Youth Employment and Skills Strategy Program (YESS) to support 5,000 opportunities a year for young people, supporting young Canadians with disabilities gain the skills, experience, and abilities they need to make a successful transition into the labour market and build successful careers.  
Spending $9 billion to address shortfalls in long-term care where many people with disabilities reside.  
Raising the minimum wage for personal support workers to $25 an hour (note: this would require cooperation from provinces and territories as long-term care is under provincial jurisdictions). 
Training up to 50,000 new personal support workers.  
Doubling the Home Accessibility Tax Credit to provide up to an additional $1,500 to make private residential homes more accessible for seniors. 
Providing $7.5M to RHF over three years to educate and upskill existing employees and professionals (designers, architects, engineers, etc.) to rate the meaningful accessibility of buildings and sites across Canada through the Rick Hansen Foundation Accessibility Certification™ (RHFAC) program. 
CONSERVATIVE PARTY OF CANADA 
The Conservative party say they have a clear and ambitious plan to support Canadians living with disabilities. Their Canada Recovery Plan, as outlined in their platform, includes: 
Doubling the Disability Supplement in the Canada Workers Benefit from $713 to $1,500 to provide a boost to lower-income people living with disabilities.  
Reducing the number of hours from 14 to 10 required to qualify for the Disability Tax Credit and Registered Disability Savings Plan. 
Investing an additional $80M per year into the Enabling Accessibility Fund to support small businesses and community-led projects to improve accessibility and programs to remove barriers so more Canadians with disabilities can enter the workforce. 
Earmarking $3 billion of infrastructure spending during the next three years to update and make long-term care homes across the country more accessible. 
Providing boost funding to provinces for mental health care, providing incentives to employers to provide mental health coverage to employees, and creating a nation-wide, three-digit suicide prevention hotline. 
CANADA'S NEW DEMOCRATIC PARTY 
To make Canada an inclusive and barrier-free country, the NDP promises to: 
Strengthen the Accessible Canada Act to cover all federal agencies equally with the power to make and enforce accessibility standards in a timely manner. 
Expand income security programs to ensure Canadians living with a disability have a guaranteed livable income. 
Expand employment programs to ensure that quality employment opportunities are available to everybody. 
Update the Employment Insurance (EI) program by extending sickness benefits to 50 weeks of coverage. Creating a pilot project within the EI program to allow workers with episodic disabilities to access benefits as needed. 
Put a universal, publicly funded national Pharmacare and dental care program in place. 
Provide a long-term increase of the indexable old age pension of $110 per month to people 65 years old and older. There are 1.9 million people in Canada over the age of 65 who live with a disability.  
GREEN PARTY OF CANADA 
The Green Party of Canada is releasing its platform commitments leading up to the election. What we do know so far is that, under what the Greens call a "social safety net," Leader Annamie Paul says her party plans to reform long-term care along with establishing a guaranteed livable income, affordable housing, universal Pharmacare, universal child care, free post-secondary education, and universal dental care. With the guaranteed livable income plan, the Greens say they will ensure people with disabilities are first in line until a full poverty eradication program is established in every province. 
Updated: September 8, 2021
The Green Party of Canada unveiled its platform September 7, 2021. A Green government promises to:
Create a Canada Disabilities Act (CDA) to replace the patchwork of the current multiplicity of acts, standards, policies, and programs.Support a national equipment fund to provide equipment such as wheelchairs and other accessibility tools to provide people with disabilities the opportunity to work and participate in their communities.
Invest in social housing, adapted as necessary to meet the needs of people with disabilities with both rental and purchase options.
Provide federal health transfer payments to provinces and territories directed to rehabilitation for those who have become disabled.
Enforce the Employment Equity Act to ensure that people with disabilities have equal opportunity to long-term employment and advancement.
Institute a Guaranteed Livable Income for people with disabilities.
Convert the Disability Tax Credit (DTC) to a refundable credit.
Redesign the Canada Pension Plan/Disability Benefit (CPP/D) test to incorporate the DTC definition of disability to permit employment.
PEOPLE'S PARTY OF CANADA 
The People's Party platform contains policy related to veterans with disabilities. In the PPC platform, Leader Maxime Bernier says it plans to ensure Canada's veterans have the support they deserve by: 
Reinstating the fair disability pension as previously provided for by the Pension Act. The pension will apply retroactively to 2006 and lump sum payments received since then will be treated as advance payments. (Until 2006, veterans injured or disabled during service received a tax-free lifetime disability pension under the Pension Act. The New Veterans Charter replaced those pensions with a one-time lump sum payout that the People's Party calls inadequate.) 
HOW TO VOTE 
Elections Canada says its goal is to continue improving accessibility of the electoral process. It provides voter information in accessible formats including Braille, open captioning, and ASL and LSQ videos. Of the 37 accessibility criteria on the Polling Place Suitability Checklist, 15 criteria are mandatory.
Advance polls are open Sept 10-13. They will be listed on your voter information card or by checking with Elections Canada. 
If you want to vote without leaving the comforts of home, mail in your ballot by completing a special ballot application. Once your application is accepted, you will receive a special ballot voting kit by mail. Just make sure your vote makes it to Elections Canada by the election day deadline at 6 p.m. ET.
All Parties Debate 
On Tuesday, September 7th, 2021, the Pan-Canadian Disability Coalition will host an All Parties Debate focusing on disability issues. We invite you to tune in via Facebook Live, hosted by the Wavefront Centre for Communication Accessibility. We will share the links on our social medial channels in advance of the broadcast, or you can sign up for a reminder at wavefront.ca/debate.