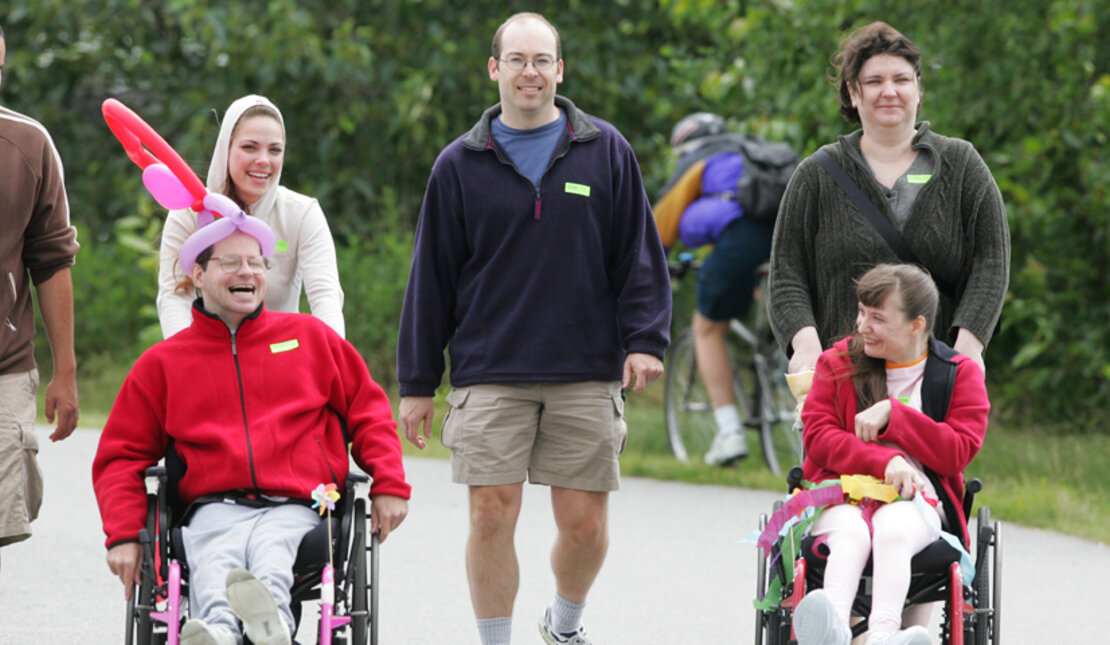 By RHF
On March 6, 2017
Access & Inclusion
What does it mean when we say a community is accessible? An accessible community is barrier-free and doesn't limit anyone's participation in everyday life.

In accessible communities, people with disabilities can be active participants. Ensuring that such communities exist — and thrive — is important because both people with disabilities and their neighbors benefit. Accessible communities:
Allow for the interaction and engagement of all members,
Reduce social isolation and improve mental health for people with disabilities,
Increase economic gains for local businesses, and
Improve physical health opportunities and outcomes for all.
Breaking down barriers to inclusion
Being part of a community means more than just living within its borders. It involves embracing opportunities for socialization within that community. For example, I might buy groceries at the local farmers' market and chat with my neighbours while browsing the fruits and vegetables. My niece and nephew could make new friends as they swing side-by-side in the local park's playground. Families can also enjoy local theatre and music at the community centre.

However, all these opportunities are only possible for everyone in the community if they are accessible. If they're not, and people with disabilities can't enjoy them, then the community suffers. We're only meeting some of our neighbors, our kids are only playing with other children without disabilities, and some families aren't able to watch a concert together.

Fortunately, awareness about the importance of accessible communities is growing, and venues all across Canada, like the Valley Community Theatre in Capreol, Ontario, are taking steps to ensure everyone can attend live theatre and concerts.

Earlier this year, the theatre was granted $32,746 from the federal government's Enabling Accessibility Fund (EAF), and with this grant, the performance venue will be able to put in an outside wheelchair lift at its front entrance and another one inside, as well as renovate an existing washroom to be accessible. With these improvements, all members of the community can enjoy music and theatre together.
Diverse and inclusive social interactions improve relationships and mental health
While we can enjoy music and watch plays online, as well as discuss them with our friends via text, a virtual connection is no substitute for human contact. Inevitably, you feel lonely, and social isolation is particularly common amongst people with disabilities.

According to a study conducted by Dr. Anne Snowdon, 53% of kids with disabilities had no friends. Outside of the classroom, they spent less than two hours a week with their peers. They never played with other kids, and they weren't invited to birthday parties — they were ostracized and isolated.

In an article from the BBC, we meet Ian, a 36-year-old from Essex, England, who was born with hearing loss and is now losing his eyesight. He says he's finding it difficult to sustain friendships, and he's lost confidence in getting around by himself. As a result, he says he feels reclusive and cut off from the world around him.

Not surprisingly, social isolation has a detrimental effect on a person's physical and mental health. Loneliness has been linked to everything from heart disease to high blood pressure to depression. These statistics reinforce the need for facilitating social interactions within our communities for everyone's benefit.
Accessible local businesses makes good economic sense
Supporting small businesses and keeping money within your own community is a practice gaining in popularity. But, what happens when not all small businesses are fully accessible to everyone in the neighbourhood? The question then becomes: Can they afford not to be? Together, the 3.8 million Canadians with disabilities have $40 billion to spend. If they can't spend that money locally, this results in a loss for everyone in the neighbourhood. Smaller companies lose business, profits leave the community, and fewer interactions occur within society as a whole, as more people shop at other companies with accessible facilities, or online.

In terms of a business' physical accessibility, there are various questions an owner should check and ask. Some include:

Outside my business:
Are there parking spaces for people with physical disabilities?
Are there broken or uneven areas of pavement that make it difficult to enter or depart?
Is there a wheelchair ramp?
Are there handrails?
Inside my business:
Is there a wheelchair-accessible washroom(s)?
Are there automated doors?
Are the aisles wide enough for wheelchairs?
Am I allowing service animals?
There are government grants available to help small businesses make modifications to their facilities.
 
Making physical activity a priority for all
Being physically active is crucial when it comes to living a long and healthy life. Having access to recreation centres, playgrounds, gyms, and parks is essential, and that access should not be limited for people with disabilities.

This is one of the reasons why the Rick Hansen Foundation (RHF) is providing grants to Barrier Buster projects like the Prince Rupert Recreation Complex through its Access4All Canada 150 Signature Initiative. The facility is the only complex of its kind in Prince Rupert and houses the only aquatic centre and arena in town. Currently, guests and coaching staff with limited mobility can't access both floors of the complex. Visitors with disabilities must sit in specific areas, which separates them from the rest of their community.

With its Access4All Barrier Buster grant, the recreation complex will be able to make the venue more accessible and inclusive, making it possible for everyone to live a healthier lifestyle. And like the theatre in Capreol, Ontario, the renovations will also have the effect of increasing opportunities for socialization within the community.

Several parks across the country have also received a Barrier Buster grant from RHF: Peterson Creek Park in Kamloops; Variety Park in Calgary; Sedley Spray Park in Sedley; and Mantiock Remembrance Park in Mantiock.*

Improvements to these parks will include things like:
Creating a new and unique spray park for kids of all abilities,
Updating accessible playground equipment and adding inclusive play areas,
Widening pathways and making nature trails accessible for wheelchair users,
Constructing and relocating new signage with braille for the visually impaired, or
Adding garden features to increase sensory perception for people with disabilities.

Accessible parks enable people of all ages and abilities to be physically active and socially engaged, from children playing together on a playground to people with disabilities and seniors using public park trails.

By working together and making accessibility a priority, we can build more inclusive Canadian communities that positively impact Canadians' social, mental, physical, and economic health. And that's an upside for all.

*Read more about the exciting RHF Access4All Barrier Buster projects happening across Canada!