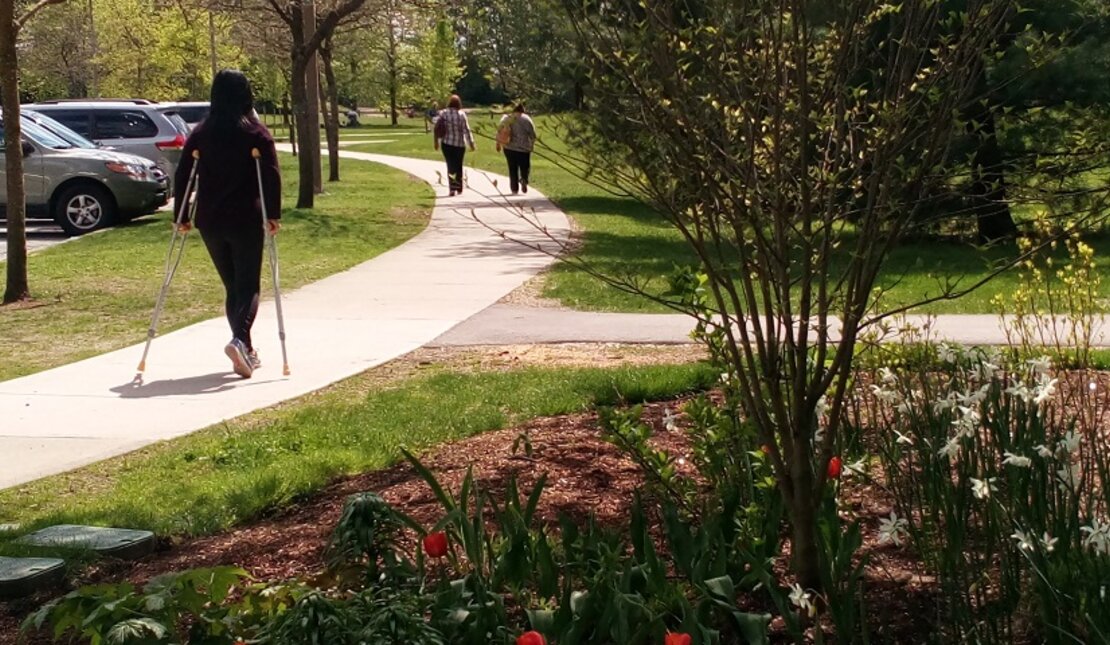 By Melanie Scott
On June 26, 2017
Access & Inclusion
Disabilities can happen to anyone at any time. Whether due to an accident or injury, medical condition or illness, we can all face challenges to our mobility, hearing, or vision. 

One type of temporary disability affecting mobility is a total hip replacement. Hip and knee replacements are surgeries that aim to improve quality of life for almost 113,000 Canadians annually. The number of hip replacements in Canada increased 20% from 2014 to 2015, and is expected to rise even higher in the coming decades due to our aging population.

Amy is a professional in her late 20s. Because of a childhood injury, she recently underwent total hip replacement surgery. Now in the third month of her recovery, Amy is sharing her new perspectives on disability, accessibility, and inclusion:
 
What is your temporary disability?
I was involved in a motor vehicle accident in 2000 and dislocated my hip. There was a delayed diagnosis, complicated by traumatic avascular necrosis (low blood supply). This eventually led to osteoarthritis. 
Fast forward to Spring 2017. After consulting with my orthopedic surgeon, we decided to proceed with a total hip replacement (THR). I'm now a bionic lady in recovery! 
How has a total hip replacement changed your everyday routine? 
Since my THR, I've had to relearn how to walk with a new hip. I've been doing physiotherapy exercises to regain movement, strength, and balance. During the first two weeks, I used crutches to aid with walking, and I'm currently using a cane.
To ensure protection and healing of my new hip, I have to follow hip precautions for three months. I'm not to bend my hip past 90 degrees, twist my body or legs, and cross my legs at the ankles or knees. These precautions are sometimes easy to forget.
Have you come across any physical barriers to accessibility?
With three-month hip precautions, I have to be mindful when it comes to everyday activities. Before leaving the house, I must consider the accessibility of spaces I visit regularly –  parks, the grocery store, malls, restaurants, and public transportation stations. Some barriers I've faced moving around my community are actually doors! These present the most common accessibility issues for me. They may be too heavy and require too much force to open. Heavy doors are especially difficult when I'm traveling alone and holding a cane in one hand. I sometimes need to twist my body to open doors, which is breaking hip precautions. The doors may close too quickly to pass through easily. This could easily be solved by installing automatic doors, or adjusting the door closures. 

Any surfaces I sit on must be two inches above my knee height. Since most chairs in the outside world are not, I bring along a high-density foam cushion to adapt and increase chair height. Some accessible washroom stalls have raised seats, while others don't. It's always a nice surprise when they do! 
Wet floors or surface areas are also a big concern during rainy days. I have to be careful not to slip and fall. And lastly, unsecured stair railings are a problem. I need to hold on to secured stair railings while going up and down during my recovery period. If staircases have no railings, I need to find another route. 

While I've adapted to the barriers I've encountered, I believe solutions to remove these barriers are often easier than we think, and would benefit everyone.
Have you felt excluded from certain activities because of your mobility? 
I've come to expect that some of the spaces I've often passed through are now more inaccessible. For example, I like to go on short walks or hikes. Some of the "easy" trails I've been on have steep climbs that are easy enough for those with greater mobility, but are hard when you're regaining strength. 
What do you think people should know (or expect) if they're faced with a temporary disability affecting their mobility?
Embrace and fully live your disability, whether temporary or permanent. They say you can never understand someone until you've walked a mile in their shoes. And I'm living it right now. I'm seeing physical spaces in a whole new light, from a THR point of view. 
When the freedom and independence you take for granted is taken away, you start to notice that simple, adaptive fixes could remove some of the physical barriers. Even though everyone's accessibility needs are different, as a society, we can strive towards greater accessibility together. 
Anything else you'd like to add?
Stop and take a moment to truly understand how people with disabilities live their lives. How do we design a world to be inclusive for everyone? Nobody should have to adapt to the built environment. The built environment should adapt to people's needs.