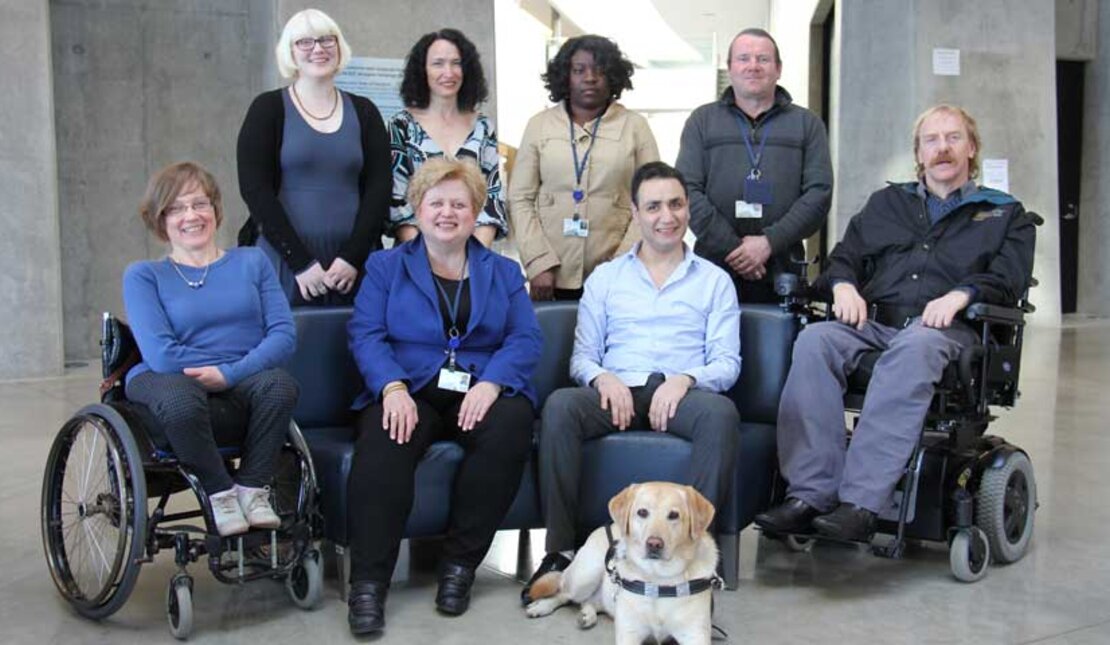 By Arnold Cheng
On March 13, 2015
RHF News
Above image: Members of the Rick Hansen Accessibility Team. Back row, left to right: Rachel Finlay, Karen Marzocco, Laetitia Mfamobani, Phillip Bligh. Front row, left to right: Marika van Dommelen, Ellen Eaton, Mallaz Khalil (with assistance dog Daisy), Stan Leyenhorst.
The Rick Hansen Foundation (RHF) is happy to welcome a new team of Accessibility Specialists this month. Each specialist not only has first-hand experience with accessibility issues, they also bring a wealth of experience and knowledge in other fields including information technology, sales, translation and interpretation, life coaching, journalism, engineering, and communications.
Together, they will be offering free accessibility assessments and working with businesses and venues in Vancouver and Richmond, British Columbia using RHF's 
Planat
 tool. This project aims to help improve the accessibility of public venues and raise awareness about its importance within the business community. 
The team includes:
Karen Marzocco, Project Manager – Karen has a diverse background and 20 years of experience working for the Canadian Broadcasting Corporation (CBC) in both Toronto and Vancouver. She brings an excellent combination of project management, staff leadership and development, and marketing and communications.
 
Rachel Finlay, Project Assistant – Rachel recently worked as a Disability Awareness Trainer in the United Kingdom, delivering tailor-made disability awareness training to schools, businesses and organizations. She has also worked in research, public policy and campaigns, leading projects on public health and integrated healthcare with two UK charities focused on improving mental health and advocating for people with disabilities.
 
Phillip Bligh – Phil has worked in mechanical and electrical engineering with experience in the United Kingdom, New Zealand and Canada. He has also worked on accessibility solutions for residential and commercial spaces and brings this wealth of knowledge to the team.
 
Ellen Eaton – Ellen has an extensive background in business analysis, change management, training and IT systems management. Ellen has been a Corporate Systems Manager with the Vancouver Airport Authority, and a Business Analyst with both the Greater Vancouver Regional District and Telus. In addition, Ellen has been a Director, IT/Business Solutions, National with Sleeman Breweries.
 
Mallaz Khalil – Mallaz has worked most recently as a legal assistant. He also has experience as a Translator and Interpreter for the Harvard School of Public Health, and brings a wide range of experience from his extensive community involvement, as well as strong communication skills.
 
Daisy Khalil – Daisy, a Labrador Retriever, brings a wealth of experience in accessibility assistance to the team. She graduated with flying colours from guide dog training in 2012. Fluent in both English and Arabic, Daisy enabled Mallaz to overcome his fear of dogs and has been his companion guide dog ever since. In addition to her official duties, Daisy brings boundless energy to the team.
 
Stan Leyenhorst – Stan is a current RHF Ambassador and comes to us with an excellent combination of management skills, sales experience and knowledge on accessibility accommodation.
 
Laetitia Mfamobani – Laetitia comes to us with a degree in Political Science and International Relations. She has experience in peer mentoring, French language interpreting, and writing and analysis for the École de Politique website at the Université de Sherbrooke, as well as for community newspapers.
 
Marika van Dommelen – Marika is a former RHF Ambassador Program and Community Engagement Coordinator and most recently comes to us as a Dream Builder Transformational Life Coach. She brings an excellent combination of strong communication skills and community engagement experience to her role, in which she will be interacting with external organizations and community partners.
 
Do you know a business in Vancouver or Richmond that would like an accessibility assessment? Free assessments are available until the end of June, 2015. Contact the Team via
email
or by calling 778.296.1539 today.
This project is made possible thanks to a Job Creation Partnership funded by the Government of British Columbia.