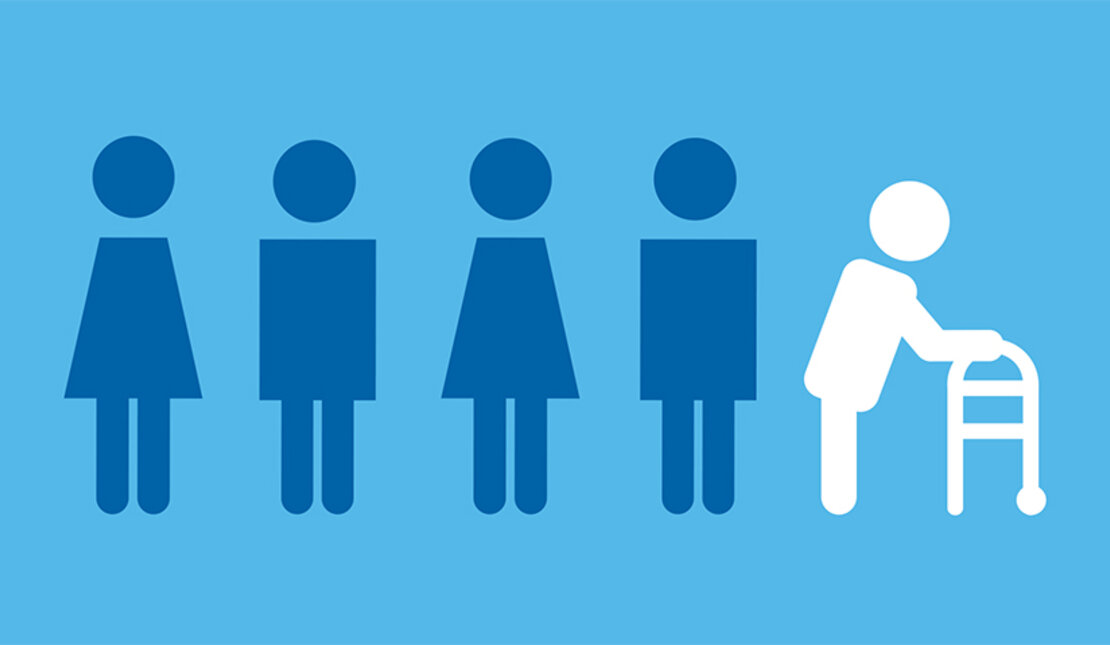 By Sonia Woodward
On November 27, 2017
Access & Inclusion
Today, one in seven Canadian adults identifies as having a mobility, vision, or hearing disability; that's about 3.8 million Canadians. These Canadians struggle every day to grab a coffee with a friend or interview for a job because of physical barriers to access. 

A dramatic population shift is also changing Canadian society enormously. For the first time in Canadian history, 'The Silver Tsunami' means that there are now more people 65 years old and older than there are 15 years old and younger. As all these older Canadians continue age into reduced mobility, vision, and hearing (often combined in a single individual), it's going to be normal to have some kind of disability. Within the next 20 years, the number of Canadians with disabilities is expected to grow to more than 9 million - or one in five of us.

Whether disability is caused by the natural effects of aging, or by an accident or injury, the simple truth is that each of us will experience disability at some point in our lives. The need for accessible places and spaces is more important than ever so that all Canadians can participate in their communities and live full lives.

What does this mean for creating accessible and inclusive communities for Canadians all across the country? It means rethinking how people at all stages of life will use public spaces, and developing and designing the built environment so it provides meaningful access: the ability for anyone, regardless of physical ability, to independently and safely access the built environment based on planned inclusion. 

While inaccessible public spaces undermine our mental and physical health, social structure and economy, meaningful access anticipates the needs of citizens of all ages, life stages, and abilities and enables personal independence, intergenerational living and human diversity.
Three ways to rethink meaningful access
To create a truly sustainable, inclusive and meaningfully accessible built environment, we must:
People with disabilities are not only wheelchair users.  There are actually that need to be represented throughout theplanning, designing and building process, and each group has its own different accessibility needs.  We need to think about and plan for places and spaces that are driven by the real needs of users and not simply by building code minimums.
'Separate' accessible entrances separate; 'segregated' accessible service counters segregate. This labelling process is known as "labelled disabled" and it has a profound effect on users of a space. The stigma of being labelled "disabled" is a significant social barrier, particularly for older adults and seniors. Look for opportunities to remove labels by eliminating separate spaces, and universally designing a space for all users.
Challenge assumptions.
Avoid labelling.
See beyond the wheelchair.

Access no longer refers to a narrow list of accommodations for wheelchair users. Disabilities can range from agility to mobility, to hard-of-hearing and deafness, to low vision and blindness, to memory and spatial perception. Accessible environments today must benefit people of all ages, stages, and abilities, including children, parents, older adults, and seniors. Meaningful access and inclusion is best achieved by including an accessibility specialist in your access strategy creation who is able to look at access issues holistically.
How can organizations help create meaningful access?
The first step toward creating accessible and inclusive places and spaces is to identify the current level of access being provided; second is to plan for improving access. Taking these two steps will help organizations and businesses prepare for Canada's changing demographics and for impending federal government accessibility legislation. 

To support organizations with their accessibility planning, RHF has developed and launched the Rick Hansen Foundation Accessibility CertificationTM (RHFAC), a LEED-style rating system that evaluates the meaningful accessibility of commercial, institutional, and multi-family residential buildings and sites. 

RHF Accessibility CertificationTM uses a comprehensive rating scale to determine a site's overall level of meaningful access. A RHFAC scorecard will highlight specific areas where accessibility can be improved, and improving those areas will help increase a location's overall accessibility, allowing an organization or business to serve more community members and customers.

Once rated, a building or site may also be certified at one of two levels, 'RHF Accessibility Certified' or 'RHF Accessibility Certified Gold.' Organizations then have the choice to publicly list their certification level on the RHFAC Registry and purchase a label or plaque to showcase that the location is fully accessible and be recognized as a socially conscious and responsible part of the community.

When the built environment is meaningfully accessible, it naturally benefits everyone. - small children, parents with strollers, older adults and seniors, and people with temporary and permanent disabilities - and are inclusive of people's needs across their lifespan. Creating meaningfully accessible places and spaces allows all community members to interact and engage with each other; reduces social isolation for people with disabilities; improves physical health opportunities and outcomes for people of all ages; and increases economic gains for local organizations and businesses. Making our Canadian communities accessible ensures that everyone is able to participate, today and in the future.

Are you, or do you know an organization in British Columbia that wants to become more accessible? Visit rickhansen.com/become-accessible for more information, to book a rating (free in BC until March 2019), and to apply for a BC Accessibility Grant of up to $20,000 to improve access today!