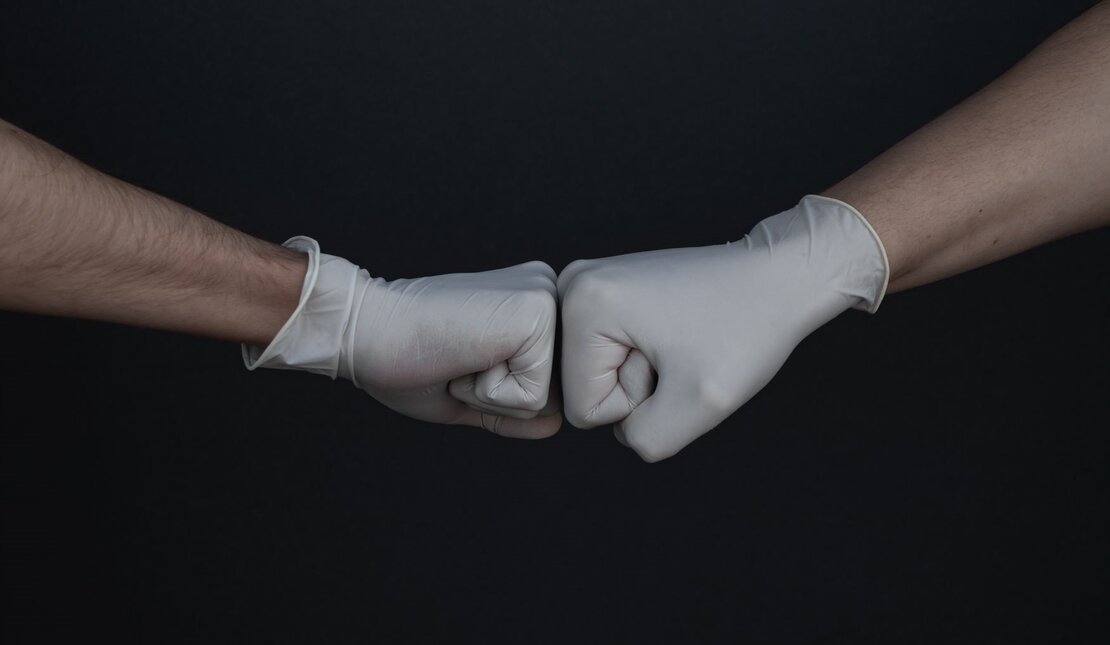 "There are few issues as important as how people with disabilities can cope and preserve their physical and mental health during this COVID-19 outbreak."
—Gabriella Stern, World Health Organization 
If you're feeling more vulnerable than usual, you're not alone. People with disabilities are in a unique position when it comes to the COVID-19 pandemic—one that comes with additional barriers like fewer support workers, a lack of financial aid, barriers to social distancing, and an increased risk of contracting the virus and developing severe cases.  
Additional support for people with disabilities is critical right now, a fact being echoed by experts, like this UN Human Rights expert, and members of the disability community across different platforms.  
Now, more than ever, it's important to both keep up to date with the latest information and look after your physical and mental well-being.  
We have compiled a variety of resources that may be useful during this time, as well as links to other groups who have consolidated similar resources. This list is a working document and is by no means exhaustive: please reach out to us if you have additional resources that should be on this list.  
Last updated on: July 31, 2020
Quick Links
General COVID-19 Resources
Government of Canada: Latest stats and recommendations 
Health Canada: Virus prevention and risks
This page includes information on: 
IncludeMe Canada, a national coalition of disability organizations which The Rick Hansen Foundation is proud to be a member of:
The World Health Organization also hosted a live Q&A from their headquarters that discusses disability considerations during COVID-19 with Lindsay Lee, expert on disability-related issues. Watch the recording here. *The first few minutes of this recording are not captioned, and once the captions start, there is a minute without audio, so there may be a portion of this video which is inaccessible to you. 
Canadian Disability Policy Alliance: Check out the table on page 3 of this document to find out who to contact in your province regarding disability-related issues. 
International Disability Alliance: Disability-Inclusive COVID-19 Response, updates, and resources 
CNIB: The Canadian National Institute for the Blind has expanded its free virtual program offering
Accessible Business Hub: Resources to help people with disabilities and employers adapt to the new normal 
Canadian Council on Rehabilitation and Work: COVID-19 Resource Library 
Communication Disabilities Access Canada: COVID-19 Communication Rights Toolkit 
National Network for Equitable Library Service: Accessible COVID-19 Charts and Information. This resource was created to help fill this gap in communications and statistics across Canada, and is updated as the situation progresses. 
Safer Shopping Hours
Because people with disabilities are at a higher risk, some stores are making changes to make grocery shopping more accessible, with shopping hours dedicated for the elderly and persons with disabilities. This does not help persons with disabilities who cannot physically go to the store and rely on grocery delivery services. If you don't need delivery services, consider leaving them for the most vulnerable in the same way you leave these store hours for those who need them. 
Below are some major Canadian grocery stores offering safer shopping hours, but many local independent grocers are offering similar services. We recommend calling them or checking out their website or social media for updates. 
Loblaws (includes T&T Supermarkets, No Frills, and Shoppers Drug Mart):  
7:00am–8:00am is reserved for seniors and others who require assistance 
Eliminating pick-up fees for all PC Express online grocery pickup orders, as well as bringing the price of home-delivered items down 
7:00am–8:00am is reserved for seniors and others who require assistance 
8:00am–9:00am is reserved for seniors and people with disabilities  
AccessNow: Mapping businesses which are accessible from home during COVID-19
Supporting Children and Youth
Rick Hansen Foundation School Program:  
Little Big Lessons: Short activities for home on the big ideas of access and inclusion
Geo History Map: Explore Rick's Man in Motion World Tour with this interactive online learning tool
The Mighty: Helping Children with Disabilities Understand the Coronavirus 
This page has a number of resources to help children with different disabilities understand our current situation and feel safe. 
Holland Bloorview Kids Rehabilitation Hospital: Explaining COVID-19 and Coronavirus to children 
Jumpstart Charities:
Financial Assistance
Canada's new Emergency Care Benefit: for those who aren't eligible for EI but are affected by the pandemic. It's intended for: 
Workers and self-employed people who are quarantined or sick with COVID-19
People who need to take time off to care for a family member who's sick with COVID-19
Parents with children who need to take time off to supervise them because of school and daycare closures 
Canada's one-time payment to persons with disabilities: $600 will be automatically sent to beneficiaries of disability supports programs. You are eligible if you receive: 
Disability Tax Credit (DTC) (or apply for it by September 25, 2020)
Canada Pension Plan Disability
Quebec Pension Plan Disability, or
Disability supports provided by Veterans Affairs Canada (VAC):
BC Residents on Disability: $300 supplement will be available for people on income and disability assistance 
This is a new monthly benefit for low-income seniors and people on disability and income assistance
Approximately 250,000 people are eligible to automatically receive $300 in addition to their regular support cheques for April, May and June July edit: this has been extended until September
The supplement will be available when the next round of cheques are issued April 22 
Inclusion Alberta: Check here for updates 
Saskatchewan: Income Assistance has lessened reporting requirements 
Ontario: Expanding access to Emergency Assistance  under the current provisions of Ontario Works for those facing a COVID-19 related financial emergency
Other Types of Benefits: 
Regular insurance benefits applications—For those who have lost their job through no fault of their own. The one-week waiting period is now being waived if you call 1-833-381-2725. 
You can apply online for Employment Insurance and will need the following documents: 
Your SIN number 
Record of Employment forms from all the jobs you had in the last year (it's okay if you don't have a paper copy—many employers submit them directly to Service Canada, so you'll see them in the portal once you begin your application) 
Banking information to receive payment by direct deposit 
Your address 
Your mother's maiden name 
Sickness benefits—Up to 15 weeks of financial assistance if you cannot work for medical reasons.  
Canada Pension Plan Disability Benefits—For those who contributed to the Canada Pension Plan for a certain number of years, are under 65, have a severe and prolonged disability, and their disability prevents them from working on a regular basis 
Persons With SCI
SCI Canada: Guidance through the coronavirus for the SCI community  
Canadian Disability Participation Project: Get the support you need to be active at home 
Coronavirus and Dysautonomia: What You Need To Know
Mental Health
Your mental and emotional well-being are just as important during this time. 
Mental Health links form Spinal Cord Injury Ontario 
Guided meditations: 
Free Chair Yoga Videos: 
Free ASL Yoga: 
To lift your spirits & warm your heart: 
How People Without Disabilities Can Help
If you're able to help, there are several things you can do to ensure the well-being those who are more vulnerable during this time: 
Offer help to your neighbours—especially if they are elderly or have a disability, reach out and ask what they need 
Donate blood—it is safe to donate blood at this time, and critical for those who need it 
Do not buy more than you need—buying only what you need ensure everyone, including people with disabilities, have equal access to essential supplies 
Keep your distance—do not leave your home if you don't have to, and if you do, ensure you are at least 2 metres away from others 
Wash your hands—if you do need to leave your home, frequent handwashing is proven to reduce the spread of disease 
Make your work accessible— If you're able to work from home, here's some tips from Microsoft to ensure your meetings and content are accessible for everyone. 
Listen to the voices of People with disabilities: 
Listen to the perspective of a person with cerebral palsy on why this is critical on this CBC News podcast. 
Read this Global News article about why RHF Ambassador Sinead Zalitach is especially concerned about her health right now. 
CBC News the National asked some high-risk individuals to explain why social distancing is so crucial. Watch the video, available with closed captions. 
We will be updating this list as the situation progresses and new resources become available. Things are evolving each day, and recommendations for a disability-inclusive COVID-19 response continue to emerge. In the meantime, stay healthy, stay well, take care of our most vulnerable, and hang in there. 
"Together we can model the way. Together we can get through this." - Rick Hansen, March 20, 2020