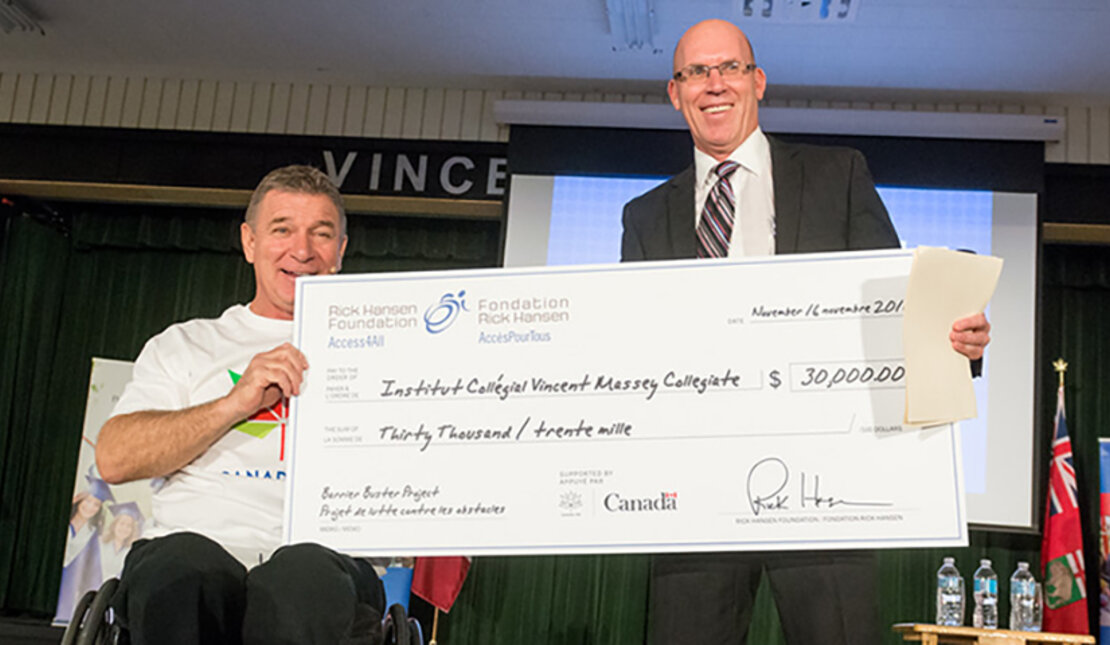 By Sonia Woodward
On November 21, 2016
RHF News
We're happy to announce our first Access4All Barrier Buster grant recipient – Vincent Massey Collegiate in Winnipeg!

At a special Canada 150 Countdown celebration last week, Rick surprised Vincent Massey Collegiate staff and students with an announcement that they were the first recipients of one of RHF's Access4All Barrier Buster grants and presented them with $30,000 cheque to make school entrance accessible for all.

"The staff and students at Vincent Massey fully embrace the values of access and inclusion, and this project will make a positive and lasting difference for the entire school community." said Rick.

Vincent Massey Collegiate has 1,300 students, including several students with physical disabilities; four of the students use wheelchairs, two have visual disabilities, and two have hearing disabilities.

This Barrier Buster grant help make the school's main entrance more accessible by improving the slope and materials of the front ramp, widening the front door area, and installing electric push button doors.

As the main access point into the school, this update will have a big impact on the students with permanent disabilities, students who might have temporary injuries, staff, and visitors, allowing everyone to easily access the building and attend special events, plays, presentations, and meetings.

Said Principal Tony Carvey:
"In over 50 years, no one in a wheelchair has been able to independently enter the main doors of Vincent Massey Collegiate. We will change that with our Access4All Project."

Vincent Massey is already a leader in breaking down barriers in their built environment. The school has taken on multiple projects to increase accessibility including installing a brand-new elevator, redesigning the life skills student area, and renovating the student centre. After the update to the main entrance, there are also plans for a library renovation and a graphics lab redesign.

When all the projects are completed, it will create a fully inclusive and accessible environment for all Vincent Massey Collegiate students.

Dale Christiuk, the French Immersion Resource Teacher, is so proud of the work being done to increase accessibility at Vincent Massey.
"Vincent Massey has come so far in such a short period of time…For my students with physical disabilities, at first, there were no doorknobs that they could turn with their hands…our cafeteria didn't even have a table where someone with a wheelchair could slip under and have lunch with their friends – and we changed that. It's huge to be with your peers and huge to be accepted everywhere in the school."

Mindy Tucker, 2008 graduate of Vincent Massey who has cerebral palsy and is visually impaired, said after the event:
"I think it's awesome that Vincent Massey has not only decided, but committed themselves, to being a barrier buster. Full accessibility and inclusivity takes time…a step forward is a step in the right direction."

Do you want to improve accessibility in your school or community? Learn more about our Access4All program at rickhansen.com/access4all. And stay tuned for more announcements about our next Barrier Buster grant recipients across Canada!