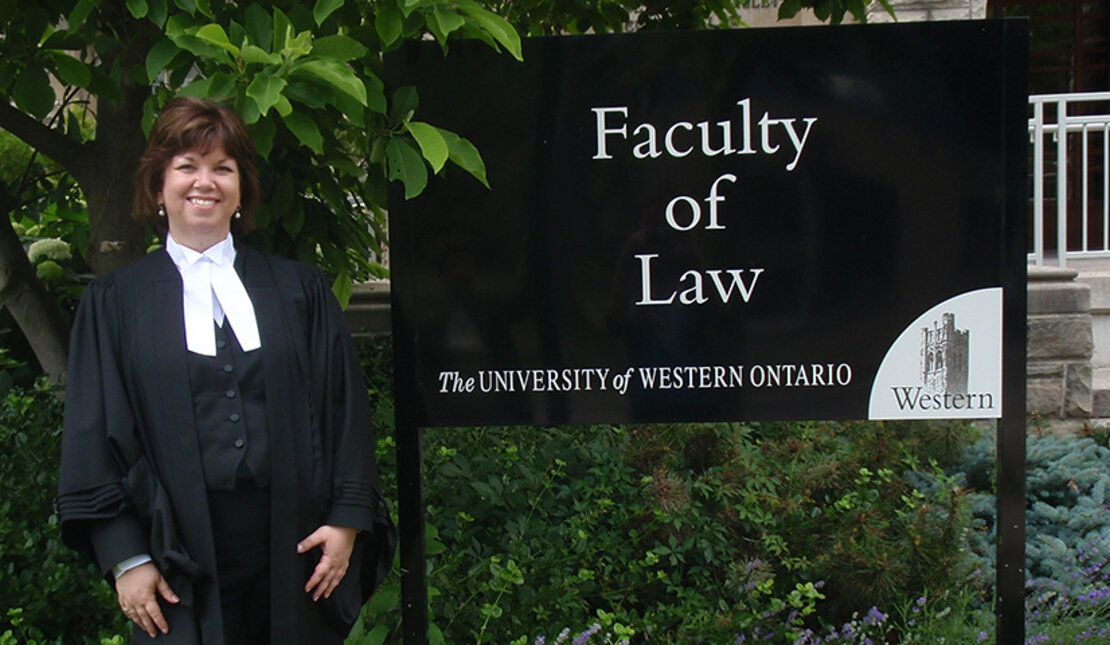 By Melanie Scott
On November 14, 2016
Community Spotlight
Lorin MacDonald is a force of nature. By combining her law education with perseverance and unlimited optimism, she's making Canada more accessible for people with disabilities.

Her impressive credentials include running her own law practice in Toronto focused on Human Rights and discrimination against children with disabilities; working to make the legal profession more accessible, as a member of the Ontario Bar Association and the Law Society of Upper Canada; and recently, taking on a new role as National President of the Canadian Hard of Hearing Association.

She was also born with a profound deafness in both ears (her right ear is helped by a behind-the-ear hearing aid). Whenever accessibility has challenged her, Lorin has found ways to adapt. In a mainstream high school  in Port Dover, ON, she sat in the front rows of her classes to read lips and befriended high-achieving students so she wouldn't fall behind in her lessons – and excelled.

Lorin became the first person with a hearing loss to attend law school at Western University in London, ON, where she also successfully advocated for captioning. She graduated with a Law degree in 2009.

"I want to show how my disability is an asset in my Human Rights Law practice," Lorin says, "It provides me with an 'I get it' attitude that will better serve my clients."

From Awareness to Action
As a young woman, Lorin saw Rick Hansen during the Man In Motion World Tour and was inspired to help make communities more accessible for people with disabilities and educate people about accessibility barriers.

She served as Ontario Chair of National Access Awareness Week in 1994, and four years later, had a ramp installed at her storefront location in Port Dover, making it one of the few accessible storefronts in town. She was the first person to work with the courts in Hamilton, ON to ensure accessibility for people with a hearing loss attending court, repeating this work as a lawyer in London, ON, and Toronto, ON.

In the 1990s, as an Ontarians with Disabilities Act (ODA) Committee member on behalf of the Canadian Hearing Society, Lorin worked to advance stronger disability legislation and was present in the Ontario Legislature when the historic Accessibility for Ontarians with Disabilities Act (AODA) legislation passed unanimously. In 2015, she received the inaugural AODA 10th Anniversary Champion Award, recognizing individuals who demonstrate leadership in accessibility and disability issues.

In 2013, she had the opportunity for a one-on-one with Rick to talk about how to further advance accessibility in Canada. Now, as a Rick Hansen Ambassador, Lorin raises awareness about the potential of people with disabilities among youth.

"I enjoy how eager children are to learn about others with different abilities and how quickly they accept that we are all valued," she says. "Everyone is an individual. Don't presume to know how 'all people with vision loss' or 'all people with hearing loss' do things."

Changing Attitudes, Removing Barriers
"People with disabilities attempt to do ordinary things with extraordinary difficulty due to physical and attitudinal barriers," says Lorin.
Her own have been lessened by using assistive listening technologies, sub-titles, and captioning for TV programming and movies, and Communication Access Real-Time Translation (CART) services in court and for meetings, webinars, and conference calls. While everyday activities like deciphering voicemails from people who speak too quickly can be annoying, matters around personal safety, like not hearing fire alarms, are more serious.

Lorin believes Canada can do better, and is doing better, citing as examples our Federal Minister of Sports and Persons with Disabilities who has a vision loss, and our Federal Minister of Veteran Affairs who has a mobility disability. Several provinces have accessibility legislation on the books or in the works.

"Attitudes are changing towards people with disabilities as we are seen as valuable Canadians with much to offer – it's exciting!" she says.
"Look around and see what ways you can make your own corner of the world more accessible. You aren't expected to know everything - just ask, 'How can I help you?' and respect whatever answer is given," Lorin says. "Be open-minded to different ways of doing the same thing. Attend a public consultation on the federal accessibility legislation. Adjust your worldview to include ALL Canadians who have much to contribute."
Lorin truly believes that every Canadian can make a difference.
                                                                                 
You can learn more about Lorin in Day in the Life of Lorin (with English open captions) or Un jour dans la vie de Lorin (with French open captions), produced by the Government of Ontario.

Find out more about the Rick Hansen Foundation's Ambassador Program, or book an Ambassador presentation at your school or community event, at rickhansen.com/ambassadors.