Meet 2019 Difference Maker Educator of the Year Renuka Senaratne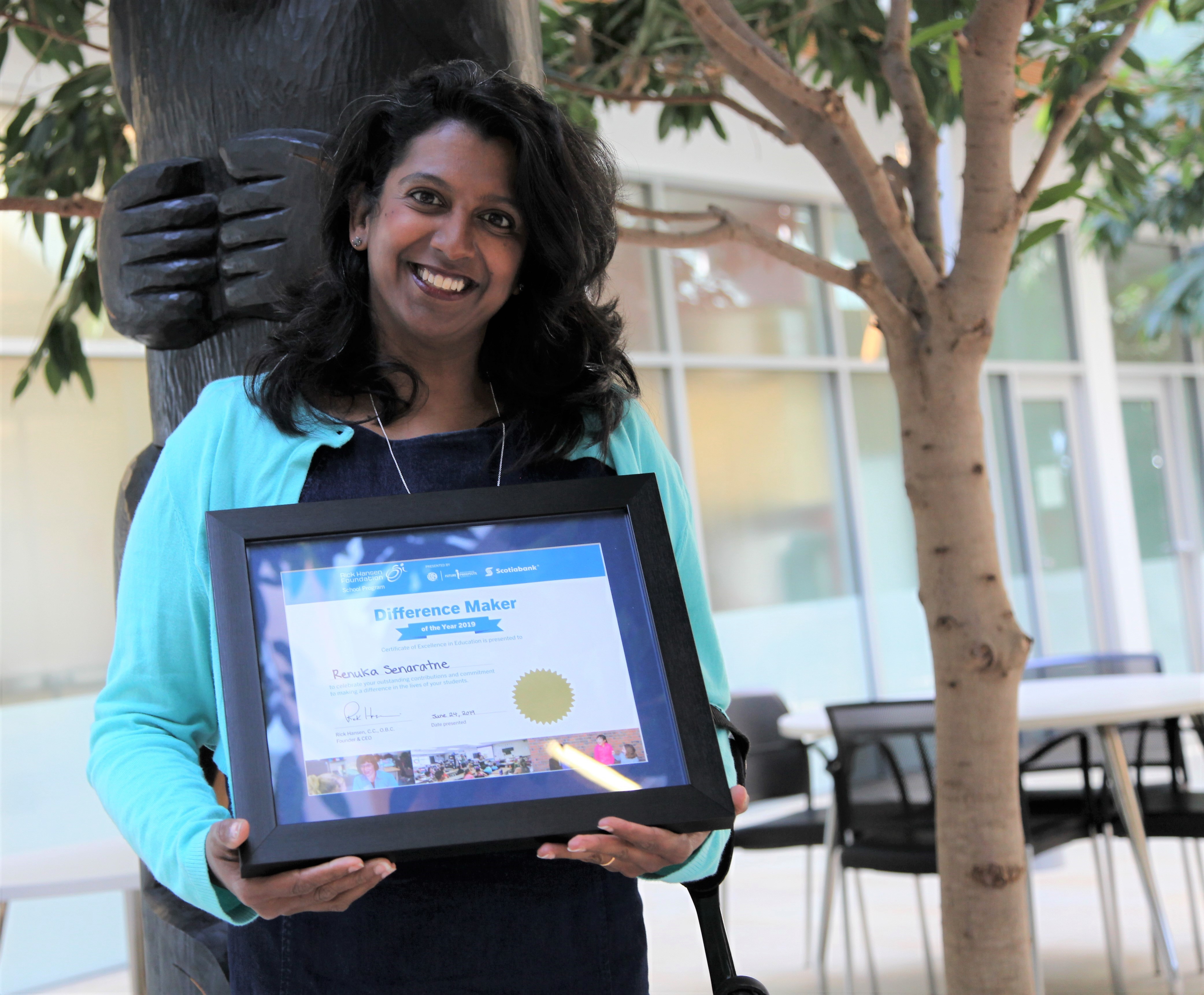 Renuka Senaratne was surprised to hear she'd won a Difference Maker Educator of the Year award from the Rick Hansen Foundation School Program (RHFSP). With all of the work she put towards inclusivity at Surrey's Janice Churchill Elementary, the rest of her colleagues probably wouldn't be. According to Principal Daljeet Rama who worked with Renuka for a year at Janice Churchill, and nominated her for the award, a main reason for the nomination is that the grade three teacher "was a leader in the school with all her initiatives that promote inclusion."
A Legacy of Inclusion
Some of the results of Renuka's advocacy are visible, like the paved surface in the school's parking lot and the open hallways that help staff and students with different abilities safely navigate throughout their day. 
Many of her efforts may not be as tangible as an accessible parking lot, but are part of her legacy of inclusion. Through her registration with RHFSP, Renuka learned about RHF Ambassadors and has brought several in to speak with students about accessibility and inclusion, and led many discussions herself within her classes. A Paralympic athlete who presented to their school passed around a gold medal for the students, which Principal Rama said was a "true highlight of their school life." This type of inclusive thinking is what led Principal Rama to want to acknowledge Renuka as a Difference Maker. 
Continuing the Conversation
Now a teacher at Hillcrest Elementary in Surrey, Renuka continues to have open dialogues with her students, and works to adapt her classroom to suit a diversity of needs. She will often use her own disability as a jumping off point to have a larger discussion about embracing our differences and the importance of supporting one another.
To her, an inclusive classroom "is one where everyone feels respected and like they belong—where everyone has access, and you're not following a one-size-fits-all setup."
Positive Change in the Classroom
Renuka notes how there's been a lot of rethinking when it comes to meeting a variety of needs in the classroom. You want it to be wheelchair accessible, but you also want to make sure there's private spaces for children who need quiet. Or places for students who don't like to sit at a desk when they write. "We design classroom spaces for a diversity of needs, whether that be seating or sound or light or access. It's a constant work in progress. Every year you get a different set of students."
Just as important as the physical set-up of the classroom, is the culture you foster within it. Renuka talks to her students often about the importance of supporting and encouraging each other. A safe and inclusive environment is one where children are more likely to participate and take risks. 
Making Access and Inclusion Fun
Renuka plans to invite different speakers to talk to students at Hillcrest Elementary. She also raises awareness of the different activities available, and has taken her classes to play sledge hockey, an adapted form of ice hockey. Sports like this level the playing field for all students, and allow students of all abilities to participate.
"For a child who has a disability, when they play sledge hockey, all of a sudden they're in the game and the same as their classmates."