Richmond, British Columbia – RHFSP Difference Maker is Making a Difference One Angel at a Time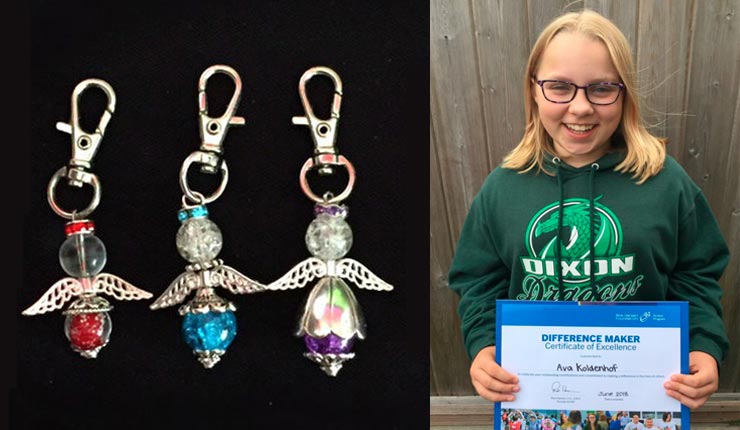 Ava Koldenhof is making beaded angels to make a difference through local and international charities. Ava is the recipient of the Rick Hansen School Program Difference Maker Certificate of Excellence for her philanthropic efforts to make the world a better place. 
At just eight-years-old, Ava felt compelled to act on the principles of empathy and generosity she was taught from an early age at home. She had an idea to start a small business called Ava's Angels, making angel-themed keychains, pendants, and magnets that she sells at craft fairs. Now 12, Ava researches charities around the world and donates all her proceeds to promote equity, inclusion, as well as health and well-being worldwide. 
Brad Ray, an educator for 23 years, has been handing out Difference Maker Certificates at three different schools for several years, but Ava is the first student he has nominated as a top Difference Maker of the Year. "I've never seen anyone with that level of initiative," Mr. Ray says, "She is an outstanding role model in our school and a hugely dedicated contributor to student council, especially our charity fundraising activities."  
Now at Ecole Elementaire Alfred B. Dixon Elementary School, Mr. Ray has been trying to ignite school spirit and social activism as student council lead, "We promote kindness, inclusion, and giving back," he said, "The Rick Hansen Foundation School Program provides a platform to help us promote these things and to celebrate those students who make those values a part of their lives."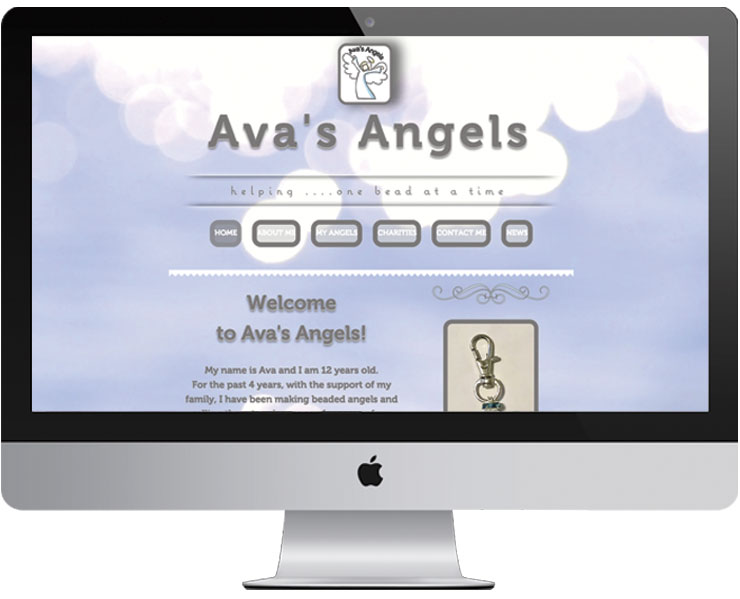 An industrious youngster, Ava makes 40 to 50 angels in an hour and has made a total of 15,000 angels in all. So far, she has donated more than $6,700 to charities worldwide. She humbly credits her mother and grandmother for teaching and motivating her to always find ways to consider others and do acts of kindness. 
"I was really surprised and proud to receive this recognition and I'm really proud of what I've done," Ava says, "I just took a few beads and put them together and raised almost $7,000 to help others—it's quite amazing!" 
During a telephone interview with Ava and her mother, Sally, both expressed their belief that empathy and equity are ultimately a matter of education. Sally says it starts at day one, teaching and encouraging children to think about others outside their own little bubble. She affectionately recalls how Ava has not once thought of keeping any of the money for herself. "We're super proud of her. She spent a lot of time making these angels and finding what charities she'd like to donate to." 
At the end of July, Ava's family moved overseas but she hopes to continue making a difference with her angels wherever she lives. In keeping with her generous spirit, Ava and her family dropped by the Rick Hansen Foundation on their way to the airport to donate 50 angels. Ava thought perhaps they could be distributed as gifts to Ambassadors at school presentations—her way of continuing to support the School Program.  
Mr. Ray is also thinking about ways he can keep Ava connected to the School Program.  He'd like to arrange for a Rick Hansen Ambassador Presentation and Skype Ava in to participate so she can be recognized for her award by her entire school community.  
For more information about Ava's Angels, visit http://avasangels.wixsite.com/avasangels