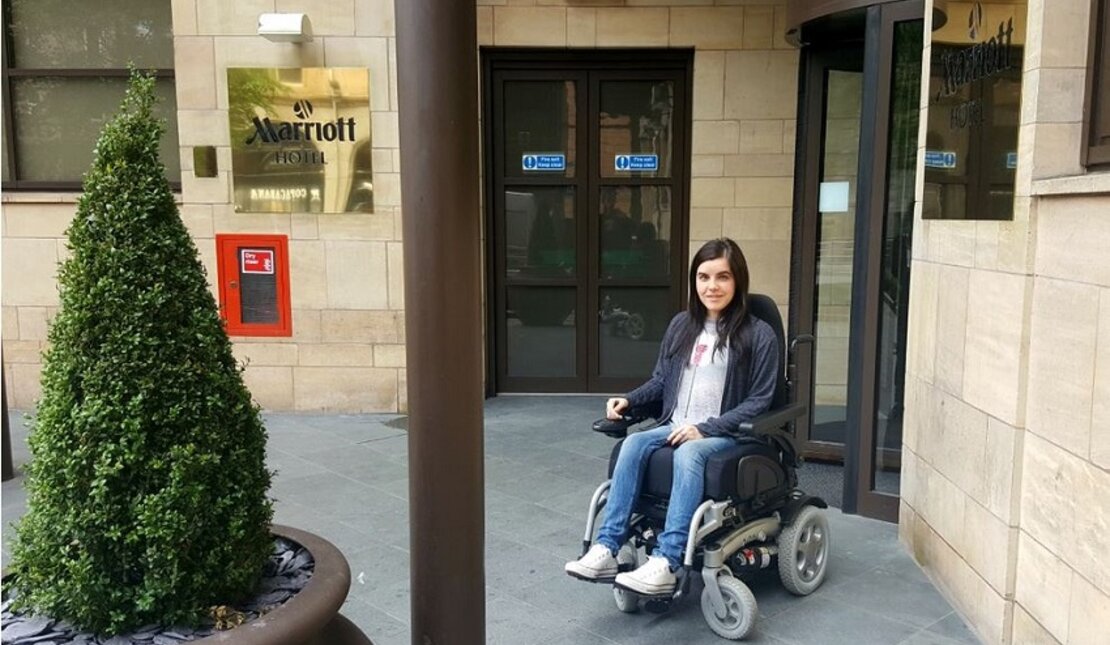 By Emma Muldoon
On July 18, 2016
RHF News
Booking a hotel is often one of the most important and difficult decisions you'll make when it comes to organizing your vacation. With so many things to consider (from price to location), it can all become a bit of a minefield. Booking a wheelchair accessible hotel is an added challenge that requires more time and research to identify one that best meets your needs.

Sure it's easy to click 'book room' once you've found a hotel that claims to be accessible, but just because it says it's 'accessible' doesn't mean it will be for your specific needs. So before you decide to go ahead with your online booking, have a look at some of these simple tips for booking wheelchair accessible hotels.
Search Online
Make a list of potential hotel options while browsing online. Have a look at their accessibility statement (if they have one) and any other information they have about accessible features. TripAdvisor may have some good reviews by other disabled travellers on specific hotels you are interested in. These can give you a rough idea of the hotels suitability to your needs and a good starting point of the type of questions you'll ask when you give them a call.
Call the Hotel
It's important to call the hotel to confirm accessibility before deciding to go ahead and book it. Calling the hotel directly will give you the chance to confirm what you've read online and to gather more information. Ask questions and raise any concerns you may have about their accessible features. As a fully dependent wheelchair user with limited mobility, my concerns are always the bathroom and whether there is a roll-in-shower or not. I often struggle to use bathroom sinks in hotels due to poor arrangement or size, which means I can't wheel under the sink or even reach the taps.
Ask Questions
Not everyone with a disability has the same requirements. We all have different abilities and something one person considers a vital accessible feature might not be for someone else. It's the same when it comes to the meaning of 'accessible' and what hotels interpret as accessible. Before you call the hotel, make a note of the questions you want to ask. The following are some examples for good questions to ask.
What are the hotel's accessible features?
Is there accessible parking?
is there ramped access to the entrance and public areas in and around the hotel?
Is there an accessible elevator?
Are the accessible rooms are located on the ground floor (in case of an emergency)?


What are the room's accessible features?
Do they have a roll-in-shower, or is it a bath and is there a shower chair?
Is the shower chair attached to the wall or is it a wheeled shower chair?
Does the bathroom and shower area have grab-rails?
Are the doorways widened and enough maneuvering space around the room and bathroom? What is the height of the bed? (Hotel beds are often higher so this may cause a problem when transferring from your wheelchair or if you have difficulty lifting yourself up)
Request Photos
You've asked the questions, but still a little uncertain whether it's the best wheelchair accessible hotel to meet your needs? Ask for photos of the hotel or room before you confirm your booking. This way you're getting a better idea of the entrance, ramps, and size, space and setup of the room.
Confirmation
Once you're satisfied that the hotel is suitable for you, ask for a confirmation email listing all the details discussed. You can either print out the email and take it with you or show them the email on your phone if you have any problems when you arrive.
***
Have any other helpful tips for booking wheelchair accessible hotels? Let us know at
info@rickhansen.com
.