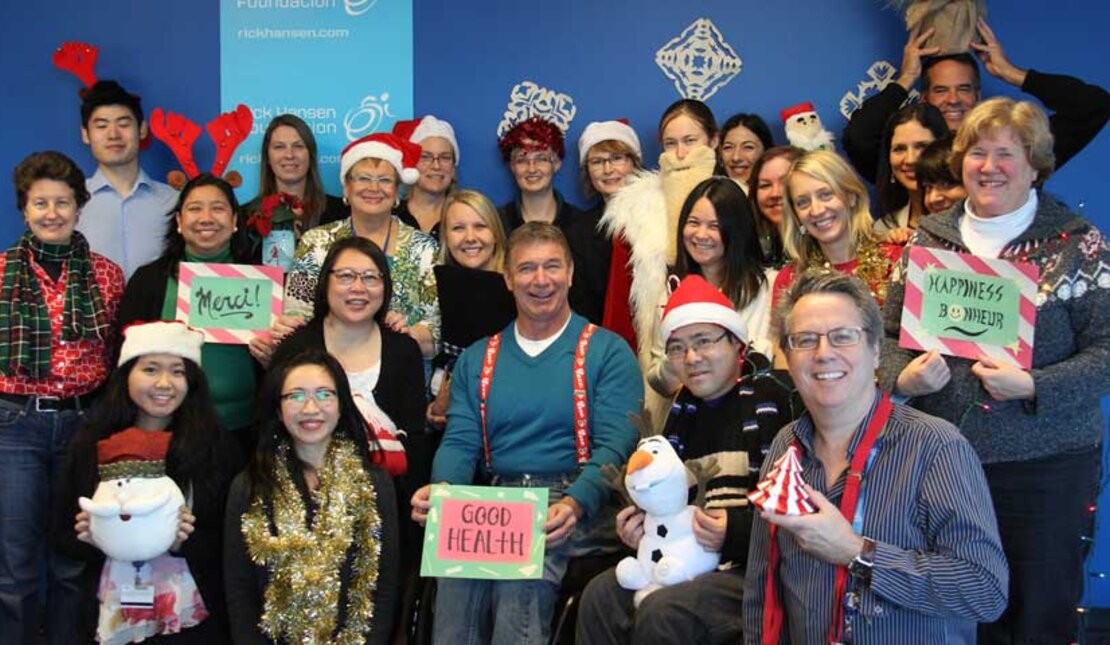 By Arnold Cheng
On December 31, 2014
RHF News
2014 was definitely a year to remember for Rick Hansen and the Foundation team. Thank you to our many donors, supporters and partners without which many of these highlights would never have been possible. 
Here are our top 12 highlights of 2014, in no particular order:
1. You are making a positive impact!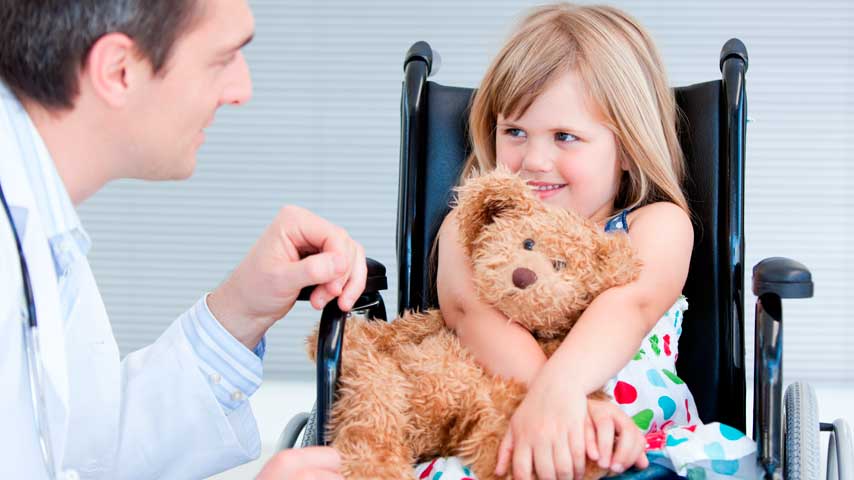 Thanks to you, we are improving accessibility and inclusion for people with disabilities, accelerating the pace of advancements in spinal cord injury research and care, and creating awareness around an astonishing statistic - by 2030 an estimated 9 million Canadians will have some form of disability. Our call to action? Let's work together to be ready!

2. Helping farmers return to work: #BacktoAg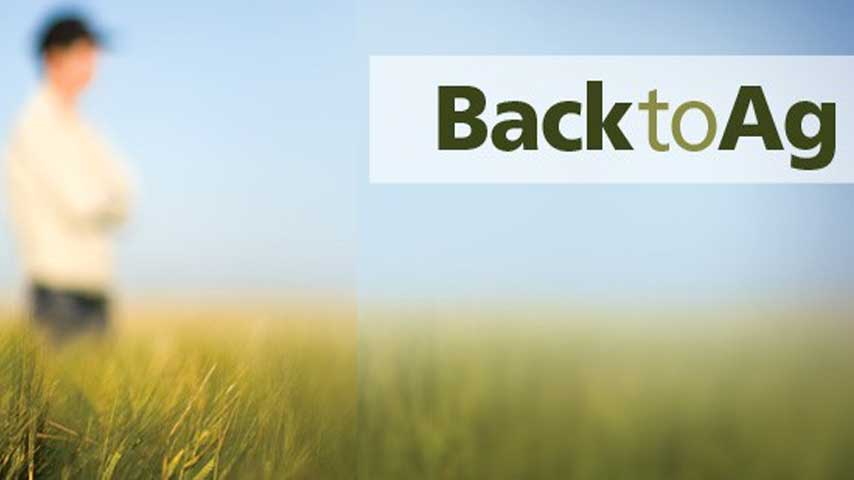 The Foundation joined forces with
Farm Credit Canada
and
Canadian Agricultural Safety Association
and raised $100,000 through a social media campaign to help injured farmers and agricultural workers get back to the work they love. BackToAg funds will be used to purchase or modify adaptive technology. 
3. Teaching by example: Boston Pizza partners with the Rick Hansen School Program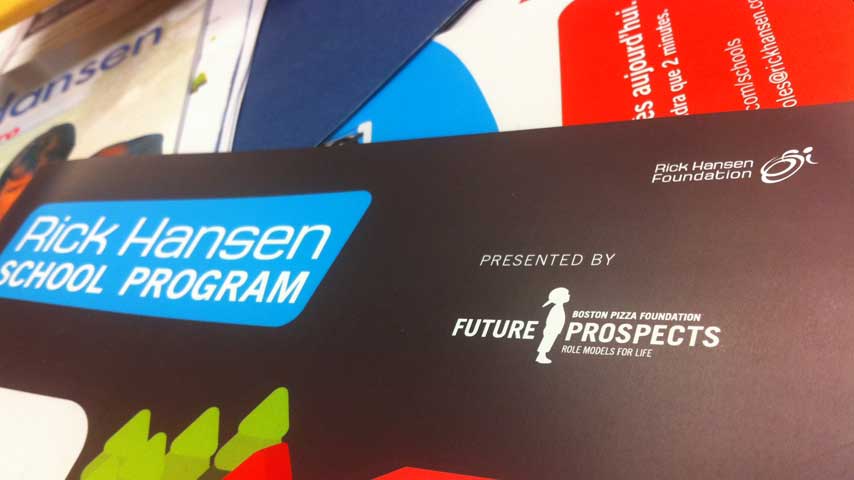 Boston Pizza Foundation Future Prospects became a proud Presenting Partner of the Rick Hansen School Program. Free to schools across Canada, the School Program inspires, empowers and engages students about the need for accessibility and inclusion and the value of making a difference in their local communities. You can learn more about this incredible Program by clicking
here
.
4. Inspiring hope and change: Connecting with Canadians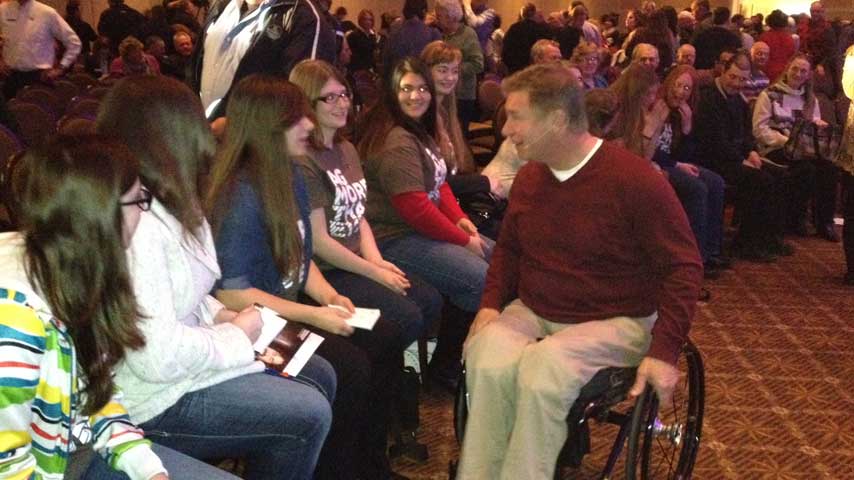 Rick made over 23 personal visits and spoke at more than 22 events across Canada this year, sharing his message of hope and inspiration. For Rick, connecting with people across Canada was a major highlight of 2014. Hearing the stories of people who are overcoming challenges and doing amazing things to make a difference inspires Rick every day. Whether providing support to newly injured patients, speaking to youth in schools about inclusivity, or connecting with the Foundation's supporters, Rick is grateful for the opportunity to connect with each and every person he meets. 
5. International Research Collaboration: New partners in China and New Zealand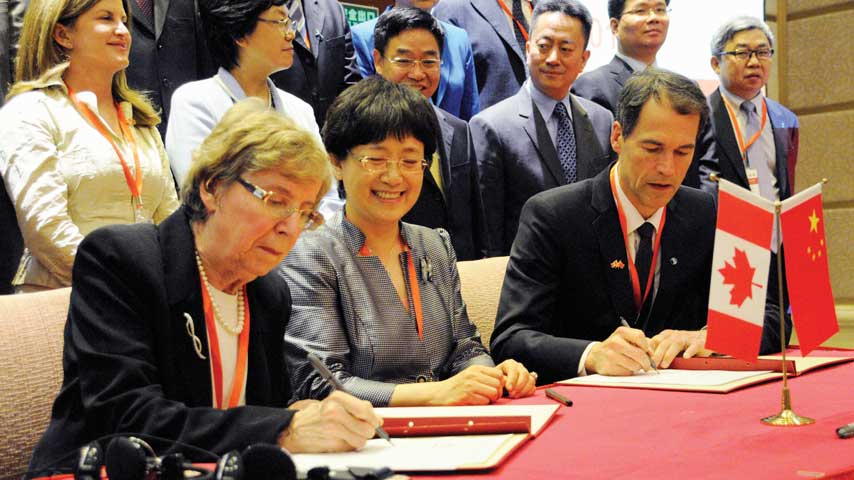 Research collaboration at the international level is key to accelerating discoveries that improve the lives of people living with spinal cord injury. This year, the Rick Hansen Institute was thrilled to begin working with Peking Third University Hospital in Beijing, China and the Burwood Spinal Clinic in Burwood New Zealand.  Read more
here
.
6. Access matters: Planat goes mobile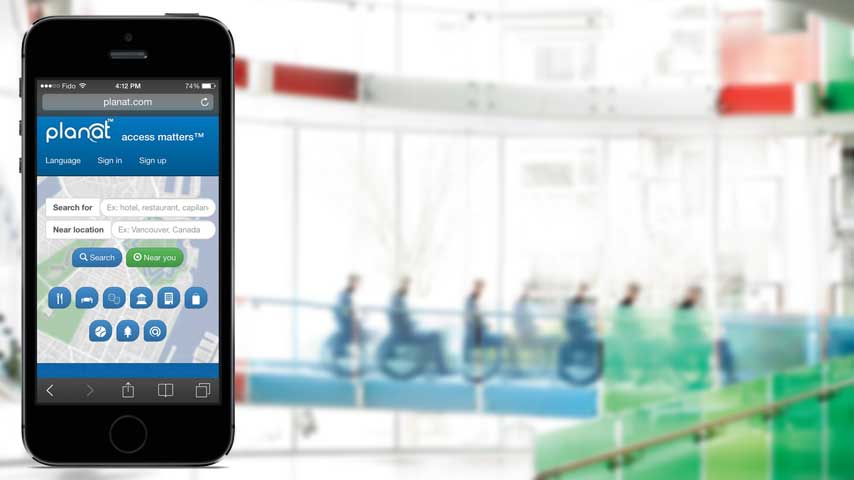 The Foundation's innovative online accessibility tool, planat™ (that rates the accessibility of public venues around the world) was upgraded to enhance user experience and usability. The online site is now mobile-friendly, with increased functionality, and accessible to screen readers and other assistive technology. Try it yourself at
www.planat.com
!
7. Blog stars! Rick Hansen Foundation Ambassadors 
Since launching the Rick Hansen blog in 2014, readers like you let us know that the most popular article was our conversation with Lonnie Bisonnette -the world's first paraplegic BASE jumper and a Foundation Ambassador. In 2015, we'll introduce you to other Foundation Ambassadors who will share their stories of inspiration and leadership. You can look forward to future stories and interviews!
8. Stories of impact: Karen's journey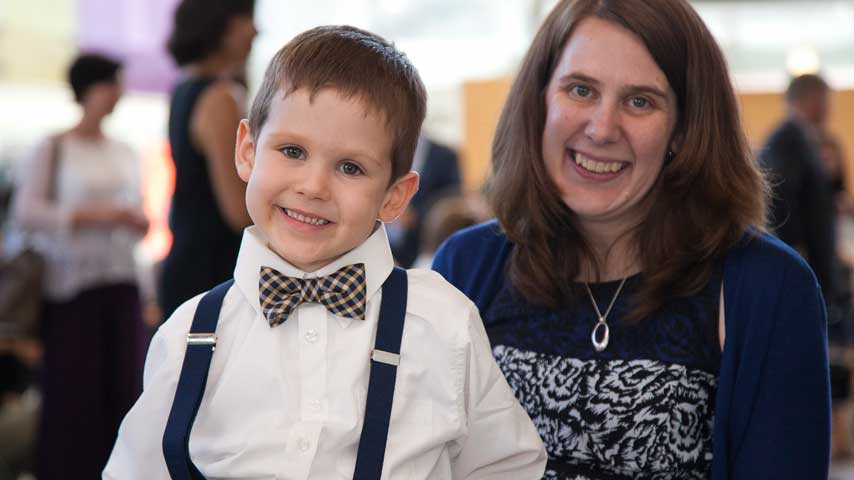 Being a parent is a challenge for anyone, but what if you're a parent with a spinal cord injury? One parent, Karen shared her experience of starting a family, on the Rick Hansen Institute web site
here
. Karen and other families are so grateful for the years of work by the scientists and researchers that have helped making a family possible. Thank you Rick Hansen Institute and ICORD for supporting this life-changing work!
9. Rick joins the Canada Army Run 
As Honorary Colonel of the Canadian Forces Joint Personnel Support Unit, Rick wheeled in the five-kilometre Canada Army Run in Ottawa on September 21st. Rick was honoured to join members of Soldier On, a team of disabled, ill and injured army personnel, as well as families of those who lost their lives while serving.  Soldier On provides opportunities for past and present soldiers to overcome their permanent or chronic illnesses or injuries.  Twenty five thousand people joined the Canada Army Run to thank those who have sacrificed so much for our safety and Rick was deeply honoured to participate. 
10. Creating positive change: Recognizing our Difference Makers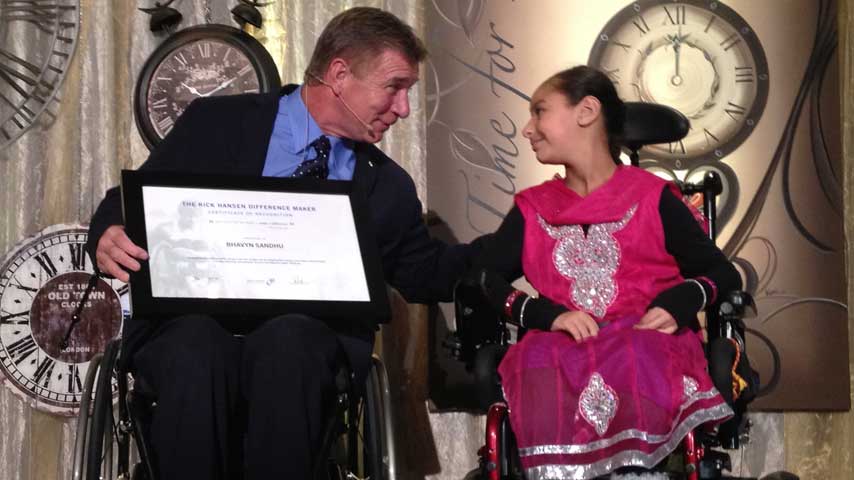 In 2014, we awarded Difference Maker certificates to 31 individuals and 1,832 elementary and secondary school students through the School Program, to recognize their contributions and efforts in making the world a more inclusive and accessible place for all.
11. Making Canada Accessible: AODA and Accessibility 2024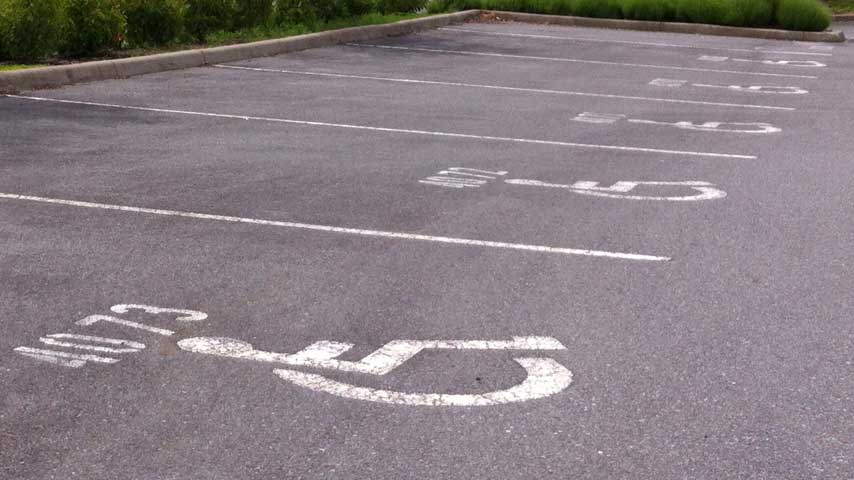 New accessibility requirements in Ontario and this year, BC, are kick-starting efforts to break down barriers by encouraging accessibility in service support, housing and employment in Canada. The Accessibility for Ontarians with Disabilities Act (AODA) underwent improvements this year, particularly in the area of customer service in the public sector, as a response to concerns about the original guidelines in the 2007 version. Meanwhile in British Columbia, a new 10-year plan by the provincial government called  
Accessibility 2024: Making BC the Most Progressive Province in Canada for People with Disabilities by 2024
was unveiled.
12. Perception is everything: Rick's call to action to make the world inclusive and accessible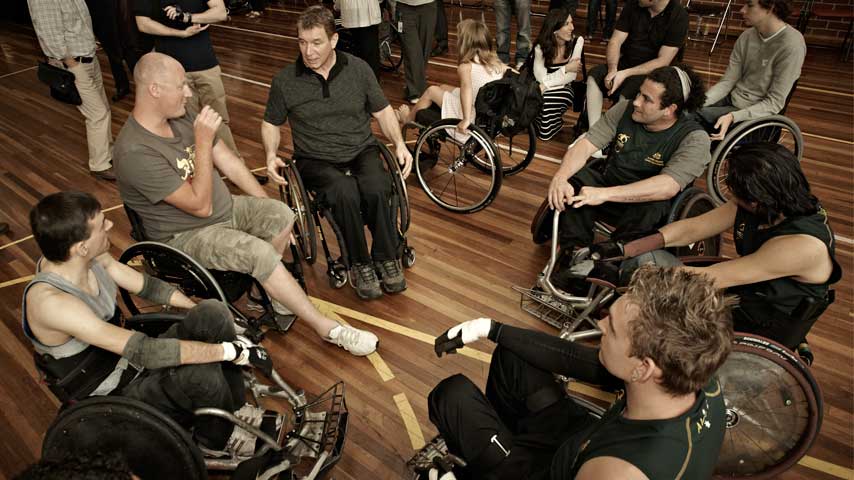 To commemorate the United Nations' International Day of Persons With Disabilities on December 3rd, Rick wrote an opinion piece that was published in the Globe and Mail, outlining how changing perceptions of people with disabilities is key to creating an inclusive and accessible world. Rick challenged people to question their own beliefs and those of society. 
Click here
to read his letter in its entirety.