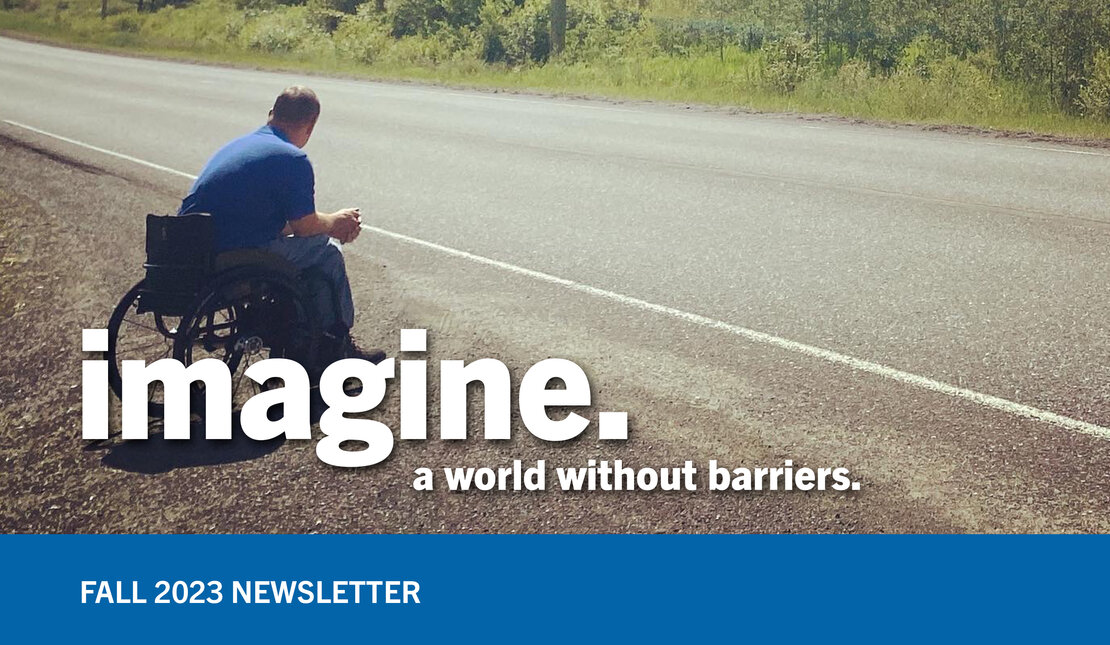 By RHF
On September 11, 2023
RHF News
The latest updates on the programs at the Rick Hansen Foundation for Fall 2023.
A Letter from Rick
This past June 27th marked a significant anniversary in my life: five decades since the life-altering car accident that led to my spinal cord injury (SCI). To honour this milestone, I returned to the site of my accident for the very first time, allowing for reflection on what has been achieved over the past 50 years.
Thanks to you, our supporters, much has been accomplished by incredible people determined to make the world a better place for people of all abilities and ages. The work toward improved accessibility and inclusion continues, but we still have a way to go before communities are truly welcoming to everyone. I know that, together, we will continue to break down barriers to ensure that every person has the opportunity to thrive.
I am deeply committed to helping shape the future of the Rick Hansen Foundation (RHF) and look forward to working alongside our CEO and Foundation team to achieve a world without barriers for people with disabilities.
I want to express my deepest gratitude to each and every one of you. Your belief in our mission, generosity, and incredible support have been the driving force behind the progress made. Let us forge ahead with renewed determination; together, we will get there faster. With heartfelt appreciation,
Rick Hansen
Founder
Rick Hansen Foundation
---
In This Issue
Creating Culture Change Through Leadership
Unleashing the Power of An Inclusive Mindset
A Legacy Lives On
Mossom Creek Hatchery Nets RHFAC Gold
Difference Makers Change the World
Leaving a Legacy of Inclusion
Mom Demonstrates Need for Accessible Communities
---
Creating Culture Change Through Leadership

Creating culture change takes the collective efforts of many, and we are immensely grateful for your support in championing accessibility and inclusion. This shift in societal values, where accessibility and inclusion are viewed as fundamental principles shaping every aspect of our communities, involves transforming behaviours perpetuating exclusion and discrimination.
Thanks to your generosity, we have been able to engage in advocacy efforts with leaders, people with lived experience, and others working in the disability sector, striving together to create an inclusive world.
Your support is driving real progress toward creating a more accessible society that benefits everyone. 
A significant milestone occurred in June when Bill C-22, the Canada Disability Benefit, received royal assent, becoming a groundbreaking law that aims to alleviate poverty among individuals with disabilities and ensure financial security for working-age individuals.
Over the past three years, thousands of individuals with disabilities, community members, allies, and disability organizations have worked tirelessly towards the passage of this transformative bill; it signifies a remarkable moment for our nation as we make significant strides towards creating a more accessible and inclusive society.
RHF CEO, Doramy Ehling, supported the advocacy efforts to pass this Bill, collaborating with twelve disability organizations to develop cohesive messaging and engage with Party Leaders, House Leaders, Ministers, MPs, and Departmental Officials. Additionally, we're proud that the Rick Hansen Foundation was recently awarded United Nations (UN)-designated NGO status, meeting criteria and operating in alignment with the principles and goals of the UN.
This recognition brings increased visibility to our work and expands our reach and influence as RHF gains a platform to participate in UN conferences, events, and meetings to further strengthen our ability to drive change.
---
Unleashing the Power of An Inclusive Mindset

In honour of National AccessAbility Week, RHF hosted an insightful panel entitled The Power of an Inclusive Mindset. This panel focused on how attitudes account for some of the greatest daily barriers faced by people with disabilities and how we can overcome them.
Participants learned how breaking down attitudinal barriers takes active work, and how we must ask questions to learn from other perspectives. Change takes time, and it is a journey. Having grace and humility through the process is key to changing attitudes.
"I learned I need to approach every situation with an open mind, continue to learn from others about how I can be more inclusive, and have awareness to ensure inclusivity within all aspects of my life." – Panel Attendee
Read more about the panel on our recap blog including a video recording of the panel for those who want to learn about breaking down attitudinal barriers. The link to the blog is www.RickHansen.com/MindsetPanel
---
A Legacy Lives On

Lori McDermid was a wife, a friend, and an active community member of Port Elgin/Saugeen Shores in Ontario. After sustaining a spinal cord injury at 14, Lori spent her adult life raising awareness for people with disabilities and fundraising in support of the Rick Hansen Foundation.
Rhonda Johnston and Peggy Clazie are honouring their friendship with Lori McDermid by ensuring her passion for giving lives on.
Towards the end of Lori's life, Rhonda and Peggy promised to continue fundraising in her memory. On July 8, 2023, they shaved their heads in tribute to Lori and her wonderful spirit.
"We just wanted to say we were humbled by the tremendous support we received. We know Lori was smiling down on us on Saturday and would be so proud of our little town."
The two friends raised more than $10,000 for the Rick Hansen Foundation – thank you!
---
Mossom Creek Hatchery Nets RHFAC Gold

"All of us care about a healthy and inclusive world, a healthy planet, and an inclusive society. So how is it that we can actually accelerate more change?
Building bridges between the two worlds by making things accessible, making places like the hatchery here at Mossom Creek accessible and inclusive for all, so people cannot just participate in the experience, but they can contribute." – Rick Hansen  
Set among the dense trees of Port Moody, B.C. sits the Mossom Creek Hatchery and Education Centre. This site is the first hatchery to achieve Rick Hansen Foundation Accessibility Certification™ Gold.  
The hatchery, founded in 1976 by local high school volunteers from Centennial School in Coquitlam, provides education, hands-on experiential learning opportunities to students and the community, and offers a home base for watershed and stream to sea explorations.  
Committed to accessibility, Mossom Creek Hatchery has many features that seek to remove barriers for guests and make the facility more inclusive to all including an accessibility pathway with a resting bench, and wayfinding signage to exterior locations such as the Intake Trail and Viewing Ramp.  
Thanks to your support, these features will allow for many more visitors to have a meaningful experience at the hatchery. 
---
Difference Makers Change the World

Meet this year's recipients of the 2023 RHF School Program Difference Maker of the Year awards. These students and youth leaders are contributing to inclusion and accessibility and making a positive impact in the lives of people with disabilities.  
This year, RHF awarded two individuals and three groups for the work they are doing to make their communities more inclusive.  
Mackenzie Agretto (Grade 12) 
Mackenzie planned and organized an inclusive prom for students with disabilities within the Niagara Catholic District School Board.
Caden Teneycke (18 years old)  
Caden used his social media to spread awareness about living with his rare form of dwarfism and provide a sense of community for others who face similar accessibility challenges. 
Dear Everybody Design Team (13 Grade 6 students) 
Students from Havergal College worked alongside students with lived experience at Bloorview School Authority to create accessible computer-controlled carnival games. 
Mrs. Boucher's Grade 3 Class  
Mrs. Boucher's class of 20 Grade 3 students audited their school for improved accessibility and potential solutions. 
Dante Accessibility Team (7 students, aged 13-18) 
Students created an educational video to raise awareness about accessibility and inclusion.
You can read more about the inspiring examples of the 2023 recipients and how youth are working to make a meaningful difference at www.RickHansen.com/2023Recipients
---
Leaving a Legacy of Inclusion

Rick's Man In Motion World Tour helped transform society's perceptions of disability. Thanks to the generous support of individuals like you, significant progress since then has been made towards creating a barrier-free society where everyone can embrace life to the fullest. However, our journey toward this goal is far from complete.
Have you considered leaving a legacy gift to the Rick Hansen Foundation to ensure that Rick's vision of an inclusive world endures for generations to come?
Beyond caring for your loved ones, leaving a gift in your will is an extraordinary way to embody your values and support inclusive communities for individuals with disabilities. As Canada's population ages, the number of people with disabilities will rise alongside it. By supporting RHF and its efforts to remove barriers, you help ensure that everyone can navigate public spaces with ease and dignity.
Join Rick, alongside countless Canadians, in breaking down barriers for individuals with disabilities. Through your legacy gift, you become an integral part of the Many In Motion, amplifying the vital message that everyone deserves equal access to inclusive spaces throughout Canada.
If you're interested in learning more about leaving a legacy gift to the Rick Hansen Foundation, please email Sandra Pimpao at spimpao@rickhansen.com or call her at 1-778-296-1582.
---
Mom Demonstrates Need for Accessible Communities

Katie Van Gurp cherishes the moments she shares with her daughter, Holland. Katie longs for her daughter to experience the joys of everyday life in Summerland, B.C., just like any other child. However, Holland faces unique challenges due to having quadriplegic cerebral palsy.
"My daughter is four and she can't do all the things that other children can do. I don't want her to not feel included," Katie said.   
One of Holland's greatest delights is accompanying her mom to the grocery store. 
"It's something Holland loves but my husband or mother have to come with me because I can't push her in her wheelchair and push a grocery cart at the same time," Katie explained.   
Katie's situation demonstrates the need for removing barriers in our local communities. Thanks to your support, the Rick Hansen Foundation continues to strive toward the removal of obstacles and raise awareness across the country to help parents of children with disabilities just like Katie and Holland. 
The story doesn't end there. Katie's determination has inspired her to advocate for broader accessibility, working toward making her community a more inclusive place for all children. 
Together, with your generosity, we can continue to break down barriers, promote inclusive spaces, and create a world where every child, regardless of ability, can thrive and have a true sense of belonging. 
---

Yes! I will help build an accessible future for everyone, everywhere.