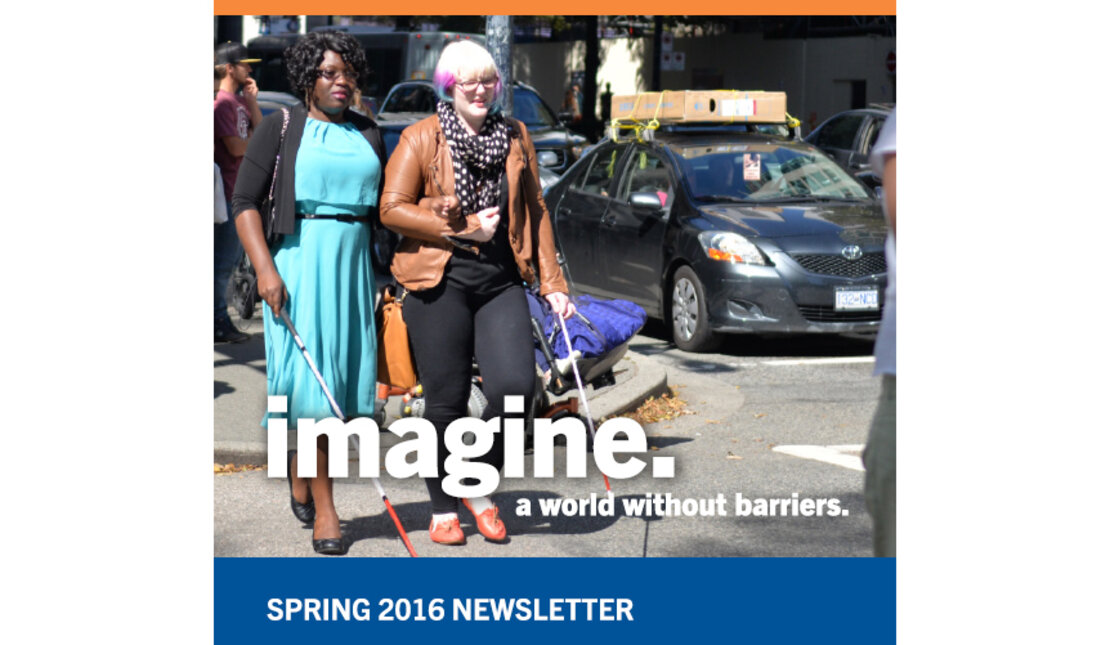 By Renee
On May 12, 2016
RHF News
What is new with the Rick Hansen Foundation this Spring?
Overview:

Click to jump to section:
 
You can also download the [EasyDNNnewsDocument|10].
---
Let's Get Started
Photo of Rick Hansen.

Thirty-one years ago when I pushed my wheelchair out of Vancouver to begin the Man In Motion World Tour, I began a two-year journey around the world to prove the potential of people with disabilities.
I never imagined the Tour would be the catalyst it was for all the progress we have made since.
For three decades, we have facilitated collaboration, forged partnerships and generated social innovations. This leadership has raised awareness, changed attitudes, and removed barriers for people with disabilities, as well as fund spinal cord injury research and care.

Your ongoing support helped create this incredible impact.
Along with valued partners like you, my team now has a unique opportunity to be the driving force behind removing another urgent barrier facing the broader disability community.
We have evolved our mission to focus on accessibility in the built environment

We will deliver on the promise of a more accessible world by creating programs and initiatives that raise awareness, change attitudes and remove barriers in the built environment.

When barriers within the built environment are removed and people with disabilities can live, work and play to their full potential, the entire community and economy benefits.

Thank you for helping us to remove barriers! Together, anything is possible.

Rick Hansen, C.C., O.B.C.
CEO, Rick Hansen Foundation
---
Access4All: Meet our Access & Inclusion Team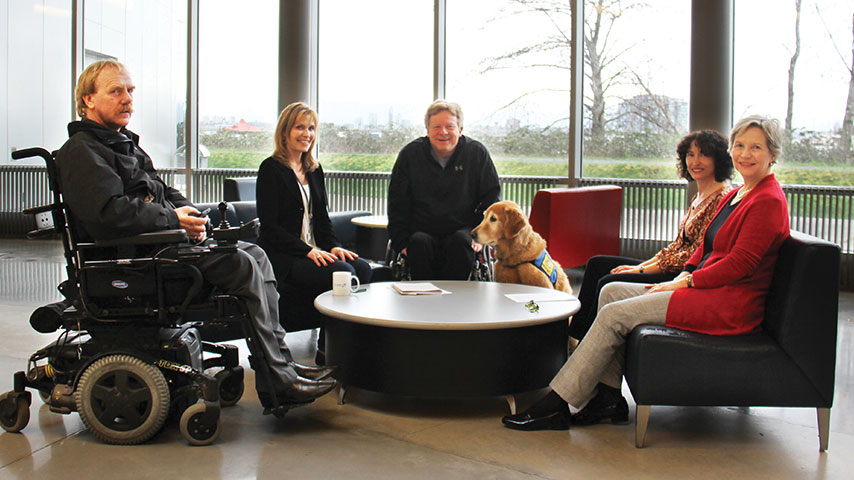 Photo of the Rick Hansen Access & Inclusion Team.

Brad, Stan, Jenny, Karen, Pat and Chipper (the ever faithful Golden Retriever) are all part of the new Access & Inclusion team at the Rick Hansen Foundation. 

This small but mighty team of talented, hardworking people are looking at the LEED model (Leadership in Environmental and Energy Design) to see how that model can apply to accessibility in the built environment. They're developing accessibility audits; exploring how to train people to manage these audits; and researching ways to develop experts who can advise government and building professionals. They're also developing a certification program similar to the LEED bronze, silver, gold, and platinum ratings to encourage developers to use universal design. 

Certification provides standards, guidelines and incentives for meeting or exceeding building codes and inspiring design innovations using universal design.  The program will help people with disabilities reach their full potential by removing physical accessibility barriers  so that all Canadians have access to live, work, shop and play in inclusive communities.

Some words from the A & I team…
"I am inspired by our work because the goals are highly achievable and life-changing. We're on the leading edge of an exciting movement to create and improve access to the built environment for all people." – Karen M. 

"I'm very grateful for the opportunity to positively impact how environments are designed to best meet the needs of all people who wish to use it. I'm inspired by the vision set forth by the team in which an inclusively designed environment makes good business sense, promotes equality and makes life easier and safer for everyone." – Jenny B.

"I'm inspired to be part of the Access & Inclusion Team, as I know that by building an environment that is accessible and inclusive to all, we are also building strong and healthy communities.  This will be a lasting legacy." – Pat S.
Read our interview with Brad McCannell on our blog at www.rickhansen.com/blog
---
RHF Ambassadors Work with Students to Raise Awareness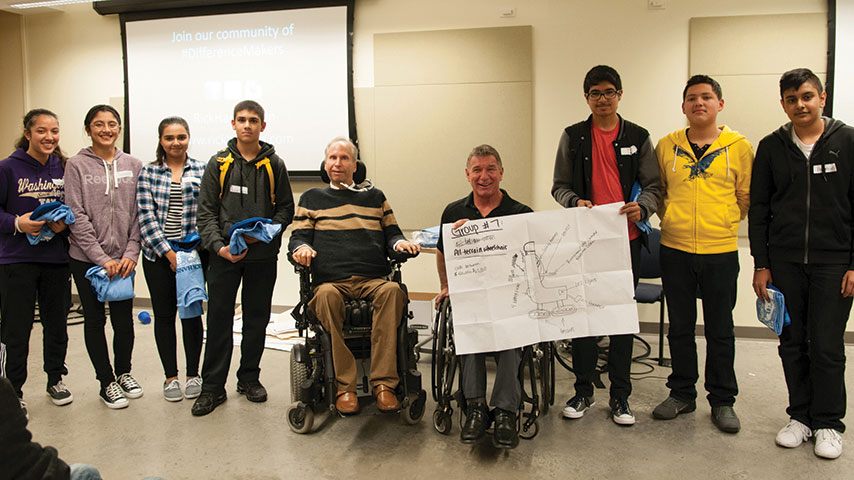 The winning design! An all-terrain wheelchair with safety harness & solar panels, GPS, LED lights, and a back-up system. 

"How has Rick Hansen changed attitudes towards disabilities?"

It's a big question. Recently, 60 grade nine students from the Rick Hansen Secondary School in Abbotsford, BC were excited to take it on as part of a new cross-curricular, project-based learning experience exploring disability, in partnership with the Rick Hansen Foundation. 

Activities included a visit to the Rick Hansen Institute, a presentation from Rick Hansen, an innovation challenge, and an opportunity to be mentored by a Rick Hansen Ambassador. 

On a tour of the Blusson Spinal Cord Centre, in Vancouver, Tova Plashkes, the National Clinical Liaison at the Rick Hansen Institute, introduced students to spinal cord injury (SCI) research. Robb Dunfield, Manager of the Rick Hansen Ambassador Program, offered students a glimpse into the personal side of disability. He shared his story of how he defied his prognosis after being paralyzed from the neck down and how he lives a full and meaningful life.

Students  took part in a group challenge: to design and present a means of transport to allow a person with a mobility challenge to participate in an activity or sport. Students also heard from Rick himself, who talked about his personal journey of overcoming barriers, and the Man In Motion World Tour. 

A few weeks later, students worked alongside 12 Rick Hansen Ambassadors on a group project to gain a more in-depth understanding of disability. 

Your donations are helping to encourage a spirit of inclusivity and awareness amongst today's young Canadians! Thank you for leading the way to a more accessible and inclusive world!
 
"Working with a Rick Hansen Ambassador gave us information from someone with personal experience rather than a hypothetical situation". – Caitlin Shaw, Student
---
How Much Exercise do People with SCI Need? ICORD Needs Your Help 

For able-bodied people, common guidelines recommend two and a half hours of moderate-to-vigorous activity each week to improve hearth health. 

But despite heart disease being the leading cause of death in those with SCI, no scientifically-based guidelines exist for those with SCI that relate physical activity to the risk of cardiovascular disease (CVD). 

This may be about to change. Dr. Christopher West, an ICORD principal investigator and assistant professor in the UBC School of Kinesiology, is studying the relationship between physical activity and CVD in people with SCI through a study funded by the Heart & Stroke Foundation. He hopes  this will be the first steps to creating standardized recommendations.

Participants in the study wear accelerometers on their wrists and push on a treadmill, to measure how much energy they expend. They also undergo ultrasound testing to determine how physical activity affects their heart health.

"We know that physical activity is important for our health and decreasing CVD risk, but we don't know how much physical activity is needed for reducing the risk in people with SCI," says Laura McCracken, a Master's student and ICORD trainee who is leading much of the research as part of her thesis.

The study is ongoing. Sixteen people, ranging from highly trained athletes to community members with varying levels of spine injury have participated so far. Dr. West and McCracken are looking for more participants as new rounds of data collection start this spring. 

With your help, the Rick Hansen Foundation collaborates with and supports the best and brightest in the field of spinal cord injury research – people like Dr. West who is working to improve quality of life for those with SCI. 

If you're interested in joining this innovative study, please email Laura at west.lab.icord@gmail.com.
---
Ready to Roll: Josiah's Story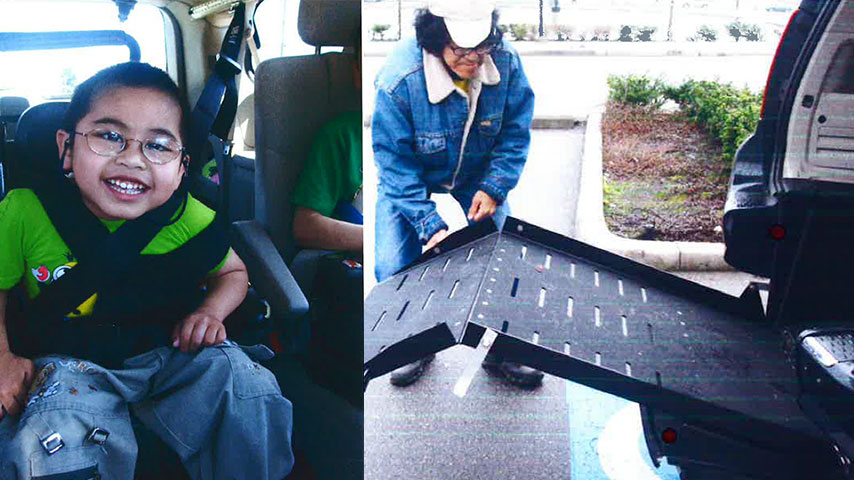 Photo of Josiah Villaneuva.

When the Villanueva family came to Canada from the Philippines, it was a big move. With no extended family nearby, they sometimes felt isolated. But they held tight to their dreams and plans for a new life.

When their son Josiah was born, life became more complicated. Josiah, now six years old, is a happy, energetic, fun-loving boy. Because he is visually impaired, globally delayed in all areas of development, and presents as having spastic quadriplegia, he uses a wheelchair and walker with assistance.

As Josiah grew, lifting and transferring him from his wheelchair into the family car and back again became more difficult. Both parents had injured themselves during this process.
 
The family needed a different form of transport – a wheelchair-accessible van with tie downs, which would make life safer and more enjoyable. When the family couldn't secure a bank loan, the purchase of a van seemed out of reach.

With the help of an RHF Quality of Life grant, and funding from other partners, the Villanueva family was able to purchase a modified van, and now Josiah can roll right in! 

Supporters like you are helping to break down physical barriers and open up possibilities for people with mobility challenges. Thank you!


---
Disability and Accessibility Surveys

What Canadians told us in 2015

Canadians are saying it's time we acknowledge the massive gaps in accessibility in our communities and break down barriers in the built environment to help change attitudes and improve quality of life. A recent national poll of 1,527 Canadians conducted by the Angus Reid Institute in partnership with the Rick Hansen Foundation backs this up:

90% Agree that accessibility for people with physical disabilities is a basic human right, not a privilege. 

87% Believe Canada should be a world leader in accessibility initiatives and make accessibility a high priority.

Accessibility Gap
79% believe their community should be accessible, yet only 28% believe that it currently is.

Perception Gap
Canadians underestimate the pre-valence of disability. 58% think that it's 1 in 25 or fewer. Statistics Canada reports that 1 in 7 Canadians has a disability.
"Awareness and accessibility is a BIG CONCERN!" 
– Anonymous survey responder
What you told us last spring

In an informal donor survey, we found that more of you are including friends or family with mobility challenges when going to restaurants and movie theatres.

You believe  that respect for accessible parking has improved. Next up is ensuring accessible washroom stalls are available everywhere and are free at all times. 

One third of you answered that your workplace is already fully accessible. For those who don't have an accessible workplace, you answered that you would investigate ways to increase accessibility for a new employee. A Statistics Canada report from Dec 2014 says otherwise: 12% of Canadians with a disability, and 33% of those between 25 and 34 years old, report having been refused a job in the previous five years as a result of their condition, much of it due to a lack of understanding about disability and accessibility. 

Let's work together to create a more accessible, inclusive Canada! 
---
Partnering for Impact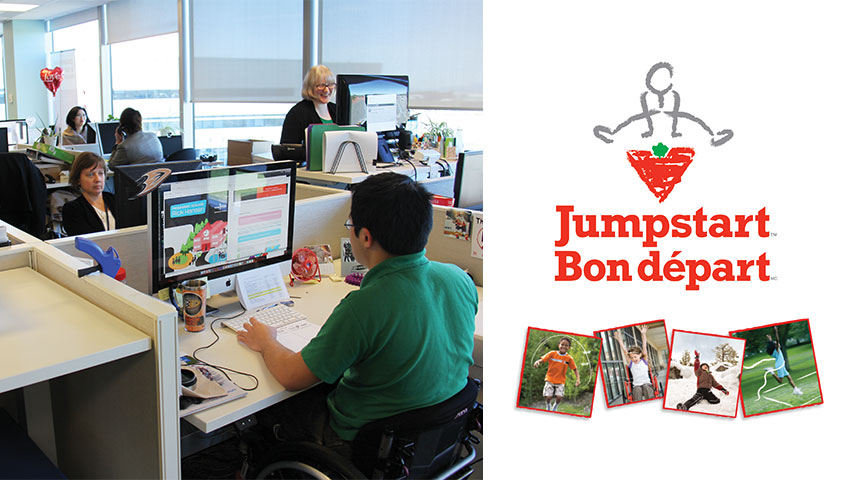 Photo of the Rick Hansen Access & Inclusion Team.

Haworth & Brooks Corning 

At the Rick Hansen Foundation, we want to be the change we want to see in the world. So we created a dynamic, fully accessible new office environment based on the principles of universal design.

In the past, Foundation employee Natalie Leveillé was unable to maneuver her power chair directly under her desk. Now, she can press a button that raises her desk height automatically.

Thanks to our friends at Haworth, an office furniture manufacturer, and Brooks Corning for providing the latest in high-tech, ergonomic furniture.

Jumpstart 

We'd like to introduce you to Canadian Tire Jumpstart Charities! Jumpstart helps kids of all abilities have an equal opportunity to play by helping financially disadvantaged families cover the costs of registration, adaptive equipment and/or transportation, for organized sport or physical activities. 

Call 1-844-YES-PLAY, or visit jumpstart.canadiantire.ca to learn more! 

Electrical Contractors Association of BC (ECABC)

With an inspiring message of "never give up," Rick Hansen spoke to an audience of approximately 200 people at the Electrical Contractors Association of BC (Vancouver Chapter) Meet-and-Greet in November 2015.Rick delivered a 45-minute presentation to members and special guests, including the BC Safety Authority, City of Vancouver, and Worksafe BC.

"We were very fortunate to have a world-famous Canadian hero speak to our group... It was a great evening," said Vancouver Chapter Chair Dan Robertson. 

The audience raised an incredible $12,640 in support of RHF. Thank you ECABC for supporting our vision of a world without barriers for people with disabilities!
---
SIGN-UP FOR E-NEWS! 

We would love to keep you updated on the innovative work you support. Sign-up for e-news to receive updates by Rick, news about program innovations, and so much more!

If you read something that inspires you, please share it. Sharing information and knowledge helps raise awareness, and when we're aware, we can change the world!

Your donation helps young people create an inclusive world and make a difference in their communities. Thank you.