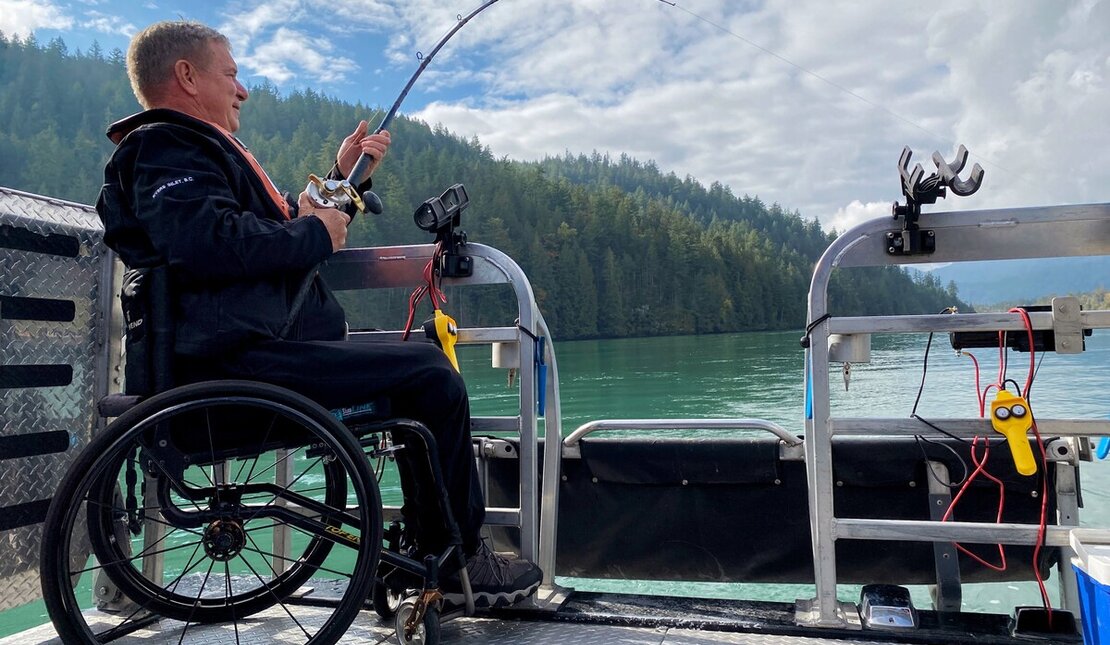 By Rebecca Blissett
On November 14, 2022
Leadership
The great outdoors both changed and saved Rick Hansen's life.

He was on his way back from a fishing trip, visiting a place he remembers being "wild and magical" on the far west coast of British Columbia. Most of us know how the rest of the story goes; 15-year-old Rick and his friend hitchhiked back home and the truck they were in rolled over. Rick's back was broken, changing the course of his life.

What many of us sometimes forget, though, is the sheer difficulty that comes with adjusting to any sort of disability sustained in life. Beyond the physical aspect of learning a new way of moving and navigating the environment differently, is the emotional journey of the various levels of acceptance. It is a real test of resilience.

It was no different for Rick. He was an athlete and an adventurer. The thought of all that being gone from his life left him feeling discouraged after the accident. Yet, the thought of it still kept Rick pushing through rehabilitation, the powerful pull of somehow getting back into the wilds of B.C. to fish again.

And he did. Rick's younger brother piggybacked him to their favourite fishing holes. Friends made sure Rick was included on their fishing trips. It was through this positive support that Rick realized he could not only continue fishing for his own enjoyment but also for others too.

"Fishing and the environment were a big part of my rehabilitation journey and have always inspired me to do the work that I do," he said. "I am committed to giving back to those things that have given so much to me."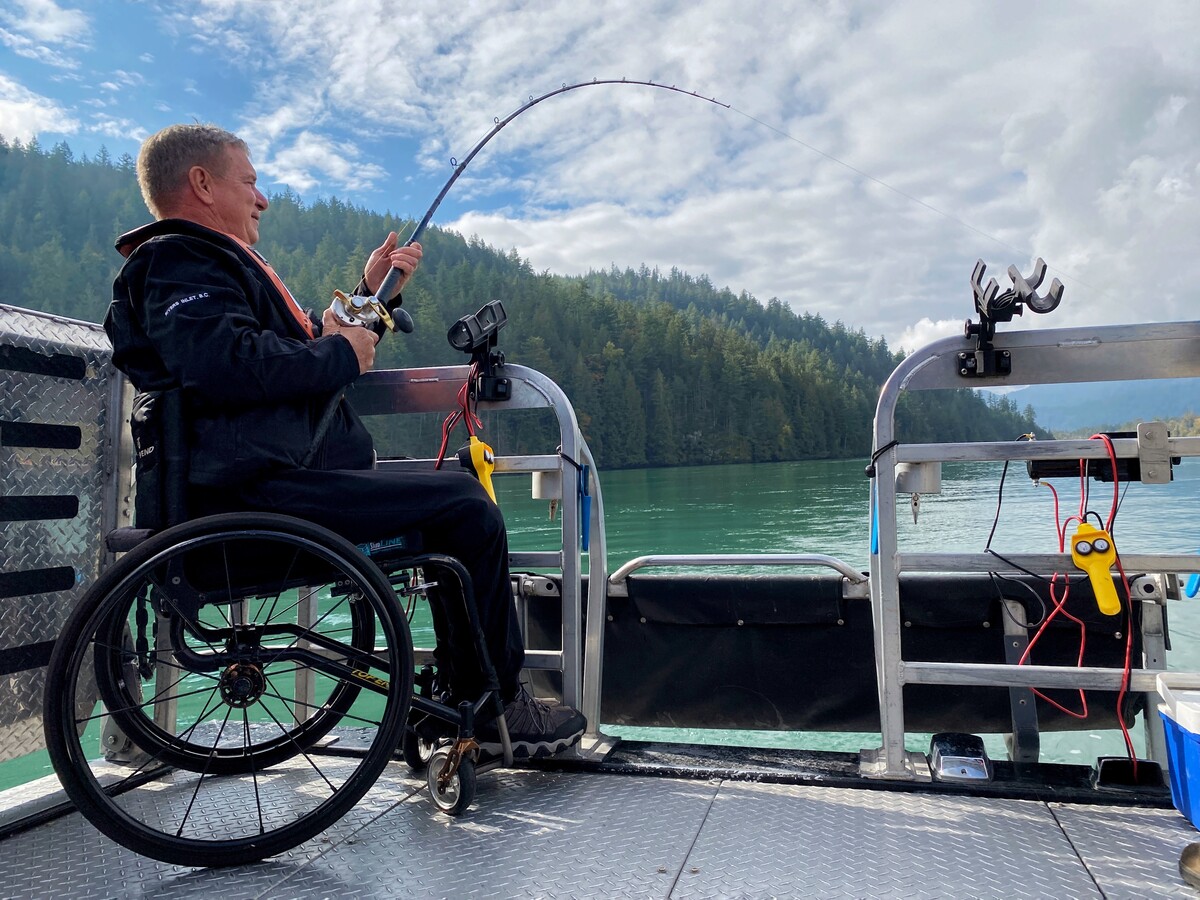 A Passion for Conservation
Rick was ten years old when he saw his first sturgeon. He was fishing for trout on a stream where it emptied into the Fraser River near his family home in Abbotsford, B.C. The sturgeon jumped in front of him, and, because of its massive size and ridged back, Rick had no idea of what he just saw. What he since learned – that the species dates to a prehistoric time of dinosaurs – set him on a lifelong love of fish conservation.

For more than 20 years, he has been an advocate of environmental stewardship, working closely with government, fisheries, scientists, enforcement personnel, students and academics, and commercial, sport, and Indigenous fishermen to ensure these species have a healthy future. Rick's leadership in these areas is reflected through his roles as founding and honorary Chair of the Fraser River Sturgeon Conservation Society (FRSCS). In the past, he held the position of Board Chair of the Pacific Salmon Endowment Fund Society, board member of the Living Rivers Trust Fund Advisory Group, and worked alongside other conservation champions to establish the Rivers Inlet Salmon Initiative.

Fishing is intertwined with the history of B.C., providing sustenance to communities living along the coast throughout the ages. With the arrival of Europeans in the 19th century, the harvesting of fish became an industry as well as a food source. Conservation efforts are a crucial component of fishing. Salmon habitats are in peril due to human habitation and the unknown future effects of climate change.

The Lower Fraser's juvenile sturgeon are also in peril, its population dropping almost 71% during the last 18 years. Researchers are trying to figure out why. Possible reasons include a decline in salmon populations--the food supply sturgeon are dependent upon--erosion of spawning and rearing habitats, impact from salmon net fishing among many others. Sturgeon play an important role in both freshwater and saltwater ecosystems and, as an 'indicator species', their survival is a key to understanding the health of the Fraser River watershed.
The Link Between Fishing and Accessibility
Rick's passion for conservation, the environment, and sportfishing are inextricably tied to his advocacy for accessibility. Creating an inclusive and accessible society also promotes a healthy society in which everyone can participate. A healthy world is inseparable from the health of the natural ecosystems on which we all depend. For this reason, a healthy planet is one the key pillars of Rick's work.

Accessible fishing is so important to Rick. Even during the Man In Motion World Tour (MIMWT), he would often spot fish in the rivers under the bridges he crossed, sometimes taking a mental health break from the demands of the tour by pulling out one of the fishing rods tucked away in the back of the MIMWT motorhome to take a short time-out on a river bank.

The movement of boats, the fresh air, the test of quiet patience. This is all part of fishing. When you're a person with a physical disability, being out in nature with a fishing rod is an experience of pure joy, one where barriers – for a little while at least – are forgotten. There's a good reason why the recently-released short film, Rick Hansen's Fishing Story, opens with soaring footage of the Fraser River and Harrison River estuaries. It encapsulates this feeling of freedom. (The film is available for viewing by clicking this link). 

Whether accessing local rivers, getting to a fishing lodge in Haida Gwaii, or simply being in a boat with his family, Rick continuously navigates the challenges of access in locations and modes of transport that are not easily accessible to people with disabilities. 
"Having the chance to get back to fishing when I was young was a lifesaver," said Rick. "It's important that we do our best to ensure that the outdoors is accessible and inclusive for everyone."

Rick shares his passion for fishing with others while inspiring them to join him in the removal of barriers and accelerate progress that the Rick Hansen Foundation is making towards building a healthy and inclusive world – both in communities and in nature.