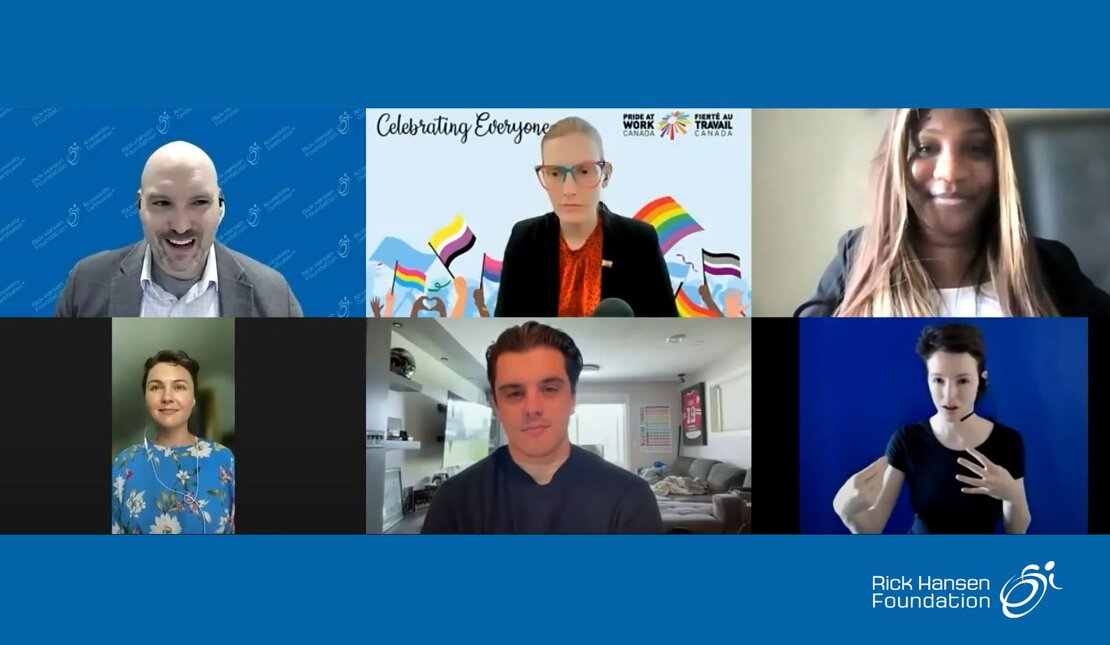 By Rebecca Blissett
On June 13, 2023
RHF News
There's a famous quote that says, "An hour spent in self-reflection is an hour well-invested." The recent Rick Hansen Foundation (RHF) panel, The Power of an Inclusive Mindset, perfectly aligned with this idea by encouraging people to examine their thoughts, feelings, and actions around disability and its intersections.
Held online on June 2 as part of RHF's National AccessAbility Week celebrations, the hour-long event brought together panelists of varying abilities and perspectives for a lively discussion about challenging assumptions and uncovering unconscious biases.
Moderated by Matthew Shaw, RHF Accessibility Content Lead, panelists included:
Yvonne Felix, Inclusive Design Artist and Consultant
Taylor Lindsey-Noel, Entrepreneur, Motivational Speaker and Disability Advocate
Jade Pichette, Director of Programs, Pride at Work
Ryan Straschnitzki, Former Humboldt Bronco, Team Alberta para ice hockey player, and Founder of Straz Strong Foundation
The panelists shared valuable insights on cultivating an inclusive mindset. According to the post-event survey, 70% of attendees reported that they came away with a concrete action to implement. These actions included actively ensuring all perspectives are heard during work meetings, creating environments that embrace diverse lived experiences, and refraining from making assumptions about others' needs without first seeking their input. If you missed the event or would like to share it with others, you can access the recording at the end of this story. Here, we compiled our top three takeaways.
Takeaway One: Embracing an Inclusive Mindset Means Considering the Needs of Others
The panelists agreed that an inclusive mindset requires us to step outside of ourselves and consider the needs of those around us. Taylor emphasized the importance of being considerate of everyone, even though this sometimes equates to asking hard questions.
"Because, sometimes, having those difficult conversations is what fosters an environment that makes it better for the next time," she added.
Yvonne added that inclusion is also about learning from others with a focus on community and collaboration within that community: it is essential to approach every interaction with openness, curiosity, and a willingness to learn from different perspectives.
"It's really about being open and communicative and learning from one another," said Yvonne. "Inclusion means taking things down to a baseline and just being able to hear someone in the way they need to be heard so you can both move forward and learn. It's always about learning."
Jade expanded on the topic, adding that an inclusive mindset requires a deep analysis of our own feelings and behaviours. "I go to this quote by American historian Howard Zinn, 'You can't be neutral on a moving train,'" they said.
"That speaks to the fact that our society, as a whole, is discriminatory. It's ableist. It's homophobic, it's transphobic, it's racist. And the only way we can have an inclusive mindset is by actively changing who we are, and our behaviours, our thoughts, and our feelings."
Takeaway Two: The Importance of Challenging Misconceptions and Stereotypes
The panelists delved into the misconceptions that people often hold about individuals with disabilities. Jade highlighted the prevalent misconception that people with disabilities make up just a tiny segment of the population when, in fact, 1 in 5 people in Canada have a disability, with that number expected to increase as our population ages. They added that there's also the harmful tendency to infantilize or glorify people with disabilities; Jade discussed how this duality affects their experiences as an autistic individual who often faces assumptions that they are either incapable or extraordinary.
Ryan, who has been a competitive athlete much of his life, said it's important that people put aside their biases. It's not about accomplishing great things despite having a disability; it's simply about achieving great things as a human being who sets out to do so.
"Being a competitor, obviously, I want to prove people wrong, and competition has driven me to try to reach new heights," said Ryan. "There's often those misconceptions about what a person can and can't do, and I think that anyone can do anything."
"It just starts with a mindset, and that has been a huge part of my journey since my accident."
Takeaway 3: Mistakes are Part of the Learning Process
Yvonne highlighted the responsibility and privilege of being a role model within their family, providing support and advocating for inclusivity. "It's such a huge amount of responsibility, and they carry that responsibility as well," they said when it comes to nurturing an inclusive mindset to set an example for their children.
"And it should be a choice to be an advocate," added Yvonne. "It shouldn't be something that's put on the disability community, and I feel like it is, that it's always put on the community – that you should advocate for everyone. The reality is, in my experience, that you can only advocate for you but passing on that skill set of advocacy is something that everyone needs… And I think it's important to ask yourself why do you want to be an ally before you can ask how you can become an ally."
Taylor shared her experiences as an entrepreneur and social media influencer, emphasizing that mindset plays a crucial role in furthering the conversation and being honest about one's journey.
"I am learning as well and will make mistakes along this journey, so give me grace," she said. "We are all learning to make this world a little bit more accessible and inclusive. That's what I try to do with my platform, and also remind people that we're just human at the end of the day and we're not always going to get it right."
Ryan added that while lived experience provides insight, the spectrum of disability is vast. "As Taylor said, making mistakes along the way is something that's going to happen. Obviously, you can't speak on behalf of someone else or another demographic if you're not in their shoes. But this is a long journey, and we're working towards reaching the same goal at some point."
Jade added that they gained insights into different disabilities through the RHF Accessible Spaces 101 course and that it opened their mind to different experiences.
"I'm actively trying to do that learning outside of my own experience so that I am able to be a better advocate for all disabled folks as a whole. But that is never going to be perfect, and I'm never going to be able to speak for everybody's experience," they said. "But I might be able to speak better about how to create an accessible environment and an accessible space."
They added that it is imperative to prioritize accessibility right from the start, whether it involves designing a space or organizing an event. It should be integrated into the budget, and they stressed that it should not be an afterthought.
Jade left the audience with one last takeaway:
"Humility. It's really about being humble and compassionate at the end of the day," they said.
"There are things that we don't know, and we've all been indoctrinated by the systems we live under. So, it takes some time and effort to unlearn that."
--
This recap is a condensed summary, and some quotes have been shortened for space considerations. RHF invites you to watch the full recording of The Power of an Inclusive Mindset: