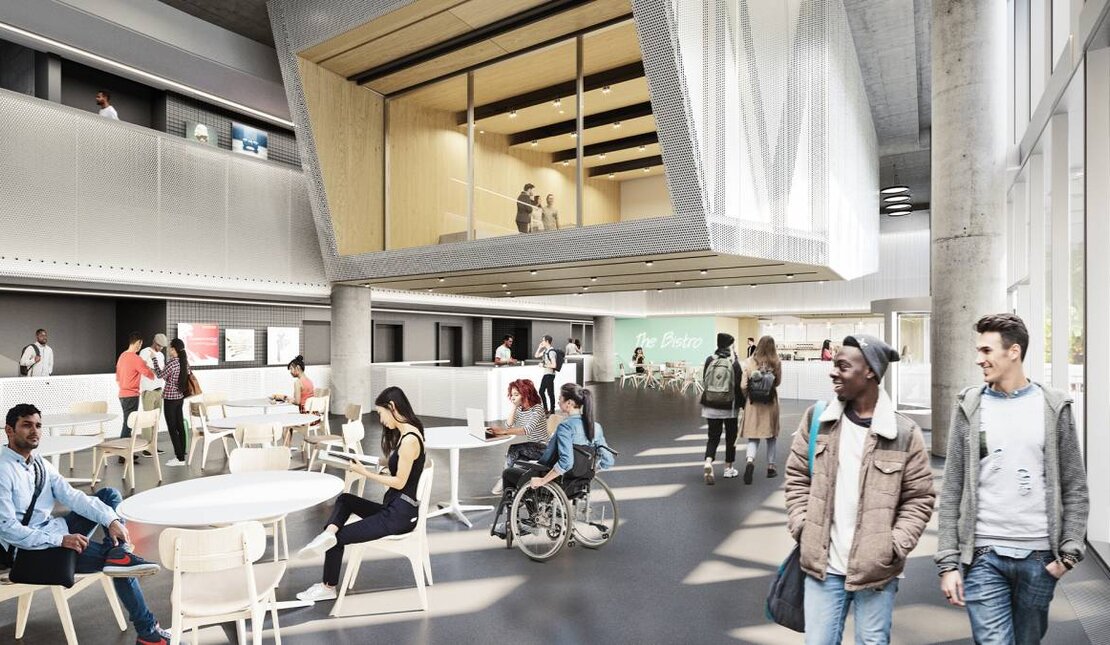 By Rebecca Blissett
On December 16, 2021
Community Spotlight
Since LaSalle College Vancouver (LCV) offers a wide range of programs that focus on the cutting edge of creativity in various streams, it only makes sense that the post-secondary arts and design school got creative with accessibility.
LCV is building a new campus next door to its existing site in East Vancouver's Renfrew neighbourhood. This new seven-storey, 108,000 sq. foot building will include state-of-the-art culinary kitchens, a gaming lounge, a suspended theatre, and outdoor space.  
Plans also include accessibility considerations for mobility, sight, and hearing disabilities across the campus, based on Rick Hansen Foundation Accessibility Certification™ (RHFAC) guidelines.
"Our current campus posed problems and inconveniences for individuals with disabilities," said LCV president Dr. Jason Dewling. "We wanted to design a building that would be as welcoming and accessible as possible for all persons."
Jane Vorbrodt is the RHFAC Professional brought on board to review plans for the new LCV campus which aims to achieve an RHFAC Gold rating. As the founder and principal of Vancouver-based Kuno Architecture, she specializes in accessible, inclusive, and universal design without sacrificing aesthetic appeal.
While her RHFAC Professional role means she oversees design through the lens of her expertise in accessibility, the designers and architects she works with also benefit as they learn in more detail about what actual inclusive design is all about. For instance, Jane worked with the landscape architect to remove outdoor benches at LCV that blocked building entrances for people with mobility needs. She also recommended accessible workstations in the industrial kitchens for LCV's culinary program.
"When people say, 'No one using a wheelchair is going to want to work in our kitchen,' well what if somebody who uses a wheelchair has always dreamed of doing just that?" pointed out Jane. "Making it accessible in the planning stages eliminates the step of having to make accommodations later."
LCV knew it needed to bring in the experts to make its new campus as accessible and inclusive as possible for anybody who wants to enroll in its programs, whether it be fashion design, interior design, jewelry design, graphic design, 2D or 3D animation, audio and film production, and the aforementioned culinary. It is also important there are no barriers for staff as well as any building visitors.
"I was asked the question once about what universal design looks like to me," said Jane. "To me, that is design that is invisible. Take accessibility ramps, for example. Rather than cramming it into a project as an afterthought, turn it into a feature that everybody can use. Integrate it into the landscape, so users don't feel like 'Oh. I'm on a wheelchair ramp that follows code.' Instead, build it as a really cool surface that leads everyone into the building instead of making people feel like they're having this alternate experience."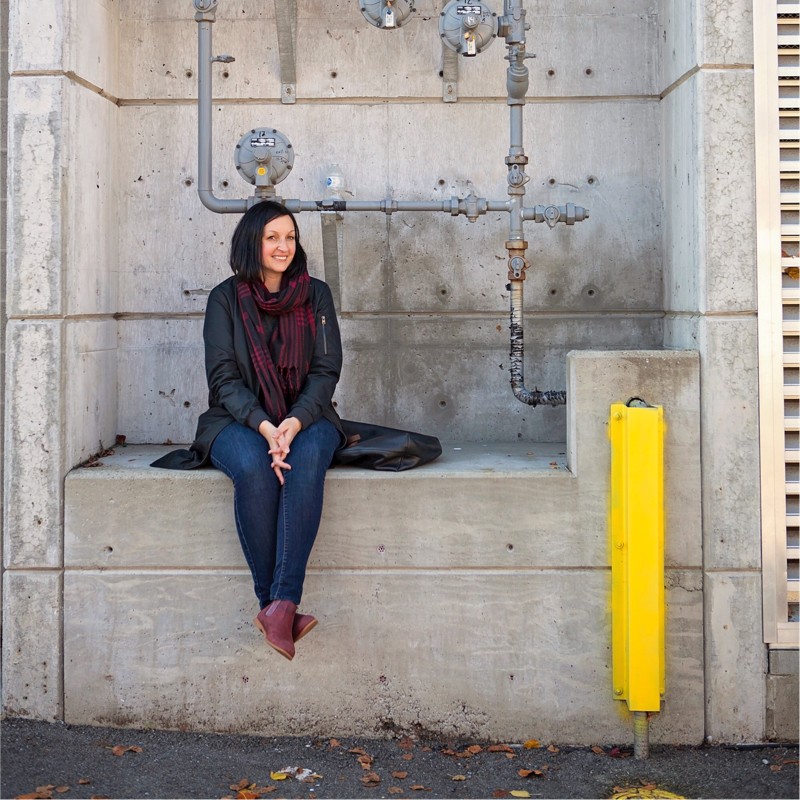 Great Design is a Team Effort
LCV is a design collaboration between two Vancouver firms – Thibodeau Architecture + Design (TAD) and Tony Osborn Architecture + Design (TOAD). Both are highly receptive to accessibility needs; TAD associate Harsh Mehra earned his RHFAC Professional designation in April 2021, joining the ranks of those trained in certifying existing and new spaces through the RHFAC rating system that measures and celebrates the level of meaningful access of buildings and sites.
For Tony, working with Jane was a great experience especially as designing accessibility for people with vision loss is not an aspect of design his team was asked to consider in previous projects. Jane explained the importance of colour contrast to his team, especially around features such as doors and transitions between floors and walls.
"Using this knowledge, we were able to develop a concept for the paint colour scheme that provides contrast while making the structure of the building more legible," he said. 
"For instance, the core at the centre of every floor will be painted dark grey with contrasting light grey highlights. On the other side of the corridor from the core, the classroom walls will all be painted white, with dark highlights. This is consistent on every floor. Not only does it function well for those with vision loss, but we were able to design these spaces to be ideal for displaying student work as well. It's a win-win-win."
Tony echoed Jane's thoughts on the benefit of incorporating accessibility from the planning stage.
"Higher education spaces by their very nature need to accommodate students and staff of varying abilities. Because it's an expectation at the beginning of the design process, accessibility features and requirements are able to be incorporated quite easily," he said.
This was especially key in designing LCV's suspended theatre, added Tony.
"Providing space for wheelchair seating near the entrance was fairly straightforward, but incorporating a platform lift to provide access to the speaker's area was a bit trickier. After several iterations, we were able to design a layout for the theatre that provides a great viewing experience, great acoustics, is universally acceptable, and is hung from the floor above – which is pretty cool!"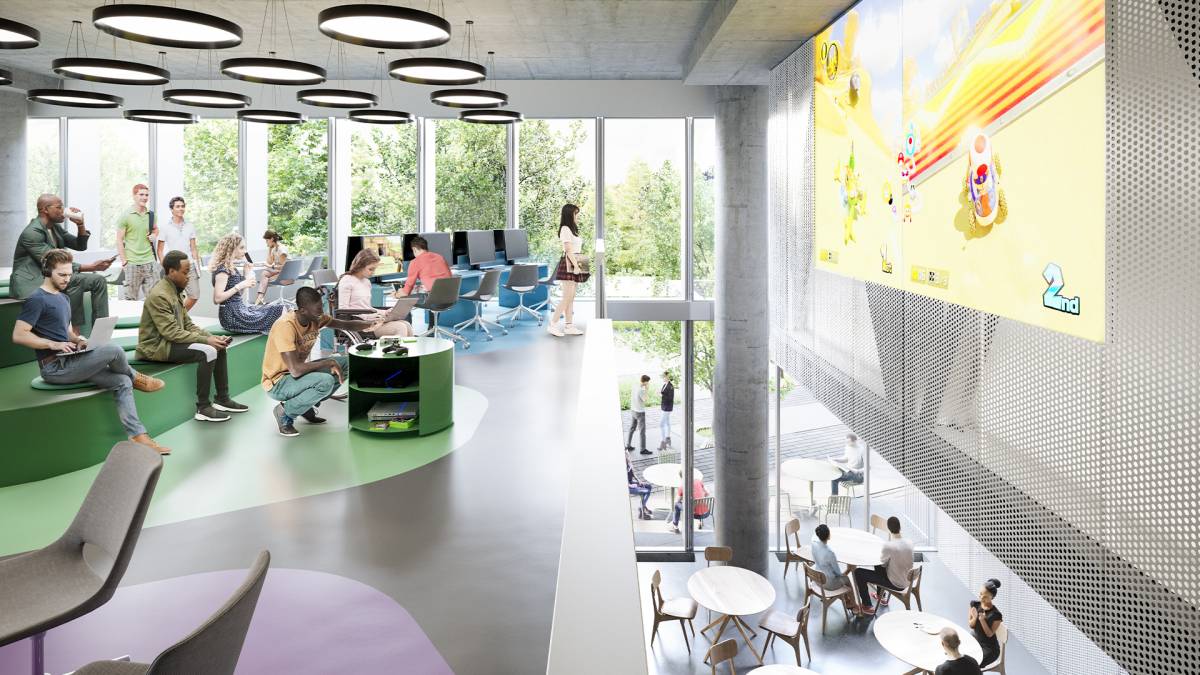 RHFAC Complements Design Ideas
Tony is excited for the building to open its doors so people can experience meaningful accessibility in a beautiful design for themselves.
"Most architecture isn't captured well in images or videos. You need to move through it with your physical body in order to understand and appreciate it. You need to discover it at your own pace and with your own senses," he said. "What a shame it would be to exclude someone from such an experience just because they have a disability."
This common thread draws client, designer, and consultant together – the desire to seamlessly offer accessible and thoughtful design with the help of RHFAC.
"What really gets me excited is the idea of universal and inclusive design," said Jane, adding, "where design is for everyone while reducing stigma and barriers."
LCV is expected to open doors to its new campus in 2023.