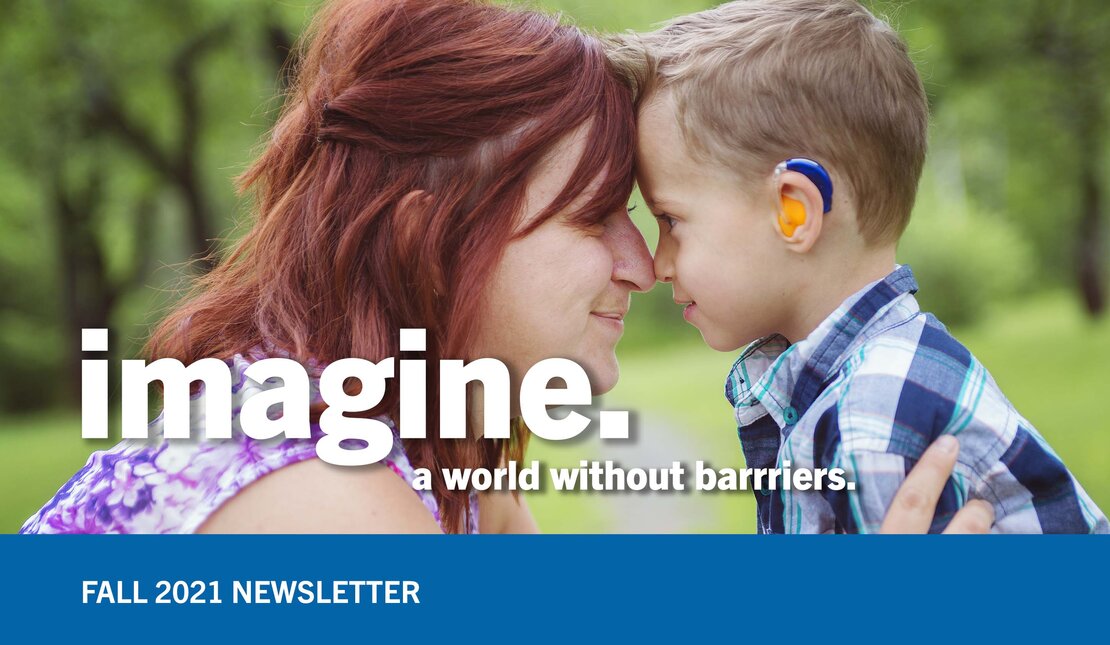 By RHF
On December 9, 2021
RHF News
The latest updates on the programs at the Rick Hansen Foundation for Fall and Winter 2021.
A Message from Our Chair
I am delighted to share with you the Fall edition of the Rick Hansen Foundation (RHF) newsletter that focuses on some key impacts your support is making to remove barriers for people with disabilities across the country.
Coinciding with pre-election discussions and debates that have taken place across the country on disability issues, RHF, in partnership with the Angus Reid Institute, released powerful new statistics that underscore Canadians' desire to ensure governments address the barriers that prohibit the full engagement of people with disabilities in the places we live, work, play and learn.
Through consistent engagement and partnership, RHF helped the City of Surrey to become the first municipality in Canada to adopt RHF Accessibility Certification into its municipal policy.
 
Ontario, granted volunteer hours to high school students who attended virtual RHF Ambassador presentations. The partnership helped students meet their volunteer obligations for graduation.
We continue to make great strides towards creating a more accessible and inclusive society, but our work is far from over. And with your continuing support and passion for our mission to create a world for everyone, everywhere we can be confident that our successes will continue.

  
With Appreciation, 
Tamara Vrooman
Chair, Board of Directors, Rick Hansen Foundation
 
---
In This Issue
New Angus Reid Institute Research
Milton Library Students Connect with Ambassadors
Oakville and Surrey Embrace Accessibility
The Yuel Family Physical Activity Research Centre
The Need for Improved Accessibility
---
Canada's Report Card on Disability and Inclusion
The Angus Reid Institute (ARI), in partnership with the Rick Hansen Foundation, recently polled 2,085 Canadians in a public opinion survey on disability, accessibility, and inclusion. The new data illustrates how people with disabilities continue to face barriers to employment and that Canadians agree accessibility should be top of mind for all future construction.
Corporate Canada Can Do Better
91% say it's unacceptable that people with physical disabilities are underemployed because of work- place barriers.
40% of people with disabilities say corporations fall short when it comes to hiring those with disabilities. This increases to 55% for 18- to 34-year olds with a disability.   
39% of people with disabilities say companies fall short in supporting employees with disabilities.
Canadians Consider Disability in Equity, Diversity & Inclusion
78% believe disability should be included in equity, diversity, and inclusion policies.
62% say they would be more likely to support a company with specific policies supporting people with disabilities.
Canadians Care About Access
92% believe that taxpayer funded projects should be held to the highest accessibility standards.
56% prefer a priority on BOTH environmental and accessibility concerns when it comes to how taxpayer money is spent.
78% believe there should be a national standard of accessibility.
 
View the full report at RickHansen.com/Reports
---
Empowering Youth
RHF Ambassadors Connect with Milton High School Students

Students in Ontario must earn 40 community volunteer hours to graduate from high school. But for the community of Milton, located an hour from Toronto, volunteering opportunities were limited due to the Covid-19 pandemic.
So, the Milton Public Library stepped in.
"I asked some of our current youth volunteers what we could do to help them and their peers through this," said Lisa Portelli, Milton's Teen Services Librarian. "They suggested having virtual workshops that focus on community issues which I thought was so forward thinking."
Lisa had a long list of proposed topics for workshops which included accessibility. She discovered the Rick Hansen Foundation School Program's Ambassador presentations and knew they would be a perfect fit. RHF Ambassadors were lined up for four weeks during July to speak about topics that included the importance of personal passions, perseverance, the power of teamwork, and being a difference maker.
 
July's Difference Maker Series at the library was a hit. Approximately 90 students attended every virtual RHF presentation and Lisa said she was impressed with their engagement.
"My biggest takeaway from the workshop series is the lesson we learned on underestimating people," said one of the students. "People tend to be quite judgemental when it comes to people with disabilities. They underestimate them and view them differently from everyone else."
"Educating myself and others on the issues will bring change when it comes to equality in the disability community."
---
Oakville Adds RHFAC to Accessibility Toolkit

Accessibility isn't a new concept for Oakville, Ontario, who is on a mission to become on of Canada's most livable towns. The town drafted its first version of Oakville Universal Design Standards (OUDS) in 2006 following the passing of the Accessibility for Ontarians with Disabilities Act (AODA) in 2005.
Andrea Jones, Oakville's Project Leader for Accessibility, Facilities and Construction Management, was familiar with accessibility from her construction background. When she took
the position in Oakville in 2019, she wanted to understand accessibility from the perspective of people with disabilities so she took the Rick Hansen Foundation Accessibility CertificationTM (RHFAC) Training and received her RHFAC Professional designation.
"I really wanted to know what was going on in the community, and what people needed and wanted," Andrea said. "I felt like the only way to do that was to immerse myself in these conversations."
Andrea saw the benefit of adding RHFAC to Oakville's toolkit as it ensured implementation of best possible national accessibility practices. Two of Oakville's buildings recently received RHFAC Gold ratings.
"Another aspect to RHFAC is to celebrate these accomplishments," said Andrea. "It's letting people know we're inclusive."
 
Trafalgar Community Centre, which opened in 2020, achieved a score of 88% putting it in the top percent of accessible buldings in the country. This achievement was earned for its meaningful accessibility features such as universal changerooms, accessible washrooms, a therapeutic pool with a ramp, accessible fitness equipment, and rehabilitation equipment.
The retrofitted Town Hall achieved 81% with the addition of accessible entrances, public pathways, accessible service counters, and an assistive listening device at the main service counter.
Nick Schoenhoff is one of the residents who benefit from accessibility. Nick, who sustained a spinal cord injury as a young adult, is proud of the strides Oakville has made towards accessibility.
"As someone living with a spinal cord injury in Oakville, it is incredibly encouraging to see how much of a priority accessibility has become in recent years. Their commitment and action toward creating a barrier-free place to live should be the standard other communities strive to meet".
---
Surrey: First City in Canada to Adopt RHFAC

The City of Surrey is an accessibility leader.
Since 2017, Surrey BC has rated 43 sites with RHFAC, achieving 25 RHF Accessibility Certified and five RHF Accessibility Certified Gold – the most of any municipality in Canada. When Surrey started its accessibility journey, the main challenge was that many washrooms lacked even the most straightforward accessibility considerations, such as automatic door openers.
"Imagine planning a fun family outing on a hot day, and getting to the water park to find that you or your child can't use the bathroom?" said Tara Cleave, City of Surrey Manager, Support Services and Accessibility.
This year, Surrey took the next step on their journey and became the first municipality in Canada to commit to building all future facilities and retrofitting existing ones to RHFAC Gold.
"The certification was a stepping stone for us," said Cleave. "As soon as we completed that first project, we thought, what else can we do better? How can we better serve our citizens, our staff, and everyone who interacts with us?"
---
Advancing Community Through Fitness
PARC is More Than Just a Research Centre Ambassador Presentations 

The Yuel Family Physical Activity Research Centre (PARC) is all about collaboration. The community- based research centre, which is partially funded through RHF's partnership with International Collaboration on Repair Discoveries (ICORD), is to nurture an active exchange of ideas between the community of people living with SCI and ICORD researchers.
Most of the exercise equipment at PARC, located in the Blusson Spinal Cord Centre in Vancouver, BC, can be used directly from participants' wheelchairs or is easily transferable from a wheelchair. The centre is a hub for individual exercise, personal training, classes, and friendly companionship and is an integral aspect of daily life for people such as participant Sean Lynn.
"It has become an amazing place of community with the volunteers and other participants," he said. "PARC has helped me maintain physical strength, social connections and good mental health, especially during this pandemic."
The Yuel Family Physical Activity Research Centre was named in recognition of Greg Yuel and his family's extraordinary contributions to advancing spinal cord injury research and improving the quality of life for people with disabilities. The Yuels are true champions for commitment to accessibility and inclusivity for all.
 
---
The Need to Break Down Attitudinal Barriers

Ben Ho Lung lost most of his vision when he was 18. He uses a cane to help navigate the built environment in his hometown of Toronto. But getting around isn't without the occasional mishap.
"I hit my head on a lot of different things," said Ben. "I know even in downtown Toronto, you've got pipes and different things coming out of the walls. Then there are the tripping hazards…"
 
What helps Ben and others who have vision loss is the consistency of the accessibility features. Having the same accessibility standards in built environments across the country eases the worry of going out for Ben and others like him. "Most of my navigation skills rely on muscle memory," Ben says.
Covid-19 precautions present another layer of challenges. For example, people with vision loss cannot often detect the clear plexiglass barriers that many businesses often hang from ceilings.
 
It comes down to awareness, said Ben. Even little things such as adding a strip of high-visibility tape to the edges of plexiglass barriers goes a long way to helping those with vision loss.
"I think, even in many disability communities, a lot of us don't know how to advocate for ourselves," Ben added.
---
Mom's Never-Ending Fight for Accessibility

Amanda Lawlor's daughter Mairin has hemiparetic cerebral palsy and has no functional vision in
her right eye, a combination that makes mobility challenging.
"Mairin has had some bad falls," said Amanda. "She once fell because there was a big crack in the ramp. I was told they were going to fix it right away, but they didn't. It actually has weeds growing up in the cracks now."
When Amanda first saw her daughter's junior high school, she knew it was a recipe for disaster for anybody with mobility issues. The grounds were so uneven that the school district's operations manager admitted it looked like it had been "bombed."
 
The solution was to create a five-foot-wide paved path across the parking lot to the accessible entrance when brought to their attention. They also planned to repave a 25-by-100 foot patch of the schoolyard.
"She's only going to be allowed in this block of space while her peers can go anywhere, which isn't even remotely inclusive," said Amanda.
Education and awareness are important drivers behind the Foundation's work because the most fundamental barriers that people like Mairin face are physical barriers in the places where we live, work, learn, and play.
While Mairin's school did recently repave the entire outdoor area so Mairin could play with her friends, Amanda said she dreams of the day accessibility is considered a basic right and not an inconvenience.
"There's so much more work that needs to be done so Mairin and others with disabilities can access places," she said. "People deserve better."
---
Gift of a Lifetime

Did you know you can leave a legacy through a planned gift to RHF? A planned gift is a donation made outside of your current income which allows you to contribute to improving the lives of people with disabilities with little or no effect on your lifestyle today. This can be done through your will, securities, your RRSPs or life insurance.
Your planned gift is tailored to you and your family's needs and goals, life stage and financial situation – even a modest gift can make a significant difference to the work you support!
Learn more at www.RickHansen.com/Legacy
---

Yes! I will help build an accessible future for everyone, everywhere.