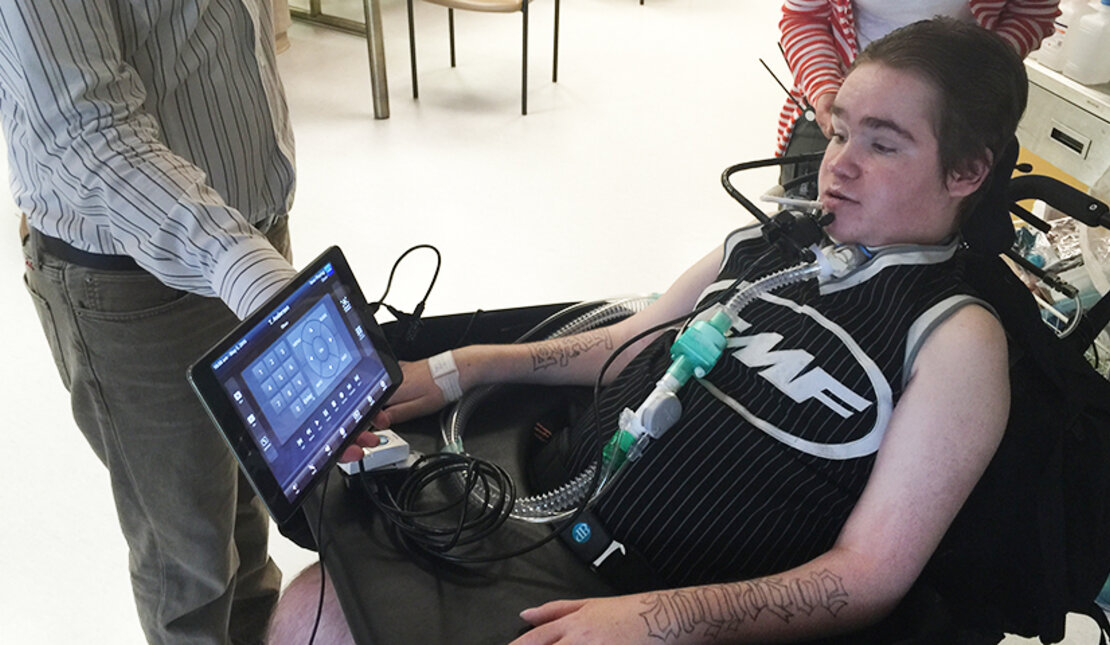 By Melanie Scott
On September 12, 2016
Community Spotlight
The Rick Hansen Foundation's Quality of Life Grant Program helps break down physical barriers to accessibility and provides greater independence and increased self-esteem for thousands of Canadians living with a disability. In 2015-16, we provided a grant to Trez Anderson, a young man from Alberta, to help him regain some independence after a severe spinal cord injury. Here's how a Rick Hansen Foundation grant helped change Trez's life.
While recovering from a devastating complete spinal cord injury, Trez Anderson was able to regain some independence and perform tasks on his own after receiving a grant from the Foundation for an environmental control unit, a device that allows people with mobility impairments to operate electronic devices, including televisions, computers, lights, appliances, and more.
A severe spinal cord injury in 2015 left 19-year-old Trez with quadriplegia. Suddenly he was dependent on a ventilator to breathe, on tubes to be fed, and on the schedules of staff at his long-term care facility, to perform all his tasks. Even simple activities like turning the lights on and off, opening and closing the blinds, and changing TV channels were out of his control.
Although he has limited head movement, Trez is able to move his face and mouth muscles relatively freely. He can call for assistance by puffing out his cheek to a micro-light switch that alerts nursing staff.
Trez was very excited about acquiring an environmental control unit which would give him greater freedom and the ability to do more things on his own. His wheelchair was fitted with a tablet monitor, which he operates using a chin-based joystick and sip-and-puff controls. After a few lessons with a program technician, Trez can now operate his blinds, lights, and a fan; select his own TV channels; and email his family and friends without having to ask and wait for assistance. Having greater independence, he continues to set goals for himself that give him purpose.
"The environmental control unit has made a huge impact on my life," he says. "I want to be treated like everyone else. I don't want to be seen as a person with a disability, but rather the person that I am."


                                                                                             ***

Please note that we will be launching a new grants program in late-September 2016 which will provide funding to qualified recipients to improve the accessibility of certain public spaces. Detailed grant criteria and guidelines will be available on our website at rickhansen.com/access4all so please check back!