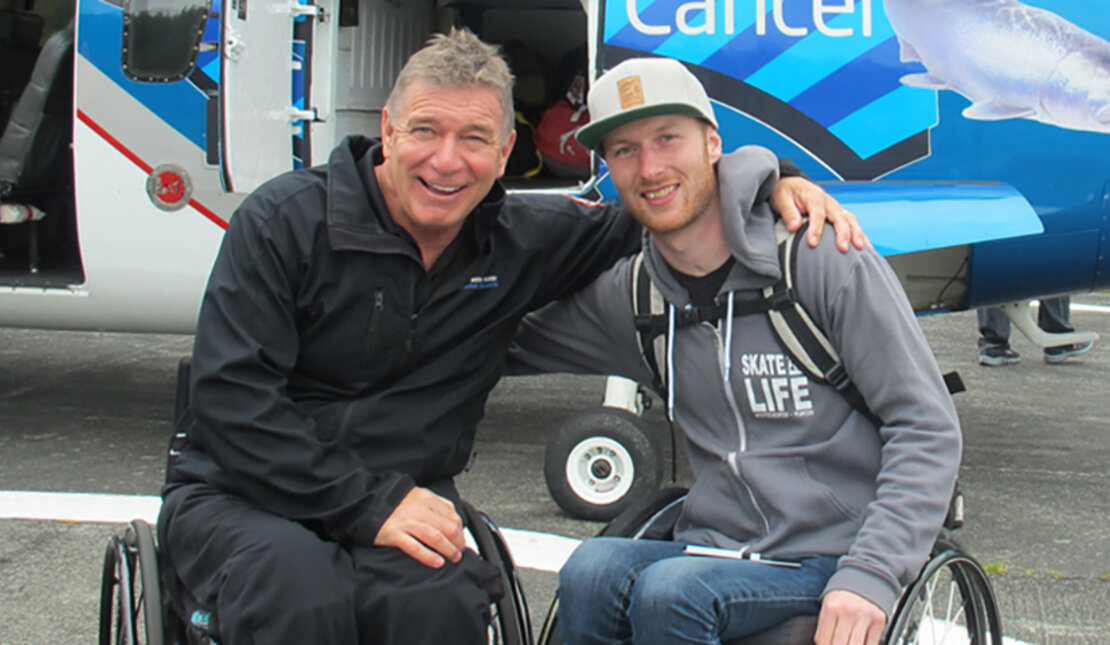 By Melanie Scott
On September 6, 2016
Community Spotlight
Darryl Tait has always been an athlete and extreme sports enthusiast. Fresh out of high school, he was pursuing a career in freestyle snowmobiling with the goal of competing in the X Games. But one day, while executing a backflip on his snowmobile, the engine suddenly stalled, causing the snowmobile to fall on top of him, crushing his spinal cord and leaving him a paraplegic.
After his accident, he relied on support from his friends and family; the close-knit community in Whitehorse, where he lives; and social media, which connected him to the vibrant, growing world of extreme adaptive sports, such as WCMX, a wheelchair version of BMX biking.
He still felt extreme sports were still his safe place. Even if he couldn't ride in the same way as before his injury, he was determined to continue following his passion. "I'm about living life to its fullest potential," he says.
Making New Connections
A family friend arranged for Rick Hansen to visit Darryl in hospital in Whitehorse after his injury - an amazing experience for him and his parents, who remembered the Man in Motion World Tour and Rick's achievements as an athlete and role model.
To find ways to cope with his new situation and get back into sports, he credits social media for providing a means of networking with champion adaptive athletes in WCMX and snowmobile. Despite fears by family and friends that he could have another accident, Darryl set a new goal to compete in the X Games in adaptive snowmobiling. When he finally competed and achieved his goal, he, like many athletes, struggled to find a new path. He returned to college to take a welding course so he could repair his own equipment.
Inspired by Rick's legacy, Darryl also became a Rick Hansen Foundation Ambassador. He wanted to use his own experiences of overcoming challenges to enhance the quality of life for people with spinal cord injuries and create positive change.
Breaking Down Barriers
Darryl is a thriving, active person. He owns a car and can generally move around his town easily. His disability only becomes an issue when he hits a barrier.
"Main St. should be the most welcoming street in any town, and it usually isn't," Darryl says. Snow is sometimes piled high on ramps because "nobody uses them anyway," and he has to plow through to access buildings.
He faced a major barrier in the built environment when he enrolled in a welding course only to discover the college facility was accessible for everyone - except for those taking welding. Because the classes were held on a lower level lacking an elevator, he could access the area only through the back entrance. To reach other parts of the college, such as the cafeteria, he needed to go outside again and find another entrance.  
Teaming up with an instructor with age-related mobility challenges, they convinced the college to scope out space and install an elevator. To be fully accessible, the built environment must accommodate people with differing experiences of disability and illness, and anticipate the needs of older adults and seniors who represent a significant and growing percentage of the population.
Living Life to Its Fullest Potential
Darryl encourages everyone, regardless of ability, to point out accessibility barriers in the built environment to businesses or building owners. He will be working with the Rick Hansen Foundation Access & Inclusion team this October to help improve accessibility in all the places where we live, work, and play.
He also believes in moving forward no matter what the circumstances. During the welding course, he faced an employment barrier getting an apprenticeship when a business owner explained that Darryl's "unique circumstances" meant he couldn't work with them. Despite this, Darryl took on small projects of his own to learn the trade. He also works with the Whistler Adaptive Sports Program, coaching clinics with adaptive mountain bikers, and advancing the popularity of adaptive sports in person and on social media.
Despite his training and work schedule, Whitehorse remains his home.
"I love the freedom of the North and its people. Life for me is really about community and teamwork," he says.
Learn more about the Rick Hansen Foundation's Ambassador Program, or book an Ambassador presentation at your school or community event, at
rickhansen.com/ambassadors
.