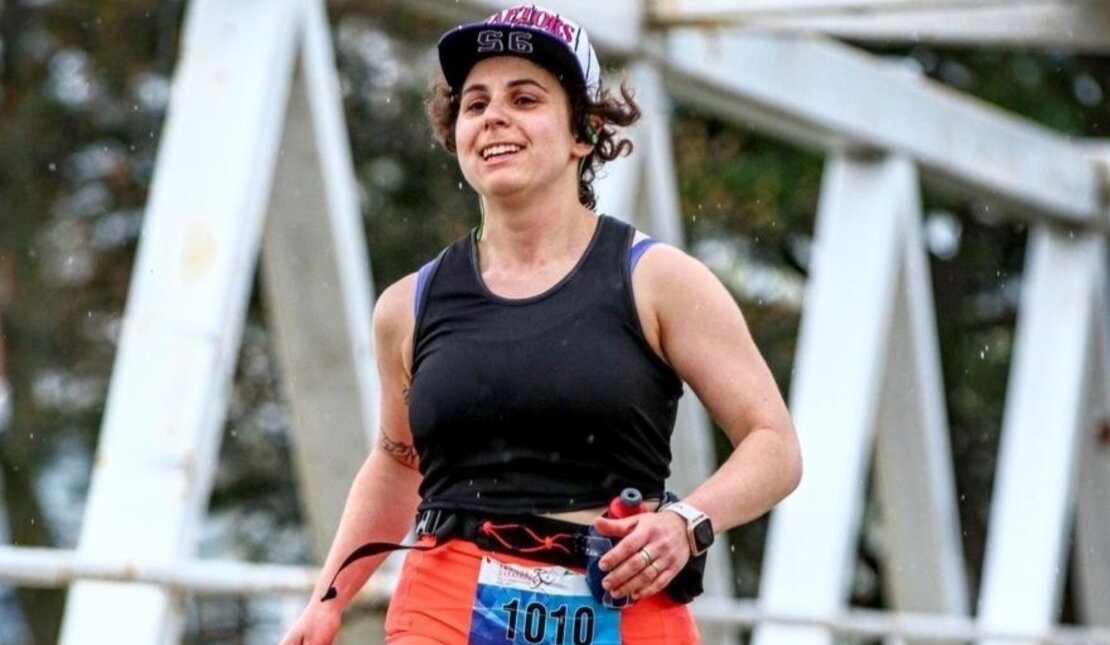 By Rachel Ganz
On June 16, 2023
Community Spotlight
It was the second kilometer of my first full marathon and I was already panicked.
I was following the 4:30 pacer, a tall, forty-something man wearing bunny-ears and holding a towering sign that read "4:30." My strategy was to follow his every step. Despite my Retinitis Pigmentosa (RP), a congenital eye disorder which caused the loss of my peripheral vision, I still have clear central vision. This had helped me follow other runners on the paved paths I frequented on my many training runs leading up to the Toronto Marathon.
But, on race day, May 7, 2023, as the starting corral filled, a dedicated group of runners crowded around the pacer, forming a wall that stretched across Yonge Street, one of Toronto's largest and busiest streets. Instantly, my tiny quarter-sized field of vision was jam-packed with pony-tails and baseball caps. I planned on following the pacer, as if he were my personal guide, but suddenly, my limited vision was overcrowded. I couldn't see him and I felt suffocated by the crowd of runners. I began to panic.
In the second kilometer the 42-kilometer race route, I was just to the left of the pacer, behind a woman with two knee braces​,​ and a thick-calved man in​​​​ shorts. Just ahead of them, I could see a pocket of empty space. As we turned back onto Yonge, I squeezed past the thick-calved man and stepped in a wide crack, nearly twisting my ankle. Luckily, I was able to shake it off and continue, instantly feeling safer away from the crowd where I could scan for context clues.
Just past the 401 Freeway, I saw a runner wearing a bib marked "Blind Runner," running with another runner marked "Guide." They weaved through the crowd, passing at a steady pace.
I had only witnessed one other guided runner before. Months before the marathon, I was training ​​ in The Leslie Street Spit, a nature reserve near Toronto's waterfront. The runner was holding a rope as their guide held the other end of the line and led them along. The runner was clearly uncomfortable as I saw her stop her guide twice within a short distance to ask for re-orientation. Watching her, I felt terrified. B​​ut, I watched the Toronto Marathon blind runner easily rely on their guide and I was inspired by their quick pace and graceful form. I watched for as long as possible before they sped ahead.
Running with Retinitis Pigmentosa
RP adds many obstacles to running: Loss of peripheral vision, light sensitivity, low-contrast, constant flashing lights and the threat of absolute darkness in the event of a tunnel or an overcast sky or an unfaltering crowd. All of these barriers can be alleviated by having a guide. For the past twenty years, I have run as a way of treating my anxiety. But in 2018, when I was diagnosed with RP, I stopped ​​running for two years. I had become very aware of my visual limitations and felt increasingly afraid to run outside.
Since then, I've had some mobility training. I've learned to walk with a cane which has helped me understand the boundaries of my tunnel vision. I now wear amber-tinted lenses for added contrast. Most importantly, I moved to a more residential Toronto neighbourhood where the parks are plentiful and the streets are not busy. Running began to feel safe again and by 2022, I made it my goal to run a full marathon.
I was successful enough as a solo runner that I believed I could run the race without an official guide. I didn't realize I would encounter barriers right from the start, when I checked my bags at the marathon.
Navigating the marathon
Baggage check, despite the website's directions, was not easy to find. As I scanned the crowd for two giant white trucks, I overheard a woman tell a small group, "Give me your bags, I'll put them on," and I followed her through the winding line. When I was close enough to the truck, I held my bag in front of me until someone grabbed it. Slowly, I turned around and joined the washroom cue.
​​​​​In the aisle of blurred green portable toilets, I heard a door open and slam shut. I turned and scanned to find the "vacant" stall. I opened the door. A hand quickly pulled it shut. "HEY!"
I backed away from the toilets just as a woman yelled​,​ "This one is open!"​.​ She held the door until I found her. I peed in the dark, used my own hand sanitizer and left to find my starting corral.
Usually in large races, corrals are clearly marked by colour. But, for some reason, these corrals were unmarked. The street and sidewalk were overwhelmed with people. I gave up looking for my corral and moved all the way to the back of the race, situating myself behind the 4:30 pacer and refusing to move.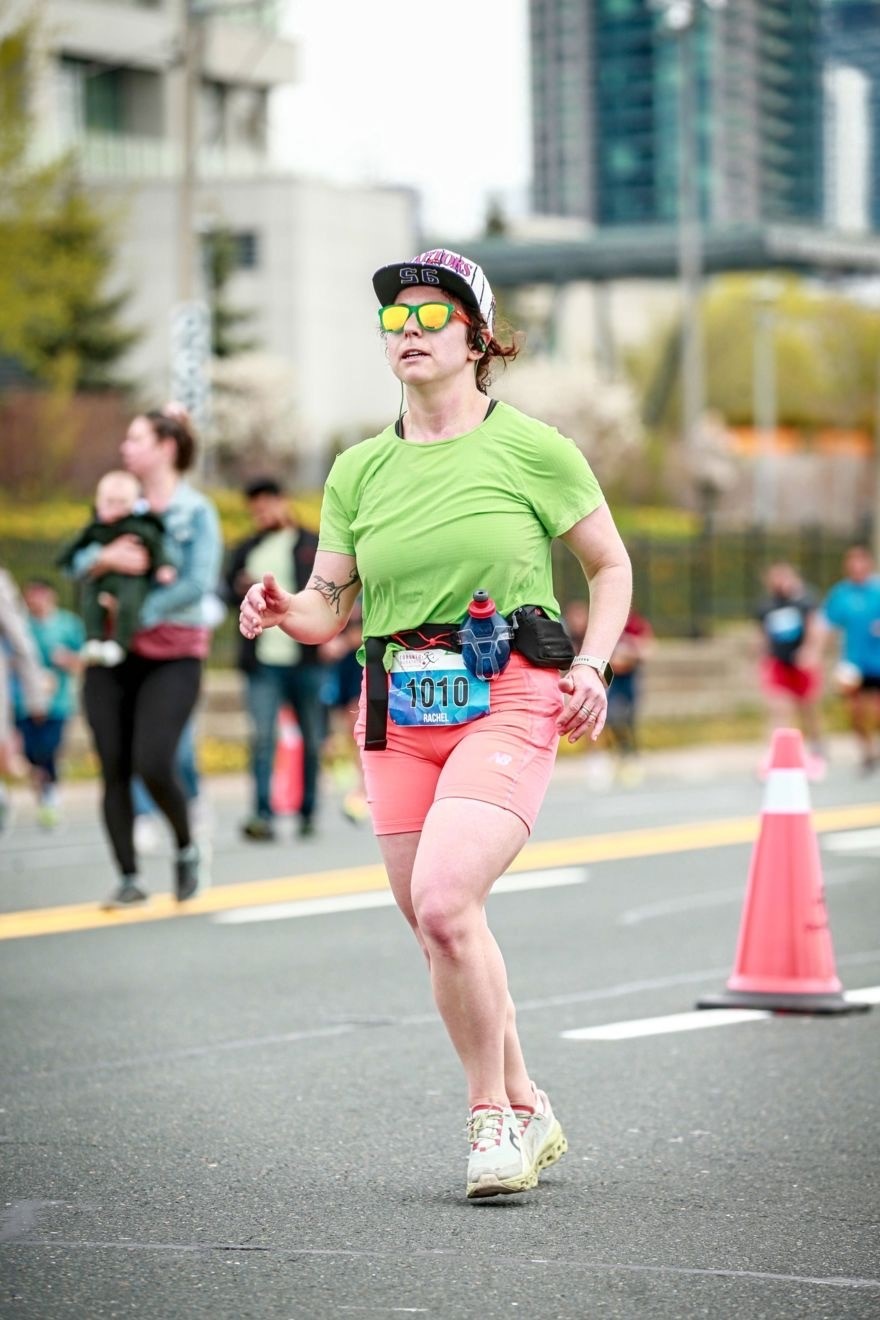 Running the race
For ten kilometers, I was swallowed by a mass of runners. When the marathon runners turned onto Chaplin Crescent, the half-marathoners kept running down Yonge and suddenly, the route was nearly bare. But, when we re-convened with them at Rosedale Valley Road, they charged into our route, nearly three times as many runners, seemingly twice as fast as our group. Their footsteps were stomping. The space was cramped. I couldn't breathe. Beneath the dark canopy, I sunk into the crowd and slowly lost my motivation. With only half the race completed, I felt like quitting and I wished I could see the other blind runner, if only to soak in his calm.
We stormed off the Bayview Extension onto King Street. The air felt cool and I realized that ​ ​my mouth was a desert. My own water supply wasn't enough. The water stations were chaotic and littered with cups. I stopped running to scan my surroundings for passing runners before I zeroed in on an outstretched hand. I thanked the volunteer, took the cup, and guzzled.
At Coronation Park, we separated from the half-marathoners again. This time the pass was unmarked but for one volunteer yelling, "MARATHONERS." I stopped to ask which way she was pointing and was nearly trampled by half-marathon finishers.
En route to Humber Bay, I was exhausted. I ran the rest of the race with walking intervals. The 4:30 pacer passed me. Two people remained by his side. "My son will be waiting for me at the finish," I heard him say. I tried to follow but my legs were lead.
Just as it started to rain, I saw the finish line and sped up. I was so relieved, I didn't even realize that no one was there to hand me a medal.
After the finish line
"I really need water," I told my boyfriend, Navid, the second I saw him at the finish line.
He had been standing close enough to yell my name and find me just steps from the finish. He guided me to a building where runners were leaving with crates of food and bystanders flooding the foyer for shelter.
"I need to guide my girlfriend inside. She's blind," Navid told the security guard.
"Sorry. Only participants allowed," the security guard insisted.
"No, but she's blind."
"It's policy."
Navid begged until the guard relented. He guided me into the crowded room, moving me through the aisles of food, most of which seemed to be bare.
"These are bananas. These are crackers. This is jerky."
"Where is the water?" I asked him.
Eventually he found crates of a purple electrolyte drink. As I hydrated I realized, "I need my bag."
Eventually, a participant pointed us towards a mostly empty area of floor where unattended bags were piled in order of bib number. Navid helped me find my bag.
"Do you have your cane?" I unfolded my cane and we quickly found our way out of the building.
As we left, my mother finally found the medals. She stood by as I wore mine. She hugged me. I didn't feel proud right away.
"I saw a blind runner," I told my mom.
"I saw him too," she said. "He finished a while ago. Isn't that amazing?" ​​
I pictured the blind runner passing the finish, high-fiving his guide, the 4:30 pacer hugging his son, high-fiving his two faithful followers.
And I tried to imagine myself, next year, high-fiving my own ​​​​guide, but I couldn't quite picture it. Where would I even find a guide? The task seemed instantly impossible.
When I got home, I wondered if I would ever run another marathon. But as days progressed I realized the amount of practice it took to become a runner again. I took thousands of baby steps to arrive at that starting line. Training for the marathon taught me persistence and confidence. A year of work taught me that I could defy my obstacles.
After a week of reflection, I knew I had to run the race again. Though it may take many more baby steps to find the right guide, I keep remembering the blind runner I saw at the marathon. I can see myself running with a guide, weaving gracefully between the other runners for 42 kilometers until, eventually, we high-five at the finish line.