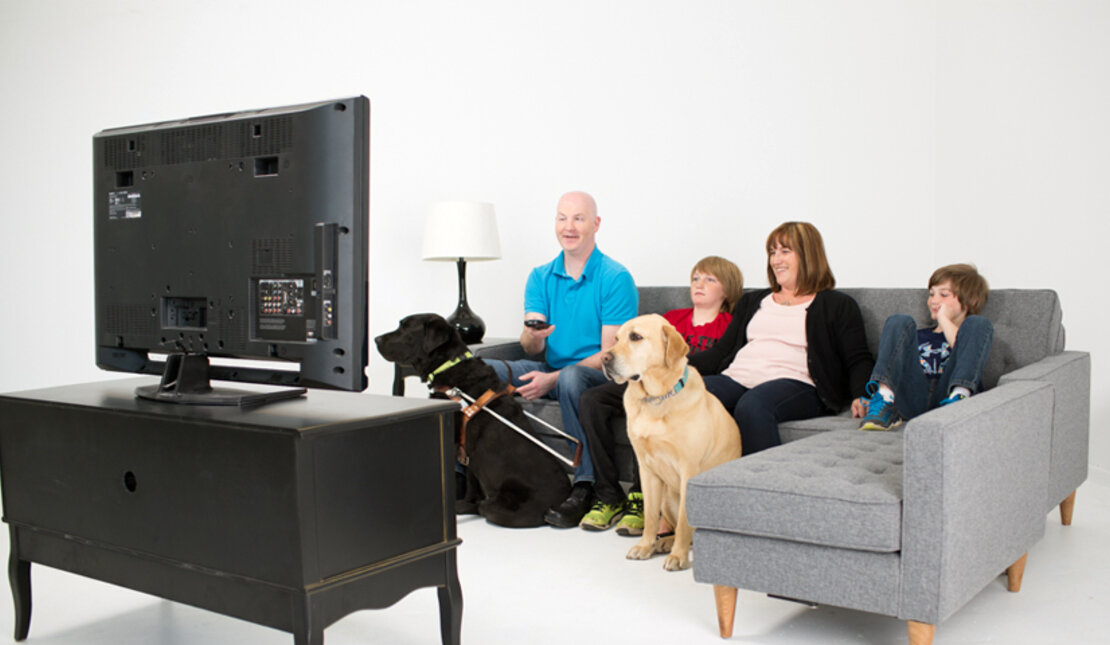 By Guest Blogger
On January 9, 2017
RHF News
How do you connect with the people in your life? Maybe you text or talk on your phone, or you post on Facebook, Twitter, Instagram or Snapchat. And how do you keep up with what's happening in the world? From downloading your favourite podcast to reading the news on your iPad to binge watching the latest Netflix series, we can access more information faster than ever before.

Our world is filled with information from the minute we wake up to the time we fall asleep, and often, media is the primary way we connect with each other. We connect with our communities through learning about what's happening around us. But what if the media we consume is not accessible to us?

For members of the blind and low vision community, many types of media have remained elusive because they aren't accessible. Before the internet, print – more specifically newspapers and magazines – were virtually inaccessible. It was this inaccessibility of media that lead to the creation and growth of Accessible Media Inc., an organization that serves the blind, partially sighted, deaf, hard of hearing, mobility or print-restricted community by offering accessible broadcast services for all Canadians.
 
How Accessible Media Inc. came to be
Accessible Media Inc. launched in 1989 as the National Broadcast Reading Service (NBRS) to provide equal access to published news and information for all Canadians with vision restrictions. NBRS later launched a radio reading service called VoicePrint, and recorded the reading of hundreds of hours of magazine and newspapers articles so Canadians could have equal access to print materials.

In 2008, the NBRS launched TacTV, the world's first and only television network to broadcast all programs with closed captioning and described video. Then in 2010, NBRS became Accessible Media Inc., and VoicePrint and TACtv became AMI-audio and AMI-tv.
 
What does 'accessible media' even mean?
Accessible media refers to audiovisual media content can be used, read or viewed by people with disabilities, particularly those who are blind, vision impaired, Deaf, hearing impaired or who have a physical disability.

An example of a piece of accessible content is a video with closed captioning, described video (more below), and a transcript for Deaf and/or blind viewers.
 
What is described video exactly?
How do the visual elements in a television show or a movie bring a story to life? Can you remember a time where you were moved by the display of an emotion or perhaps you solved a storyline by recognizing a visual clue? Described Video (DV) is the narrated description of a program's non-verbal elements that may include setting, action, costumes, and body language. Description is added during pauses in dialogue and sound effects and enables people to form a mental picture of what is happening in the program. DV uses a separate audio track that is added after the program has been completed. DV allows people who are blind and partially sighted to fully enjoy the television, movies and other media they want to watch with their friends and families.

Here's an example of how DV can make a difference in how you interpret the information you receive from a story with sound alone:



All of AMI's programming is available with described video, and described video options are available through other broadcasters as well. Check out the Described Video Guide for a comprehensive list of all programs across all stations in Canada available with DV. Listings are available online or by phone up to five days in advance.
 
What kind of accessible content can I find on AMI?
AMI-audio focuses on live programming geared towards disability issues, advocacy and inclusion. AMI-audio also still reads a curated selection of magazine and newspaper articles daily and carries a selection of disability focused programming from around the world, including several BBC programs.

AMI-tv provides dedicated coverage to events and happenings in communities across Canada with programs like AMI This Week and ATW Weekend Edition. AMI-tv also carries a selection of specialty programming focused on the blind and low vision community along with several live described events.

AMI-tv also has Embedded Described Video, or Integrated Described Video (IDV). IDV is a method of producing television content for blind and partially sighted audiences from the ground up, where the identification of key visual elements of a story are incorporated into the pre-production and production phases, so that traditional DV is not required after the program has been packaged. Many users find IDV less intrusive as an extra voice is not featured within the program itself to describe what's going on.

AMI uses IDV in many of its original television programs including Four Senses, a cooking show with an accessibility twist. Celebrity chefs Carl Heinrich and Christine Ha cook up recipes that appeal to all the senses and offer accessibility tips in the kitchen. Chefs Carl and Christine use every opportunity to give rich description of how their delicious dishes are made. They also include helpful cooking related tips, from tactile ways to measure ingredients to placement of items around the kitchen.
Moving towards a fully accessible world
It's not just movies and television that should be accessible. Social media is increasingly becoming the way many of us connect with the world around us. In fact, 74 percent of AMI's community members are active Facebook users and 86 percent use YouTube to find and consume content.

Social media companies are recognizing this growing population and are slowly introducing new accessibility tools to improve user experiences.

AMI believes individuals and organizations want to do the right thing and make their social media content accessible, but many aren't aware of the tools that are available and how quickly assistive technology is evolving. Take a look at AMI's brilliant K9-Online video that's raising awareness about digital accessibility!



AMI has a passion to make accessible media for all Canadians. Check out its programming and let us know what you think!

***

Guest authour: Elaina Falcone is the Marketing Communications Specialist at Accessible Media Inc. (AMI). AMI is a not-for-profit multimedia organization serving more than five million Canadians who are blind, partially sighted, deaf, hard of hearing, mobility or print restricted. Operating three broadcast services, AMI-tv and AMI-audio in English and AMI-télé in French, AMI's mission is to make accessible media for all Canadians. Follow them on YouTube, Facebook, and Twitter.