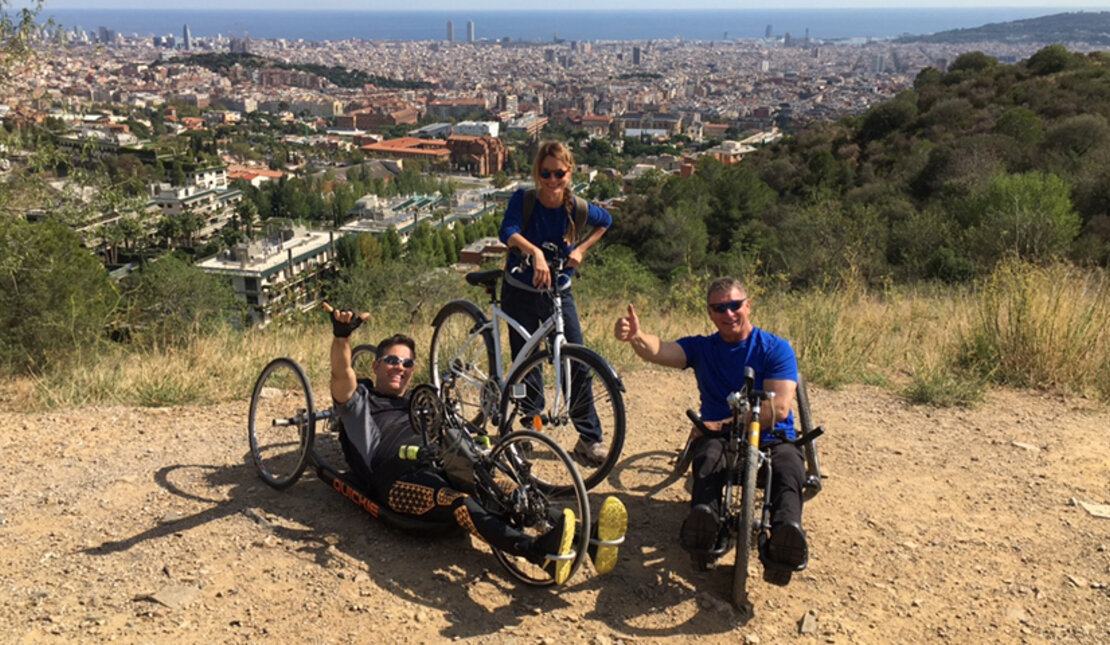 By Rick
On December 15, 2016
Leadership
In October, I had a once in a lifetime visit to Barcelona, Spain to film Catalunya Experience, a popular travel show that creates a tailored made experience for each guest that is full of unexpected surprises.

The show profiles the Catalan region's historic landmarks and stunning landscapes as seen through the eyes of visitors from all around the world. I was privileged to be chosen for a special episode that showcases accessible travel, one of the fastest growing segments of the global tourism industry.

This episode was particularly significant as it marked both the final episode of the second season and also the series finale of Catalunya Experience. Last night, my episode officially aired in Spain, and you can now watch it online.

One of the greatest joys of traveling is meeting the local people. I met with a number of local champions who not only highlight the amazing potential of people with disabilities, but are also leaders in their respective fields of sport, architecture, business and music.  I was blown away by the friendships I formed and the tapestry of places I visited, all of which were richly aligned with my personal values.

Below are behind-the-scenes photos and highlights from my Catalunya experience.
 
Day 1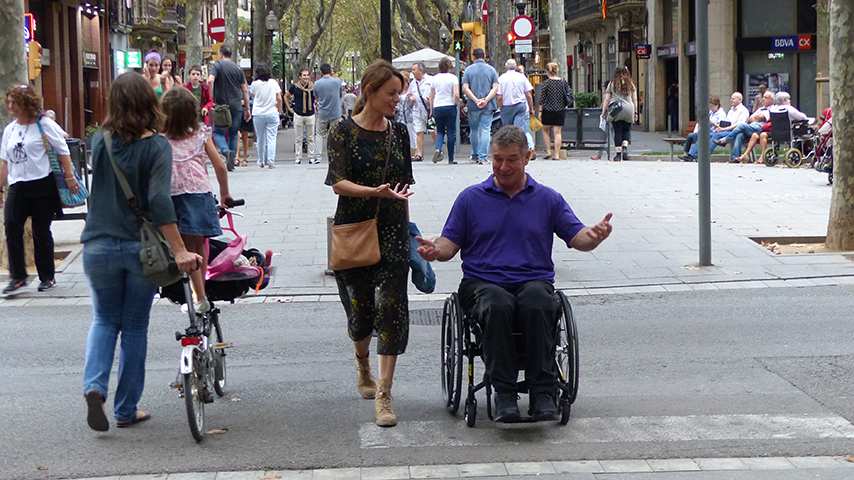 Rick and Ivana exploring Poblemnou neighbourhood

I started my adventure in Barcelona by exploring the neighbourhood of Poblemnou, which translates as "new village" in Catalan. I was struck by the level of accessibility in this inclusive community. People young and old, on bicycles, pushing strollers, shopping carts and in wheelchairs all shared the wide promenades. It was part of my original dream to see a world without barriers. It was powerful to see people all using wheels in motion and unlimited by any barriers. To enhance the quality of a neighbourhood, we need to build communities around people first, not just as spectators, but also as contributors.

My host Ivana and I ended the tour outside an old casino building, which has since been transformed into an intimate theatre. Remarkably, the slopes of the floor and the seats in this historic building could be adjusted to the height of the stage for accessible entertainment. Inside, I was greeted with a private concert by Blaumut, a local folk band. Their music reminded me of the familiar vibe, spirit and strings of the East coast of Canada. A little taste of home in Barcelona!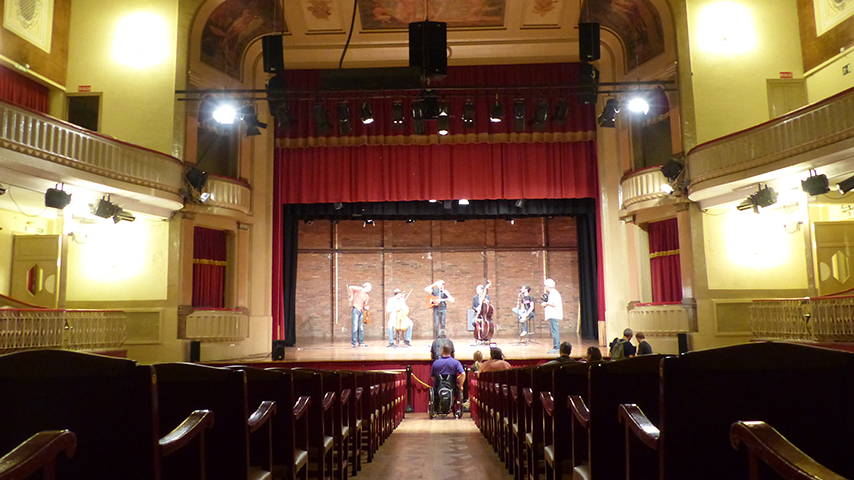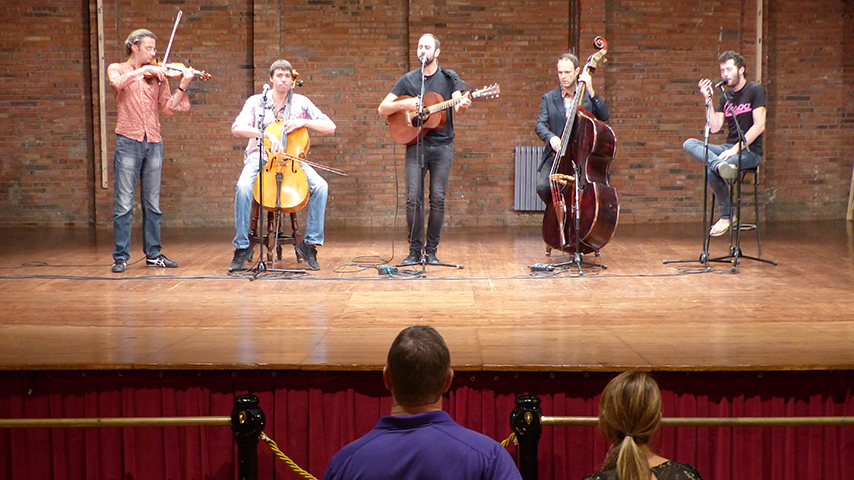 Rick and Ivana at a private concert with local folk band, Blaumut

I was also pleased to discover that I'd be spending my week at the Hotel Ilunion Barcelona, a fully accessible hotel, where 70% of its employees are people with disabilities. As baby boomers age, they increasingly have disabling conditions. This shouldn't stop them from traveling. An inclusive hotel like this only proves that serving guests with a disability can be a successful and profitable business model.
Day 2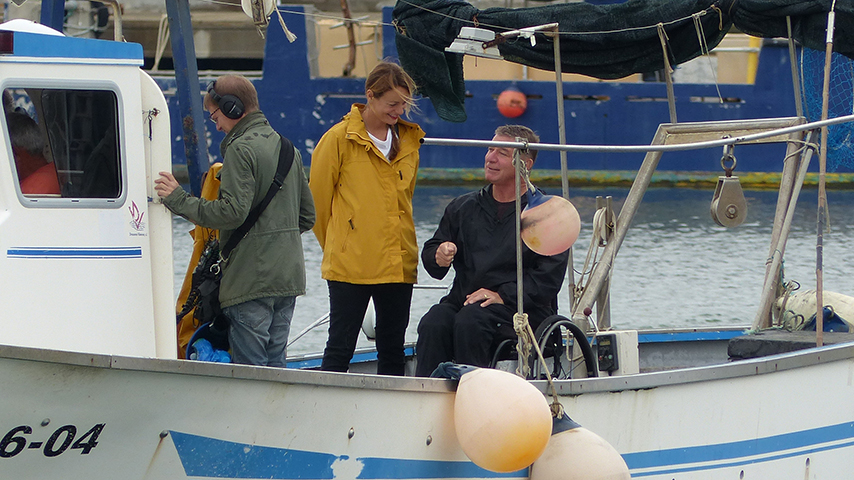 Rick and Ivana fishing for octopus

I feel like I was born with a fishing rod in my hand. Fishing to me is more than an activity, it's the people and the experience that unfold along the way. My earliest childhood memories are fishing with my grandfather, and it's on these journeys that I've learnt some of my greatest life lessons.
I couldn't believe that we'd be fishing for octopus, something I'd never done before. Everything about it was completely different. From setting the traps to reeling in the octopus pots, I learned to work the waves with our fearless captain Eduard Escolar, at the helm.

I've been raised on the water, so waves are natural to me. Through the years, I've learnt where to sit to ensure my wheelchair is secure. There are no limits if you have a disability, but it's also a sign of strength to ask for and accept help. At one point, my chair started to move outside the harbor, and I asked the crew to help me to reconsider my position for stability.

There is no such thing as a bad fishing day. It was a treat to knock octopus off my fishing bucket list!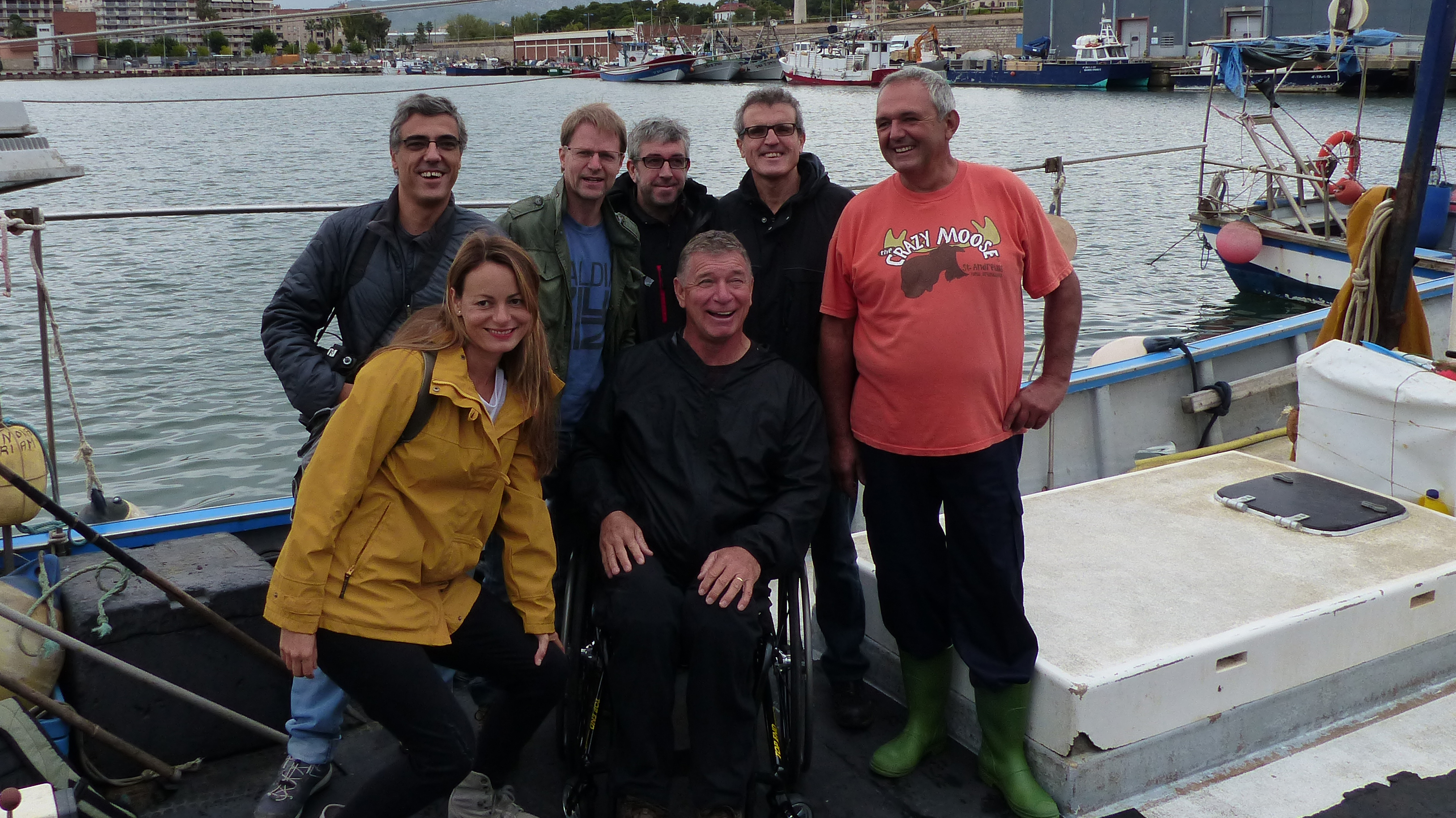 Rick, Ivana and crew fishing for octopus
Day 3

Poblet Monastery, 12th century Cistercian monastery

It was humbling to visit Poblet Monastery, a Cistercian monastery built in the 12th century and situated in a vineyard valley on a hillside. We all need a level of faith when we face challenges and move forward. Visiting Poblet filled me with nostalgic and sympathetic emotions of gratitude. I was reminded of my time in Rome during the Man in Motion World Tour when I had the privilege of meeting the Pope, who provided me with much needed encouragement.

Fra Octavi was our wonderful host at Poblet and I was honoured to be invited by him to join the monks for a private lunch.  Prayers and readings from the bible preceded our modest meal, which was eaten in silence. It was a rare perspective into the monastic and contemplative rituals of another life.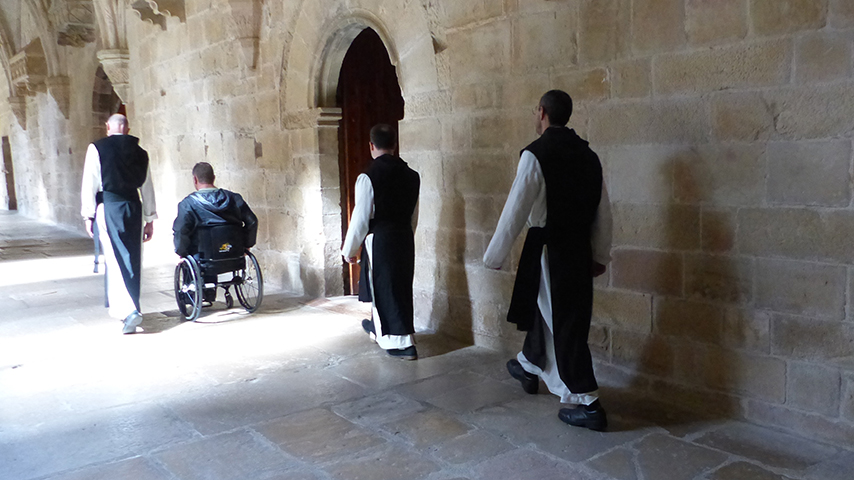 Rick and monks in Poblet Monastery

Leaving Poblet, one of the biggest surprises for me as were going through the rural village located in the South of Catalan, was to see a Modernist church in the middle of another vineyard.  With the backdrop of the setting sun, it seemed to have been transplanted from out of nowhere, like a castle reaching for the sky. It's a magical moment I'll never forget.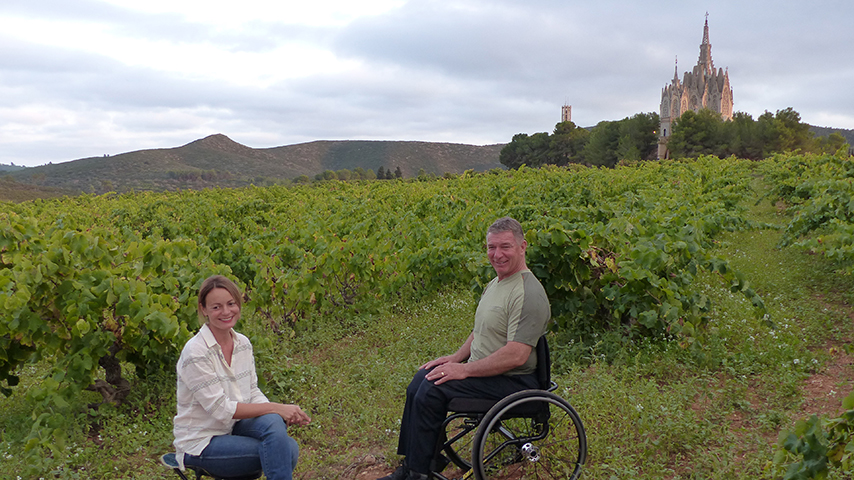 Rick and Ivana in a vineyard with a church in the background
Day 4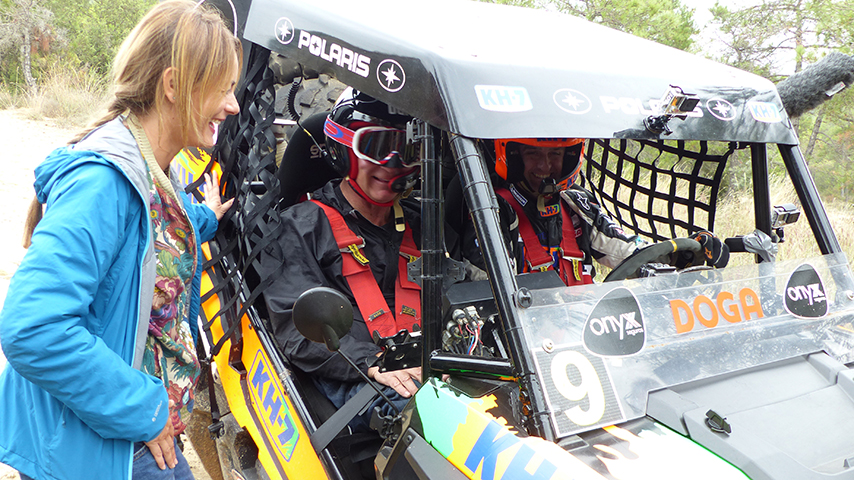 Rick and Isidre in an adaptive motorcross vehicle

Today was a dream come true. I've always wanted to try four wheel racing and I got to experience this with a local Catalan icon and rally driver Isidre Esteve. Sitting shotgun next to Isidre as we weaved through precarious back country dirt roads at 90km/hr in the Oliana mountains was a high adrenalin rush and a tremendous thrill!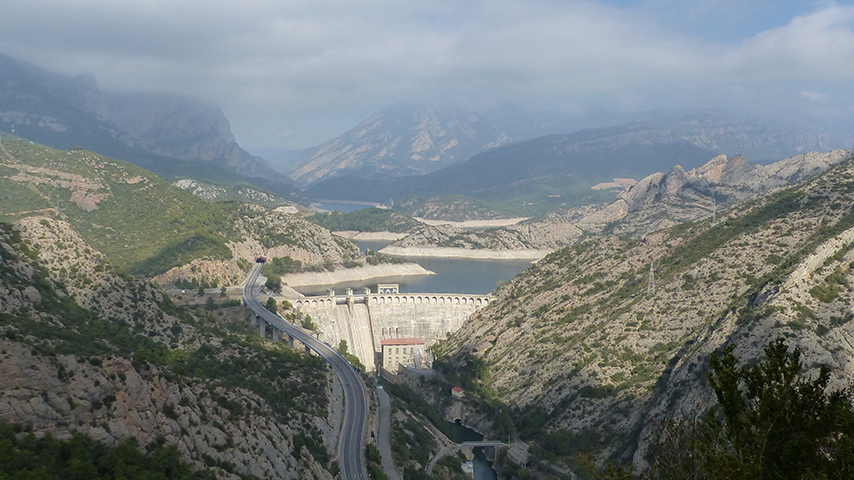 The Oliana mountains

In 2007, Isidre, a prominent motorcross racer experienced a devastating accident during a race that left him paralyzed from the waist down at age 34. Isidre met this challenge face on, and today he is back in the driver's seat as a rally car racer competing with able-bodied athletes. For Isidre there are truly no limits.

My life has many parallels with Isidre's. We were both young athletes who overcame a physical challenge; following our accidents, we both started a foundation to improve the lives of people with disabilities; and last but not least, both the love of our lives were our former physiotherapists.
As I've said before, 'every time we reach an obstacle, if we believe with all our heart that somehow, someway, there is a way a way over it, under it, around it, or through it; there's a way.'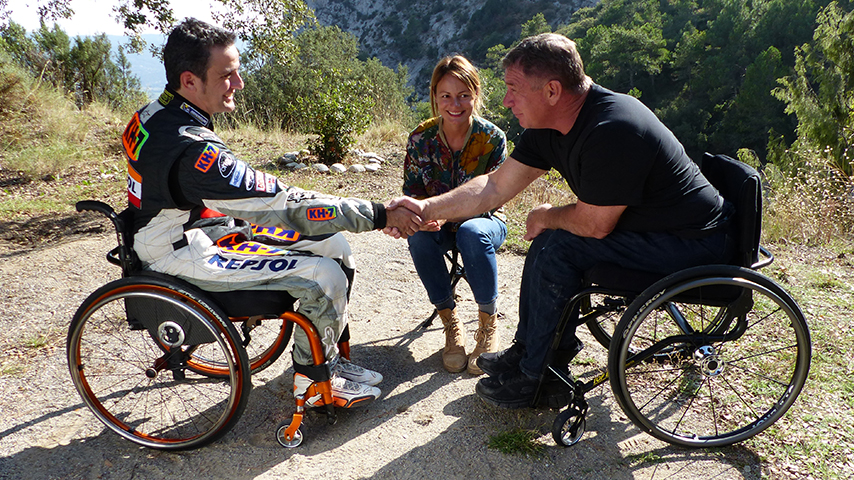 Isidre, Ivana and Rick on a country hillside
Day 5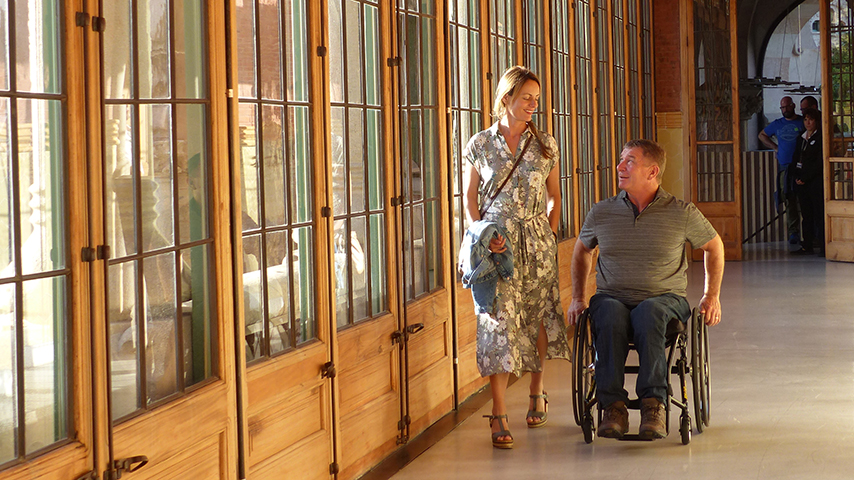 Sant Pau, a UNESCO heritage building

What struck me about my visit to Sant Pau is the building doesn't look like a former hospital.  There is an openness and light that makes the space both warm and inviting. Sant Pau is not only a UNESCO heritage building, it's also the world's largest Art Nouveau site.  The hospital was built, thanks to an industrial philanthropist, and even in 1401, it must stood as a symbol of hope. Today, it remains a functional building of the future.

Behind the main building is a garden courtyard and multiple pavilions that connect to a network of tunnels, which were cavernous and welcoming to explore.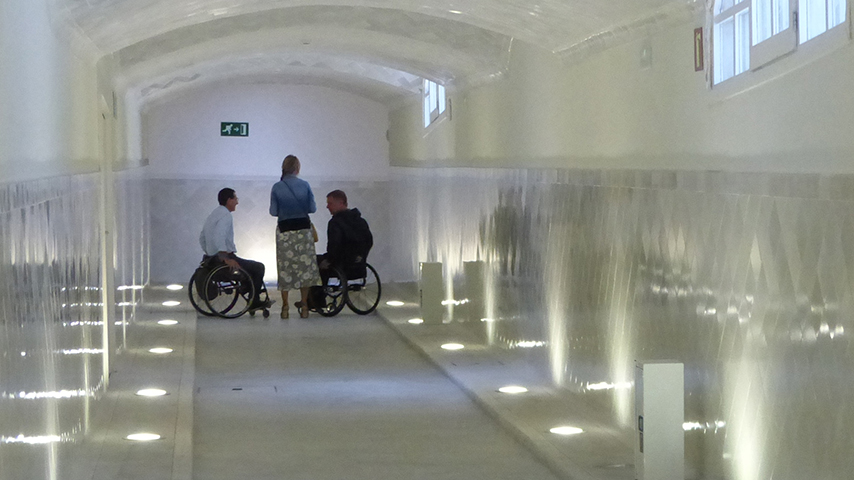 Frederic Crespo, Ivana and Rick in the Sant Pau accessible tunnels

My priority is to change the built environment, and to ensure that even historic buildings can be inclusive. It's my goal to respect the integrity of the original design, while making accessibility a prerogative. This is why it was a privilege and inspiration to meet architect, Frederic Crespo. In 2009, Frederic transformed Sant Pau into the inclusive and accessible space you see today.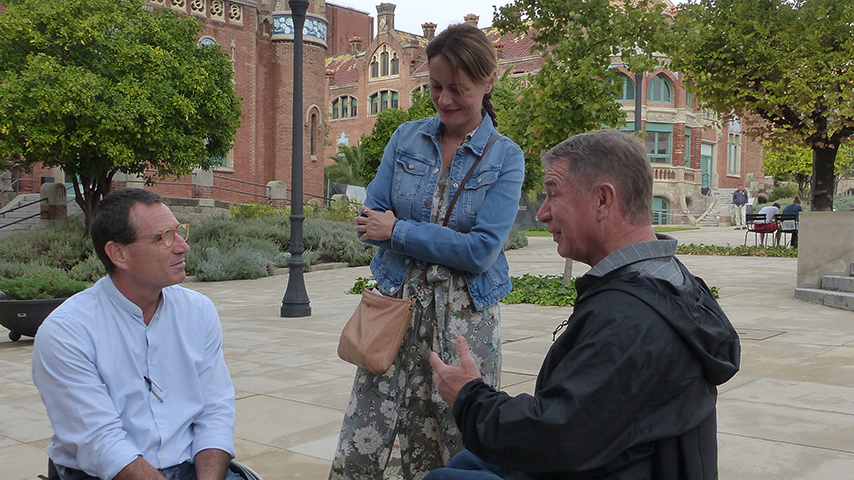 Architect, Frederic Crespo, with Ivana and Rick

Inside one of the beautiful rooms of Sant Pau, I was treated to a private piano performance by Ignasi Terraza, an internationally renowned blind jazz musician.  Ignasi brought a captivating composition to life. I instantly wanted to hear his story of how he found inspiration and unleashed his talent.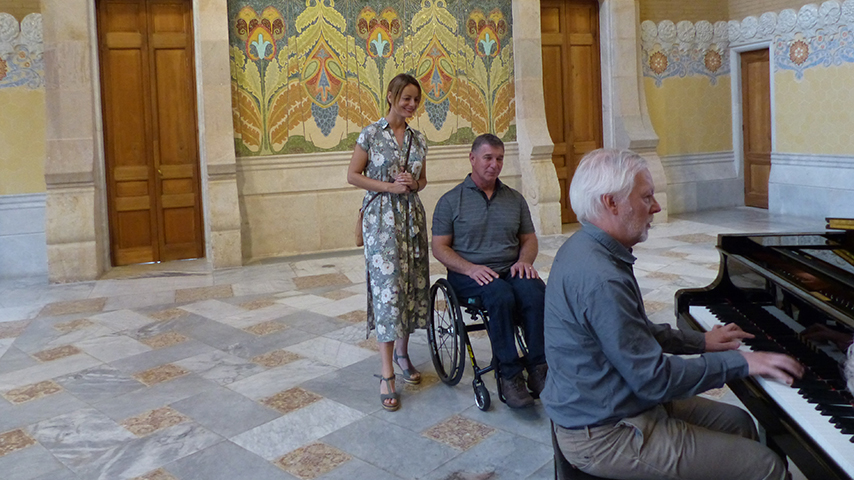 Internationally renowned blind jazz musician, Ignasi Terraza, plays the piano for Ivana and Rick

It's hard for anyone to understand what another individual is going through with a challenge. Ignasi expressed himself so openly to me.  Not only is he comfortable in his own skin, he is comfortable with his disability. Ignasi composes music by interpreting the art. He asked me to lead him to the mural wall so he could experience the art by touch and by my description of the images.

Maybe for all of us that can see, we need to back up and listen, interpret and understand. Our impressions are not as deep as we think. We can learn a great deal from Ignasi. I know I was changed by my brief encounter with him.
Day 6
When Ivana pointed to the hillside where we were going, my first thought was, 'how are we going to get there?' She smiled and said, 'public transport'!

I don't often get the chance to take public transit during my travels. Often mainstream transit doesn't accommodate people with disabilities. I found getting on the train, and later the funicular railway to the top of the hill a seamless experience. I was impressed by the level of accessibility on transit for people with visual, hearing or mobility challenges.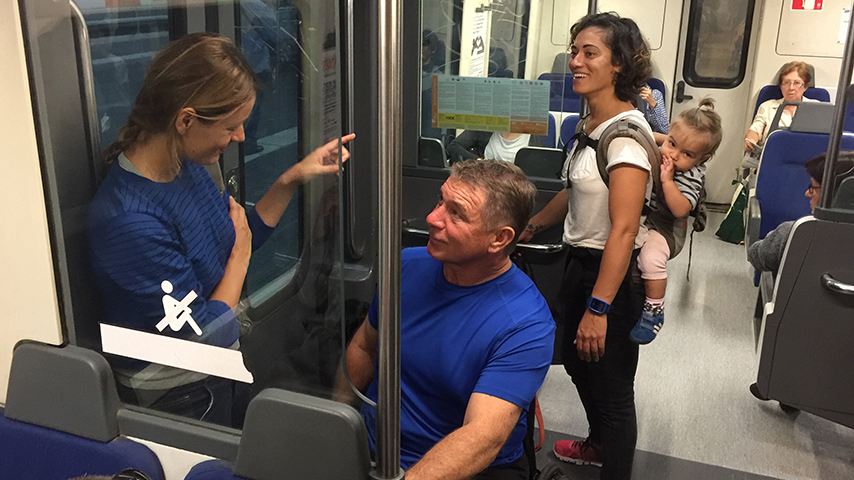 Rick and Ivana on public transit

From the top of the hill, you could clearly see all of Barcelona and iconic sites such as the Sagrada Familia, the Olympic Stadium of Barcelona and the Justice Institute. I was blown away by the spectacular vistas.

Here, I was introduced to Julià Montero, founder of Barcelona Zero Limits, a travel agency specializing in inclusive tourism. Julià is part of the new wave of helping people with disabilities. He's not only an entrepreneur, but a positive champion of change. His approach is refreshing. Julià has a great spirit.  We shared a common bond of values and it was no surprise a friendship was instantly formed.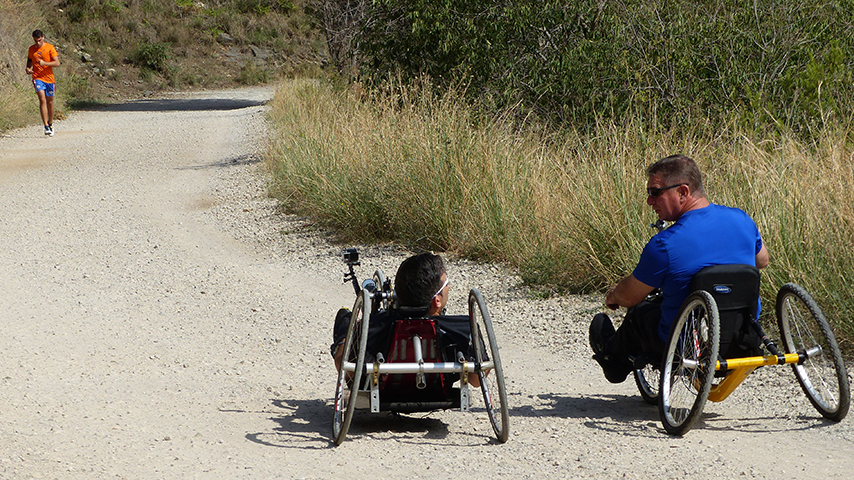 Rick and Julià Montero on trikes

To take in the natural magnificence of the city below, Julià and I got on our trikes and went along an idyllic shared pathway for cyclists and joggers. This hidden gem is mostly known to locals. I was also impressed to see Ivana get on the trike and learn a new skill. A trike isn't just for people with disabilities, it's a cool way for anyone to get around.
Final Thoughts
I can't believe it's over. Day after day, I was greeted by one surprise after another. I can't thank the Catalunya Experience enough for choosing me out of everyone around the world to experience accessible tourism in Catalan.

Since my visit 30 years ago on my Man In Motion World Tour, Barcelona has become a much more inclusive city. I'd like to congratulate the Catalan region, the local government, and people of the region for making accessibility and inclusion a priority.

I was moved by how incredibly friendly, proud of their history, well-educated, globally-minded and multilingual the Catalan people are. It's fascinating to see that this part of the world isn't so insular.

I want to extend a special thank you to Julià, Frederic, Ignasi, Isidre, Eduard, Ivana and the crew for sharing a piece of your heart and beloved region with me. Your stories, friendship, encouragement, support and warmth are the experiences I will carry with me forever. Muchos gracias!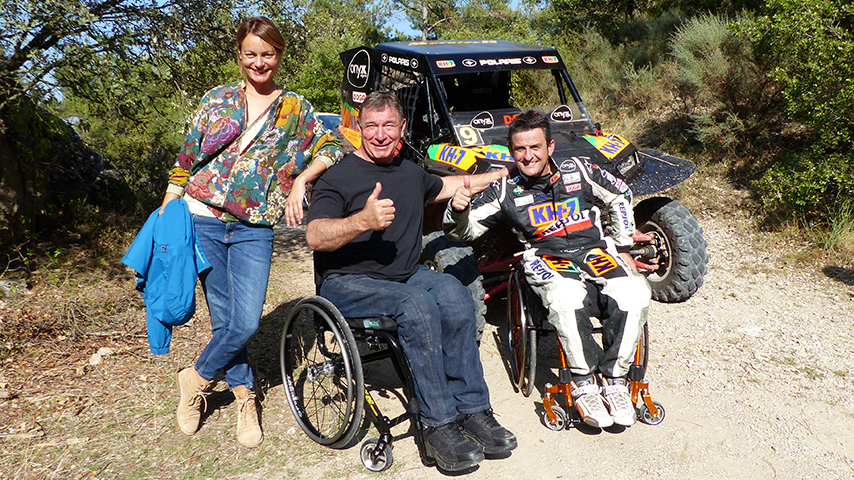 Ivana, Rick and Isidre in the countryside